La Jolla Restaurant Mermaids and Cowboys Re-Opens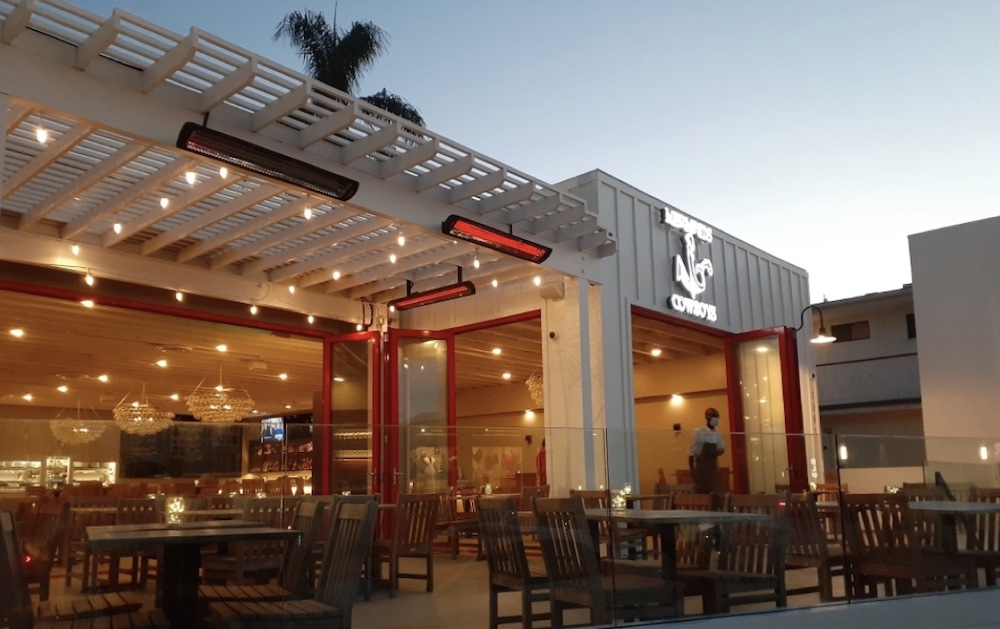 Mermaids and Cowboys, a surf and turf restaurant with an upscale feel, opened in La Jolla on March 11, 2021, after a hiatus, due to the pandemic. The restaurant has an indoor-outdoor feel thanks to its large patio overlooking bustling Prospect Street. From Mermaids and Cowboys, you can see other well-known La Jolla restaurants and bars like George's At The Cove and Duke's which are on the West side of Prospect Street and have an ocean view.
According to their website, this uniquely themed restaurant "marries ocean and land through the rich history of the Pearl Diving Mermaids of Japan and the historic Cattle Ranches of La Jolla."
Like many new and existing restaurants opening their doors to the public during the pandemic, Mermaids and Cowboys started serving their offerings through outside seating for dining and dinner service. The restaurant intends to offer a launch happy hour, weekend brunch, and lunch once it is safe for indoor dining.
Regardless of whether patrons are eating inside or outside, the Mermaids and Cowboys' staff dedicate themselves to serving delectable dishes, including everything from porterhouse steak to Main lobster, and make sure you leave room for one (or more) of their playfully named desserts.
Other restaurants that have opened throughout San Diego during the pandemic include: 
Milk Tea Lab: Where you can get an assortment of decadent concoctions, ranging from the love potion called Cupid Tonic to the out-of-this-world Alien Tonic. 
La Taverna: Offers guests a genuine touch of Europe, as the owners are natives of Rome And Sicily. This restaurant is open for outdoor dining, takeout, and delivery. La Taverna features a menu of housemade pasta and a plethora of sauces and add-ons. 
The Marlin Bar: Combines retail and restaurant for an interesting mix of Tommy Bahama tastes and textures. The bar and restaurant serve island-style favorites while the retail area gets stocked with your favorite Tommy Bahama merchandise. 
 To read the full list of San Diego restaurants that have opened during the pandemic, check out the original San Diego Eater report here.