Best Restaurants in La Jolla with Ocean Views in December 2023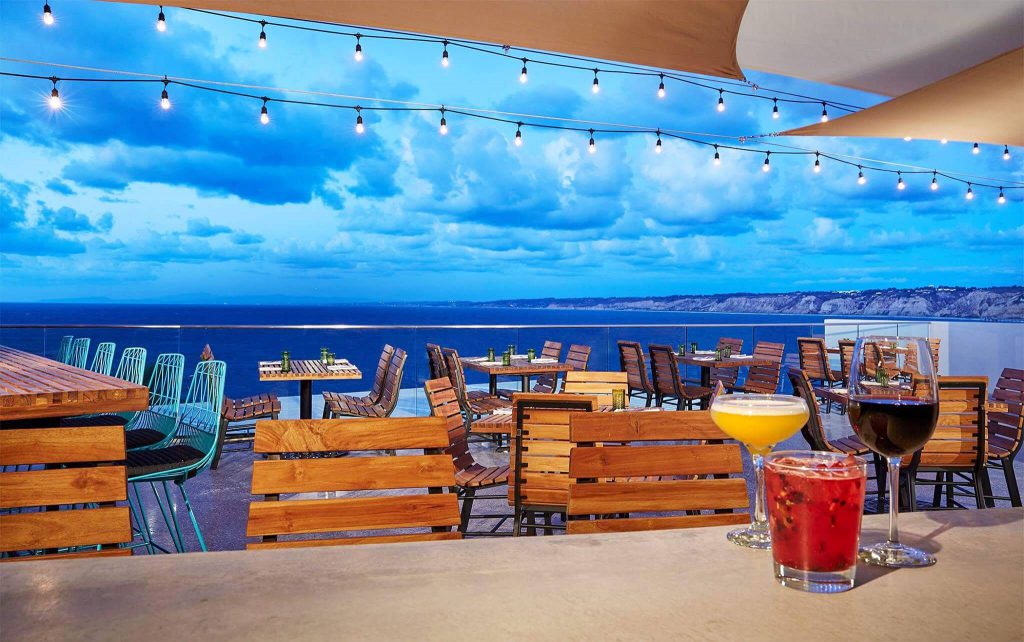 Whether you're celebrating an anniversary, impressing friends from out of town, or going on a first date, nothing beats an incredible dinner at a beautiful restaurant! One of the great things about downtown La Jolla is all of the fabulous restaurants, and once you throw an epic view into the mix, you've got the recipe for a perfect evening. Here are the best La Jolla restaurants with a view, from semi-casual to fine dining!
A Few Words of Advice…
Whichever of these romantic La Jolla restaurants you choose, make reservations early and be flexible with the time you want to go. You'll get a better chance of a table with an optimal view if you go on off hours. Similar strategies go for parking, go early in case you can't find a spot immediately, or make it easy on yourself and valet. As always, look at the menu and call ahead if you have any dietary restrictions or allergies and want to know your options.
Shop La Jolla Artwork
Duke's La Jolla
View this post on Instagram

Duke's (pictured at top) is a great restaurant for couples that don't take things too seriously, or aren't interested in a traditional romantic "fancy dinner". Visitors will enjoy fantastic seafood, with great cocktails and classic Hawaiian desserts for the ultimate meal. Enjoy an amazing evening view with twinkling lights above you if you choose to eat on the patio. Don't stress about ties, as Duke's has a casual dress code.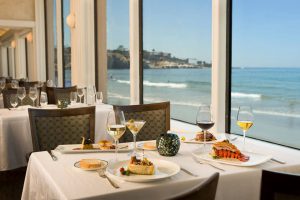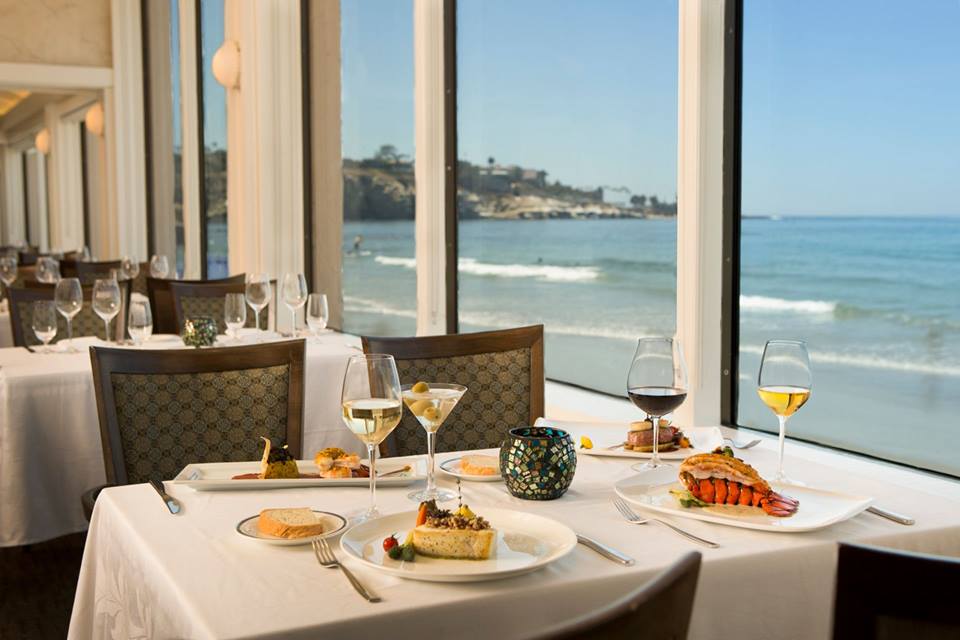 Marine Room
The Marine Room (above) is by far one of the best romantic restaurants with an ocean view in La Jolla. Dinner at high tide is best for the most wave action as surf crashes against the windows. While most people enjoy the window view, but it's fair to warn that this feature can be distracting or overwhelming if you're sensitive to noise or motion. We recommend starting off with the Lobster bisque, and any seafood dish is the best way to go here in particular the lobster tail. The Marine Room does have a strict formal dress code, but it's worth it for an exquisite experience with incredible food.
More Dining Options in La Jolla
Eddie V's Prime Seafood and Steak
Eddie V's offers some of the best fine-dining in La Jolla featuing a seafood and steak menu along with a live jazz cocktail bar. What to get: reportedly, the Lobster Tacos are "to die for". We also think the Bananas foster cake is worth a shot, particularly if you like your desserts served flambe! The back half of Eddie V's looks off a cliff towards La Jolla Shores and across the ocean. Eddie V's has a business casual dress code.
George's at the Cove
George's at the Cove is well known in La Jolla as a popular place for a romantic dinner! Even better, George's terrace undoubtedly has a great ocean view thanks to its location high up on cliff. If you're into Mixology and creative cocktails, this is the place (with a beach view) for you! We recommend Sea3, a margarita with dehydrated mango, lime & chile infused tequila, lime juice, agave nectar, sea cube. George's offers different dining experiences whether you choose New American, Level 2 (prime for cocktails and bar adventures,) or Ocean Terrace (outdoor dining). There's not an incredibly harsh dress code, but you'll still want to dress nicely.
Crab Catcher
Well known as a great seafood place in La Jolla, Crab Catcher is most famous for their crab legs and perhaps surprisingly, their truffle fries! Truffle fries might not be expected from a fine dining restaurant, but we'll tell you they're incredible just before a tender filet mignon. Expect a great view of the waves from your table. Crab Catcher is a classic fine dining atmosphere, so we recommend business casual.
The Shores Restaurant
Celebrate with a clear view to La Jolla Shores beach and its striking sunsets at The Shores Restaurant. There's certainly good food here, but most diners agree it's the view that makes the experience. For the real "romantic restaurant" experience, The Shores has an open-air patio if you want to dine with a salty sea breeze in your hair. If you visit during summer be sure to order the lobster three course special, otherwise you can't go wrong with any of the fresh seafood dishes offered year-round. There's a pretty casual dress code (though bring a jacket if you dine outside). Just a note: if you have trouble finding it, it's located inside La Jolla Shores Hotel.
If you enjoyed this article, you might like our article about the best ocean view hotels in San Diego, too!
Shop La Jolla Artwork
About the author: This article was written by the LaJolla.com lifestyle team.