Will The La Jolla Sea Lion Rookery Be Closed to the Public?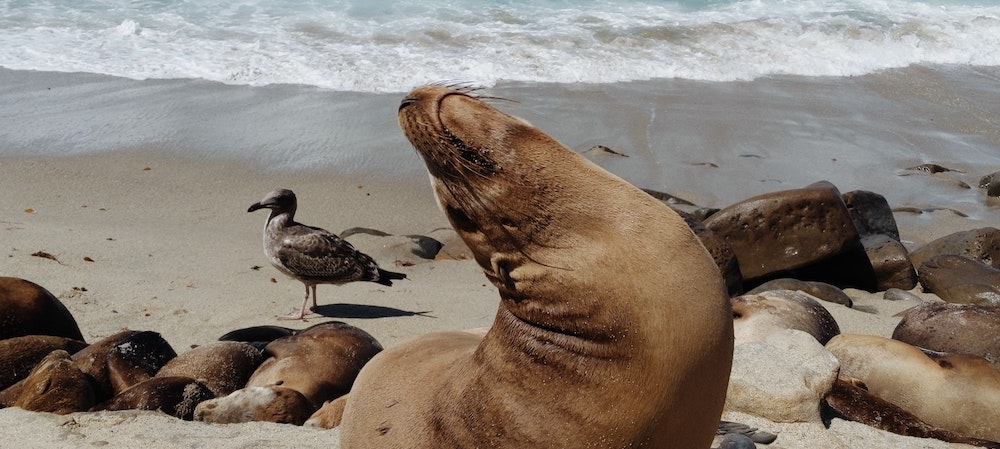 Here's what you need to know: The Sierra Club asked San Diego Mayor Todd Gloria to close the Sea Lion Rookery earlier this week to protect sea lions and their pups. The rookery is on the shoreline next to Ellen Browning Scripps Memorial Park.
The mayor's office replied that they will add additional signage, but they won't close the rookery.
The Seal Conservancy claims there are around 40,000 harbor seals along the California Coast. The Conservancy also approximates a colony of about 200 seals uses the La Jolla rookery at Casa Beach to rear their young.
A Little Backstory
The La Jolla Cove seals have become a community staple as they haul out at the beach year-round.
However, there is a special occurrence in June and October, as the seals rears their young at Casa Beach. Baby seals need space to learn to swim and grow up, which is why a human presence can be extremely dangerous to the Rookery.
Of course, this wouldn't be controversial, but this portion of Casa Beach is also popular for the summertime fun and development of La Jolla's human children.
The Children's Pool in La Jolla is a beach created for the neighborhood kids, surrounded by a wall to protect it from large waves. When La Jolla constructed the Children's Pool, no one realized they were encroaching on the seal pups until the two offspring species started overlapping in the space.
This Sierra Club Request Was Prompted by An Accidental Death
Earlier this month, the tragic, accidental death of a seal pup sparked a renewed endeavor for the safety of the animals. Thus, the Sierra Club urged the San Diego Mayor to close the La Jolla Rookery to the public until the birthing season is over.
NBC 7 San Diego reported earlier this month on a statement City Councilman Joe LaCava made regarding the safety and respect for the area's nature.
"There are few places where you can be on dry land and watch the seals and sea lions up close in their natural state," LaCava said. "Being this close has its advantages; it's a memorable experience for children and adults alike. However, we also have to remember that seals and sea lions are wild animals that deserve their space and our respect."
[mv_create key="9″ layout="grid" thumbnail="https://lajolla.com/wp-content/uploads/2015/02/la-jolla-blog-img-12.jpg" title="San Diego Outdoor Activities" type="list"]