6 Best Trails & Hikes in La Jolla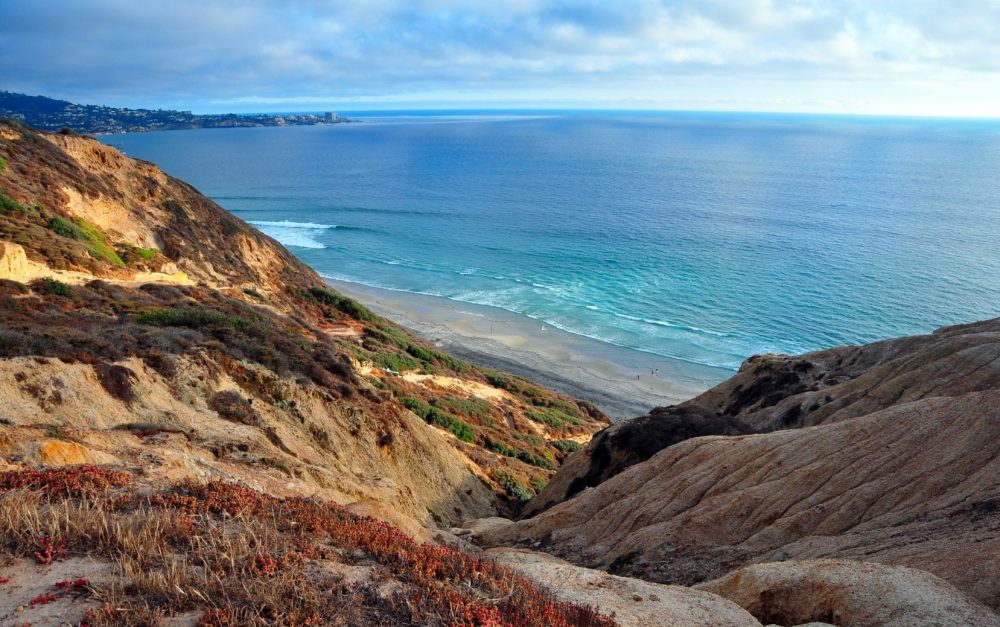 If you're looking for best trails and hikes in La Jolla and the greater San Diego area, we have you covered.
The sun is out, and you want to be outside to enjoy it. Grab your Nikes. Load up on sunscreen. Have a great playlist ready. Picking the perfect trail for hiking on this perfect day is easy when you know the options. From a leisure stroll, mountain biking, nature walking or best running trails – we have every path to suit your needs.
Based on our hiking research, these are the top 5 hikes in La Jolla and San Diego you'll want to try.
Finish off the day with a kayak tour or going to check out the nearby sea lions at La Jolla Cove!
If you're looking for something a bit more off the beaten path, try these 5 hiking trails that are a bit less traveled.
Shop La Jolla Artwork
1) Torrey Pines State Reserve
The trails at Torrey Pines are nothing short of spectacular.
This popular beachside spot has six varying trails (one loop trail, some out-and-back) that range from mild to difficult.
For the most intense workout, you'll want to hit the Guy Fleming Trail or The Beach Trail, which takes you right down to the water at the end of the hike.
Torrey Pines is definitely one of the more scenic hiking areas in La Jolla and San Diego, and the views will not disappoint!
You can tailor the hike to your individual needs, and make it as rigorous or as easygoing as you like. None of the trails are longer than a few miles, and most venture through beautiful canyon scenery.
For more detailed information about each hike at Torrey Pines State Reserve, check out our article dedicated specifically to this amazing location.
How to get there:
Torrey Pines State Natural Reserve is located at 12600 N Torrey Pines Rd, La Jolla 92037.
The parking lot at the South Beach Entrance is $10-15 Monday-Thursday and $12-20 Friday-Sunday.
These trails are the easiest to get to from central or downtown San Diego and can be accessed from Carmel Valley Road or Torrey Pines Road.
Spend the day at and learn all you need to know with our complete Torrey Pines State Reserve itinerary! Or just head to the Lodge at Torrey Pines for a delicious, world-class dinner created by Chef Jeff Jackson.
2) Ho Chi Minh Trail
This is a well known 'surf trail' that locals have used for years and gets you directly down to Blacks Beach for some epic surfing.
The trail itself is a bit rocky and steep, and can be made even more treacherous after a heavy rainfall (so we don't advise going then!). There are beautiful, sweeping views of the Pacific Ocean along the way, and it's a fun way to mix things up a little and get a different type of hike in than you normally would.
How to get there:
There are two starting points: one from the Gliderport, and the other near Salk Institute and/or La Jolla Farms, though most hikers opt for the second route.
The trailhead itself can be a bit tricky to locate but just look for a sign between two fences along La Jolla Farms Road.
After making your way through the fence and down the trail, there will be a fork that follows a hiking trail up a hill and another down towards the beach. Most hikers take the one that heads down the hill.
3) Bird Rock Bike Path
Head south to Pacific Beach via the Bird Rock Bike Path, which is great to hike in the sun as well as trip on your bike.
This trail is a hidden gem because while most folks head straight for Torrey Pines, you'll find this local loved route is usually less crowded; it feels like a hidden passageway between Pacific Beach and La Jolla.
Despite its name, you don't have to necessarily bike this trail! There are plenty of walkers and hikers that conquer it, as well.
How to get there:
The path starts at Colima Street between La Jolla Hermosa Avenue and La Jolla Boulevard. Follow it north to La Canada Street, then go right for half a block to pick up the dirt path.
For a more intense workout, follow Nautilus uphill to La Jolla Scenic Drive, and then loop through La Jolla Mesa Drive back to your starting point. The bike path is only about two miles long.
4) Coast Walk Trail
Walk the central coastline of La Jolla using this trail, which stretches from La Jolla Cove to La Jolla Shores.
Start at either location and simply follow the trail to the other. It's a beautiful, easy walk, and is not difficult or strenuous by any means.
This would make for a great sunset stroll along the cliffs or simply a midday break during the week!

Read more about this hiking trail in Redfin's "15 Hot Spots and Can't-Miss Hidden Gems in San Diego."
How to get there:
The main trail head begins just to the left of The Cave Store on Cave Street. You'll see a historical marker designating the trail, and you can continue on from there to cross the white wooden bridge.
5) La Jolla Heights Open Space
Tucked away in a residential neighborhood atop Mt. Soledad is a beautiful, winding trail that offers incredible panoramic ocean views and a beautiful bench at the top overlook to rest before you head out.
The trail is within a small 42-acre open space preserve called La Jolla Heights that is managed by the City of San Diego's Parks and Recreation Department.
How to get there:
A small area off of Encelia Drive is where you'll begin the hike. You can follow the canyon trail all the way down the mountain and then turn around.
On the way back, there is the option of taking the wide access road to the left near the top. The wide road leads straight uphill to merge with Encelia Drive, where the trek began.
Did you know? Mount Soledad has a fascinating history that dates back hundreds of years!
6) Scripps Coastal Meander Trail
A recent addition to La Jolla (finished in 2015), the Coastal Meander Trail is a 380-foot section of pathways that extend from a parking lot off of La Jolla Shores Dr. (south end of Scripps Institute) down to a bluff overlooking Scripps Pier.
The walk is actually part of the California Coastal Trail program which, when finished, will allow people to hike the entirety of the California Coast. The upland route is about 1.75 miles and mixes campus and public streets as well as the pedestrian-only sections.
How to get there:
The trailhead is at the top of Biological Grade, across from the old NOAA Southwest Fisheries Science Center. Look for the "Coastal Trail Access" sign on the west side of La Jolla Shores Drive to know you are in the correct location.
Shop La Jolla Artwork