Guide to the Best Hikes in San Diego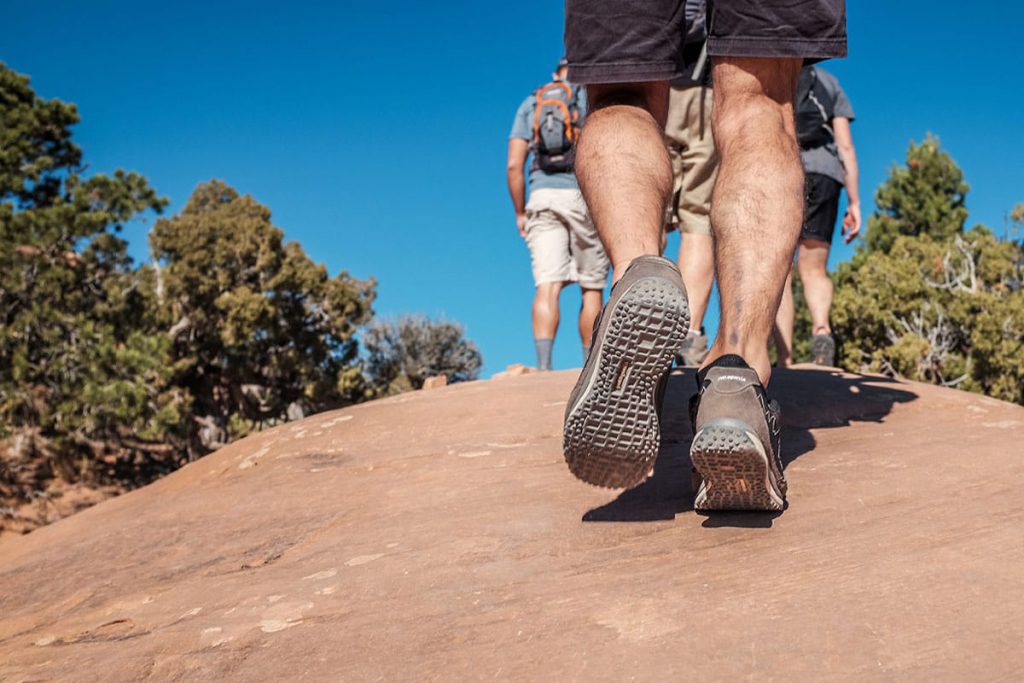 Gorgeous year-round weather and a plethora of landscapes and natural features make San Diego County an incredible hiking spot for outdoor lovers and locals alike. The area offers a diverse array of hiking trails: you'll find ocean cliffs covered with Torrey pines, rolling mountain ranges, and the incredible Anza Borrego desert.
Whatever the season or your hiking skill level, San Diego County is a treasure trove of adventure and wildlife viewing! Here are 15 incredible San Diego hikes.
1. Torrey Pines State Natural Reserve
Torrey Pines is a popular destination, and eight separate trails offer a variety of difficulty levels and types of scenery. From these trails, you can see groves of the unique-to-San Diego Torrey Pine and the otherworldly geology of the cliffs and rock formations overlooking the Pacific Ocean.
Beach access is possible as well, from the Beach Trail connecting the reserve to the Torrey Pines State Beach.
Directions: To access the trails, park in the main parking lot at Torrey Pines State Beach (12600 North Torrey Pines Road, San Diego). From there, it's a short walk uphill to the start of the trails.
2. Mount Woodson (Potato Chip Rock)
The well known 7.5-mile there-and-back trail to Potato Chip Rock offers incredible views of Southern California, but is strenuous and exposed especially in the warmer month.
Be sure to bring plenty of snacks, hiking boots, plenty of water, and your patience as you wait in line for your iconic photo on Potato Chip Rock.
Lined with massive boulders that tower over 6.4-miles of zigzagging trail, the difficult hike leads to one of the highest peaks in the county, where views of Lake Poway and Palomar Mountain await.
Directions: Parking is $8 at the lot at 14644 Lake Poway Road, Poway, CA 92064. Once you park in the top parking lot, the trailhead starts near the bathroom and wraps around the lake.
3. Los Penasquitos Canyon Preserve
This is a popular destination for San Diego weekend warriors, and for good reason! It's just a short distance from the city, but it feels much more isolated, especially compared to other San Diego hikes that have vistas overlooking subdivisions.
There are roughly 12 miles of trails within Los Penasquitos Canyon, which means there's a great hike for every skill level here.
The main six-mile loop features a waterfall and is a great and easy hike for beginners, but you can make it as long or short as you wish.
Directions: There are several entrance points into the Preserve. The east entrance is located at the intersection of Black Mountain and Mercy Roads. The western staging area is on the south side of Sorrento Valley Boulevard, approximately 1 mile east of Vista Sorrento Parkway. A convenient northern entrance is near Penasquitos Creek Park at the intersection of Park Village Road and Camino Del Sur in Rancho Penasquitos.
4. Cedar Creek Falls
Cedar Creek is an amazing six-mile round trip day hike in the San Diego area, though it can be very strenuous. It ends with a stunning view of an 80-foot waterfall into a deep swimming hole known as the Devil's Punchbowl, and the trail winds through the chaparral hills of eastern San Diego County.
Heat is always something to consider before doing this hike, no matter the season (in fact, it's often closed during the hottest days of the year for safety). As you descend into the valley, expect a 10-15 degree temperature rise. In the summer, temperatures will often exceed 115 degrees!
Directions: The trailhead is located at 15519 Thornbush Road in Ramona. There is a parking lot. All hikers must display an active permit to hike this trail.
5. Three Sisters Falls
This is another great water-related hike, this one south of Julian. Carved out of the Cuyamaca Foothills by Boulder Creek, the series of falls is reached by a quick 2-mile descent into the canyon.
This means, of course, that the return can be an incredibly hot 2-mile climb uphill, so be sure to bring and save plenty of water. Dogs are not recommended here, especially during the summer months.
Directions: From Interstate 8 East, exit at Highway 79 ( the Descanso exit) and drive north. After 1.3 miles turn left on Riverside Drive. Continue to Descanso. From there take Oak Grove Drive 1.6 miles to the intersection of Boulder Creek Road on the right. Follow Boulder Creek Road north for 13.0 miles (the first half is paved and the rest is dirt) to a hairpin turn where unpaved Cedar Creek Road joins from the west. Park at the trailhead.
6. Cowles Mountain
At 1,592 feet, Cowles Mountain is the highest peak in San Diego. Its multiple approaches, easy access, and 360-degree views from the summit make it one of the most popular hikes in the county. Although the route from the most popular Golfcrest Drive Trailhead is only 1.5 miles long, the elevation gain of almost 950 feet makes the short hike quite a workout.
Directions: The parking lot for the trailhead is located at 7001 Golfcrest Drive.
7. Iron Mountain
Another popular hike just outside of Poway is the 6.4-mile hike to the Iron Mountain summit. The vista offers 360-degree views of the surrounding hills, including the San Vicente Reservoir. For rock climbers, some of the granite formations along the trail make for good bouldering.
Directions: From I-15, exit and travel east on Poway Road. After passing through the city of Poway, Poway Road will dead-end at Highway 67. The trailhead will be on the opposite side of Highway 67.
8. Oak Canyon (Mission Trails Regional Park)
Mission Trails Regional Park is one of the largest hiking areas in San Diego County, and the Oak Canyon Trail is a great option for those exploring it for the first time. This is a 1.8-mile loop that passes historic landmarks (including Mission Dam), oaks along a dry riverbed, rolling hills, and a river crossing. This is a great family-friendly option as there is very little elevation gain along the trail.
Directions: The trailhead for Oak Canyon starts in the parking area at the Old Mission Dam (1 Father Junipero Serra Trl, San Diego, CA 92119).
9. Cabrillo National Monument
A visit here offers hikers incredible panoramic views, a historic lighthouse, and several tide pools. Following a path from the visitor center to the Old Point Loma Lighthouse will take you to the park's summit, which is one of the best places to take in the view of San Diego and the lighthouse itself is beautiful. Keep an eye out for gray whales, which can be seen in the winter months (usually from December through April).
Directions: The trail can be started from the entrances at Lot 1 or Lot 2 off of Gatchell Rd. Take Cabrillo Rd. from the main entrance of the park to Gatchell and park at either lot.
10. Sunset Cliffs
This 68-acre park is a picture-perfect area of San Diego County, complete with expansive ocean views, rocky cliffs, and an intertidal area ripe for exploration. It's popular with surfers, but even if you just want to catch a sunset or listen to crashing waves you won't be disappointed. You might even catch a pod of California gray whales during their annual migration to Baja. The trail is a short 3.7 miles, and is best hiked during the late afternoon.
Directions: Start the trail at Sunset Cliffs Blvd and Adair St and follow the path along the cliffs.
11. Balboa Park Trails
San Diego's massive Balboa Park is home to 17 museums, the city's famous zoo, acres of gardens, and a whopping 65 miles of trails. There's something for just about everyone, from families and history buffs to avid hikers. In terms of hiking trails, Balboa Park Trail #1 a good one to start with: it's short, at just 1.5 miles, but it also avoids most of the more heavily touristed parts of the park.
Directions: Trail #1 can be accessed from 6th Ave & Upas. Visit Balboa Park's website for complete trail information, as there are multiple hikes within the park.
12. Stonewall Peak
While Stonewall Peak still sadly suffers from the lasting effects of the worst fire in California history, the 2003 Cedar Fire, the trail's popularity has not diminished — nor have the views. After a somewhat strenuous uphill 3.8 mile hike to the summit, you'll be rewarded with epic views over the rolling Cuyamaca Mountains combined with panoramas across the desert that reach the Salton Sea on clear days.
Directions: Turn left into Paso Picacho campground, pay the fee, and park in the day use area off to the right. The trailhead is across the street.
13. El Cajon Mountain
The El Cajon Mountain , nicknamed "El Cap," hiking trail is the most grueling on our list. Used by IRONMAN triathletes for training, the 12-mile hike follows an old mining trail all the way up to its 3,675 foot peak. It's not for the faint of heart, and it can get very hot on the trail as it's relatively exposed for most of the way.
The trail is actually closed for an entire month during August, so plan accordingly. Layered with steep trails both up and down the mountain, this trek will leave you with sore legs, stunning views, and undoubtedly a sense of accomplishment! Note that this hike is not child- or pet-friendly.
Directions: Follow Highway 67 north until Willow Road. Take a right onto Willow Road and follow it until you see Wildcat Canyon Road. Take a left onto Wildcat Canyon Road and follow it until you see the trailhead for El Cajon Mountain; there is a parking lot here.
14. Cuyamaca Peak Loop Trail
The Cuyamaca Peak Loop hike is a great experience for those who want a long, challenging hike with different routes to the top. Located near Julian, climbers have their pick of the Conejos Trail, Azalea Glen Loop Trail, Azalea Springs Trail, West Side Trail and the Azalea Springs Fire Road.
Once at the top of the second-highest peak in San Diego County (6,512 feet), you'll get to enjoy the view of the surrounding Cleveland National Forest and Cuyamaca Rancho State Park after a 1,700-foot elevation gain.
Directions: Park at Paso Picacho Campground. Park, then walk through the campground to the cabins in the back. Find the trailhead there.
15. Double Peak Trail
Double Peak is an easily accessed, moderate 3.9 mile hike offering spectacular views over North County, coastal San Diego, and toward East County. In addition to a good climb and even better views, Double Peak boasts a nice park at the summit, complete with picnic benches, a few trees for shade, a free viewfinder, and flush toilets.
The views from the top are equal to and sometimes even better than the views available at some of the other peaks in San Diego County. This is a fun one to try for those closer to North County.
Directions: The parking lot for the trailhead is at 900 Double Peak Drive in San Marcos. The lot is open until 8pm.
BONUS: Pumpkin Rock Trail
Okay, it isn't technically in San Diego, but we love this hike so much we had to include it! The hike to Pumpkin Rock is definitely something you should do at least once; it's perfect for doing around Halloween, and it's easy enough for the whole family to take part in — not to mention it's a great photo opportunity!
Pumpkin Rock in Norco is a massive boulder painted in the style of Jack Skellington, the "Pumpkin King" of Halloween Town from The Nightmare Before Christmas by Tim Burton. Its position on a ridge above Norco, visible from the highway, has made it a bit of a landmark over the years.
Directions: The trailhead address to use is Norco Animal Control Shelter, Norco 92860. The trailhead is close to free public bathrooms; 2 minutes away from the trailhead parking at Pikes Peak Park (111 Sixth St, Norco, CA 92860).
There are a few ways to hike to Pumpkin Rock. Norco Hills has dozens of trails and they all seem to criss-cross and intertwine with each other. This route is preferable because it has plenty of parking, the trail is easy to follow without any scrambles, and there are bathrooms nearby.
Looking for more hikes? Check out our favorite off-the-beaten-path hikes in La Jolla!