Exploring Balboa Park: Museums, Gardens, & Dining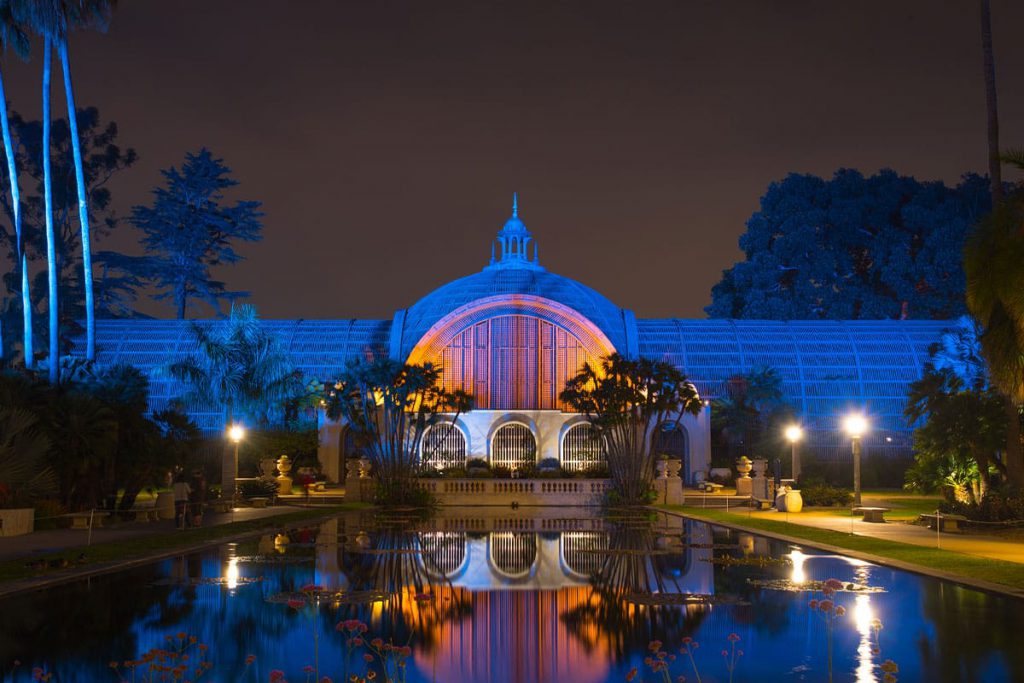 Why Visit Balboa Park?
Aside from the beaches, Balboa Park is one of the most popular places to hang out in San Diego–seemingly for locals and visitors alike. You'll find them lounging on blankets in the grass, strolling around to see the free sights, visiting the museums, drinking craft beer in the museum's sculpture garden at Panama 66, and taking plenty of Instagram photos.
This historic San Diego park is a must see, no doubt about it. Built in 1986 and majorly re-vamped in 1915, Balboa Park holds over 100 years of Southern California life and culture. It's home to seventeen award-winning museums, more than fifteen green promoting gardens, the famous San Diego Zoo and (if you can believe it) much more! This article will give you the basic layout of what you'll find, events to look out for and information to help you plan the ultimate trip.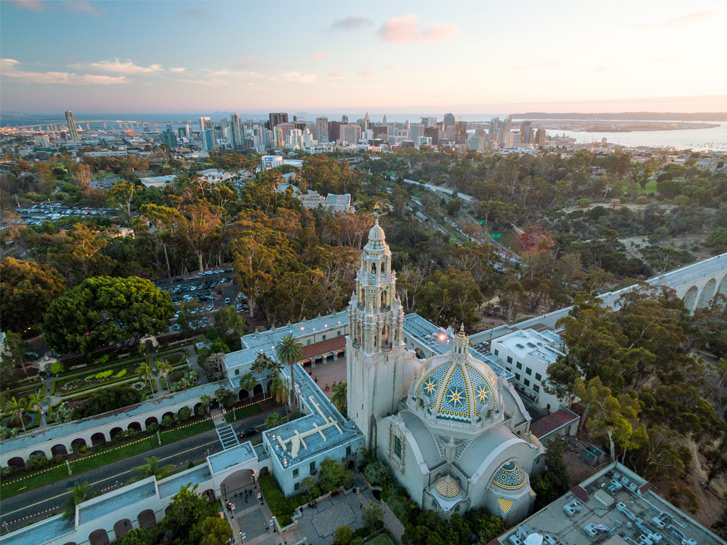 9 New International Cottages Added Summer 2021
San Diego County has always held international diversity and information in high regard. This dedication is proudly evident throughout the twenty-four international cottages built in Balboa Park in 1934.
Now, the summer of 2021 has seen the addition of 9 new international cottages. In addition to the 24 previous globally informational cottages, there now stands cultural representation of 9 additional countries:
Chamorros
Colombia
India
Mexico
Palestine
Panama
Peru
Philippines
Turkey
The House of Public Relations first created the cottages for the California Pacific International Exposition. Since that time, a representative of each nation has always been available to answer questions, lead events, and offer a multicultural experience amidst the beauty of Balboa Park.
Today we celebrated the nine new houses at @BalboaPark's International Cottages! These houses are a place to learn about and celebrate our region's rich multiculturalism. They represent the greater understanding, tolerance, & sense of goodwill that we should all seek to inspire. pic.twitter.com/jOcxb9DanT

– Senator Toni Atkins (@SenToniAtkins) August 28, 2021
With great excitement, the House of Public Relations can continue the mission to "encourage multicultural goodwill and understanding" with the addition of the nine cottages.
When you visit the cottages, you will find an "Open House" event taking place each weekend, facilitating self-guided walk-throughs from 12 p.m. to 5 p.m.
Moreover, the cottages host the Ethnic Food Fair and the International Christmas Festival throughout the holiday season. This year, the addition of the new cottages will make these and other celebrations even more memorable.
So, stop by Balboa Park, where you can experience a different global culture at every doorstep!
Museums
Whether you're a lover of science or art, trains or sports…there's a museum for everyone, even the typical non-museum goers. Some of the most applauded favorites include:
San Diego Natural History Museum
San Diego Museum of Art
San Diego Air & Space Museum
San Diego Museum of Man
Reuben H. Fleet Science Center
San Diego Model Railroad Museum
Mingei International Museum
Museum of Photographic Arts
Timken Museum of Art
San Diego Automotive Museum
San Diego History Center
How to Save Money at the Museums
If you're not a resident or you're interested in going on a day other than a Tuesday, you can :
– Pay for admission at each museum individually (prices vary)
– Purchase a Go San Diego Card for discounted admission to more than 40 San Diego attractions — including Balboa Park!
– Purchase an Annual Balboa Park Explorer Pass: This pass gives you entry into all 17 museums for an entire year. And this isn't Disneyland; there are no blackout days.
– Take advantage of military discounts. The SD Natural History Museum and the Air & Space Museum definitely offers discounts to veterans, but check with other museums on this list to be sure.
**It's important to note that with any of these options, special exhibits aren't included, such as the Natural History Museum's King Tut or Museum of Man's Torture Exhibit.**
Free Museum Tuesdays
As for prices and packages, there are multiple options. If you're a resident, did you know you can go for free? On each Tuesday of each month, Balboa Park hosts "Residents Free Days," where different museums offer free admission to San Diego residents (you'll need ID confirming your residency) each week. Find out which museums are free on which Tuesdays here.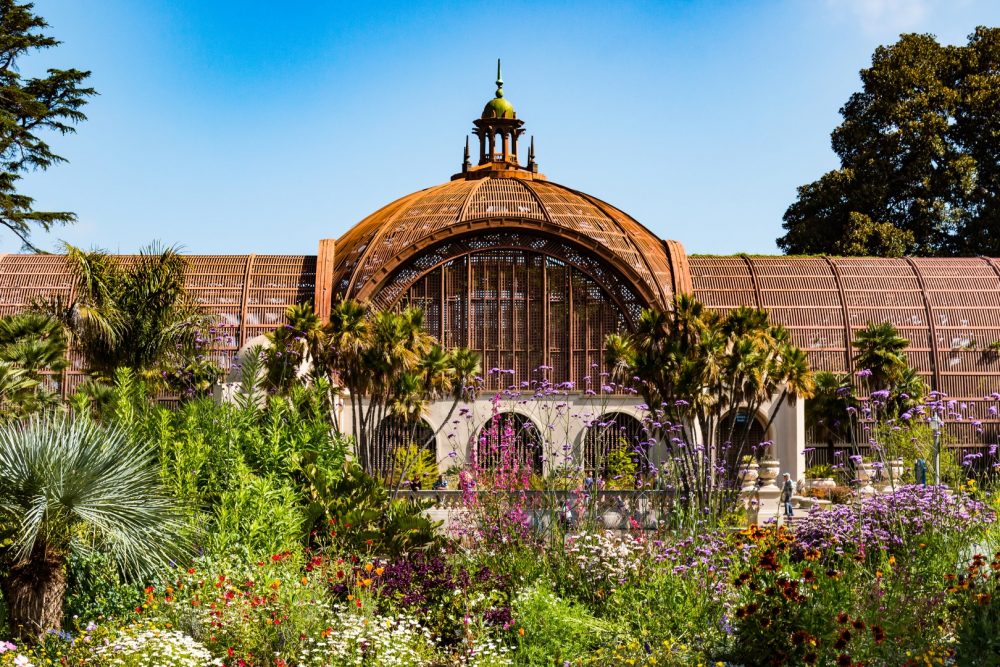 Balboa Park Gardens
If you enjoy botany or simply looking at beautiful flowers, there's plenty to see here. Walk through the Botanical Building to transport yourself across the world. Not only is the inside captivating, but the outer design is very striking and in many classic Balboa Park photographs.
Just outside its main doors are plants known for housing caterpillars. They blend in well, but look carefully amongst the green leaves and you'll find them; you may be surprised at just how darling a yellow caterpillar can be! One of the best parts about this spot though? It's free.
As far as larger gardens go, the other two main ones are the Rose Garden across the road from the Natural History Museum and the Japanese Friendship Garden. The Friendship Garden is lovely, especially the coy fish it features in its shaded pond. It's good to note that it's the only garden that charges a fee.
The other smaller gardens you'll find sprinkled amongst the park; we recommend walking and exploring to let yourself surprisingly stumble upon them. Go far enough? You'll find trails around the park's edges, the most intricate and steep going along Florida Street to Morley Field.
All of the gardens at Balboa Park:
Old Cactus Garden
Alcazar Garden
Botanical Building & Lily Pond
Native Plant Garden
Casa del Rey Moro Garden
Desert Garden
Children's Peace Garden
Florida Canyon Native Plant Preserve
Memorial Rose Garden
Japanese Friendship Garden
Marston House Garden
San Diego Zoo
The world famous San Diego Zoo is famous for many reasons, some of the top being the pandas and Australian koalas, of course. There's so many wonderful things here that we gave it its own page. Learn more about this zoo and what it has to offer at our San Diego Zoo page.
The Old Globe Theatre
You were transported to Asia in the Japanese Friendship Garden. You experienced Australia taking in the zoo's koalas. Now, let's take you over to Europe by putting you in the recreation of England's Old Globe Theatre. We think Shakespeare would be proud the Old Globe created right here in San Diego, still performing his plays to this day.
You'll find more than just Shakespeare, though. Famous Broadway and locally written plays are performed here, as well. Watching a play here is a brilliant way to experience theatre the way it was back in Shakespeare's time, a great way to transcend time.
Restaurants in Balboa Park
If you're looking for food and libations, you're in luck. There are two restaurants, a grab-and-go counter, multiple coffee shops, and a tea shop in the park, not counting the food and beverage concessions inside the San Diego Zoo.
The two restaurants in the park are Panama 66 and The Prado; both serve food and alcohol.
Panama 66 is affiliated with the San Diego Museum of Art, and its owners/operators are the same people who opened Blind Lady Ale House in Normal Heights and the now-shuttered Tiger! Tiger! Tavern in North Park — two brewpubs well-known to craft beer and food aficionados in San Diego. In fact, Panama 66 serves local craft beer in "honest pours" on a short-draw, all-stainless-steel draft system that is clean as a whistle, which means beer lovers can enjoy local brews as close to the way the brewers intended them to be enjoyed as possible. The restaurant also serves cocktails, wine, and food.
Panama 66 is known for for its role in the local jazz scene, as well. The restaurant hosts live jazz events throughout the year – primarily during the summer months.
The other big restaurant in Balboa Park is The Prado, part of the Cohn Restaurant Group. The Prado features both indoor and outdoor seating. They're proud of their margaritas and if you want to order a bone-in ribeye in the park, this is the place to do it. This restaurant serves "California Cuisine," and the inside seating showcases some of the architecture of the building they're in.
Both Panama 66 and The Prado are available for wedding and events.
For coffee, you're never far from a concession stand in the park. For tea, stop by the Tea Pavillion at the entrance of the Japanese Friendship Garden; you'll find ready-to-go noodle and rice bowls and sushi, along with a wide assortment of teas.
And if you want to pick up picnic-ready food, stop by the Grab & Go Counter in front of Panama 66.
Events
There's a constantly updated calendar for Balboa Park. Between all the museums, the theatre and zoo, there's always something going on. We want to highlight two particular noteworthy events, one that's weekly and one yearly.
International Cottages Sunday:
Every Sunday from noon to 4 pm, head to the international cottages located on the lovely stretch between the Organ Pavillion and the Reuben H. Fleet Science Center. Each of the cottages represents a different country and is filled with cultural decor, educational information and folks (usually from and) very knowledgeable about the country.
On these Sunday afternoons, they have samples of treats from that nation. For example, head to House of England for tea and samples of tea cakes, House of Spain for Spanish cookies and House of Iran for a savory treat so magical….you just have to eat it to believe it.
There's also a lawn program included. Every Sunday, one of the nations' cottages puts on an afternoon of cultural performances and entertainment. It rotates throughout the year, so you'll enjoy Filipino dancing one week and witness Ukrainian performances the next!
December Nights:
Each year at Christmas time, usually the first weekend of the month, Balboa Park features December Nights. To say this event wows is an understatement. Attendance is at over 350,000 folks a year, and that's just across 2 days.
These high numbers are drawn by the museums offering free admissions (certain ones at certain times), endless food booths (not free), cultural cuisine hosted by the International Cottages (also not free), no-cost performances in the Organ Pavillion, stages hosting performances around the entire park and so much more.
We find that it's good to go in with some knowledge, but, when it comes down to it…you're going to discover things you had never heard about simply arriving in-person. Show up and let the event sweep you off your feet.
In Conclusion
Balboa Park truly does have something for everyone. As with anywhere, the earlier you come for parking the better and the weekdays are less busy than weekends. However, because it is such a vast space and there are so many lots as well as street parking along the sides, even if there's some hunting, you'll be able to find a spot! Learn more about San Diego and it's nearby downtown at our Downtown San Diego & Gaslamp Page.