Best Pizza in San Diego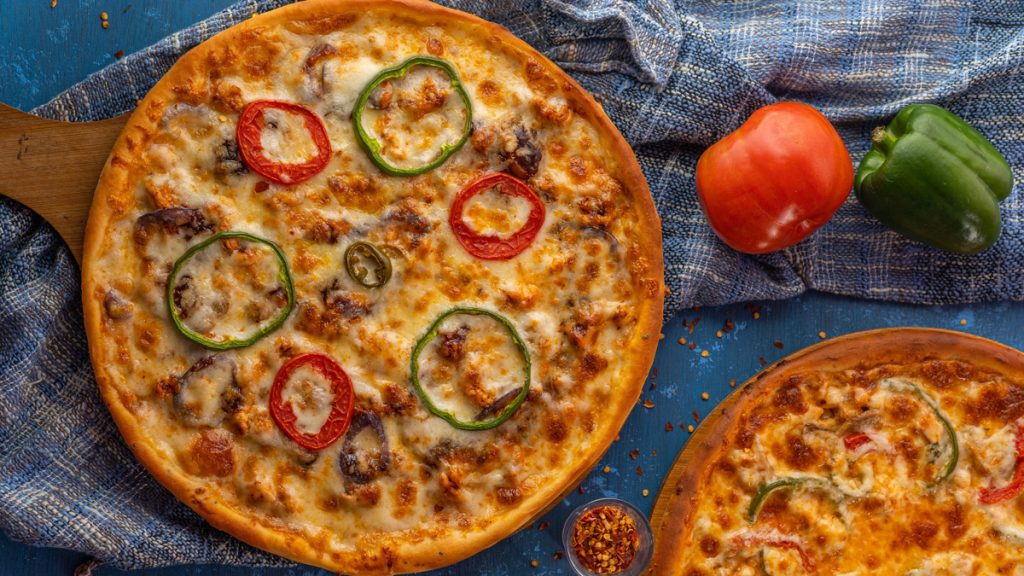 Mama Mia, pizzeria! If you've been craving some carb-loaded pizza lately but aren't quite sure where to go to get your fix, you're in for a real treat. We've compiled a hot list of scrumptious pizza joints scattered throughout San Diego that serve everything from thin, thick or cheese-filled pizza crust, Chicago deep dish or New York Style, wood fire or oven-roasted pizza, as well as by the slice or by the whole pie. Some spots even use a pizza oven dome to give it that extra flare, which deserves major brownie points–or should we say pizza points.
You might want to grab a napkin for your saliva, because the aromas, tastes, and textures of these ooey gooey cheesy weezy pizzas will surely leave your mouth watering.
The Best Pizza Places in San Diego
Ok, we must admit–narrowing down the best pizza places in San Diego is tricky. There are quite literally hundreds of options to choose from, and what it all boils down to are your preferences.
Are you searching for the gooiest slice at the most affordable price? Are you looking to pair your pizza with a splash of wine? How about a place with a chic interior that's a winner for date night dining? Or are you more interested in a spot with some flat screen TV's where you can pig out on pepperoni and watch some basketball?
Keeping your preferences in mind, we've added every dynamic in the book that makes for a unique and well-rounded pizza experience–no pun intended. So if you're looking for pizza on a date night in San Diego, or just the best slice in town – this is your go-to guide. Oh, and if you want to skip the hassle of scanning through this list and have someone decide your food itinerary for you, you'll find comfort in knowing there are food tours ready to book, at the click of a button.
Best Pizza in La Jolla
Where do the locals go when they're looking for a slice of pizza? We've built a page specifically about the best pizza in La Jolla, but here's our short list:
Dough Mama Pizzeria
Tucked between a kayak rental shop and a liquor store in La Jolla Shores, Dough Mama's Pizzeria is a popular choice for casual pizza among the locals. There are two bonuses: First, they sell pizza both by the slice. If you're already in the Shores area and really just want a slice and a beer, this is extremely convenient – although there's a wonderful menu of whole pies if that's what you're looking for. And second, like all of the restaurants on this little stretch of Avenida De La Playa, Dough Mama's currently has outdoor seating where a couple of parking spots used to be. Well, there's a third bonus, too: Dough Mama's is a woman-owned restaurant. Girl power!
Address: 2152 Avenida De La Playa, La Jolla, CA 92037
Phone: (858) 246-6992
Hours: Sun – Thurs, 11 a.m. – 9 p.m.
Fri – Sat, 11 a.m. – 10 p.m.
The Original Sammy's Woodfired Pizza
If you spend much time in Southern California, you're probably familiar with Sammy's Woodfired Pizza. But did you know that the original location is right here on Pearl Street in La Jolla? That's right – the flagship Sammy's got its start in the 80s, and in 2019 the mayor of San Diego declared June 3rd "Sami Ladeki Day" in honor of the local chain's owner. Try classic favorites like the Sicilian, the New York Style, or the Margherita, or satisfy your cravings for something more with the Thai Chicken, Brie Cheese & Truffle Oil, or the Organic Arugula and Pear pizzas. And if there's anyone in your party that isn't interested in pizza, there are other options such as sandwiches, burgers, tacos, short ribs, steak frites, chicken, lamb, and seafood.
Address: 702 Pearl St., La Jolla, CA 92037
Phone: (858) 456-5222
Everyday Hours: 11:30 a.m. – 8 p.m.
Isola Pizza Bar
Nestled on Girard Avenue between Spice & Rice Thai Kitchen and the OrangeTheory fitness studio, Isola offers amazing Naples-style pizza and a whole lot more. Their highly rated pizza is cooked in a wood-fired oven and includes a variety of mouth-watering favorites such as margherita, prosciutto and arugula, and salsiccia pizzas. The menu also includes salads, antipasti, pasta, and entrees such as chicken, lamb, and fresh seafood. There are two Isola locations in San Diego; one in the heart of Little Italy and the second right here in La Jolla.
Address: 7734 Girard Ave., La Jolla, CA 92037
Phone: (858) 412-5566
Everyday Hours: 3:30 p.m. – 9 p.m.
Best Pizza in Central San Diego
The San Diego metro area has a plethora of pizza places, but for your convenience, we've included only the finest and most delectable options for you to grub on.
Blind Lady Ale House
Blind Lady Ale House – or BLAH, as it is lovingly known by its regular customers – is a badass eatery on Adams Avenue in Normal Heights, a few blocks away from Fall Brewing Company and Dark Horse Coffee. BLAH's layout is funky and embellished, with bicycles and skateboards hung up as art and big windows to fill the space with natural light. This modern tavern is a gastronomic experience that features loads of hard-to-find craft beer options to wash down your pizza. BLAH prides themselves on sustainably produced meats, fresh-made mozzarella, and locally sourced produce. And because half of the original founding team was vegan, there are several delicious vegetarian and vegan options on the menu. San Diego pizza that is both organic and Neapolitan style? Get in my belly!
Address: 3416 Adams Ave, San Diego, CA 92116
Phone: (619) 255 – 2491
Hours: Wed – Thurs, 5:00 p.m. – 11:00 p.m.
Fri – Sun, 12:00 p.m. – 11:00 p.m.
Closed Mon & Tues
Pizza Bella Italian Bistro
Just a 3-minute walk from Old Town San Diego Historic Park, you'll have a chance to get your hands on the perfect blend of crunchy yet soft pizza at Pizza Bella. Voted the best pizza in America, Pizza Bella offers a pleasant in-between of Chicago deep dish and crispy New York thin crust. Their patio dining showcases natural light, and their interior mirrors a traditional Italian restaurant. Get your money's worth of salads, sandwiches, pizzas, sides, pasta, and appetizers and make way to the beach via the nearby transit center to munch in the great outdoors.
Address: 2707 Congress Street #1p, San Diego, CA 92110
Phone: (619) 692 – 4333
Hours: Mon – Sun 11:00 a.m. – 9:00 p.m
Ambrogio15
Ambrogio15 arguably serves the best pizza in San Diego according to SD Union Tribune, who voted it best pizza restaurant in 2020. Their pies run on the thinner side and are delicate with light yet filling toppings, offering a modern take on classic Italian pizza. This upscale restaurant has an adorable outdoor space just a few blocks from the beach with menu items that can be paired with their featured wines. Get some gelato, crunchy focaccia with Nutella filling, or some tiramisu, to balance your palette with sweet and savories.
Address: 926 Turquoise St h, San Diego, CA 92109
Phone: (858) 291 – 8650
Hours: Sat-Thurs, 12:00 p.m. – 9:00 p.m.
Fri – Sat, 12:00 p.m. – 10:00 p.m.
Bronx Pizza
Bronx pizza screams New York with their cash-only ma and pop shop where the iconic NY style thin crust pizza is served by the slice. They've also got a handful of calzones and side salads, and a sweet deal of 2 slices and a drink for under $10. The setting is laid back, fast casual with booth style seating. Photographs of the Yankees stadium as well as other timeless NY imagery line the walls to make you feel like you've truly been transported to the East Coast. At $3 a slice, Bronx's open air patio seating is an unbeatable place to eat lunch or dinner. You can find this charming gem right down the street from Scripps Mercy San Diego Emergency Room off Washington and across from Martinis San Diego in Hillcrest.
Address: 111 Washington St, San Diego, CA 921035
Phone: (619) 291 – 3341
Hours: Mon, 5:00 p.m. – 9:00 p.m.
Tues – Thurs, 11:00 a.m. – 9:00 p.m.
Fri – Sat, 11:00 a.m. – 10:00 p.m.
Sun, 11:00 a.m. – 9:00 p.m.
North County Coastal Best Pizza in San Diego
We of course had to highlight some outstanding pizza joints in North County because their selection is truly some of the best Pizza in San Diego.
Bongiorno's New York Pizzeria
Bongiorno's pizza shop and outdoor patio has everything you can think of when it comes to all things Italian. Calzones, Stromboli, pasta pomodoro, pizza by the slice or by the whole pie, you name it, Bongiorno's got it. Their thin crust pizza style incorporates copious amounts of cheese which provides the perfect combination of crispy, flaky and chewy. Bongiorno's airy eatery is off Stevens street in Solana Beach just North of La Colonia Park & Skatepark.
Address: 524 Stevens Ave Suite 10, Solana Beach, CA 92075
Phone: (858) 755 – 2646
Hours: Mon – Thurs, 11:00 a.m. – 8:00 p.m.
Fri & Sat, 11:00 a.m. – 9:00 p.m.
Buona Forchetta – Encinitas
Buona Forchetta is a top spot in Encinitas for an eclectic array of pastas, pizzas and sauces. The ambiance at their spacious brick-filled eatery will make you feel right at home, and it's a great pre- or post-surf spot to pile up on protein. They even have a few items for vegan-friendly folk, which can be difficult to come by when it comes to authentic Italian food. Catch a sunset at Moonlight Beach Surf Camps down the road and vibe out with some savory bites.
Address: 250 N Coast Hwy 101, Encinitas, CA 92024
Phone: (760) 704 – 8070
Hours: Mon – Thurs, 12:00 p.m. – 3:00 p.m., 5:00 p.m. – 9:00 p.m.
Fri, 12:00 p.m. – 3:00 p.m., 5:00 p.m. – 10:00 p.m.
Sat, 12:00 p.m. – 10:00 p.m.
Sun, 12:00 p.m. – 9:00 p.m.
Blue Ribbon Artisan Pizzeria
Blue Ribbon Artisan Pizzeria is known for their outstanding Italian eats, which isn't just limited to San Diego's best pizza. They also offer other Italian classics such as Goat Cheese Stuffed Piquillo Peppers with Sultana-Golden Balsamic, Deep Fried Brussels Sprouts with Applewood Smoked Bacon, and Whipped Goat Cheese with Black Mission Figs and Pickled Fennel on Rustic Bread. Their unique and versatile dishes showcase a more refined tasting menu of traditional Italian cuisine. Their small but charismatic restaurant is a couple blocks North of the Self-Realization Fellowship Meditation center in Encinitas and a block from F45 training.
Address: 897 S Coast Hwy 101, Encinitas, CA 92024
Phone: (760) 634 – 7671
Hours: Mon – Thurs, 4:00 p.m. – 8:30 p.m.
Fri – Sat, 11:30 a.m. – 9:30 p.m.
Sun, 11:30 a.m. – 8:00 p.m.
North County Inland Best Pizza in San Diego
Inland of the coast in North County the pizza party doesn't stop. Below are a few restaurants that are to die for.
Pizza Amore
Pizza Amore has been serving up delectable New York Style pizza since the early 90's and after having one bite of their deliciously cheesy pizza, you can understand why. They have affordable pizza by the pie including Eggplant Parmesan Pizza, BBQ Chicken Pizza, Zorba Pizza and Meatball Pizza. For the gluten-intolerant, they have a gluten-free pizza available that tastes just as good as the real thing! The dining experience is casual, so you're better off ordering a Pizza Amore pie to go and bringing it to the nearby park such as Kent Ranch Community Park or Kit Carson Park to enjoy the ooey gooey cheesy goodness under a shaded tree in the fresh San Diego air.
Address: 330 W Felicita Ave Unit B9, Escondido, CA 92025
Phone: (760) 741 – 3994
Hours: Tues – Sun, 11:00 a.m. – 10:00 p.m.
Closed Mondays
Tony Pepperoni Pizzeria
Tony Pepperoni is located in Bernardo Village, several blocks up from Costco and Black Mountain Open Space Park. It is another casual spot where you can pig out on pizza and pasta, with other menu items including Zucchini Sticks, Mozzarella Sticks, and a hodgepodge of wings. This is a self-serve pizza joint where you order at the register, and has a sports bar vibe with large TV's and a lively environment to watch your favorite team take home the gold. The real game-changer at Tony's is their pizza crust flavor options. That's right, you can choose from Cajun, Sesame Seed, Butter Cheese, Garlic, and more for an extra flavorful pizza. If you're a beer lover and want to bring some home, you can purchase one of their growlers to keep the fun rolling after you leave.
Address: 12165 Alta Carmel Ct, San Diego, CA 92128
Phone: (858) 630 – 8400
Hours: Mon – Thurs, 3:00 p.m. – 9:00 p.m.
Fri – Sat, 11:00 a.m. – 11:00 p.m.
Sun, 9:00 a.m. – 9:00 p.m.
Pazzo's Pizza
Eager for authentic San Diego pizza? Pazzo's Pizza, serving the Scripps Ranch area, offers classic fresh pizza with homemade everything–breads, pizza dough, sauces, and more. They have twelve rotating taps and a massive menu with more options than you can wrap your head around.
Address: 10299 Scripps Trail, San Diego, CA 92131
Phone: (858) 271 – 0271
Hours: Sun – Thurs, 10:30 a.m. – 10:00 p.m.
Fri – Sat, 10:30 a.m. – 11:00 p.m.
East County Best Pizza in San Diego
East County has some of the best San Diego pizza around. We know you might be getting tired of us saying that, but we wouldn't lie to you.
Milo's Pizza
Milo's in El Cajon doesn't pretend to be anything they're not, and that's why they are such a big hit! Their casual eatery is quick and effective, and they offer Pizza by the slice or box, with only a few items to choose from. They have perfected the small pizza selection they do have and you'll be smelling the aroma of pizza sauce, pepperoni, and dough in your dreams for weeks after you try your first Milo's! This location is in College East due Southwest of Lake Murray.
Address: 6686 El Cajon Blvd, San Diego, CA 92115
Phone: (619) 462 – 6456
Everyday Hours: 11:00 a.m. – 9:00 p.m
URBN
URBN has a few select options for Calzones, Salads, and Appetizers, but the real bread and butter is their craft pie selection. They've got super creative options such as their Mashed Potato White Pie with bacon, mozzarella, and parm, and an Eggplant Parm Red Pie with fresh basil, mozzarella, and stewed tomatoes. Not feeling one of their pizza choices? Make your own or opt for gluten-free and layer up with as many toppings as your heart desires. URBN's San Diego pizza is near the Main Street Plaza Shopping Center in El Cajon. We won't judge you if you want to get extra indulgent and hit some stores to swipe your card after stuffing your face with some of URBN's filling dishes.
Address: 110 Magnolia Ave, El Cajon, CA 92020
Phone: (619) 328 – 6922
Everyday Hours: 11:30 a.m. – 10:00 p.m
Franco's Giant Pizza
If you're one who likes a lot of options, then holy moly, you'll want to check out Franco's Giant Pizza spot ASAP. Their 28" giant pizzas are sure to send you into a food coma, but if you're feeling other Italian entrees or apps then they've also got you covered. You can opt for their deep dish thick crust pizzas, or their stuffed crust pizzas like their Stuffed Philly Cheese steak Pizza or Stuffed Alfredo Pizza. Whatever you end up siding with, rest assured there will be a party going on in your mouth and in your belly. Should you decide you ate way too much pizza and need a quick gym sesh to burn off all those yummy carbs, Crunch Fitness in El Cajon is a quick walk around the corner.
Address: 574 Jamacha Road, El Cajon, CA 92019
Phone: (619) 579 – 5797
Hours: Sun – Thurs, 10:30 a.m. – 8:30 p.m.
Fri – Sat, 10:30 a.m. – 9:30 p.m.
South Bay Best Pizza in San Diego
Because Little Italy is known for their stellar Italian food, we wanted to highlight some other areas in South Bay that have prime pizza. Once you've rung up this list, don't forget to check out the best pizza in Little Italy, San Diego.
Pizzeria Luigi
Pizzeria Luigi, a small local chain that got its start in Golden Hill, has bomb pizza, but what really makes their IB location stand out is their baked strombolis and subs. They have several amazing thin crust pizza options like the Margherita, Michelangelo, or Spicy Kevo that you'd be silly to not try while there. No, really, their ingredient combinations are next level. See for yourself and pop in for a slice or a whole pie, then head on down to Imperial Beach and Dog Beach two blocks over to savor your slices in the sun, sprawled across the sand.
Address: 717 Seacoast Dr, Imperial Beach, CA 91932
Phone: (619) 271 – 3477
Everyday Hours: 11:00 a.m. – 11:00 p.m
Pizzo's Pizzeria and Wine Bar
Pizzo's Pizzeria and Wine Bar is the perfect cross between cozy and cultured. Along with a spectacular list of pizzas, they have a fancy selection of wine, which can be enjoyed on their adorable outdoor patio. The ambiance of Pizzo is modern and chic, and you'll feel like you've stumbled into a tucked away gem at an Italian piazza. You won't want to miss out on trying items like their Fig Jam Pizza, Calamari, or Dough Balls. This pizza place is right by Westmont at San Miguel Ranch and near Liberty Elementary School in Chula Vista.
Address: 2322 Proctor Valley Rd, Chula Vista, CA 91914
Phone: (619) 240 – 3826
Hours: Tues – Thurs, 11:30 a.m. – 9:00 p.m.
Fri, 11:30 a.m. – 10:00 p.m.
Sat, 12:00 p.m. – 10:00 p.m.
Sun, 12:00 p.m. – 9:00 p.m.
Mon, 4:00 p.m. – 9:00 p.m.
Seacoast Giant Pizza
If you're looking for the best pizza in San Diego, you can't go wrong with Seacoast Giant Pizza. Their giant pies make for fabulous and easy meals that you can carry with you to Dunes Park or Imperial Beach, which both happen to be just a block away from Seacoast. Their limited menu items and assortment of greasy and delicious appetizers make the decision-making process simple, so you can save your energy for socializing and inhaling all the flavorsome toppings.
Address: 807 Seacoast Dr, Imperial Beach, CA 91932
Phone: (619) 423 – 4444
Hours: Sun – Thurs, 11:00 a.m. – 9:00 p.m.
Fri & Sat, 11:00 a.m. – 10:00 p.m.
The Last Word on San Diego's Best Pizza
While there is no shortage of San Diego best pizza joints, we hope you find value in this curated list. The pizza here is so versatile that you'll need to try out a few to catch a feel of which ones are up your alley. We are certain these are the best pizza places in San Diego, but we'll let the pizza speak for itself.
Getting hungry yet? There's plenty in store for you when it comes to pizza places on the block. If you want to get the full experience, why not have a guide take you to all the hot eateries while you indulge? The San Diego food tour is a perfect way to experience the eclectic foods this glorious city has to offer.
About the author: Courtney Pester is a San Diego based San Francisco bred millennial with a passion for design and self-expression. She prides herself in her charcuterie board making skills and has a soft spot for animals. When she's not pumping out articles you can catch her playing tennis and enjoying the diversity of events and restaurants San Diego has to offer.
Additional reporting by LaJolla.com staff.