10 Best Restaurants in Little Italy, San Diego To Check Out in December 2023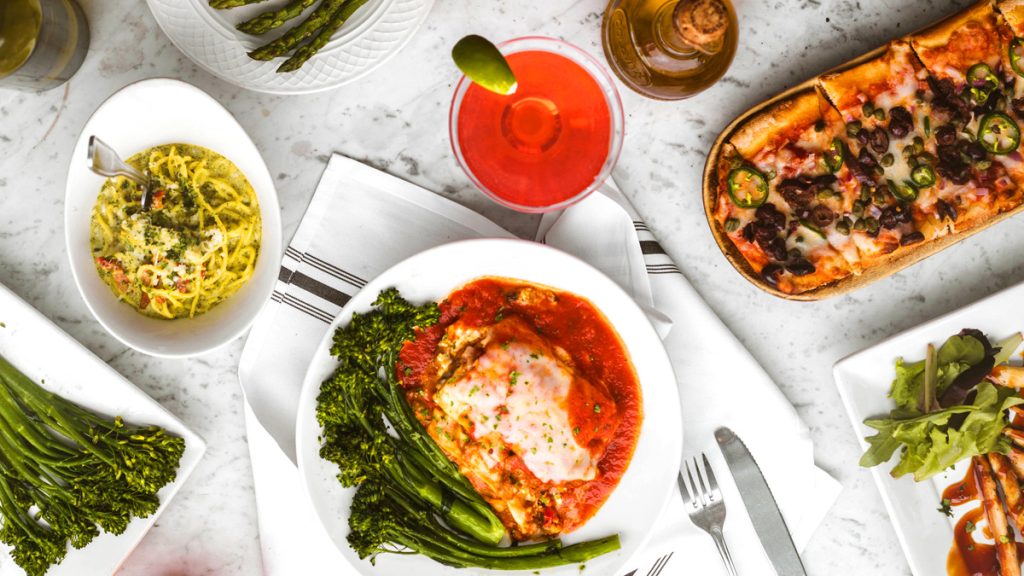 As you might have guessed by the name, Little Italy San Diego is a haven for all things authentic Italian. And when San Diego eats, it eats exceedingly well when it comes to incredible Italian edibles. One stroll down the adorable plaza, and you'll quickly come to find that you've momentarily transported to a piazza in the heart of Italy–pizza, pasta, Italian delis, gelato and all. What makes Little Italy so unique is the eclectic array of establishments, al fresco dining options, and charming wine bars that breathe life into the entire area–no matter what time of day or day of the week.
Whether you're a pizza lover who has the luxury of making homemade oven-baked pizzas from your at-home refractory oven or are simply craving wood-fired flatbreads without the mess of cooking, you'll want to check out this list of the best restaurants in Little Italy San Diego.
Where to Eat in Little Italy San Diego
To be quite frank, you really can't go wrong when settling on a place to eat in Little Italy, though not every restaurant deserves a gold star. When it all boils down to it, the hardest part about finding great Italian food is narrowing down the options based on your personal preferences.
For your food loving pleasure, we've highlighted the top restaurants in Little Italy San Diego, so you can experience the joys of freshly baked pizza, homemade pasta, and other traditional Italian dishes with low effort, high reward. We advise you to avoid searching your web browser for "where to eat in Little Italy San Diego" and leave it to us to help guide you to the hottest, trendiest, and tastiest places in the city.
Buon Appetito Restaurant
Buon Appetito serves award-winning Italian dishes at their cutesy authentic Italian joint that boasts the perfect rustic touches. With divine hospitality and a warm outdoor space a little off the beaten path, Buon Appetito is a splendid place to enjoy thick and fluffy bread, amazing seafood pasta dishes, and soak in the sweetness of Little Italy in a chill, laid back setting. The ambiance and sensibly decorated outdoor and indoor dining areas evoke a cheery and homey atmosphere, perfect for relaxing and sipping a glass of Italian wine.
Buon Appetito's extensive menu has plenty of options–including vegan-friendly foods such as their vegan sausage–at reasonable prices. For meat and cheese enthusiasts, the Creamy Burrata with Prosciutto is a must-try, as well as the divinely juicy Homemade Meatballs with a tangy marinara sauce. Of the restaurants Little Italy has to offer, this one provides a secluded space to escape the chaotic environment that you often run into downtown.
Address: 1609 India St, San Diego, CA 92101
Phone: (619) 238-9880
Hours: Mon – Sun 12 p.m. – 9:30 p.m.

Shop La Jolla Artwork
Davanti Enoteca
Davanti Enoteca is one of the best places to eat in Little Italy, San Diego for its remarkable wines, hearty portions, thoughtful service, quality ingredients, and a charming outdoor space right in the thick of it all. Chef Scott Harris, the restaurant's renowned chef, was named as Chicago Tribune's 2011 Restaurateur of the Year as well as 100 Most Powerful Chicagoans in 2012. This should be a clear indicator that the food at Davanti is absolutely killer. Among their noteworthy dishes, the Cacio e Pepe with fresh, semi-chewy noodles, and the Linguine Al Granchio with lump crab and miso dashi are excellent choices. The real chef's kiss, according to customers, is the Honeycomb Flatbread Focaccia, which is fluffy, addictive and the perfect blend of salty and sweet.
Davanti is also one of the few Little Italy cafés that serves phenomenal rustic Italian breakfast, such as Eggs Benedict, complete with a Bloody Mary bar loaded with different garnish options. If you've got a sweet tooth, you can't forget to try their bomb gelato, offered in a multitude of flavors and served in generous scoops. There are plenty of ice cream options that will come up if you google, "ice cream Little Italy, San Diego" but this hidden gem has gelato like no other. Davanti Enoteca is situated right by Waterfront park, an ideal distance from the pier to gawk at picturesque sunsets and go for a post pasta stroll.
Address: 1655 India St, San Diego, CA 92101
Phone: (619) 237-9606
Hours: Sun – Thurs 11 a.m. – 9 p.m.
Fri: 11 a.m. – 10 p.m.
Sat: 10 a.m. – 10 p.m.
Flippi's Pizza Grotto Little Italy
Flippi's Pizza Grotto is among the few family-owned restaurants in Little Italy that offers traditional Italian family recipes passed down from several generations. They specialize in pizzas, macaronis and sandwiches, and have a harmonious selection of red dinner wines that are complimentary to red meats, cheeses, as well as a few sparkling wines to sip on a warm Summer's day. Flippi's is quite homey, with charming decor, ambiance, and stellar service.
The vibe is rather old school–classic red and white checkered tablecloths, nostalgic Italian American comfort food dishes, complete with a tiny Italian market. Another bonus is that their wine is homemade, and no matter which wine you go with, it will pair nicely with their perfectly baked pizzas and ginormous meatballs. We highly recommend sitting outside and people-watching, as their patio, while small, is a delightful place to enjoy a date night or weekend brunch and take in on the excitement that Little Italy has to offer.
Address: 1747 India St, San Diego, CA 92101
Phone: (619) 232-5094
Hours: Sun – Thurs 11 a.m. – 9 p.m.
Fri – Sat 11 a.m. – 10 p.m.
Nolita Hall
Regardless of whether you're searching for "Best Breakfast Little Italy San Diego" or "Best Restaurants in Little Italy San Diego," Nolita Hall is sure to pop up on whatever source you land on (and it's easy to see why). Inspired by both modern and traditional drinking emporiums in Europe's beer cities, this airy, open, and bright restaurant features a stylish bar with plants, industrial lighting and architecture, and an Instagrammable aesthetic through and through. Nolita Hall has fantastic weekend brunch, outstanding ambiance, and massive floor-to-ceiling windows to let natural light in. That being said, it can be very busy, so call ahead to reserve if you plan to come on the weekend. If you can't manage to get a reservation, they offer yummy cocktails, making their bar the perfect place for a nightcap at their bar.
Among their casual bites and flavorful menu items, the Pork Back Ribs, Thin Crust Pizzas, Charred Octopus, and Diver Scallops with Lemongrass, English Peas and Corn Couscous are top-notch, and there are tons of veggie options for the vegetarians out there. Nolita Hall really knows how to balance textures, seasonings, and flavors, and, well, everything else for that matter. The dishes, decor, staff, and overall ambiance is just well-put together.
Should you want to switch up the cuisine but keep the unbeatable outdoor restaurant vibes, check out this new tropical rooftop bar and eatery with a killer patio culture.
Address: 2305 India St, San Diego, CA 92101
Phone: (619) 255-8000
Hours: Wed – Thurs 4 p.m. – 10 p.m.
Fri: 4 p.m. – 11:30 p.m.
Sat: 11 a.m. – 11:30 p.m.
Sun: 11 a.m. – 10 p.m.
Closed Mondays & Tuesday
Ristorante Illando
Featuring an intimate, second-story dining room and quaint backyard patio in San Diego's Little Italy, Ristorante Illando prides itself on their traditional Tuscan comfort food. They have a relatively simple menu at very affordable prices, featuring signature dishes and house specialties. Ristorante Illando's handmade pasta is topped with the perfect touches and beautifully plated. Their Spaghetti carbonara, juicy Lamb Chops, and Torre di Antipasti are a few of the many dishes that will make your jaw drop, not just because they are tasty, but because they look like a work of art. Ristorante Illando has an excellent wine list to pair with your pasta and meat dishes, and gluten-free pasta readily available for the gluten-intolerant folks. They also offer unmatched Little Italy dessert, including their phenomenally rich and creamy traditional tiramisu.
If that's not enough to woo you, the open air al fresco seating at Ristorante Illando is amorous no matter what time of day, and at night it is lit up with romantic light fixtures to further add to the places charm. The space itself is relatively small, providing a more relaxed environment that is perfect for date nights and mellow dinners.
Address: 1825 India St, San Diego, CA 92101
Phone: (619) 693-5204
Hours: Sun – Thurs 12 p.m. – 10 p.m.
Fri – Sat 12 p.m. – 11 p.m.
Barbusa
Of all the San Diego eateries to choose from, Barbusa is a top choice if you're looking for that wow factor. Barbusa houses authentic modern Sicilian cuisine with a huge selection of shareable dishes, making it great for birthdays and large parties. For big groups, your shareable plates will come out on long, aesthetic wooden boards that span the size of your table, so everyone can dig in at the same time. The atmosphere at Barbusa is loud and lively, so if you're trying to keep the energy going and the vibes high, this is the place to be.
Barbusa has a small selection of pizza options, but their bread and butter is their appetizers, main entrées, and rich pastas. They also offer a full crudo bar with fresh, delicately marinated fish in abundantly flavorful oils. For dessert, Barbusa's has cannoli, crispy golden brown sugar dusted donuts, and an espresso martini you'll be raving about till you get your hands on your next one. Baffled with what to order because everything looks killer? Not to worry! Their kind and helpful staff are there to help guide you to ordering the best dishes for your particular preferences.
Address: 1917 India St, San Diego, CA 92101
Phone: (619) 238-1917
Hours: Mon – Thurs 4 p.m. – 10 p.m.
Fri – Sun 11:30 a.m. – 11 p.m.
Bencotto Italian Kitchen
Bencotto's modern chic, industrial style Italian kitchen offers high-quality food and "home style" dishes. At Bencotto, you'll find a mellow and quiet atmosphere, great for a relaxing dinner or date night in the town. They offer Indoor and outdoor seating with an adorable patio where you can admire your incredibly well plated dishes-especially their desserts!
Bencotto is one of the few Italian restaurants that offer a Cheese wheel pasta, which is mixed in a 60lb Parmesan wheel and served to you in the wheel of cheese. Cheese lovers, don't sleep on this truly unforgettable dish. Bencotto is known for their soups, salads, appetizers, meat, and seafood, which are all served in large portions that will leave you with leftovers for tomorrow's lunch. Some solid menu options include their fresh salads with mixed greens, which combine lots of ingredients to provide varied textures and flavors. For more filling options, opt for the short prime rib braised in red wine and herbs with Parmesan polenta, which will melt in your mouth, or the Sautéed salmon in white wine with lemon, olives, cherry tomatoes and roasted potato. Bencotto is right near harbor view in Little Italy, a few blocks from the water. We advise you eat prior to sunset, so you can walk off your delicious meal over a sunset stroll.
Address: 750 W Fir St #103, San Diego, CA 92101
Phone: (619) 450-4786
Hours: Mon: 4 p.m. – 9:30 p.m.
Tues – Thurs, Sun 11:30 a.m. – 9:30 p.m.
Fri – Sat 11:30 a.m. – 10 p.m.
RoVino Rotisserie + Wine
Featuring Traditional, Sicilian and Northern Italian cuisine with fresh recipes, Rovino Rotisserie + Wine does not disappoint. Their deliciously hearty and authentic dishes are remarkably aesthetic, with their meat and veggie dishes presented on large wooden cutting boards providing a dose of rustic charm. For all the alcohol advocates out there, Rovino offers incredible deals for Wine Wednesdays–50% off of all wine bottles–and for Thirsty Thursdays, you can buy one glass of wine or beer and get the second one complimentary.
Their staff is sweet and friendly, and can help you settle on the ideal wine pairing for your particular preferences and dish selection. Some of their most-loved dishes include Crispy Brussels Sprouts with prosciutto, candy glazed walnuts, toasted pine nuts, and parm cheese, and their mouthwatering rotisserie chicken, though they have a great selection of soups and pastas, too. Rovino is near harbor view by the Embarcadero on the main strip in Little Italy and is easy to spot from the sidewalk as it boasts a well lit, extensive patio.
Address: 2034 Kettner Blvd, San Diego, CA 92101
Phone: (619) 269-9341
Hours: Wed, Thurs, Sun 5 a.m. – 9 p.m.
Fri – Sat 5 a.m. – 10 p.m.
Closed Mondays & Tuesdays
Monello
Arguably one of the best restaurants in Little Italy, San Diego is Monello. This is an incredibly unique Milanese style street food eatery that has over 25 different kinds of handcrafted pastas. Some of these pasta dishes are made and served in a 60-year-old wheel of cheese, such as their fantastically rich Beef Ragu Tagliatelle with Burrata. This industrial modern restaurant showcases vibrant plants, aesthetic decor, and a delightful patio with a lively environment. Monello's staff is beyond knowledgeable and accommodating, and you can tell a lot of hard work and dedication goes into their meal preparation and cooking.
For the brunch lovers–Monello's Italian brunch plates are positively to die for. Among their top brunch options are their breakfast pizza, which will have you craving pizza for breakfast for weeks. They also offer a Brunch Piadina–which is a breakfast calzone-like traditional Italian flatbread filled with bacon, cheese, arrabiata sauce, eggs, and zesty seasonings. If you're opting for sweeter breakfast bites, you'd be silly not to try their orange ricotta cheese, melt-in-your-mouth pancakes, unlike anything you've ever tasted. Due to popularity, it is best to make reservations as this place can get busy!
Address: 750 W Fir St, San Diego, CA 92101
Phone: (619) 501-0030
Hours: Tues – Thurs 11:30 a.m. – 9:30 p.m.
Fri: 11:30 a.m. – 10 p.m.
Sat: 10 a.m. – 9:30 p.m.
Closed Mondays
Civico 1845
Civico 1845–an authentic Italian restaurant with Southern Italian Roots–prioritizes natural and pure flavors, locally grown and seasonal ingredients, and proper cooking techniques. They are well-known for their Aperol Spritz bar where you can find a few showstopping Aperol Spritz varieties, such as their Cucumber mint vodka, Contratto Bianco, Elderflower, and Prosecco version called the Figurati Aperol Spritz. Their Italian pastas, fish, chicken, and slow braised cheek beef are all pristine choices that are gorgeously presented, reflecting the aesthetic decor surrounding their establishment.
Civico 1845 is also a spectacular restaurant for vegans, as they have an entire vegan menu complete with vegan appetizers, main entrées and desserts. Another menu you'll want to indulge in is their digestive drink menu, some of which contain caffeine and some with natural herbs and spices. All eccentric beverages help aid digestion after a filling Italian meal. Their quaint and luminous establishment lies right off India Street, dolled up with string lights for added cuteness.
Address: 1845 India St, San Diego, CA 92101
Phone: (619) 431-5990
Hours: Mon, Sun 12 p.m. – 9 p.m.
Tues – Thurs 4 p.m. – 9 p.m.
Fri – Sat 12 p.m. – 10 p.m.
Shop La Jolla Artwork
The Last Word on Restaurants in Little Italy, San Diego
While there is no shortage of Italian options in this mecca of Italian eateries, the best restaurants in Little Italy San Diego are right here on this list. There are an abundance of places to get homemade pasta and oven baked pizza, but not all restaurants deserve the same spotlight, so we highly encourage you to use this as a reference point for pristine restaurants in the Little Italy neighborhood. Some are perfect for a rowdy brunch or a rambunctious birthday celebration, and others are perfect for that quite romantic evening with your lover. We hope this helps you decide on where to eat next time you plan to experience the pleasures Little Italy has to offer!
About the author: Courtney Pester is a San Diego-based, San Francisco bred millennial with a passion for design and self-expression. She prides herself in her charcuterie board making skills and has a soft spot for animals. When she's not pumping out articles, you can catch her playing tennis and enjoying the diversity of events and restaurants San Diego has to offer.