What's Your Take on the Eater San Diego Guide to Our Restaurant Scene?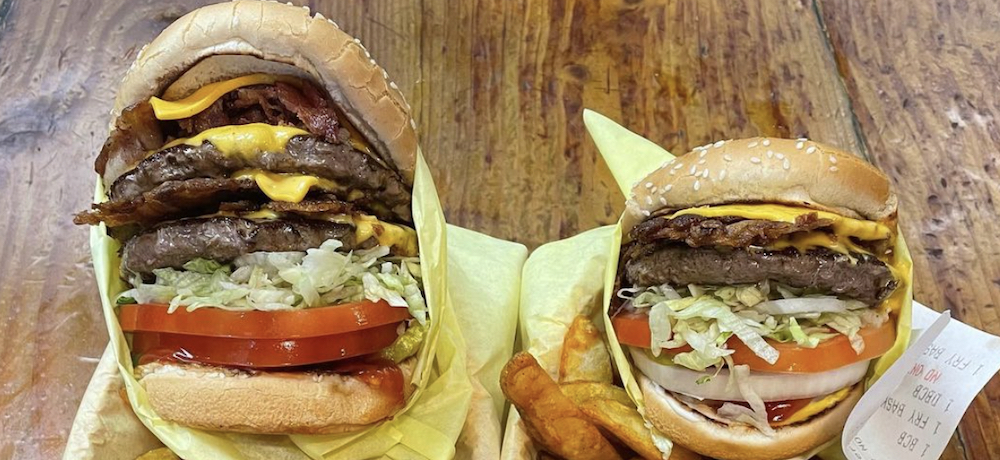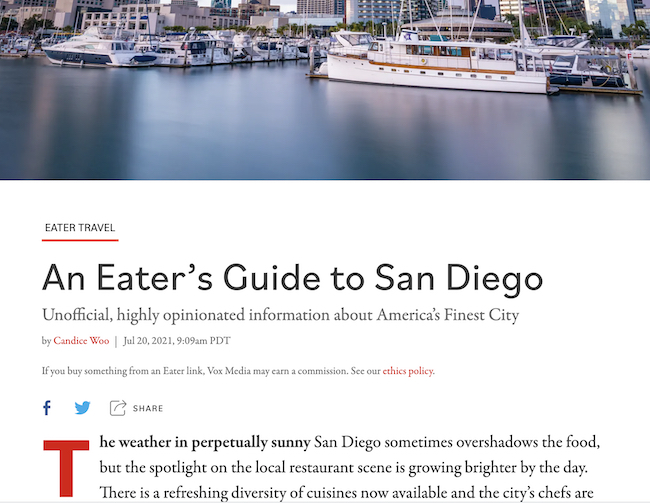 The San Diego edition of Eater.com published "An Eater's Guide to San Diego" by Candice Woo yesterday. They're calling it an "unofficial, highly opinionated" guide, and they're right. (You can find the complete article here.)
Candice seems to have her finger on the pulse of the local restaurant scene. She has recently published articles about the new Hot Dog on a Stick food truck in San Diego and the Lefty's Famous Cheesesteaks, Hoagies & Grill chain's expansion into the Gaslamp.
And her San Diego guide gives shout-outs to Callie Restaurant (East Village) and Vaga Restaurant (Encinitas)–both of which are arguably restaurants of interest in our food scene. Vaga was opened by Claudette Zepeda, who has competed on television. She was in both Top Chef and Top Chef Mexico. And Callie is helmed by a chef who cut his teeth working for Daniel Boulud, a world-renowned chef superstar.
The Best Tacos & Burgers
But what about tacos? Candice names TJ Oyster Bar and Tuetano Taqueria as her standout picks. But before you get all hot and bothered because she didn't mention your favorite taco shop, don't skip the first sentence she writes about tacos:
"Tacos are king in San Diego, with every local pledging allegiance to their favorite shop and style."
There's no way to please 1.4 million people, all with their own opinions on taco shops. (We've put our own opinion-drenched hat into the ring for the best Mexican food in San Diego, and we sure didn't please everybody!)
Burgers? Candice included Hodad's, so she's safe on that front. We suppose you can't include In-N-Out Burger in an Eater best-of roundup, even though Anthony Bourdain once said that In-N-Out was his favorite restaurant in L.A. Here's the clip of that:
Coffee Lovers Are Fiercely Loyal, Too
Candice could have written an encyclopedia on the best local coffee shops, of which we have something like 850 in San Diego. She chose to highlight shops that roast their own, and we'd like to add Dark Horse to that list. And if you're looking to find the best coffee in La Jolla, we've got you covered on that, too.
San Diego Loves Outdoor Dining
She mentioned Portside Pier and Mitch's Seafood for outdoor dining. Both are excellent suggestions, and if you're looking for outdoor dining in La Jolla, try our article about the best restaurants in La Jolla with ocean views.
Candice's article is a great overview of the San Diego restaurant scene and is a great jumping-off point to explore food.
And the key thing to remember is that here in San Diego, we're very loyal to the restaurants, coffee shops, bakeries, and bars that we love. That's a great thing! So tell your friends, relatives, and the people you meet on the street to go support your favorites.
Oh, and the banner photo for this article is from @hodads1904 on IG.
[mv_create key="18″ layout="grid" thumbnail="https://lajolla.com/wp-content/uploads/2015/02/la-jolla-blog-img-66.jpg" title="More About San Diego Restuarants" type="list"]