Boat Tours in San Diego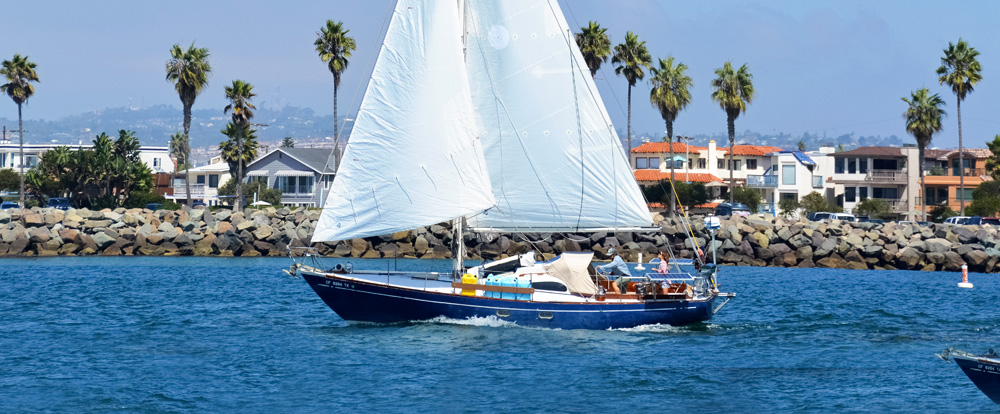 One of the best ways to see San Diego and enjoy its beautiful coastlines and waters is a boat tour. While shopping for a boat for sale in San Diego and piloting your own vessel is a fabulous way to enjoy So Cal's water scenes – that's not always an option. If you don't have your own schooner but still want to savor the luscious seascapes in San Diego, you're in luck. There are a variety of different boat tours in San Diego — from private gondola rides to speed boat whale watching.
There's a diverse range of boat tours available in the San Diego County region, from lake-based cruises in the North County city of San Marcos to San Diego Harbor boat tours that can give you a different view of America's Finest City.
Where are the Best San Diego Boat Tours?
Whether you're in town for the San Diego whale watching season or you just want a romantic evening with your loved one on the waters, we've hand-selected the very boat tours in San Diego that are highly rated, unique, and memorable.
Oceanside Adventures
True to its name, Oceanside Adventures offers a variety of boat tours that launch from the historic lighthouse in Oceanside Harbor. You can choose from wine sunset cruises or whale and dolphin watching trips — all of which are two hours long and are perfect for private parties, corporate events, or just a special occasion among couples.
Address: 256 S. Harbor Dr., Oceanside, CA 92054
Phone: (760) 277-3737
Sunset Sails – Pacific Marine Charters
Located in Oceanside, California, Sunset Sails offers a variety of boat tours and whale watching expeditions on meticulously kept sailboats. Expect year-round dolphin, whale, and sea life viewing in a comfortable setting.
Address: 1950 N Harbor Dr, Oceanside, CA 92054
Phone: (951) 552-6104
GalaxSea Cruises of San Diego
GalaxSea Cruises are a luxury experience. You can take a trip around San Diego bay on one of the company's top cruise lines, and even experience private entertainment with British concert pianists.
Address: 16690 Red Hawk Vista, Ramona, CA 92065
Phone: (760) 789-9635
Black Swan Gondola
If you're looking for a gentler boat tour that doesn't require any seafaring, look no further than Black Swan Gondola. The company, based in North County San Diego, offers a range of Venice-style gondola rides in Lake San Marcos.
Address: 1035 La Bonita Dr., San Marcos, CA 92078
Phone: (760) 410-6820
Flagship Cruises & Events
Flagship Cruises & Events offers some of the best boat tours in San Diego. The company, which maintains a variety of cruise ships, offers dining cruises, whale watching, and harbor tours, and private event chartering. Whether you're looking for a sunset cruise in La Jolla or a dinner trip in San Diego Harbor, there's something for everyone.
Address: 990 N Harbor Dr., San Diego, CA 92101
Phone (619) 234-4111
Paddle Pub
For the ultimate party on the water, consider Paddle Pub — a 16-passenger, paddle-powered pontoon boat with a party atmosphere and bumping sound system. Enjoy clear skies, a delicious drink, and a unique look at San Diego.
Address: 1441 Quivira Rd., San Diego, CA 92109
Phone: (888) 231-4404
Adventure Whale Watching
Fans of adventure will appreciate the whale watching and guided boat tours provided by Adventure Whale Watching. Located in San Diego, this company focuses on fast boats, small group sizes, and 360-degree views of the water — so you can take in the beauty of the ocean unobstructed.
Address: 1380 Harbor Island Dr., San Diego, CA 92101
Phone: (619) 808-2822
Imagine Sailing San Diego
Want to be whisked away on a gentle journey on the water? Captain Mike of Imagine Sailing is your guy. Imagine Sailing San Diego is a company that offers sunset sailing, dolphin spotting, seal tours, and "anchor and swim" trips in Coronado Bay.
Address: 1450 Harbor Island Dr., #D42, San Diego, CA 92101
Phone: (619) 997-7325
San Diego Boat Tours
San Diego Boat Tours is a company that provides private yacht expeditions and rentals for all types of group sizes. No matter the occasion, San Diego Boat Tours is focused on intimate, private, and memorable experiences that can include everything from whale watching to San Diego sightseeing.
Address: 2240 Shelter Island Dr., San Diego, CA 92106
Phone: (619) 333-9131
The Gondola Company
If you fancy a Venetian gondola ride but don't want to travel to Italy, The Gondola Company can provide you with a beautiful experience in Coronado. There are several relaxing and romantic gondola cruises available that will take you on a journey through the canals and waterways of the Coronado Cays.
Address: 503 Grand Caribe Causeway, Suite C, Coronado, CA 92118
Phone: (619) 429-6317
Seaforth Tours Coronado
If you're looking to rent a powerboat, jet ski, sailboat, or another watercraft, look at Seaforth Tours Coronado. Whether you want a speed boat tour in San Diego or a more relaxing sailboat journey, this company can provide you with the ships required to make it a reality.
Address: 1715 Strand Way, Coronado, CA 92118
Phone: (888) 834-2628
The Best Way to See San Diego Is From The Water
As we've seen, San Diego has a variety of excellent boat tours that can suit anyone's needs, from La Jolla dinner cruises to speed boat whale watching adventures. No matter which tour you choose, you'll be in for a great time.
And, no matter whether you're from out of town or a local looking for a stay-cation in San Diego, an excellent hotel stay can be the key to a beautiful and memorable trip.