Where to See Christmas Lights in San Diego in 2023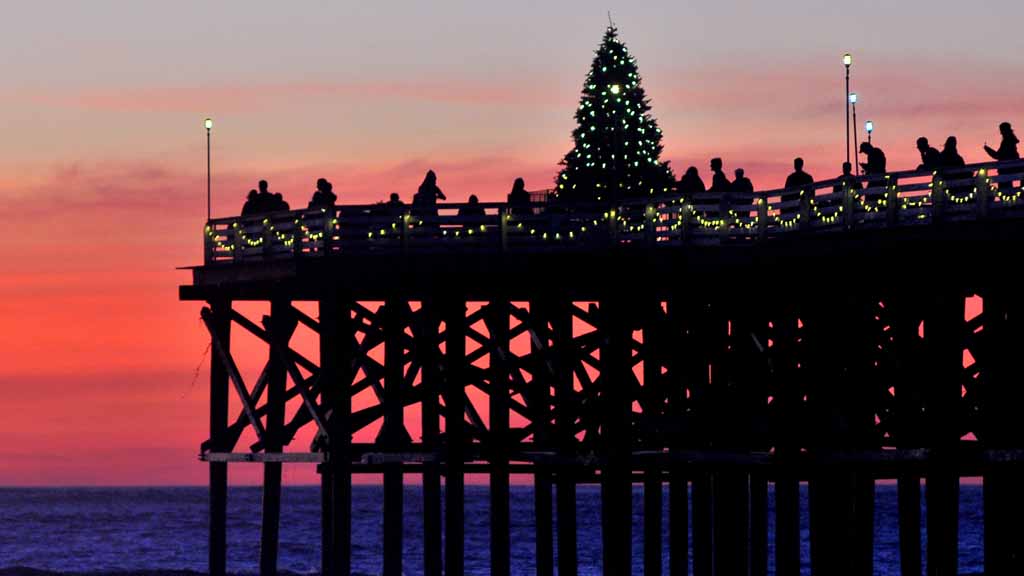 There's really no better holiday or winter tradition or way to get into the holiday spirit than going around to see Christmas light displays in San Diego! With so many unique neighborhoods in the area — each with their own vibe — there are countless light displays throughout the County. It can get a bit overwhelming to try and track them all down, so we've gone ahead and picked out some of the very best! Here's your guide to the best Christmas lights in San Diego and San Diego County. (Updated 2018). 
Sights & Sounds of Christmas: San Diego Temple
The Mormon Temple off I-5 near La Jolla is an awesome feat of architecture, and definitely worth a visit even during the daytime (although only members of the church are allowed inside). This holiday season, it turns into a winter wonderland—walk the Temple grounds and enjoy more than 130,000 lights and nativity scenes. Admission is free.
December 1st — January 1st; 5pm-11pm. 7474 Charmant Dr., UTC.
San Diego Bay Parade of Lights: The Bay
Now in its 46th year, the San Diego Bay Parade of Lights is truly a sight to behold. Presented by the Port of San Diego, the boat parade of more than 80 lavishly decorated vessels has become an iconic Christmas light installation in the area. This year's theme is "Arrgh! A Pirate's Christmas," so you'll be sure to see plenty of pirate-themed boats and decorations! The parade starts at Shelter Island, travels through the harbor and ends at the Ferry Landing in Coronado.
December 10th & 17th; 5pm.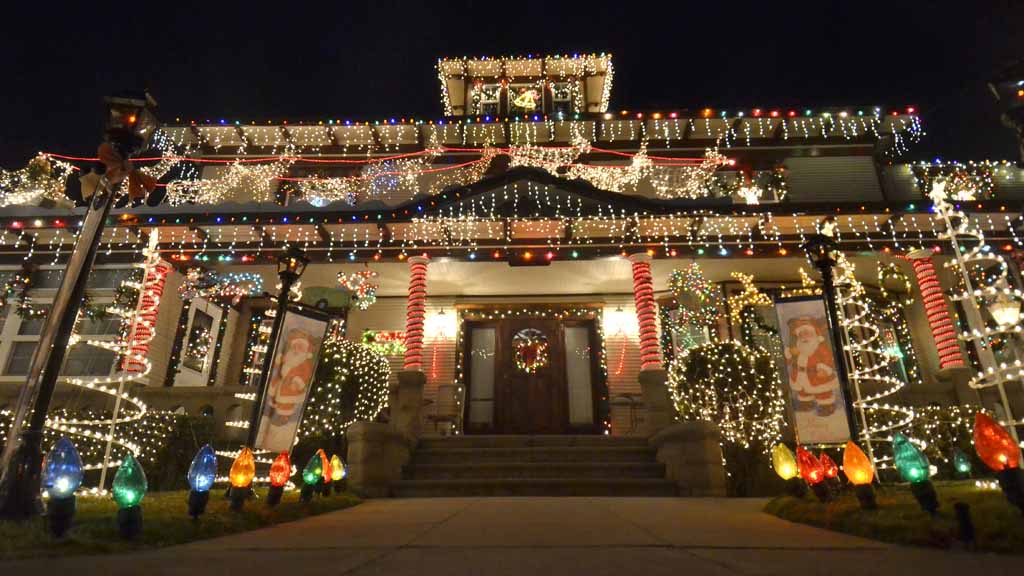 Forward House: Banker's Hill/Downtown
This famous historic house was built in 1905 for then-San Diego Mayor John Forward Sr, and has been adorned with an array of holiday lights every season since 1998. It's a beautiful, two-story house, and essentially every inch is covered in lights — this is a must-see.
Through December 31st; 5pm-10pm. 108 Ivy Street (1st & Ivy), San Diego. 
Luminaria: South Park
It's South Park's very own season of lights! Every tree, lamp post, roof, and courtyard is decorated with lights and ribbons. Stroll through the neighborhood and stop along the way at one of the coffee shops or restaurants in the area.
November 17th — January 1st; starts at dusk. Along 30th St. and Fern St. from Juniper to Grape and Beech Streets. 
Belardo Lights: Tierrasanta
The Belardo Lights display has a beautiful story behind it. Started by the father of two boys, both diagnosed with autism, who wanted to create a special Christmas tradition that they could look forward to and work on together each year. Every year since 2006, he and his sons have worked to create the display entirely from scratch, and this year they've upped the ante even further with new light displays. For an extra bonus, this year's display is synchronized to festive music played on 106.1 FM.
Through December 27th; 6pm-10pm. 5306 Belardo Drive, San Diego. 
Christmas Park: Clairemont
More than 30 homes are lit up with holiday lights in an area of Clairemont that's been dubbed "Christmas Park." The circular street's colorful display has been going strong since 1977 and continues to delight both locals and out-of-towners alike.
December 1st — December 25th. Lana Drive & Jamar Drive (off Mt. Abernathy), San Diego.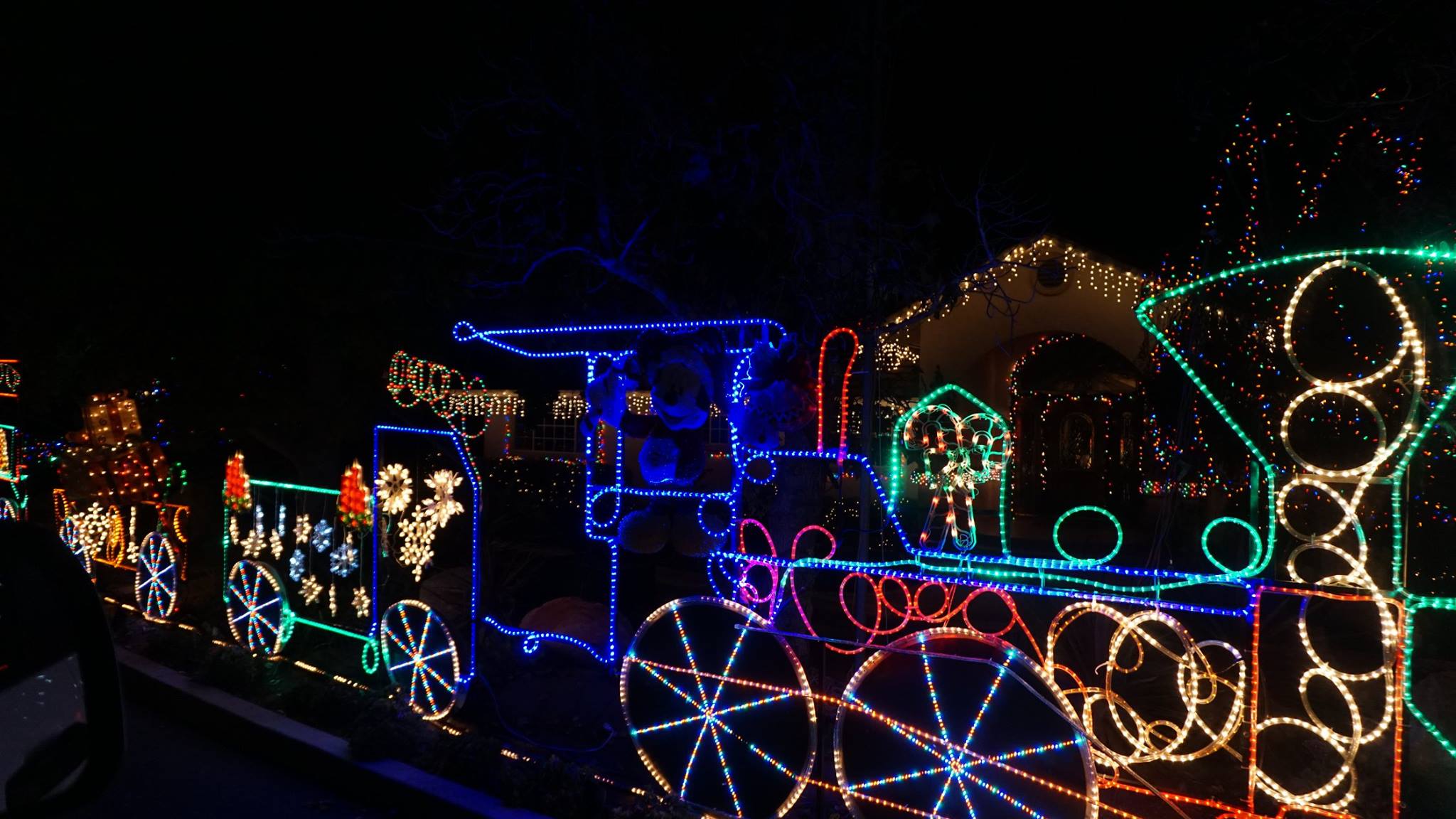 Jingle Bell Hill: El Cajon
Tucked away in El Cajon, you'll find nearly 80 homes lit up with all kinds of festive holiday themes (some get super creative here, as well). We've seen Nightmare Before Christmas references, among others! The display has grown significantly in recent years, lending it its nickname; it used to be called simply the "Pepper Drive Lights."
December 7th — December 26th; Mon-Thurs 6pm-9pm, Fri-Sun 6pm-10pm. Solomon Ave & Pegeen Place/Pepper Drive plus surrounding areas. 
1838 El Pico Drive: El Cajon
This Christmas light installation is a seriously longstanding local tradition — it's now going on its 53rd year decorating the 20-foot star that stands 100 feet above El Cajon valley. Visitors will also see a 55-foot long automated train and extensive automated yard decorations.
December 15 — 31st; dusk-10pm. 1838 El Pico Drive, off Hacienda Drive, El Cajon.
Merry-tage Court: Scripps Ranch
This display is definitely pop culture oriented, with nods to Star Wars, Minions, Cars, and more. The entire street gets creative and lights up, so don't miss this one if you're in the area!
December 1st — December 31st; 5:30pm-9:30pm. Stonebridge Pkwy. & Merritage Court, San Diego. 
View this post on Instagram
Christmas Card Lane: Rancho Peñasquitos
This is one of the liveliest light displays in the County. Each year, residents decorate their yards with plywood greetings depicting cartoon characters or Christmas themes. The display was actually started in 1982 by Rancho Peñasquito resident Alana Hastings as a way to share the holiday spirit of the tight-knit community with others in the city. Originally, only about 15 families participated; now, there are more than 200 — and several have even been known to hand out some hot chocolate!
Nightly from dusk-10pm. Ellingham, Oviedo, and Renato streets off Black Mountain Road.
Knob Hill: San Marcos
This display, located at 1639 Knob Hill Rd. in San Marcos, has been lighting up the North County neighborhood since 1988. Over the decades, it has grown to more than 85,000 lights, powered up nightly through Dec. 30. Visitors will also see 100 plastic holiday figures, 80 snowmen and 100 candy canes, to name a few of the bells and whistles. Santa Claus visits Knob Hill each year and, this season, he'll be there from Dec. 14 through Dec. 23, from 6:30 p.m. to 7:30 p.m., listening to Christmas wishes and spreading cheer.
Through December 30th from 5pm-9pm. 1639 Knob Hill Road, San Marcos. 
Candy Cane Lane: Poway
Entire cul-de-sacs are lit up in Poway, with more than 100 homes decorating for the holiday season. Parking can be tricky here, so it's usually best to park a few blocks away and walk through the displays on your own little Christmas light tour.
December 10 — 24; 6pm-9pm. Stoutwood Street, near Brookstone Drive; Poway. 
Fairway Village: Carmel Mountain Ranch
Each year, Carmel Mountain Ranch also spreads holiday magic of its own via Fairway Village, a neighborhood located on the east and west sides of Stoney Gate Place. There, around 80 homes are decked out in Christmas lights through New Year's Day. Visitors will sometimes find residents playing holiday movies outside, carolers and dancers. On the Saturday evening before Christmas, this neighborhood typically holds a block party featuring hot chocolate, cider, music, lights, cookies, snacks and more. Santa has also been known to make an appearance — depending on the workload at the North Pole, of course.
Through January 1st; 5:30pm-10:30pm. East and west sides of Stoney Gate Place, 92128.
Starlight Circle: Santee
In Santee, this massive lights display known as "Starlight Circle" draws crowds year after year. Located on East and West Glendon circles off Magnolia Avenue, visitors can see elaborate, handmade Christmas displays spanning dozens of homes. Many of the displays follow a theme — from "Star Wars" and superheroes to "Toy Story" and "Sesame Street." Sometimes, the residents will sell hot cocoa, kettle corn, cookies and other holiday treats, for visitors to enjoy as they stroll the neighborhood. The lights are usually on from 5:30 p.m. to 10 p.m. nightly.
Nightly from 5:30pm – 10pm. Along Tomel Court, off Magnolia St. in Santee.
DB Christmas
Also in Santee is "DB Christmas," a dazzling display created by Michael Balazs each year at his home. The lights — in honor of Balazs' late father, who died from cancer in 2009 — include thousands of multi-colored strings, spiraling Christmas trees, lawn displays that read "HOPE" and "CURE," and even holograms of Santa Claus projected on the windows of the home. Balazs' display is synced to holiday music played on 98.5FM; he collects donations from spectators to support charities such as St. Jude Children's Research Hospital on behalf of his father. Balazs said he gets his holiday cheer from his dad, who loved Christmas.
Nightly from 5 pm to 10pm. 9773 Roe Drive, Santee. 
Tinsel Town: Lakeside
Each year, more than 20 houses are lit up in Lakeside with festive lights and front-yard decorations. This neighborhood definitely goes all out for the Christmas season!
Nightly from 5pm-10pm. 10248 Paseo Palmas Dr., Lakeside.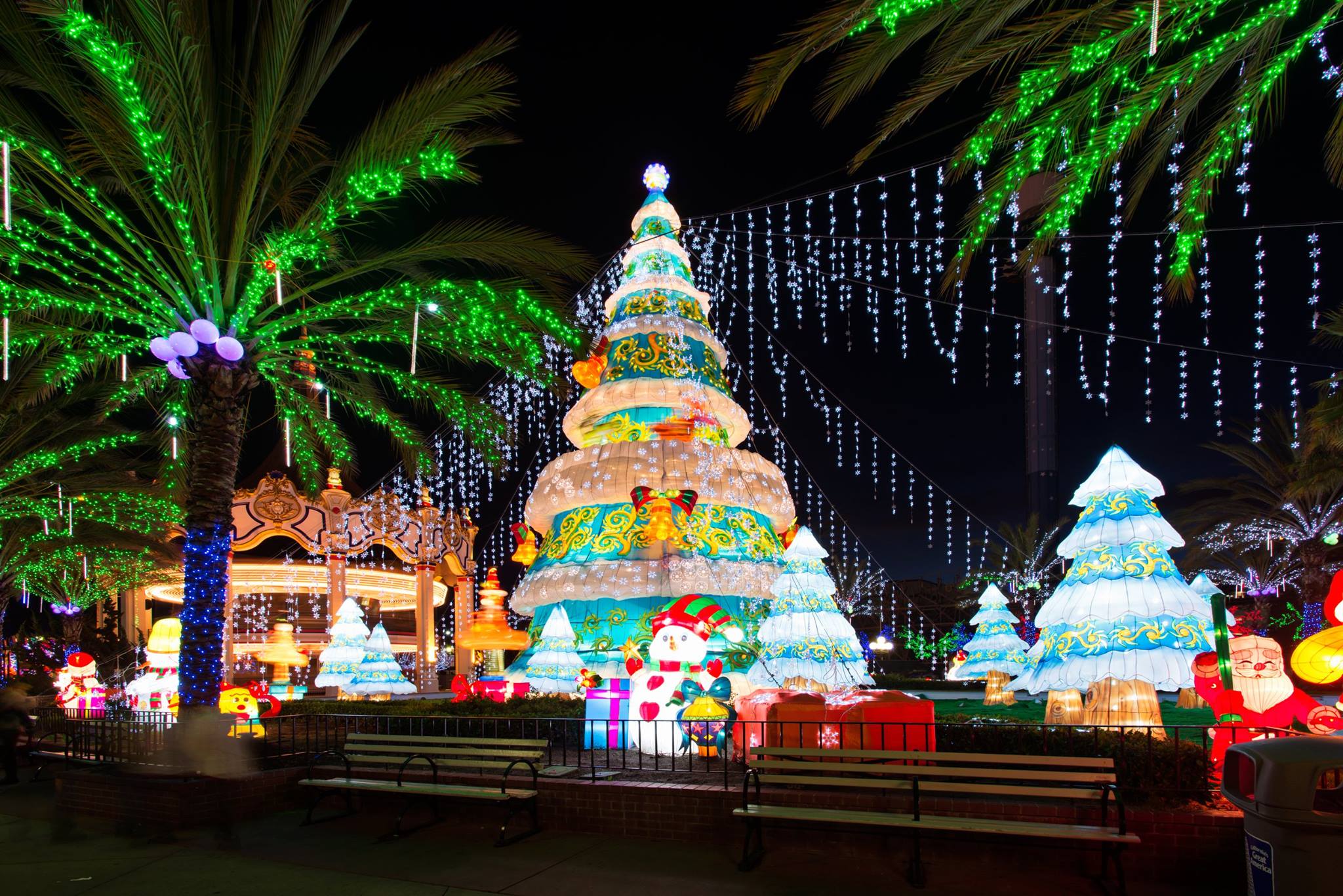 Other Light Displays
If you're looking for Christmas lights that aren't in residential neighborhoods, here are a few places around the County to go:
Jungle Bells: San Diego Zoo. Enjoy the Zoo in holiday mode until January 1st, 9am-8pm every day, complete with a holiday light display, animal experiences, costumed characters, and live music. Head over to Balboa Park after for more holiday cheer! Read our guide for more information about how to purchase San Diego Zoo tickets this holiday season.
Christmas Celebration at SeaWorld San Diego. This year, SeaWorld is totally decked out with more than a million lights plus a 40-foot Christmas tree with an animated light show. Don't forget to check out Rudolph's Christmastown and the new O Wondrous Night, a living nativity performed every night. Through January 6th. For more information about how to purchase Seaworld San Diego tickets this holiday season, check out our guide.