Where To Have An Incredible Easter Brunch In La Jolla in 2023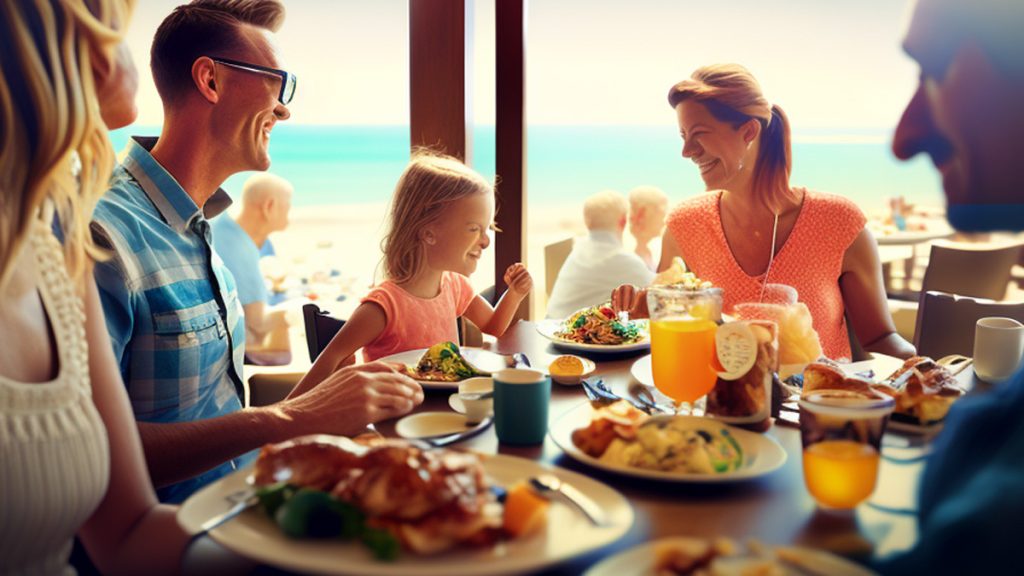 Delicious food and quality time with loved ones is what Easter is all about — and Easter brunch in La Jolla comes with that, plus incredible ocean views! Celebrate Easter weekend at one of these world-class La Jolla restaurants. Some are offering a buffet this year, while others will be featuring a prix-fixe menu. Please note that a reservation is required for most of the restaurants on this list unless otherwise noted.
What Do People Eat For Easter Brunch?
A better question might be – What do people not eat for Easter brunch in La Jolla? To explain, brunch during this springtime holiday is typically a decadent, indulgent experience where just about anything is up for grabs on the table. From velvety buttered lobster to fluffy egg white omelets – juicy prime rib to sweet waffles swimming in homemade syrup – there are really no rules when diving into an Easter brunch in San Diego.
Where To Go For Easter Brunch?
We thought you'd never ask! San Diego is the ultimate host for Easter brunch. And if you're lucky enough to live in La Jolla, you know local restaurants are hopping like Peter Cottontail to appease hungry, celebratory Easter brunch diners.
Where you go for Easter Brunch in La Jolla depends upon the type of food and atmosphere you're craving. You can opt for upscale, fine dining where your best bib and tucker is the preferred dress for delectable, suave dishes. Or, you can go more casual for a down-home feel among shared plates around a big rustic table. Either of these scenarios and more are all possible when you go to Easter brunch in San Diego!
The Winery Restaurant & Wine Bar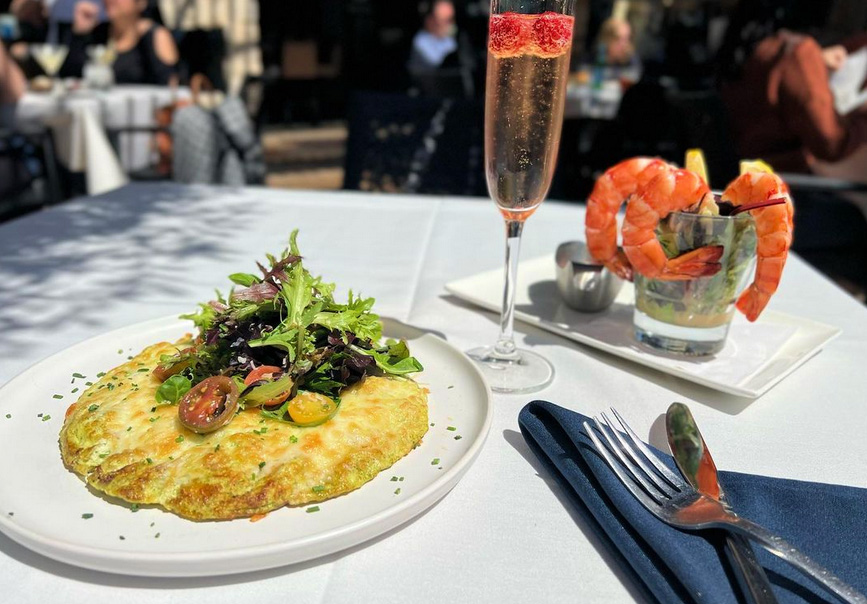 How does a tender shrimp and egg white frittata with punchy basil pesto sound to you? Or maybe you might fancy shortribs deeply braised in white zinfandel served in a hash topped with perfectly fried eggs. These are just some of the tongue-teasers you can expect at The Winery Restaurant in San Diego. From tacos to bolognese, delicately dressed salads to award-winning desserts – you are guaranteed to leave the Easter brunch table happy and satiated. Oh, and of course, The Winery has tons of delicious wine selections to choose from during their Easter brunch event! Check out their VIP program to stay updated, and become eligible for discounts.
Farmer & The Seahorse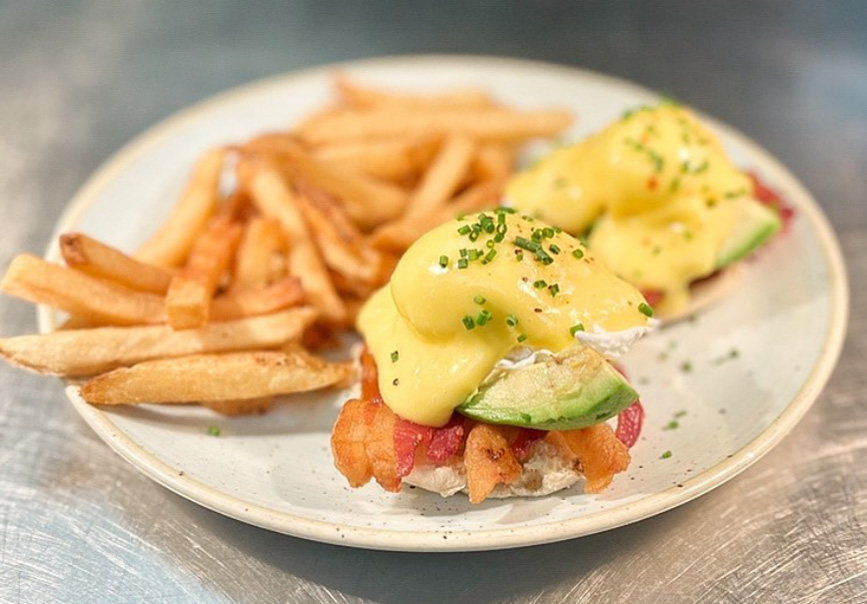 Tucked in the heart of Torrey Pines, Easter brunch in La Jolla is a smash-hit when you go to the Farmer & The Seahorse restaurant. Specializing in local, farm-to-table dining with reinvented American classics, this restaurant puts pride, love, and superior craftsmanship into every edible detail and delectable dish. Choose from their "build your own benny," which is eggs benedict done as you please. Or, you might want to sink your teeth into the prime rib or herb-crusted salmon served up at Cottontail's Carving Table. Upscaled favorites like tater tots, creamed corn, and mac 'n cheese will be featured at their buffet too. Seats go fast at the Farmer & The Seahorse, so contact them today for your reservation.
A.R. Valentien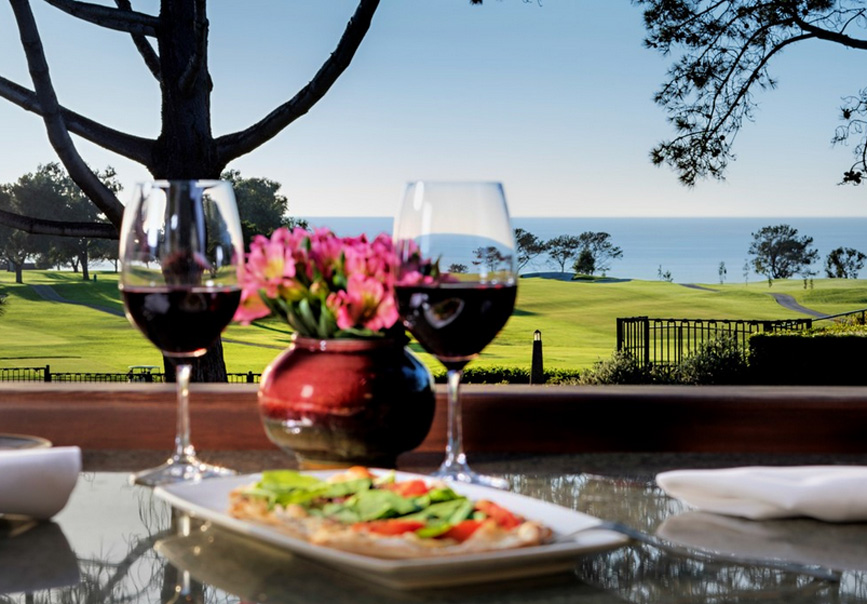 If you're looking for a high-class affair when doing Easter brunch in La Jolla, check out the highly recommended A.R. Valentien located in the Lodge at Torrey Pines. Savor expansive views of the Torrey Pines Golf Course as you simultaneously savor a sumptuous three-course Easter brunch. Treat yourself and your family or friends to scratch-made lemon ricotta pancakes or artichoke and morel mushroom gratin with mustard greens and pangrattato. Or choose the spring pea soup served with a luscious poached egg and a brioche crouton on top. If you're looking for more heft to your brunch, their Easter brunch menu also features prime rib, lush lobster frittata, white wine braised halibut, and more. And don't forget to opt for the free-flowing mimosas, which are an Easter brunch tradition!
When: Sunday, April 9th; 10 AM – 3:00 PM
Address: 11480 N Torrey Pines Rd, La Jolla, CA 92037
Cost: $90 per person | $125 with Mimosas | $45 for children 11 and under
George's at the Cove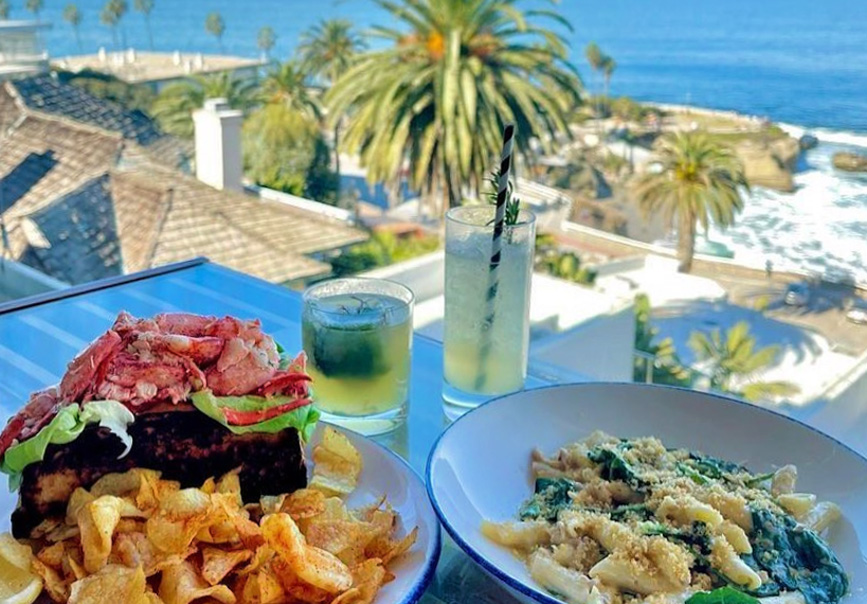 If you've not yet dined at the iconic George's at the Cove while overlooking the marvelously moody Pacific ocean – this is the time to go. George's doesn't serve brunch very often, but when they do, their Easter brunch in La Jolla is eggceptional! Start out with their warm, smoked salmon dip with house-made salty vinegar chips. And their famous broccoli, black bean, and smoked chicken soup is truly sensational. George's Easter menu features brunch favorites such as classic eggs benedict, omelets, french toast, and more. They will also be serving divinely crafted sandwiches and elegant salads. Of course, no brunch is complete without George's desserts, like their berry tarts or toffee pudding cake.
Nine-Ten La Jolla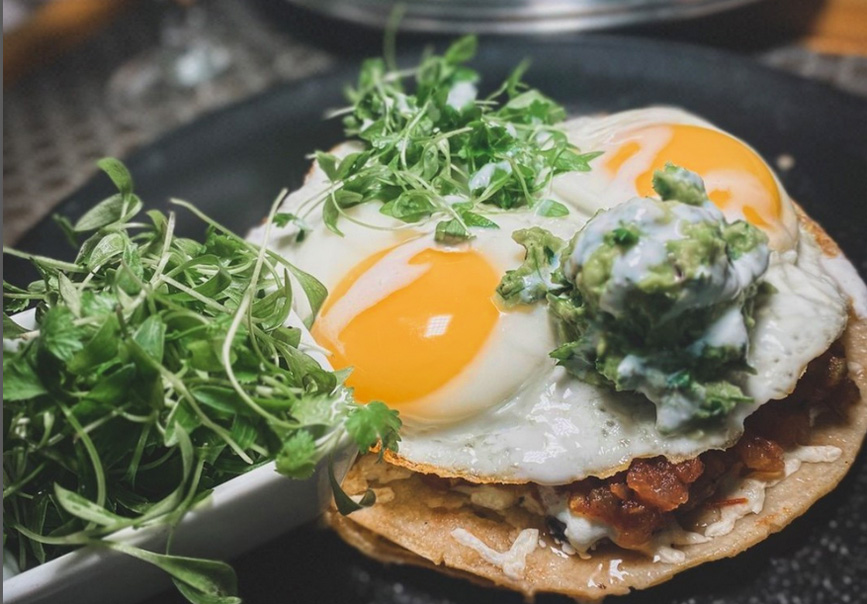 Nine-Ten's Easter celebration is a world-class event! Chef Jason Knibb and Pastry Chef Jose Alonzo, III, will prepare a special Easter Sunday brunch three-course menu featuring a choice of starters, entrees, and desserts. Their in-house bakery will be brimming with scratch-made sourdough bread, fresh doughnuts, and classic scones. You can also opt for fresh-from-the-sea items on their seafood-rich brunch menu, like mahi-mahi tacos, salmon avocado toast, hamachi sashimi, or calamari. Bottomless mimosas and other drink specials will also be available. Reservations are strongly recommended.
The Marine Room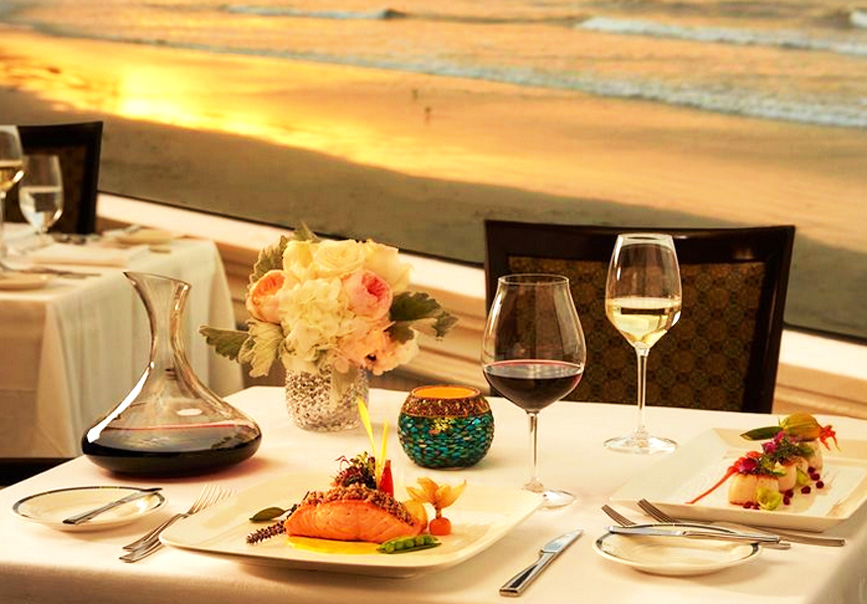 Enjoy a fabulous brunch with one of the best views in La Jolla! The Marine Room is perched on the water and offers up incredible French/American cuisine. Since 1941, the Marine Room has been serving up highly crafted, elegant cuisine to the delight of La Jollans and visitors alike. This year their Easter buffet will feature a seasonal menu that includes Coronado Island sea bass ceviche, truffle eggs benedict, purple basil tomato bisque, and more. Don't miss the lobster crepes (drool!), fresh-caught swordfish with squash blossoms, and poblano cream. And you simply must try their Easter brunch smash-hit, the velvety filet mignon with black garlic butter. The Marine Room is a highly coveted spot for Easter Brunch in La Jolla, so contact them today to ensure you have a table at this iconic dining destination.
Herb & Wood, Little Italy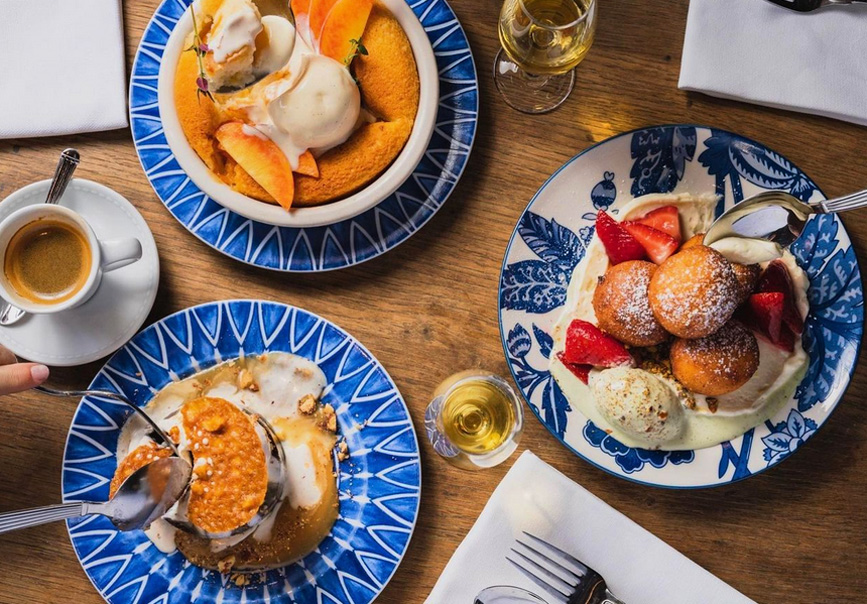 Headed by celebrity chef, Brian Malarkey, Herb & Wood in Little Italy serves up modern interpretations of classic Mediterranean cuisine. Using elevated local ingredients and superior attention to every culinary detail, Herb & Wood is a remarkable experience if you want a memorable Easter brunch in San Diego. Malarkey will be serving traditional brunch favorites such as eggs benny, danishes, french toast, and avocado toast. However, some eye-popping and belly-busting features include baja shrimp with polenta, pork belly in bearnaise sauce, and scrummy crab cakes served with scratch-made aioli. With a delicious line-up like this, you can expect seats to fill up fast, so contact Herb & Wood today to reserve your table before it's gone.
Humphrey's Restaurant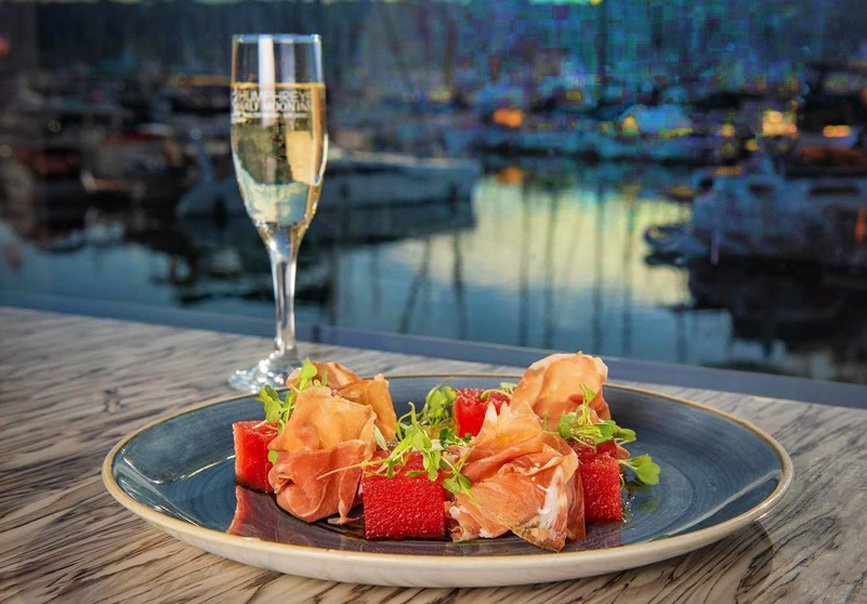 This mainstay restaurant has been a favorite with locals since 1979 for its smashing seaside views on San Diego's Shelter Island and its exceptional culinary feats of flavor. All of their ingredients are locally and sustainably sourced, so you can feel good about noshing at Humphrey's for Easter brunch in San Diego. Launch your brunch-a-licious venture by the sea with their drool-worthy blintzes dressed with rooibos tea syrup (yum!). Sample an array of savory organic salads. Don't miss their old-fashioned omelet station, where you can pick your own ingredients. And you can't walk away from Humprehy's Easter brunch without sampling their mind-boggling array of charcuterie boards. We highly recommend their Global Cheese Board featuring Humbolt Fog goat cheese, Saint Agur blue cheese, manchego, brie, and honey sea salt nuts.
When: Sunday, April 9th; 10am to 2pm
Address: 2241 Shelter Island Drive San Diego, CA 92106
Cost: $95 per adult, $35 ages 4-10, age 3 & under are free
More details: http://humphreysrestaurant.com/
La Jolla Shores Restaurant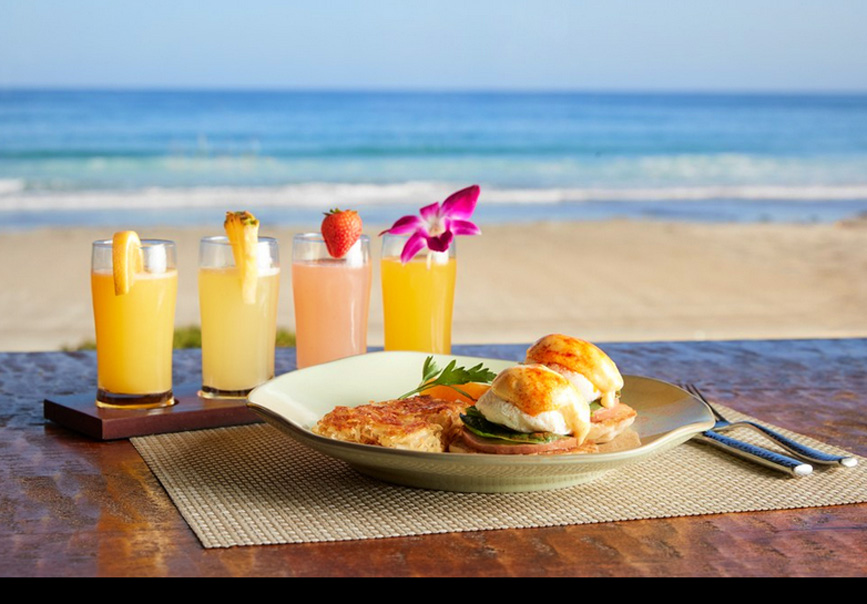 It's not uncommon for The Shores to serve up sensational brunches on the weekend, but their Easter brunch in San Diego is something truly special. Enjoy Chef Percy's brunch on the beach, and you'll find something to satisfy every taste with a buffet that features favorites like Kings Hawaiian french toast and hazelnut-crusted petrale sole, along with Buchmann's Ranch cage-free egg omelet station. Sample roasted Colorado leg of lamb, locally caught butterfish with lobster cream sauce, or poached shrimp with tequila cocktail sauce. This is a phenomenal feast for you and your family that will make this Easter one to remember for years to come.
When: Sunday, April 9th; 10am to 3pm
Address: 8110 Camino Del Oro, San Diego, CA 92037
Cost: $75 per person | $95 with free-flowing sparkling wine | $40 for children aged 6-12 years
CUSP Dining & Drinks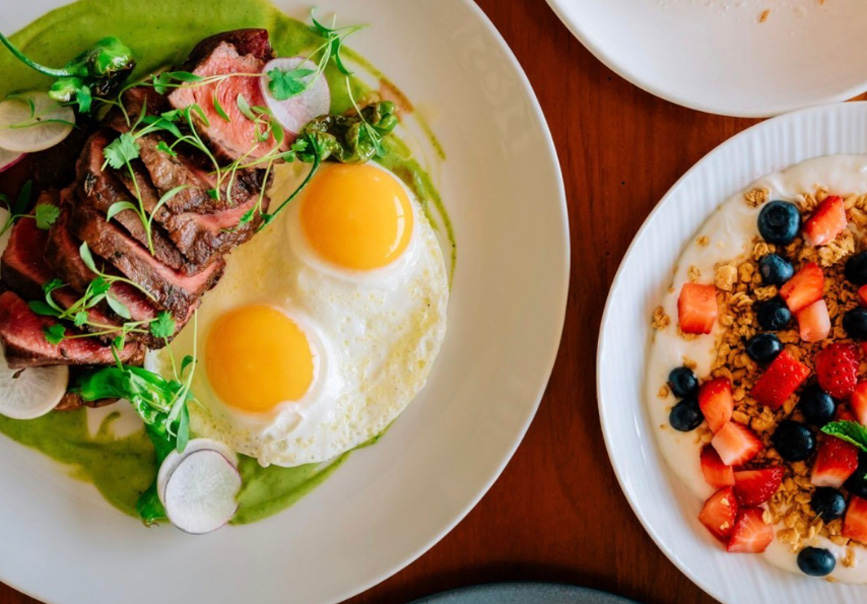 Cusp's Easter brunch is a family pleaser with classic dishes for all ages. Take advantage of Chef Ingrid Funes' new brunch menu, featuring classic a la carte dishes like caramel french toast, a variety of benedicts, and fresh salads. There will also be decadent specials like prime rib, lemon ricotta pancakes, and house cinnamon rolls! Guests will also enjoy complimentary valet. Located on the top level of Hotel La Jolla, Cusp boasts panoramic views of La Jolla Shores, a beautiful backdrop for this special occasion. Reservations are strongly suggested.
When: Sunday, April 9th 7 am to 2:00 pm
Address: 7955 La Jolla Shores Drive, La Jolla CA 92037
Cost: See menu for pricing
More details: http://www.cusprestaurant.com/
Consider Easter Brunch At Home
We can't imagine not getting your appetite excited about the aforementioned Easter brunch destinations – but if staying in is more your scene, then there are tons of ways you can celebrate Easter in the comfort of your own home. Here are some ideas to help you entice your guests and pull off a smashing Easter brunch in your own backyard or at your dining table.
What To Serve at Easter Brunch?
Get inspired by some Easter brunch in La Jolla menu items we just mentioned. Or, go off-menu and create your own enticing dishes in your own unique way. However you get your inspiration, know that the sky is the limit when it comes to serving up spectacular eats at your Easter brunch at home.
If you go traditional, don't forget to serve classic egg dishes such as eggs benedict, deviled eggs, or a hearty egg casserole or frittata. For something more exotic, try roasting meats such as a leg of lamb (which is also classic for Easter) or roasting a duck for a new spin on your Easter feast. Charcuterie boards are all the rage now, and they are perfect for Easter brunch as your guests can pick, choose, and sample an array of different yummy morsels.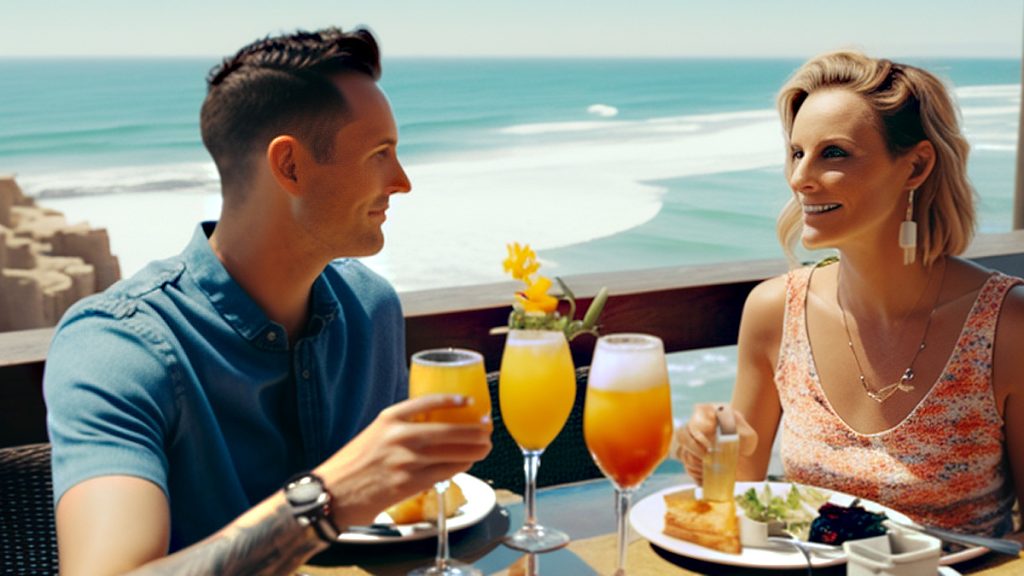 What To Bring to Easter Brunch?
If you've been lucky enough to receive an invitation to an Easter brunch in San Diego, you might be wondering what's kosher to take to the grand affair. In most cases, you can't go wrong if you show up to brunch with a lovely bottle of local Napa or Sonoma Valley wine. Because brunch is a mish-mash of sweet and savory foods, you could also be a hero guest if you showed up with a basket of croissants, muffins, biscuits (don't forget to make gravy), or even homemade cookies.
What to Wear to Easter Brunch?
Easter brunch in San Diego is typically the time to don your best bib and tucker. This is a time to show off your fashion savvy and express yourself with tailored flair. Opt for crisp, clean looks that exude a sense of freshness that only springtime and Easter can embody. You don't have to wear a formal or a tux – but Easter is a special time, so dressing smartly is a way to honor the occasion, and it will make you and your guests feel like a million bucks while enjoying Easter brunch.
Final Thoughts
As you can plainly see, enjoying Easter brunch in San Diego is a piece of carrot cake with these award-winning restaurants. From drool-worthy Dover sole to succulent roast beef, berry tarts to bodacious blintzes – there is no end to the culinary mastery that awaits you when you go out for Easter brunch in La Jolla or the surrounding SD area. And even if you're not up to going out, you can always celebrate Easter by whipping up your own brunch at home. Either way, we wish you all the best for spring, and we hope you have a super-happy Easter!