How to Explore Scripps Pier by Moonlight This Summer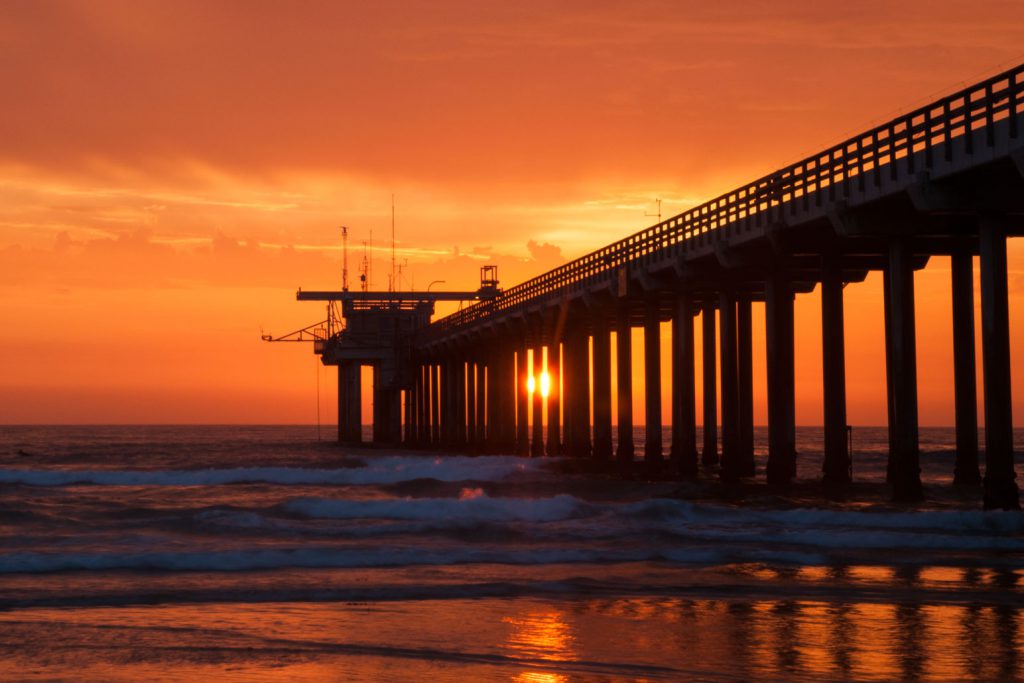 Imagine — walking above the Pacific Ocean on a warm summer night, using only the moon's glow as your guide while you explore one of La Jolla's most fascinating landmarks. You can do just that during one of the Birch Aquarium's Full Moon Scripps Pier Walks, which are held all summer long!
A working research pier still used by the Scripps Institution of Oceanography, the beautiful Scripps Pier is usually closed to the public. Every summer, however, visitors are invited to explore all 1,090 feet of this La Jolla treasure by moonlight. Attendees have full access to the pier and the chance to ask guides (naturalists from the aquarium and staff members from the Institute) all about the pier and how it's used. A warm night lit by a full moon is the perfect time to explore one of La Jolla's most prominent landmarks!
How it Works
Your Pier Walk evening kicks off with a video about the history of the Scripps Institution of Oceanography. As you head out on your walk from the Auditorium, you'll learn about the 100-year history of data collection at Scripps. Once you arrive at the pier, you're welcome to soak up the striking scenery by the moonlight, or, if you're feeling ambitious, there are hands-on activity tables — where the staff may or may not ask if you'd like to dissect a squid or help dig through clumps of mussels.
[button url="https://www.lajolla.com/article/things-to-do-la-jolla-summer-bucket-list/" text="SEE ALSO: The Ultimate La Jolla Summer Bucket List!"]
Otherwise, the Birch Aquarium naturalists will be around to give you the 411 on subjects like shark teeth, the latest in plankton studies, and for the serious nature lovers, the unique donut-shaped brain of a squid.
An added bonus, especially for those with a penchant for photography: the event is timed perfectly so that you walk out of the Sumner Auditorium, down the campus hill, and right into the sunset ducking down beyond the pier. This is a rare – not to mention gorgeous – photo opportunity in La Jolla, so come camera ready!
Pier Walks 101
The pier walks are held twice a month from June through October. Tickets are $35 for adults ($30 if you're a Birch Aquarium member), and can be purchased ahead of time on the Birch Aquarium website. The walks are from 7:00pm – 8:30pm.
Children must be at least 9 years old to participate, and attendees under 13 must be accompanied by a paid adult.
[ad size=728×90]
This year's Pier Walk schedule:
June
Dates TBA!
The original Scripps Pier was built in La Jolla between 1915 and 1916 as a 1,000 foot long facility for acquiring clean seawater for campus labs and Birch Aquarium. Ellen Browning Scripps provided all of the funds necessary for its construction. Extensive repairs were made to the pier in the 20s and 40s, though major concerns about its structural soundness led to the pier's complete rebuilding later on.
[ad size=728×90]
The Bottom Line
Today, the pier is a remarkable and beautiful structure that is rarely available to be explored. Whether you're a first-time visitor or a seen-it-all local, a Full Moon Pier Walk is the rare VIP event that's both exclusive and completely unique; you'll be hard-pressed to find another working research pier to explore under the moon's glow!
For a similarly unique adventure, head down the 145 steps at The Cave Store to explore Sunny Jim Cave. For the slightly less adventurous, walk over to La Jolla Cove to watch the sunbathing seals, grab a bite to eat, and take in the stunning views.
For more information on the Birch Aquarium in La Jolla or other things to explore while you're there, head to the aquarium's website.