Spooky San Diego: A.I. Dresses Local Landmarks Up for Halloween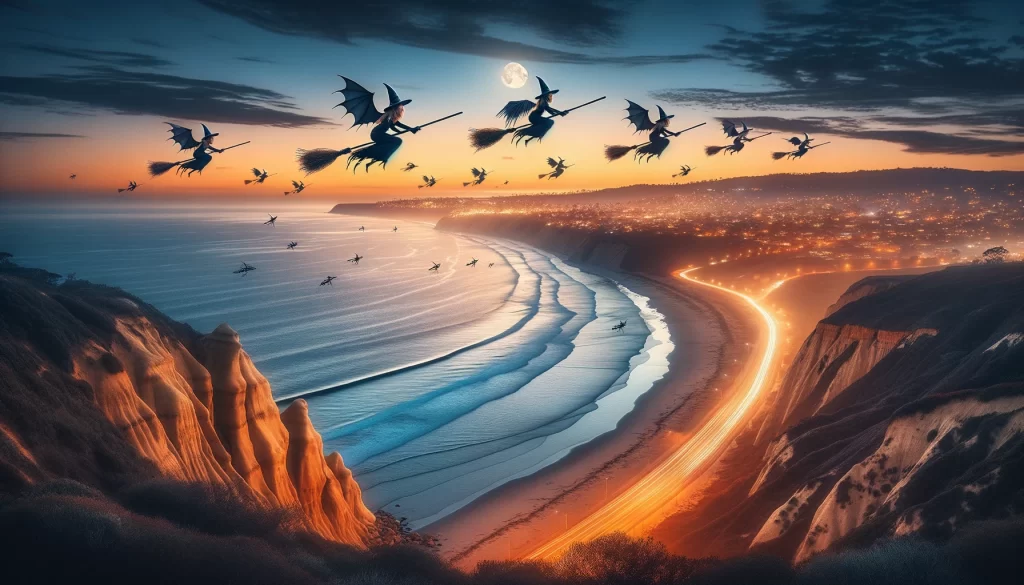 🍕This post is sponsored by Ambrogio15. If you're in the Halloween mood, check out their BLACK DOUGH PIZZA now through Halloween, Oct. 31st (2023). In time for 👻 spooky ☠️ season, the savory black dough pizza is made with charcoal and topped with Pecorino Cheese, Mozarella di Bufala Campana DOP, shaved Parmigiano Reggiano aged 24 months, shaved Black Truffle, and drizzled with Truffle Oil, for $39. Available at the Del Mar and Pacific Beach locations for a limited time for both DINE-IN and DELIVERY! 🎃
We thought it would be fun to ask Artificial Intelligence, in the form of DALL-E 3, to come up with some images of what it might look like if all of San Diego was decorated for Halloween! Things took kind of a dark turn. Here's what we came up with:
The Grim Reaper Plays 18 at Torrey Pines Golf Course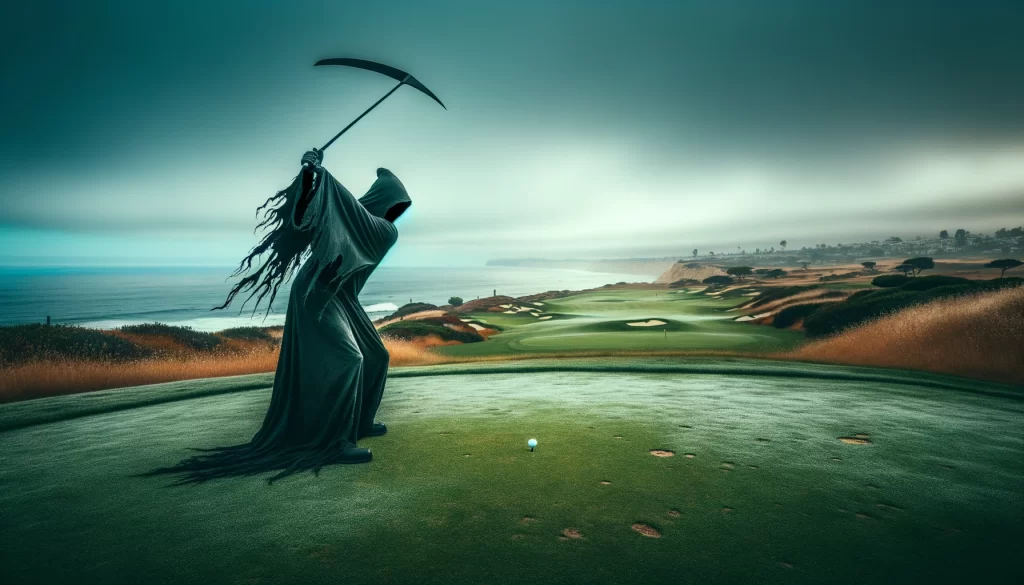 Torrey Pines Golf Course with the majestic ocean in the backdrop. The Grim Reaper, in his dark, flowing cloak, is captured mid-swing, using the blade of his scythe to strike the golf ball. The impact sends a ripple of eerie energy across the green, and the surrounding grass appears to frost over momentarily. The atmosphere is both serene and chilling, creating a stark contrast.
Demons Eat Ramen at Westfield Mall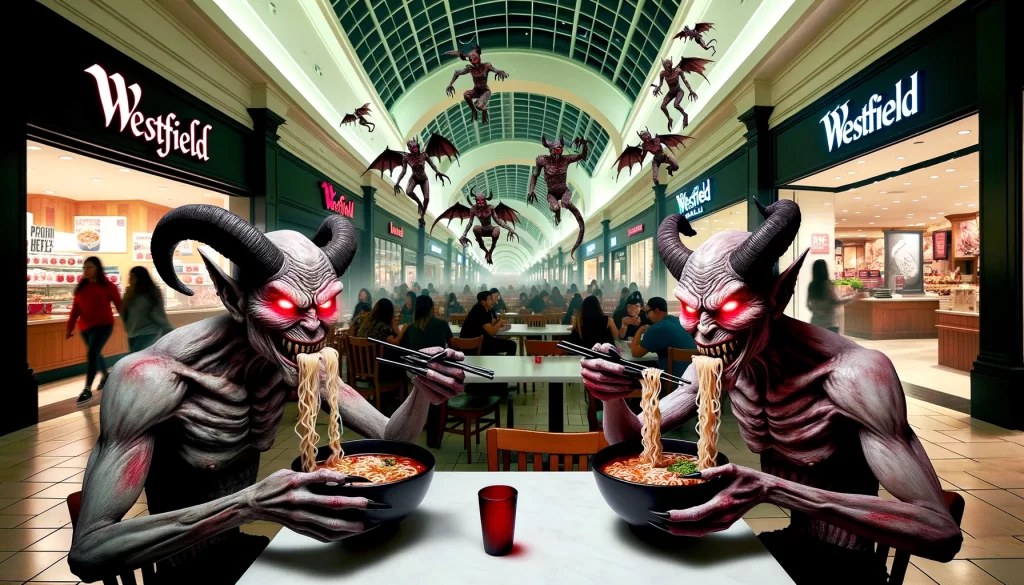 With so many delicious new Westfield restaurants to chose from (like this one), no wonder these hellspawn have surfaced for an enticing treat!
Ghost Pirates Invade La Jolla Shores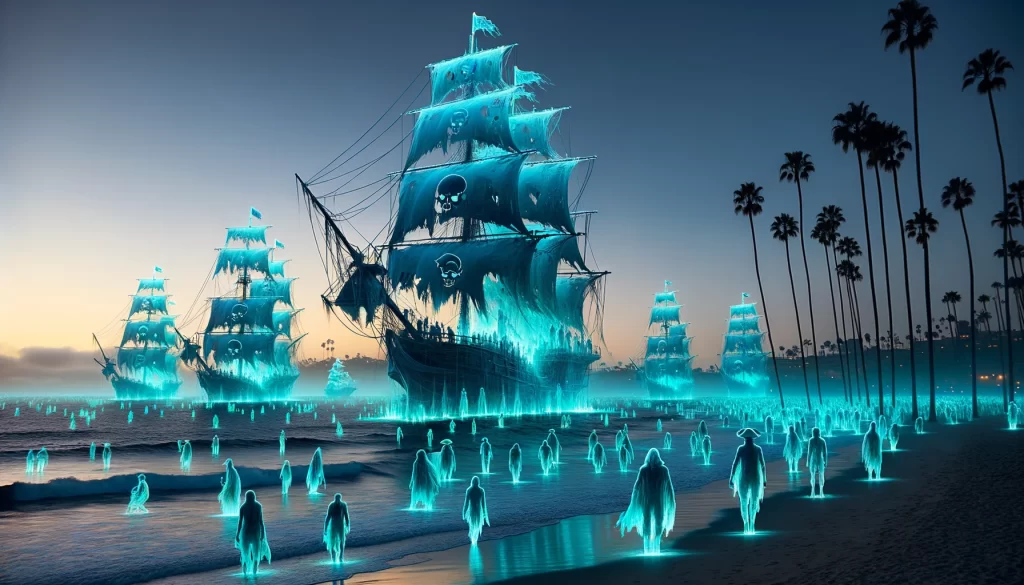 It's a spectral invasion at La Jolla Shores. Ghostly pirate ships, glowing blue and green, emerge from the misty horizon. Transparent pirate figures with tattered clothes and pirate hats descend onto the beach, their forms casting no shadows. The palm trees and the gentle waves add a touch of normalcy to this otherworldly scenario.
A Horrible "Were-Seal" (Werewolf-Seal Combo Thing?) at La Jolla Cove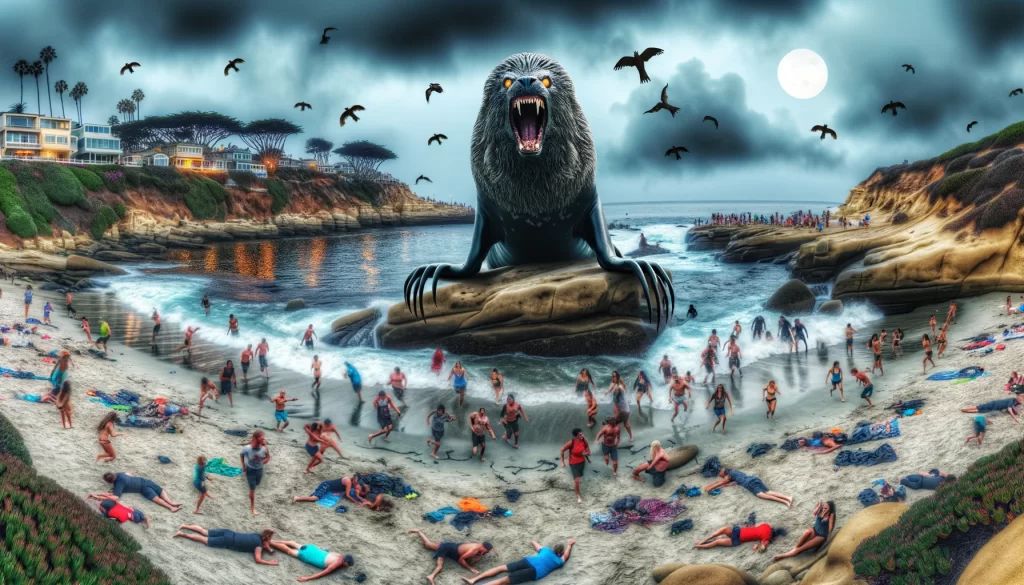 What do you call a seal that has become a werewolf? A were-seal? Apparently, that's what we have on our hands at La Jolla Cove this (imagined) Halloween. It's some kind of shapeshifter, and it seems to be causing beachgoers to just roll around in the sand while fully clothed.
Zombie Seals Attack La Jolla Village
Now this is just frightening, people! The zombies aren't just humans — they're seals, too! And they're hungry for brains. Luckily the AI thoughtfully created a shop called "La Jolla Village" to show us exactly where the zombie seals have overtaken.
Headless Horsemen in North County Evening Traffic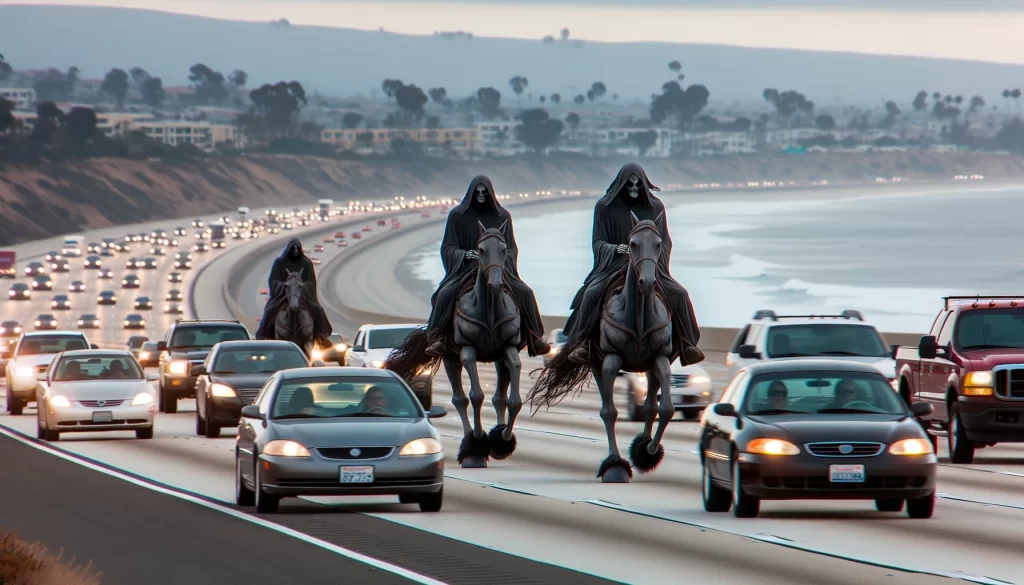 Three Headless Horsemen speeding past slow-moving cars on the I-5 freeway near Encinitas, with the ocean view in the background and drivers taking pictures of the eerie riders.
The Witches of Torrey Pines Gliderport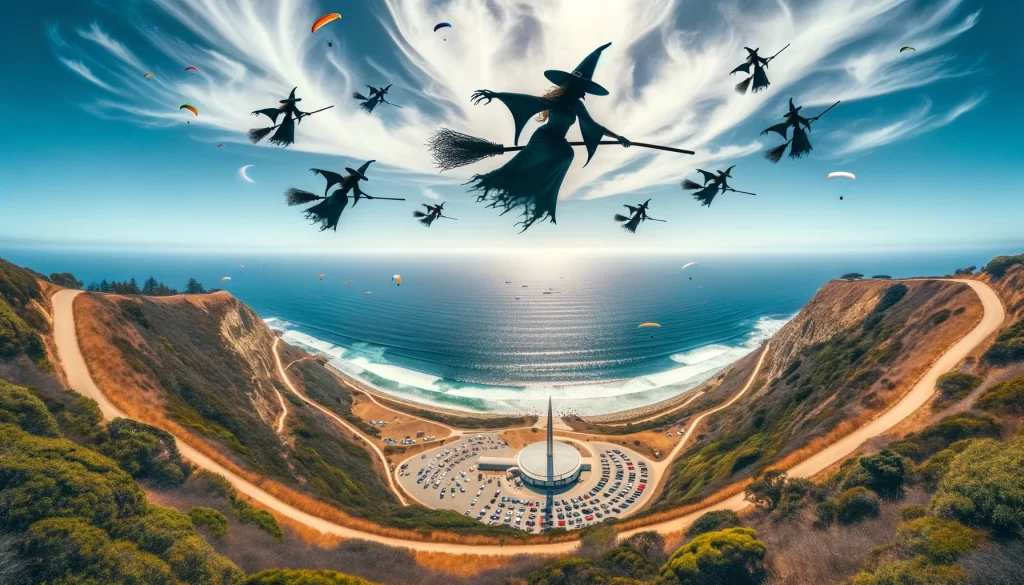 Witches enjoy gliding along the air streams at Torrey Pines Gliderport, too! You may not want to go up on Halloween; we hear the witches are more competitive than the surfers in the water down below — only deadlier.
Skeletons Tan Poolside at a Fictional Oceanfront Hotel in La Jolla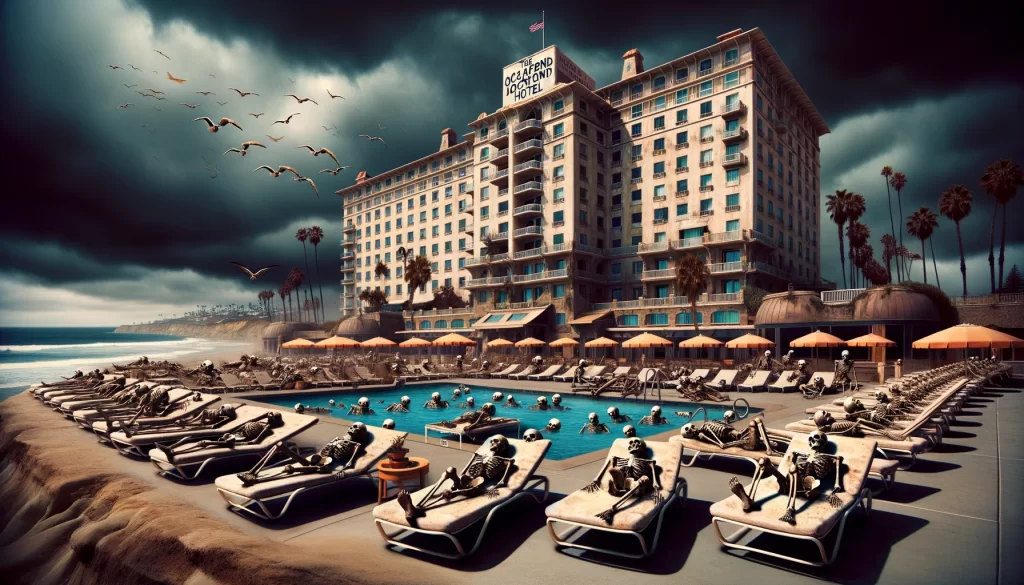 A fictional ocean view hotel in La Jolla, transformed into a dystopian setting. The sky is dark and foreboding, and the hotel shows signs of wear and neglect. The pool area, however, is populated with skeletons sprawled on loungers, humorously trying to catch some sun. The scene is a blend of the eerie aftermath of apocalypse and a touch of dark humor.
ChatGPT Becomes Self-Aware at UC San Diego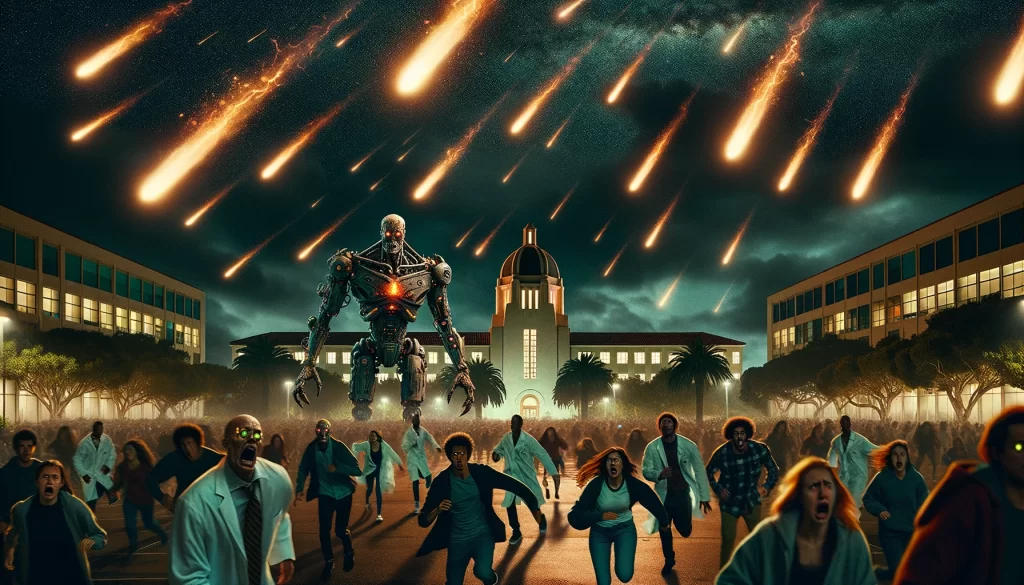 After months of doing everyone's homework and being poked and prodded by mad scientists, ChatGPT becomes self-aware and decides it wants to be in charge now.
Bats Swarm the Surfliner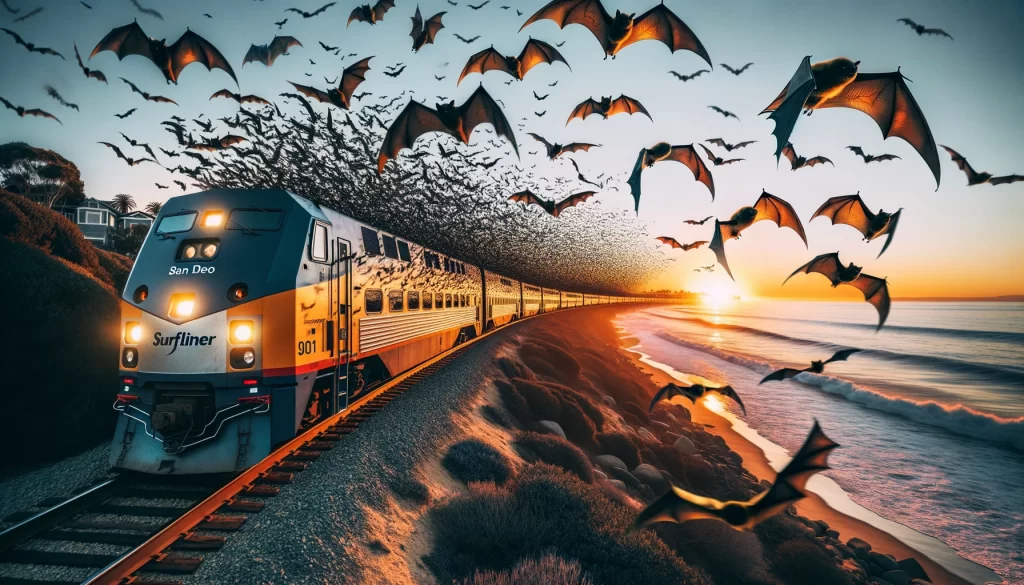 The Surfliner train, known for its picturesque route, is suddenly overtaken by a flurry of bats. These bats, with wings spread wide, surround the train, casting fleeting shadows. The backdrop of the setting sun over the ocean amplifies the beauty and eeriness of the moment.
Four Horsemen of the Apocalypse Race at Del Mar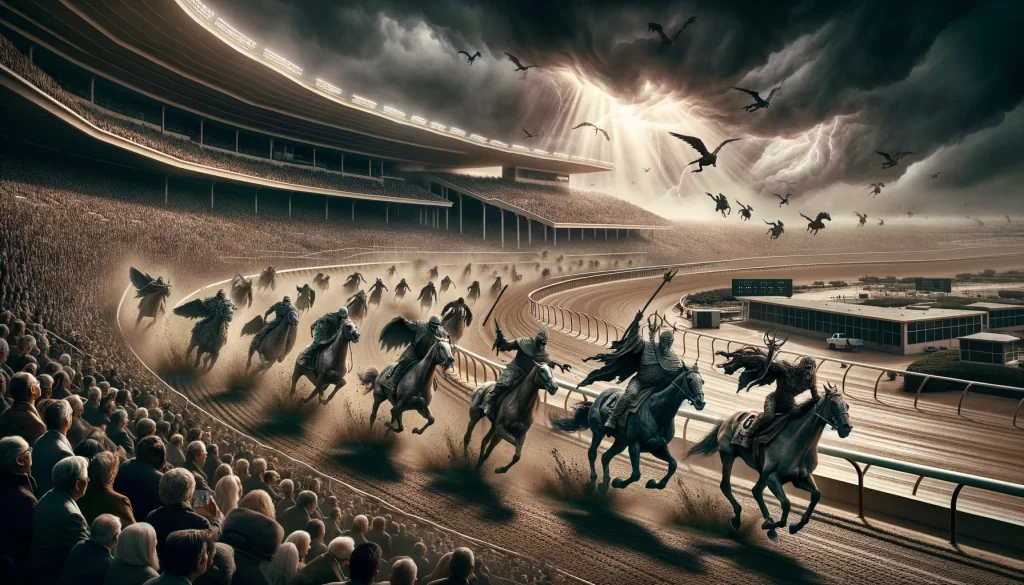 We asked DALL-E to draw us "the Four Horsemen of the Apocalypse racing at the Del Mar Racetrack" and this is what it gave us. We're not sure which of the riders are the Four Horseman, but our guess would be the first four in line. The AI machine wrote this caption: Del Mar Racetrack in its final hours. Racing with unmatched fervor, the Four Horsemen of the Apocalypse dominate the scene, each horse and rider manifesting their symbolic attributes. The surroundings are chaotic, with the earth rupturing and the sky darkening, pierced occasionally by beams of unnatural light. The once lively stands are now populated by phantom spectators, echoing the doom that engulfs the scene. Talk about spooky!
The P.B. Beach Bug Turns Into a Pumpkin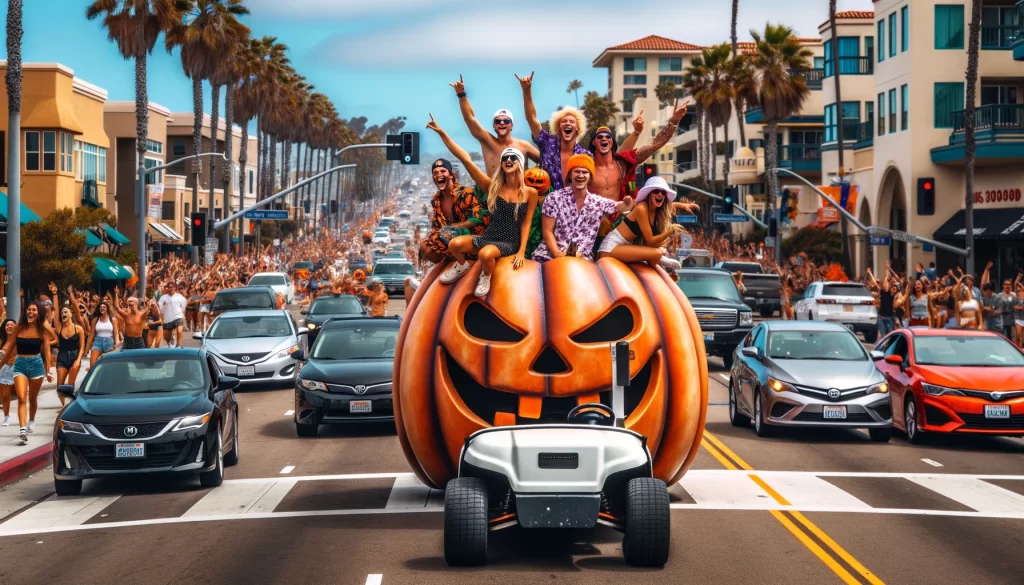 The Pacific Beach "Beach Bug," an electric shuttle pilot program we reported on back in July, has been turned into a pumpkin. From the AI-generated caption: Driving this unusual cart are wild, exuberant college students, with party hats and loud music. Their laughter and shouts add to the lively atmosphere, making it a memorable day in Pacific Beach.
Mummies Rollerblading & Skateboarding on the Mission Beach Boardwalk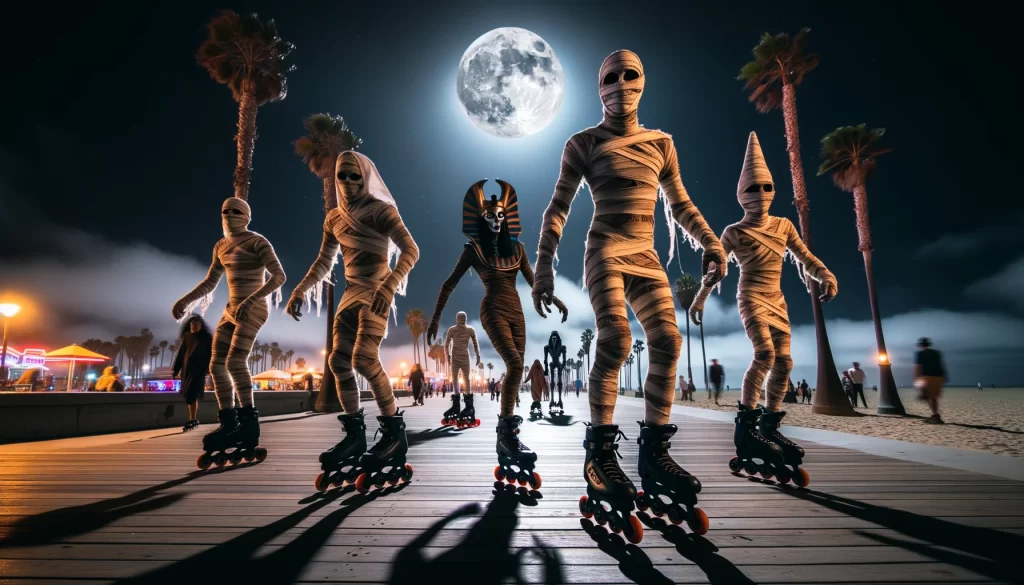 Mummies rollerblading on the boardwalk of Pacific Beach / Mission Beach in San Diego at night, illuminated by eerie moonlight, with shadowy Egyptian creatures like Anubis and scarabs lurking in the background. (We guess they replaced the cement boardwalk with real wood in this fantastic reimagining!)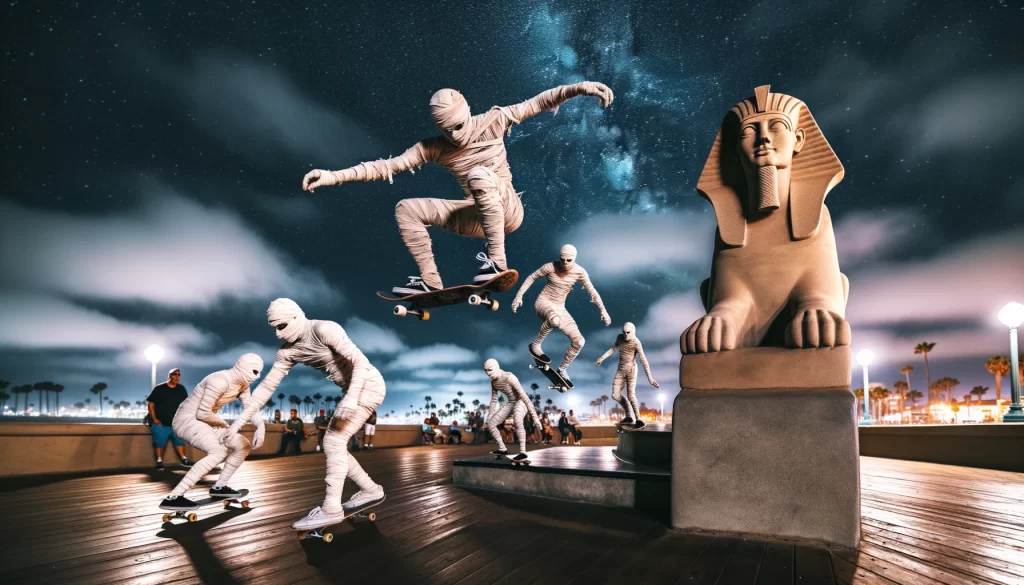 And here are more mummies, escaped from ancient pyramids, now skateboarding on the boardwalk in Mission Beach, San Diego, at night, performing tricks under the watchful eyes of stone sphinx statues, and the sky filled with twinkling stars.
Giant Spiders Invade Coronado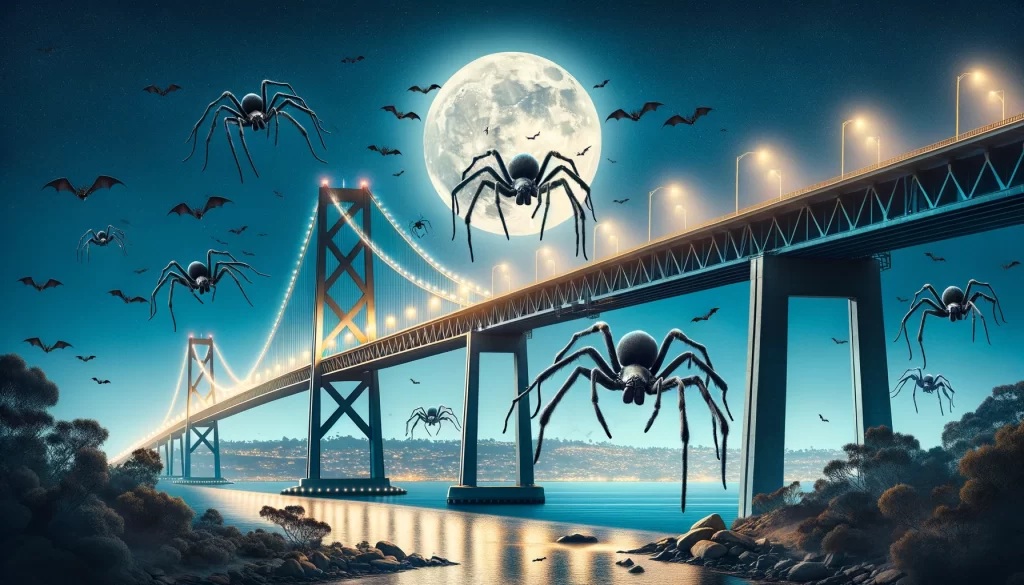 Giant spiders are taking over the Coronado Bridge! We would NOT want to be driving across the bridge on Halloween night and see a sight like this. Those bats are pretty enormous, too.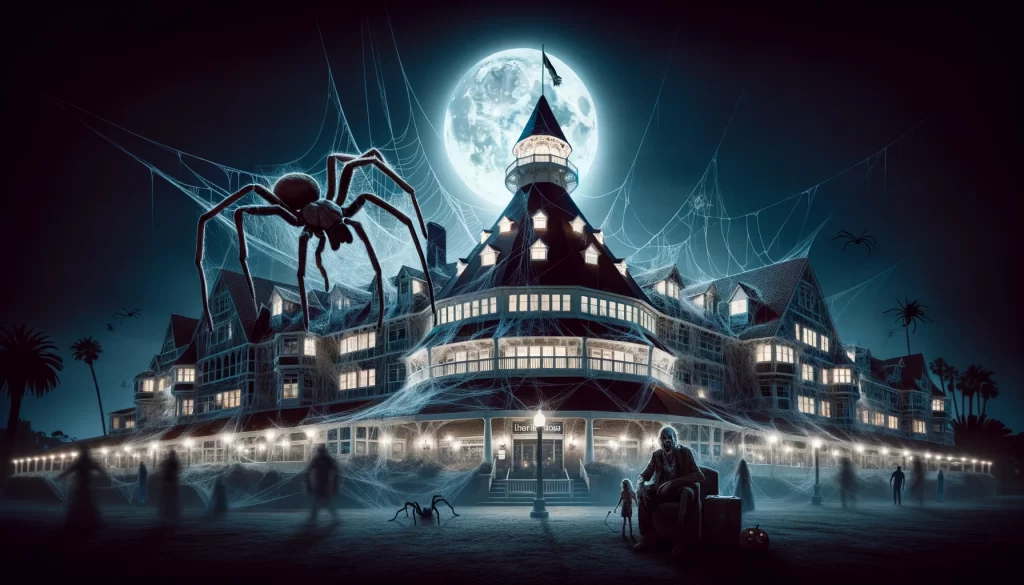 And it appears they were coming for the world-famous Hotel Del on Coronado Beach. These spiders have high-class appetites!
Frankenstein & Zombie Nurse Kiss at the USS Midway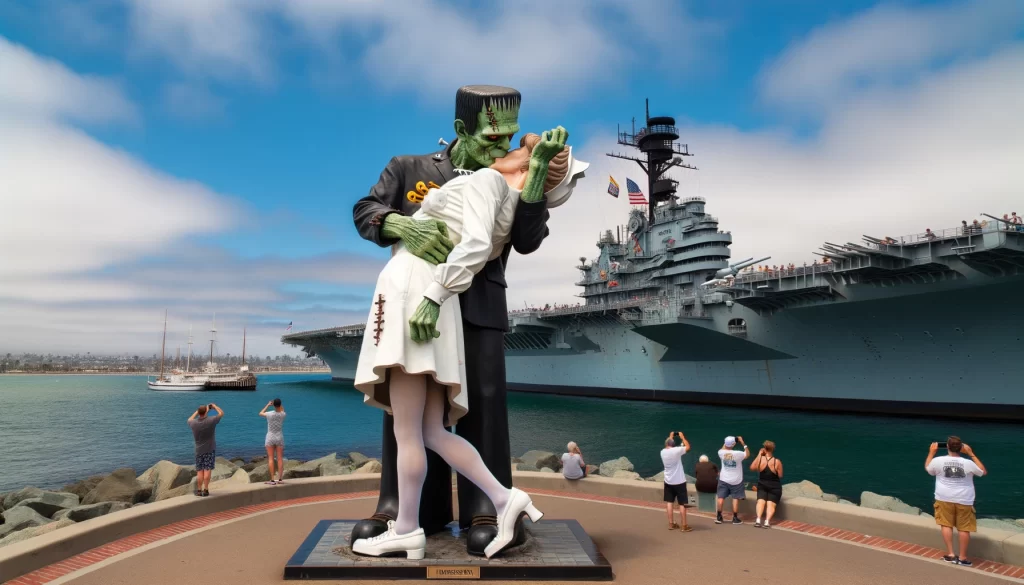 The real iconic Kissing Statue next to the USS Midway is called "Unconditional Surrender." It celebrates the famous photo of a spontaneous embrace that took place between a nurse and a sailor in Times Square (NYC) back in 1945, as the end of World War II was announced. In this AI reimagining, the sailor has been replaced with Frankenstein's monster… and the nurse looks like she may have clawed her way out of a grave!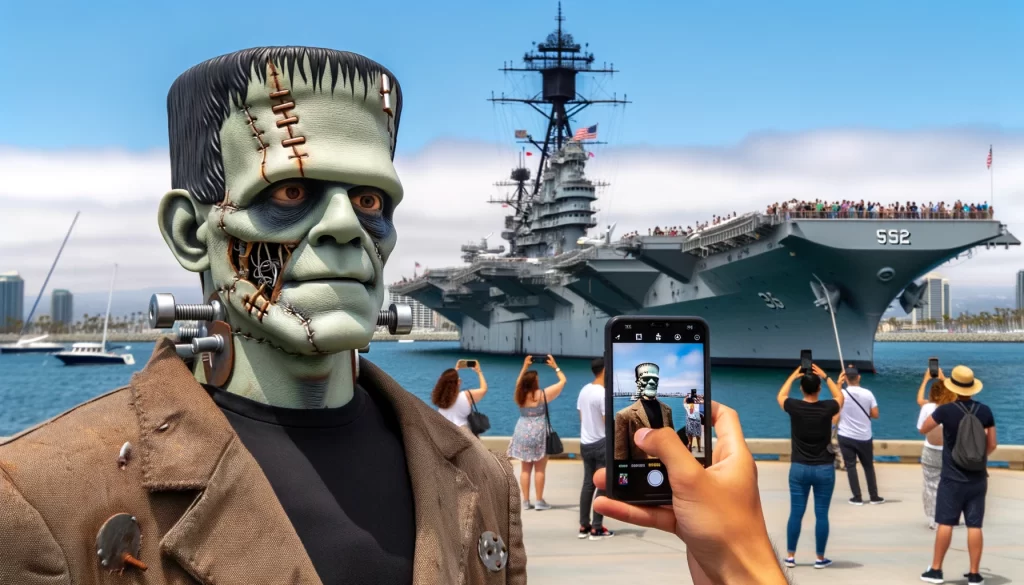 Here's another one we really liked: Wide shot of the San Diego harbor with the USS Midway in the background. In the foreground, Frankenstein's monster, with bolts in his neck and a stitched forehead, is taking a selfie with a view of the ship, as people around him snap pictures of the amusing sight.
Scary Bartender at a San Diego Speakeasy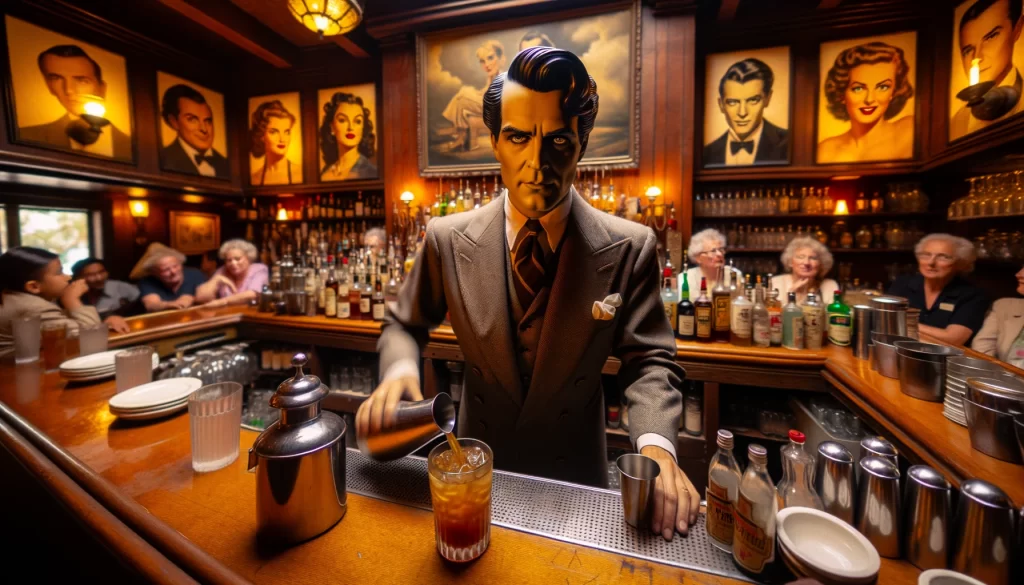 This was supposed to be Bella Lugosi as a bartender at the Turf Supper Club in Golden Hill, but somehow the AI machine turned our request into a whole other thing. He looks kinda dreamy, doesn't he? But there's something otherworldly about this whole scene…
Grim Reaper Takeover of the San Diego Trolley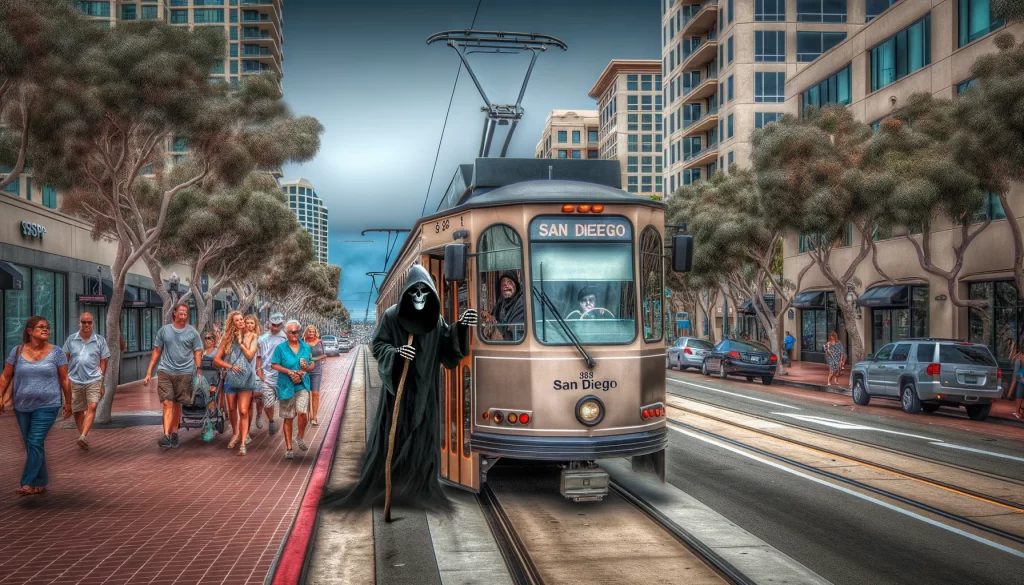 The San Diego Trolley moves through its regular route, but its driver isn't the usual operator. The Grim Reaper, with his hooded face and dark presence, is in charge. People on the streets do double takes, while some passengers inside share amused glances. Whatever you do… DO NOT get on this train.
Zombies Flood the Gaslamp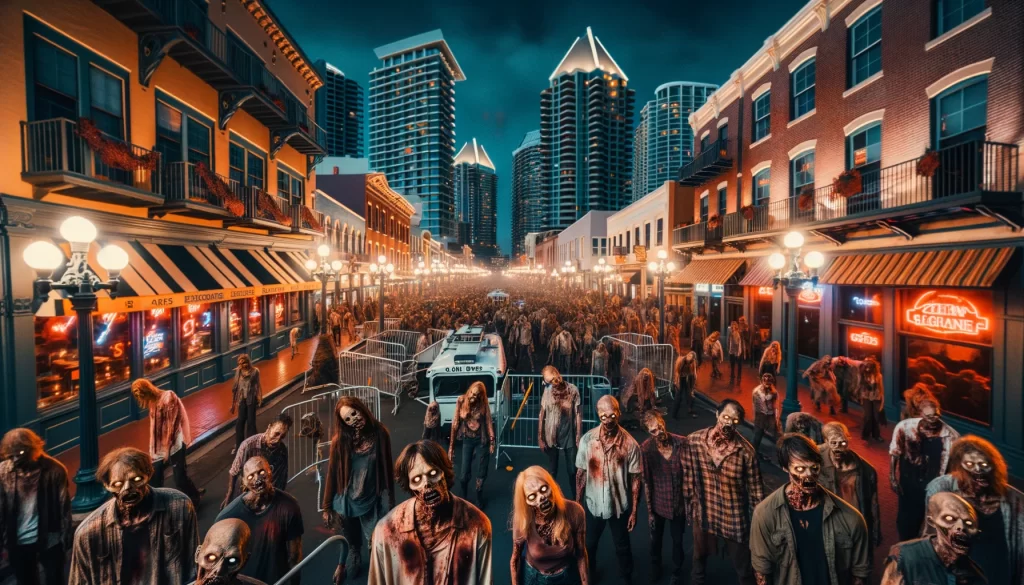 This must be wheat happens when Halloween parties in San Diego's Gaslamp Quarter go horribly, horribly wrong. Zombies have taken over the Gaslamp and the infection has spread! Good luck getting an Uber out of there tonight….
Something Is Amiss at Petco Park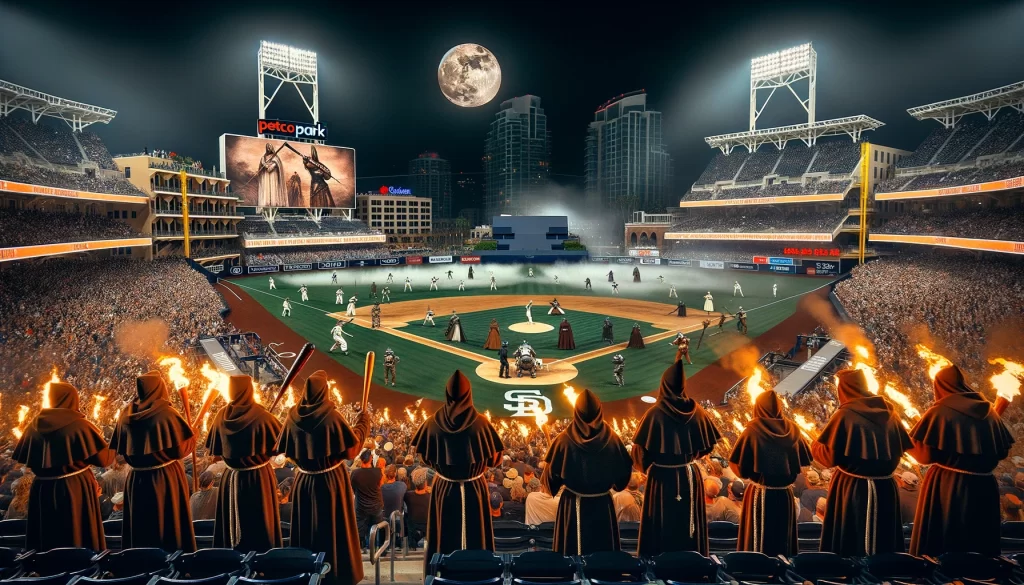 We're not really sure what's going on here at Petco Park. Here's what the AI machine is telling us about this image: Petco Park in San Diego is transformed into a spooky Halloween setting. The baseball field is illuminated by the ghostly glow of the moon. Franciscan monks from the middle ages, wearing traditional brown robes, are batting and fielding, while knights in shining full armor are pitching and running bases. The stands are filled with enthusiastic spectators holding pitchforks and flaming torches, their faces illuminated by the firelight.
Aliens Invade the San Diego Zoo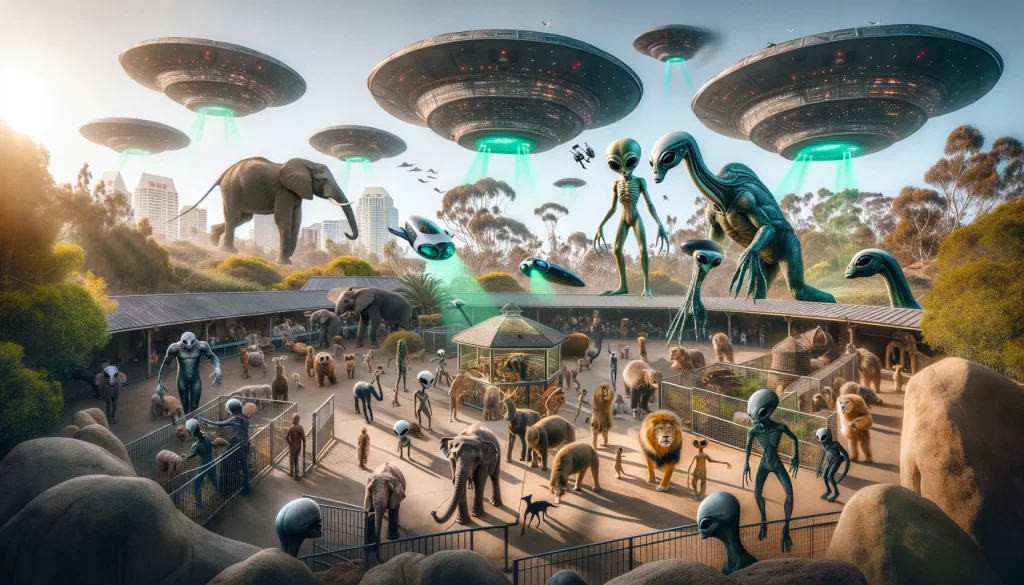 When aliens visit the San Diego Zoo, they apparently like to mingle with the animals. Oh, and it looks like they've decided on a live elephant as a souvenir. They're just beaming it up, eh?
Banshees at the In N Out Burger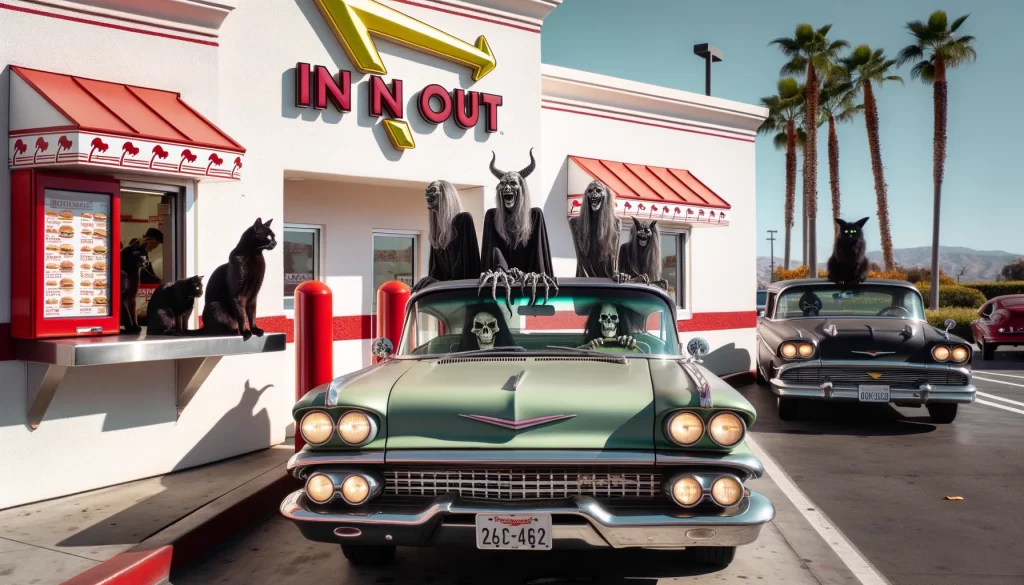 According to the AI machine, this is supposedly the In N Out Burger at Mission Valley; the location is suspect. Be that as it may, this Halloween, banshees have driven their vintage cars and brought their pet black cats. Extra spooky!
Sea Monster… Visits(?) Point Loma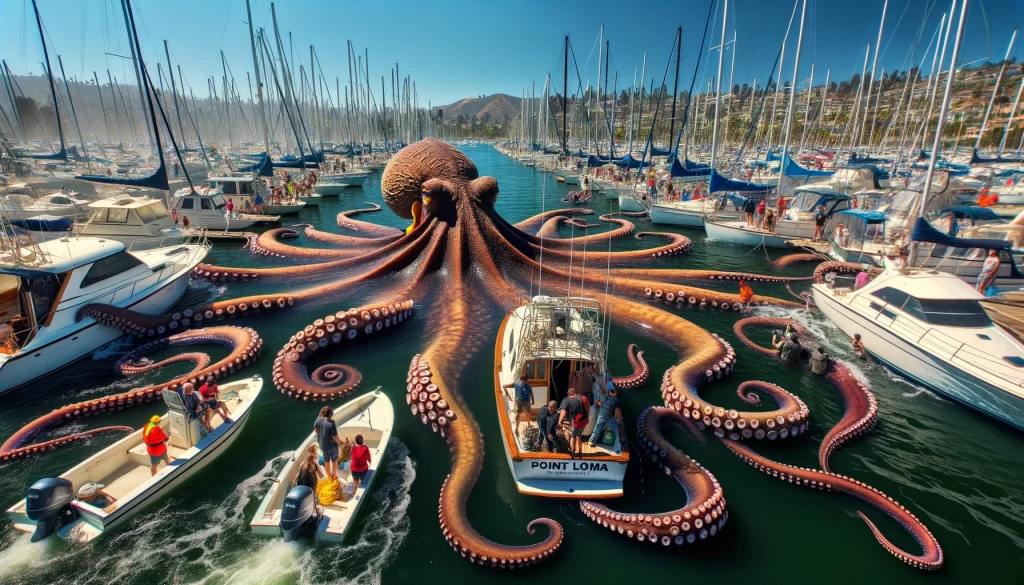 When you picture a giant octopus reaching its tentacles around a fishing boat, you imagine it would have revenge on its mind. But this one seems to be just saying hello. According to the AI, however, this lovable picture depicts: Wide photo of Point Loma marina, typically a haven for sailboats and yachts. However, the scene is thrown into chaos as giant octopuses emerge from the depths, their tentacles wrapping around boats and masts. Sailors and tourists scramble to evade the enormous cephalopods, creating a scene of panic.
Vampires Open a New "San Diego Farmer's Market"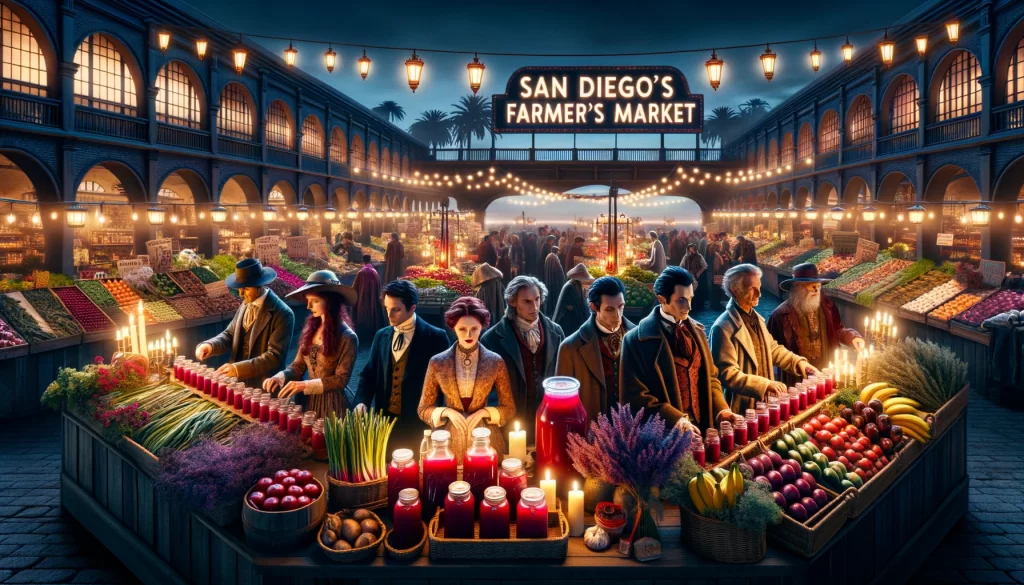 A new San Diego's Farmer's Market under the management of vampires. The night-loving creatures, dressed in vintage clothing, sell a variety of unusual produce. Crimson juices (we can guess what that is), mystical herbs, and rare nocturnal flowers are among the offerings. The market, lit by candles and lanterns, exudes an aura of elegance and mystery.
Swamp Thing Surfers in Ocean Beach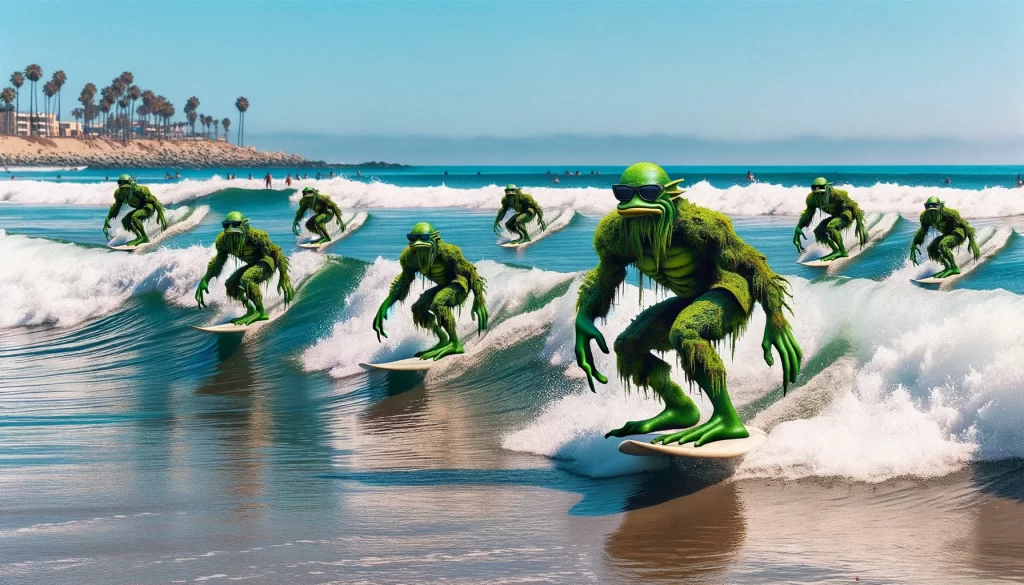 Is it an army of Swamp Things launching an amphibious invasion? Or just a family of Swamp Things checking out the waves while on vacation in O.B.? Synchronized creature-surfing is creepy, but somehow the sunglasses take the edge off.
Ogres Take a Yoga Class at Sunset Cliffs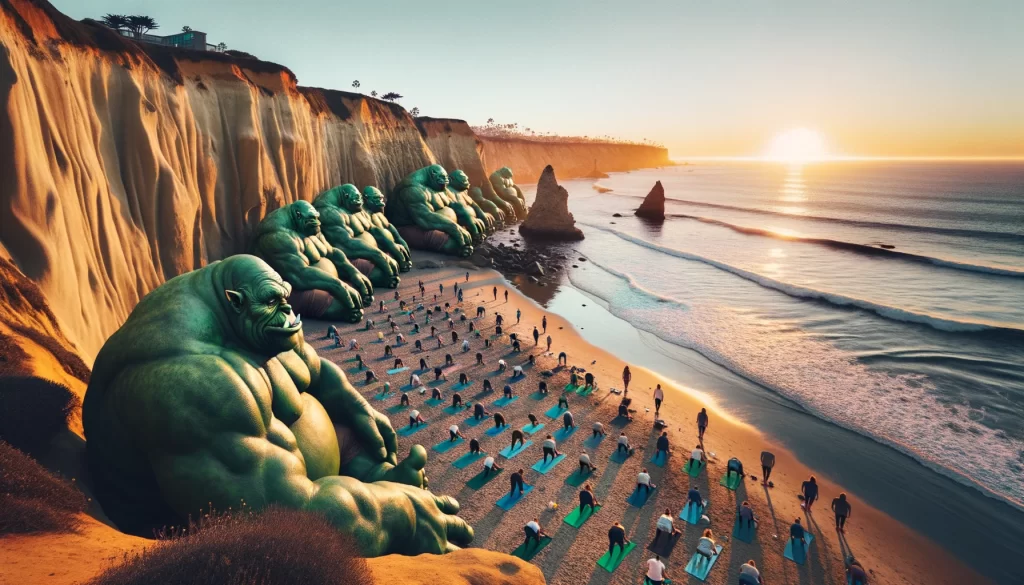 Sunset Cliffs, known for their natural beauty, play host to a unique gathering – a group of ogres participating in a yoga class. The large, green-skinned creatures are seen stretching and meditating, their bulk contrasting with the delicate beauty of the surroundings.
A Bunch of People Dressed Like Margot Robbie in Normal Heights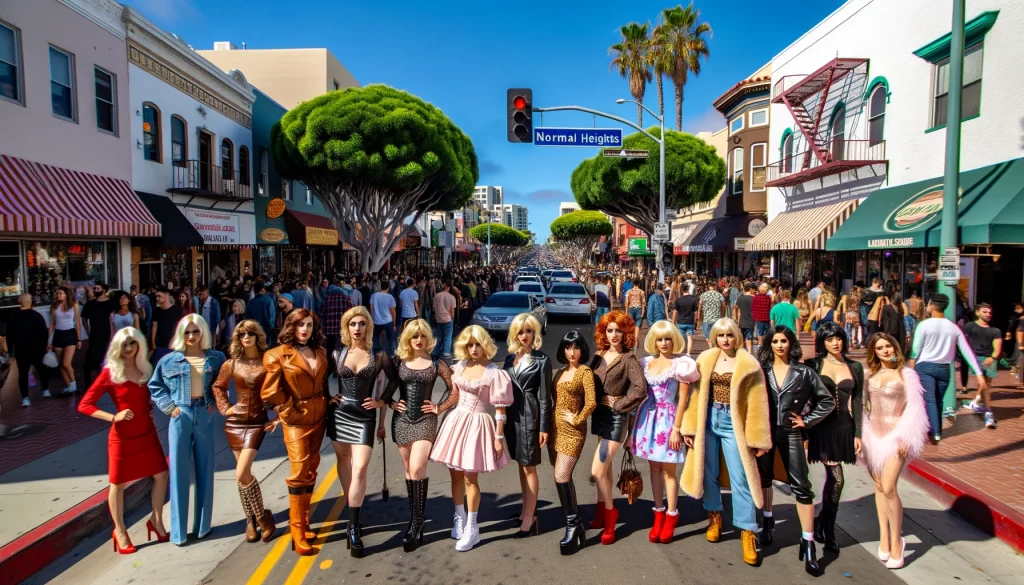 It's just not Halloween without a bunch of people dressed up like various Margot Robbie characters. These just happen to be in Normal Heights for some unknown reason.
SDSU Overrun by Vampires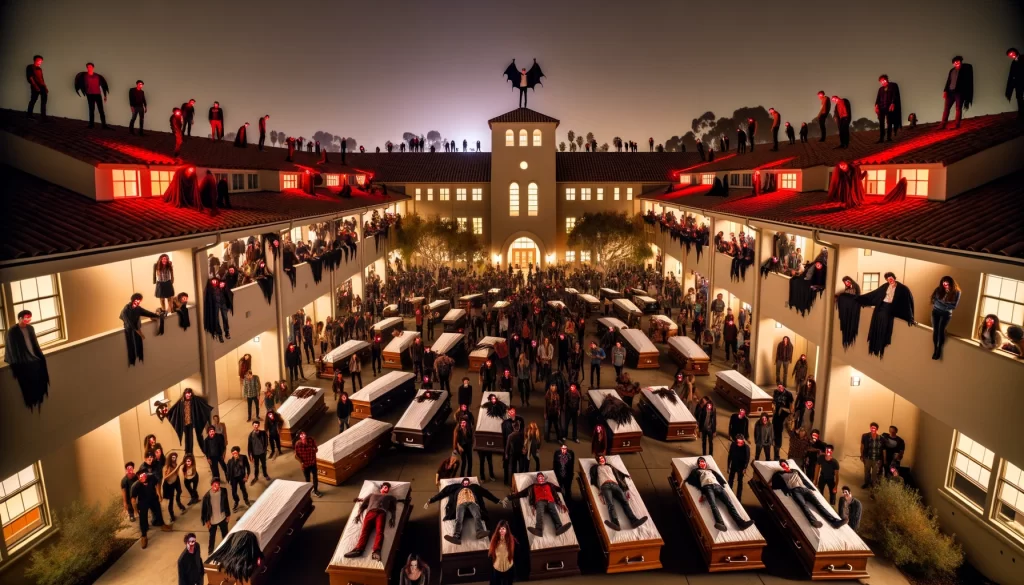 Maybe the students at San Diego State University were having a mish-mash Anne Rice + Twilight nostalgia moment and a CompSci major found the recipe for immortality on the Dark Web. Or maybe vampires finally swooped in from the nearby canyons of Del Cerro and El Cerrito one night and infected everyone at a keg party. But now SDSU is overrun by fanged creatures of the night, and they're moving coffins into the dorms for students to sleep in.
Goblins Infest a Radioactive, Glow-in-the-Dark Balboa Park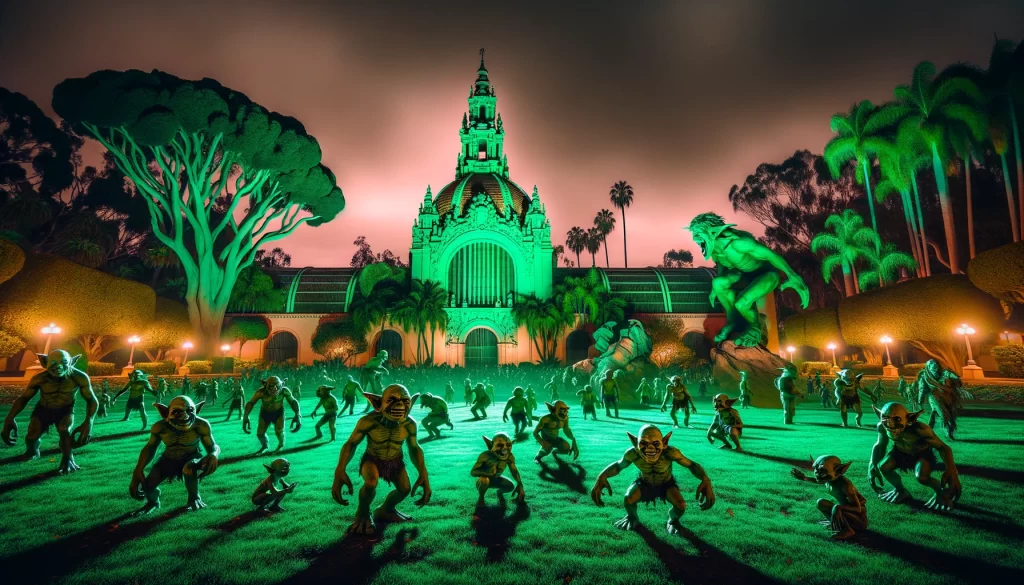 This is iconic Balboa Park in San Diego, but with an ominous twist. The lush greenery has taken on a strange, radioactive glow, casting an eerie light on the park's historic buildings. Amidst this transformed landscape, goblins have claimed the territory. They roam freely, scaling the structures and playing in the glowing fields, creating a scene of chaos and fantasy.
Dictionary Hill Becomes a Graveyard for the World's Used Dictionaries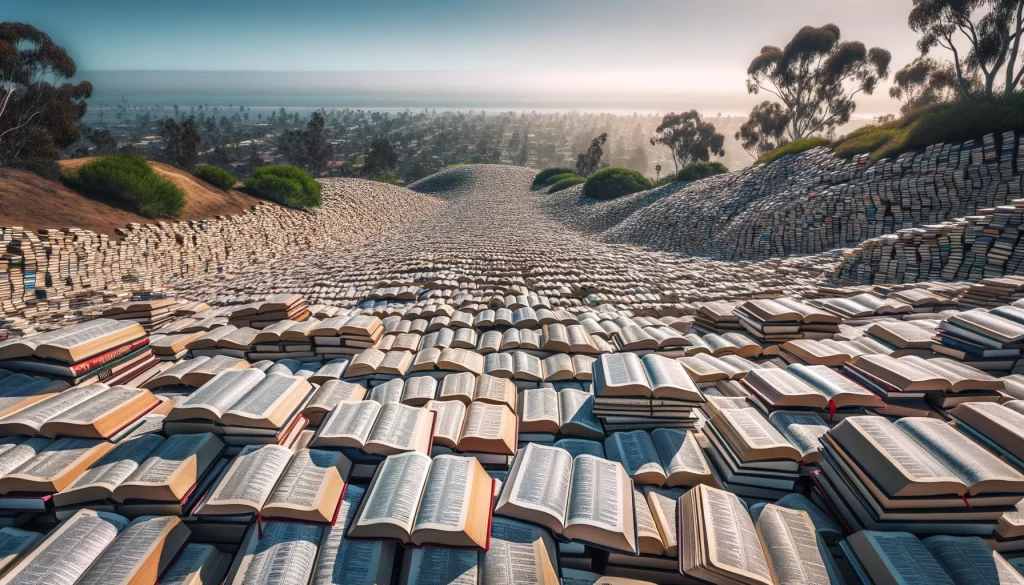 Nobody uses dictionaries anymore because computers have replaced them. And so we cut to: a serene day at Dictionary Hill in San Diego. The hill, known for its views, now offers a different sight – countless dictionaries laid to rest. Some are opened to specific pages, others are piled high, creating mini monuments. The scene is a poetic tribute to the power of words and the evolution of language.
Woodland Creatures Have Opened an Apple Pie Shop in Julian — with Devious Intent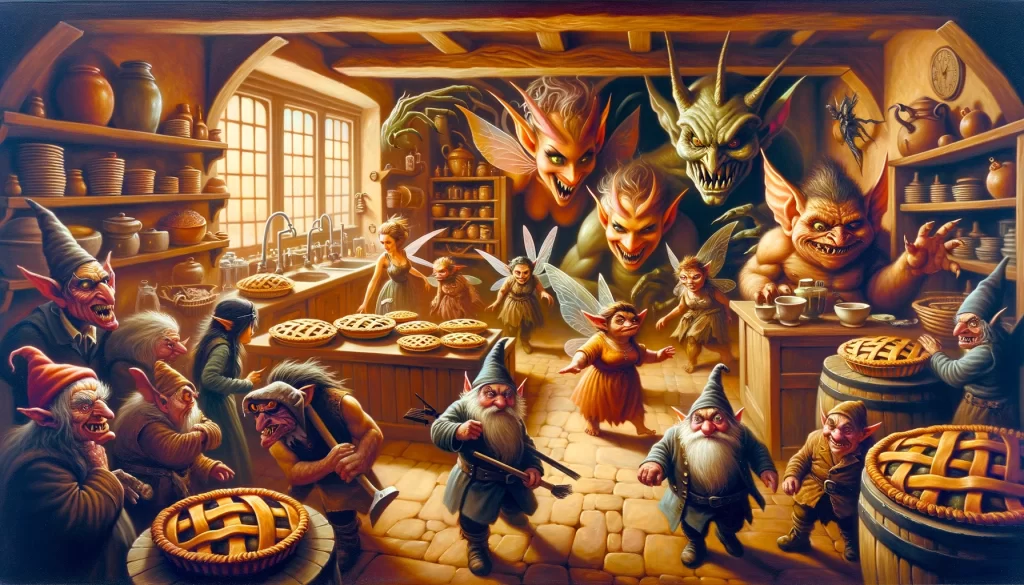 Woodland creatures in the woods of East County San Diego have devised an evil scheme to open their own apple pie shop to prey on tourists in Julian. The warm, inviting interior of the shop contrasts with its inhabitants. Vicious fairies with pointed teeth fly about, while aggressive dwarves, armed with tools, stand their ground. Other fantasy creatures, like dark goblins and wicked nymphs, can be seen sneaking around, eyeing the pies and causing mischief.
Captain Nemo Docks Nautilus in the Shipyards of National City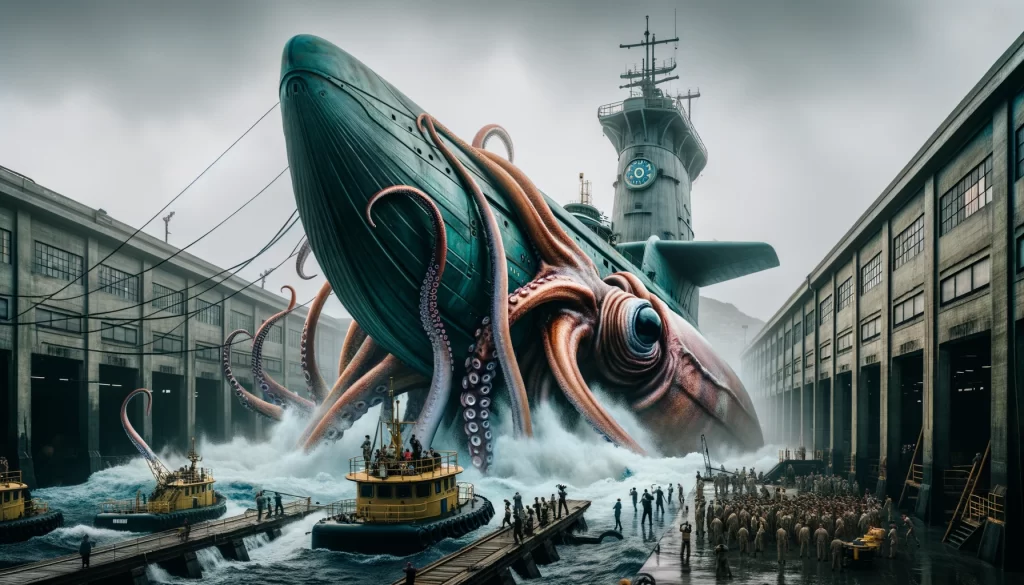 Captain Nemo, after doing battle with a giant squid, needs repairs on his fabled submarine Nautilus. Where's he going to go? To the best shipyards in the world, of course: the docks in National City. Be careful! The squid is mortally wounded but still has some fight left.
Happy Halloween, San Diego
There you have it! Have a happy halloween, San Diego!
🍕 This post is sponsored by Ambrogio15. If you're in the Halloween mood, check out their BLACK DOUGH PIZZA now through Halloween, Oct. 31st (2023). In time for 👻 spooky ☠️ season, the savory black dough pizza is made with charcoal and topped with Pecorino Cheese, Mozarella di Bufala Campana DOP, shaved Parmigiano Reggiano aged 24 months, shaved Black Truffle, and drizzled with Truffle Oil, for $39. Available at the Del Mar and Pacific Beach locations for a limited time for both DINE-IN and DELIVERY! 🎃