San Diego Holiday Shopping Guide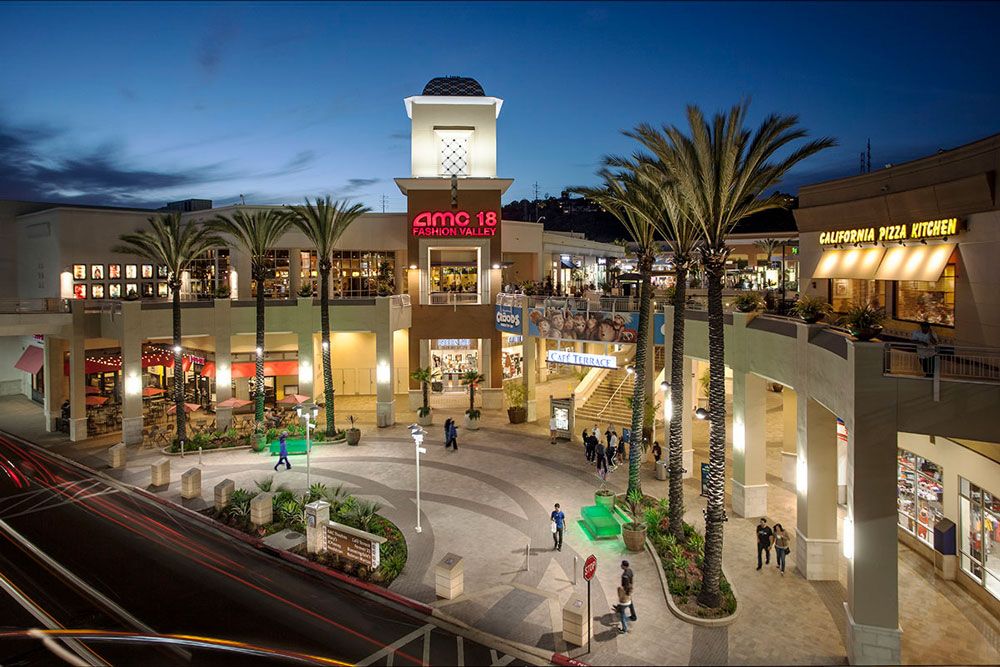 Make everyone's holiday wish list a dream come true! San Diego offers a wide variety of shopping opportunities that make holiday shopping a breeze. From brand name designers, plus size shopping, fabulous outlet malls, and unique boutique shops to thrift stores and specialty stores, San Diego is the perfect holiday shopping destination to make this season merry.
Outdoor Shopping Centers
Spend the day at one of San Diego's premier malls! Fashion Valley Mall features outdoor shopping at its finest with department stores such as Bloomingdales, Nordstrom, Neiman Marcus, and all the big-name designers. So, whether you need the latest Versace Eros Cologne or a new handbag by Fendi – these deluxe shops will fill the bill. Kids also will enjoy visiting Santa at his workshop, and mom and dad can happily check everything off of their holiday shopping list.
The revitalized Westfield UTC shopping mall is definitely not to be missed this holiday season. Since its complete revamp and expansion in 2017, UTC has grown to a massive outdoor mall packed with great shopping and dining options with huge designer department stores such as Macy's, Nordstrom, Anthropologie, Apple, and Tiffany & Co. You'll find all the main staples here (plus free parking!), and plenty of smaller, boutique-like shops for the harder to please on your list!
Other great outdoor San Diego shopping areas include Westfield Horton Plaza located in the heart of the downtown Gaslamp Quarter, Del Mar Highlands Town Center in Carmel Valley, and Hazard Center, which features several name brand stores like Barnes & Noble, Lakeshore Learning, Wood Ranch BBQ, BJ's Restaurant and Brewhouse, and a movie theater in Mission Valley.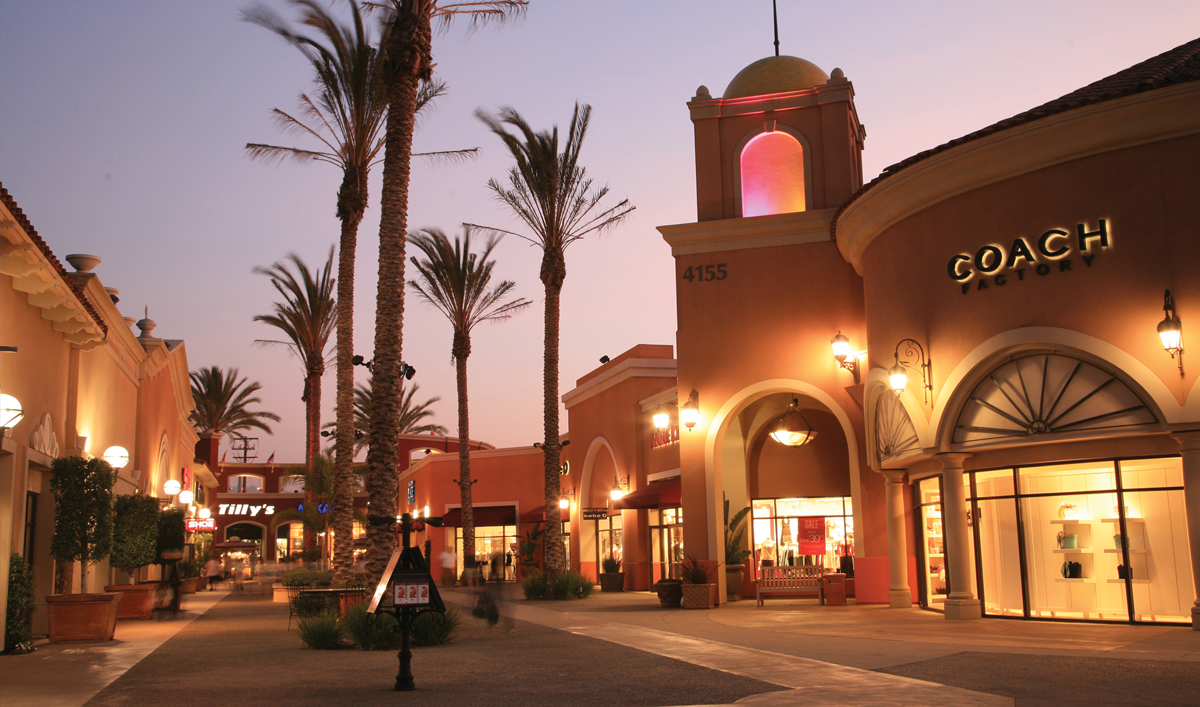 San Diego Outlet Centers
For the best deals of all, the San Diego's outlet centers offer something for everyone with great bargains as well as a festive holiday atmosphere for all to enjoy. Throughout the holiday season, Carlsbad Premium Outlets, located in the North County Coastal area, and Las Americas Premium Outlets, located in South Bay, have extra-special offers on extraordinary brands like Tommy Hilfiger, Calvin Klein, Sunglass Hut, and more.
Get the most out of your outlet holiday shopping in South Bay by continuing your holiday shopping at San Diego Outlets at the Border, conveniently located right next to Las Americas, and pop into amazing stores like Armani Exchange, Express Factory Outlet, and H&M. For those out in East County, Viejas Outlet Center offers high-end brands at incredible prices.
Unique San Diego Shopping Areas
Specialty retail shopping for unique San Diego items can be found at Seaport Village and The Headquarters at Seaport on the Big Bay Embarcadero; at the Coronado Ferry Landing and Shops At The Del at Hotel Del Coronado; at Liberty Station in Point Loma; and at Bazaar del Mundo and Fiesta de Reyes in Old Town.
For the beach-lover on your gift list, cruise on over to these local boutique stores in La Jolla that are all about trendy San Diego style: Everyday California and Surf Diva Boutique! For the more adventurous on your list, gift a fun excursion and kayak trip with La Jolla Kayak.
Best San Diego Neighborhoods for Shopping
It's no secret that San Diego is home to some of the best (and trendiest) neighborhoods for holiday shopping! Here are some of our favorites.
La Jolla
San Diego's jewel by the sea makes La Jolla shopping one of the best experiences in San Diego. It is also home to great ocean-view art galleries, restaurants and cafes.
A couple of noteworthy shopping districts you will not want to miss are Prospect Street then on to Girard Avenue, where you'll find fashion and great retail shopping for the whole family. For women's apparel, be sure to make time for Robina Boutique, Lolo, Swoon (great for teens), Simple Lifestyle for Men & Women, Pomegranate, Amore, Alpaca Collections, Blended Industries, Sauvage Boutique, Sigi's, Eva Varro International, La Donna, Laura Gambucci and Rica Boutique (also for teens). For men, there's the Ascot Shop, Tommy Bahama, Y-3, Simple Lifestyle for Men & Women, Polo Ralph Lauren and Lucky Brand. For children, there's Geppetto's Toys. While for our beloved pets (we did say the "whole" family), stop by Muttropolis.
For contemporary home furnishings try MOS (My Own Space) and finally, don't miss Warwick's Bookstore, one of the best independent bookstores in San Diego.
Cedros Design District
Cedros Design District is a shopper's mecca when it comes to a variety of interests, specializing in interior design. This quaint dog-friendly area contains blocks of restaurants, cafes, galleries, garden stores, fashion boutiques, art and custom-designed furniture studios to speak to the true artistic visitor.
Great boutiques for visitors include HIS Men's & Kid's Store, Gerhard, Tucci Boutique, Pink Lagoon, Cedros Soles, Mabel's & Baby Mabel's, SOLO, Cut Loose, Weeds Clothing Boutique, La Femme Chic (designer resale), Camellia Boutique and Adventure 16 Outfitters Inc. (camping store). The Leaping Lotus features over 120 shops under one roof including clothes, jewelry and furniture. While Bon Bon Home & Garden, NATIVA Interiors and Bixby & Ball are must stops for home furnishings.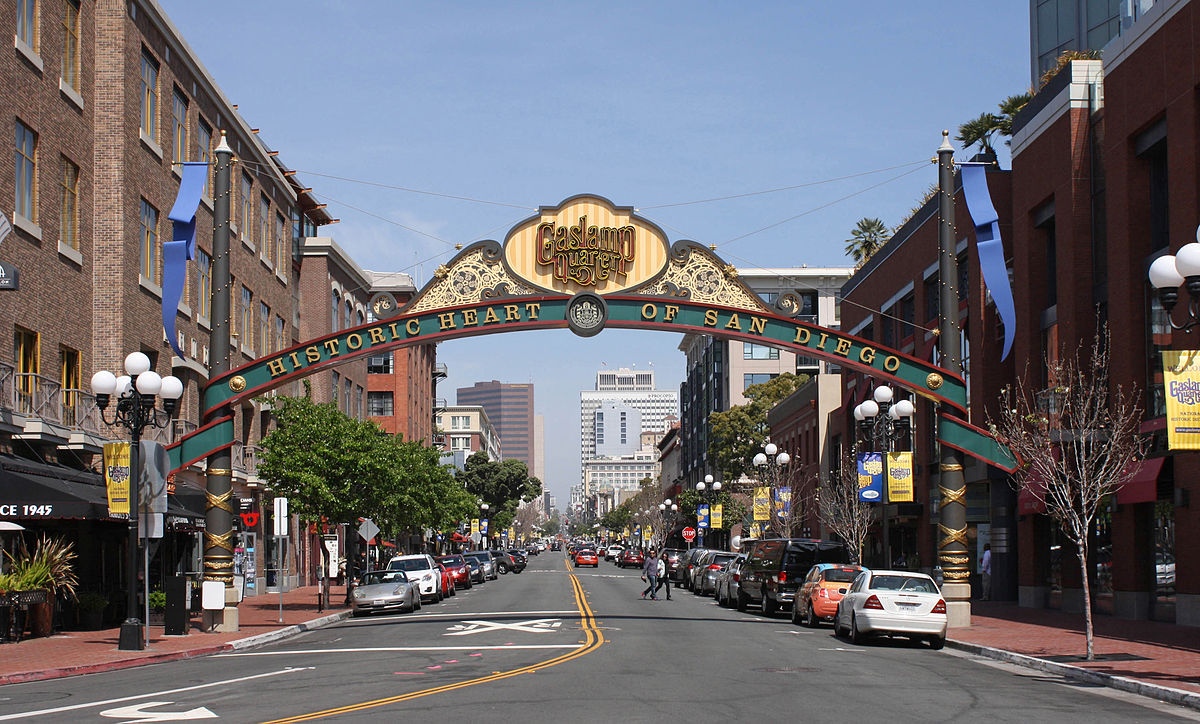 Gaslamp Quarter
Gaslamp Quarter is Downtown San Diego's thriving historic district, and home to many uber-popular restaurants, bars, galleries, theatres and coffeehouses, but it also features unique boutique shopping. Whether your shopping list is uptown-chic or downtown-cool, the 5th Avenue block has a variety of opportunities.
For women's fashions and accessories, make sure your itinerary includes: Bubbles Boutique, Heavenly Couture (great for teens), Eden Boutique and Dolcetti Boutique. For men's fashions check out Blends, 5&A Dime and Dolcetti Boutique. For more mainstream but still wonderful shopping opportunities try Quicksilver, Lucky Brand and Urban Outfitters.
Encinitas
Just five miles north from Cedros Design District, along the gorgeous Highway 101 coastline, you'll find the cozy surf town of Encinitas. This Zen beach community is packed with casual, hip restaurants, sidewalk cafes, and yoga studios, intermingled with quaint boutiques. There is always something to do in this fun beach town! The shopping block on the main road, South Highway 101, offers The Lumberyard Shopping Center and a collection of family-friendly boutiques including Magical Child, deepFLING Jewelry and Grounded (furniture/home goods).
A few other must-shop trendy boutiques close by are Ecotopia for men's and women's apparel and accessories, Flashbacks (vintage/retro) and a little further southeast is Swirl Boutique for women. Other unique furniture and home good shops are Bliss 101 carrying just about everything from furniture, art, clothing and jewelry to Earth's Elements and Bamboo 2 U & Beach House Too (beach-chic furniture).
North Park/South Park
For a trendier local scene, the places to be are the North Park and South Park neighborhoods along 30th Street and University, as well as 30th Street and Fern. Both areas offer a diverse variety of restaurants, coffee houses, dessert bars, bars, beer pubs, vintage stores, and colorful boutiques.
For fashion, gifts, vintage or home goods, visit Mimi & Red, Love & Aesthetics (for men), Simply Local (55 local vendors under one roof), Aloha Sunday Supply Co., Hunt & Gather (vintage), Mythology Eco-Boutique (Eco-friendly), Junc.Life, Bad Madge & Company (vintage) and Graffiti Beach Boutique. Home and gift stores to check out include Pigment and Make Good. For the skincare and beauty junkie in your life, be sure to visit Shop Good.
Whether you're looking for fun holiday gifts or simply want to check out the San Diego shopping scene for some souvenirs, there is definitely something for everyone in America's Finest City! Visit our La Jolla Holiday Shopping Guides for more options in The Village. Oh, and don't stop at the holidays. La Jolla has superior shopping for any event, including Valentine's gifts for him, her, birthdays, anniversaries or any occasion you can think of!