Healthy Restaurants in San Diego in March 2023 You Won't Regret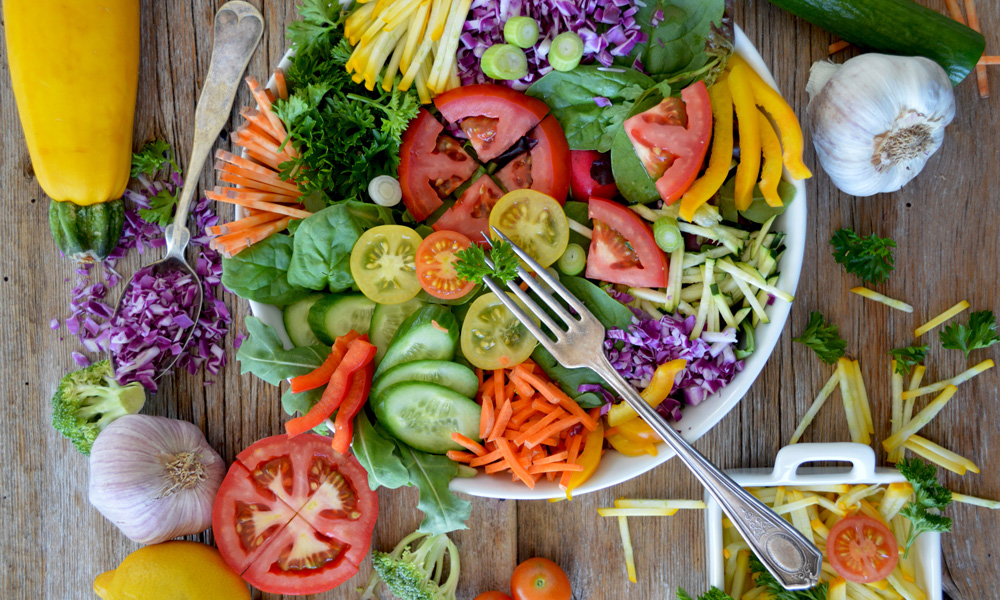 While finding healthy food on the West Coast is never going to be difficult, finding healthy and delicious food in any area can be another matter altogether. If you are looking for a fresh, well-prepared meal that you do not have to cook yourself — but also fits within your personal guidelines of healthy eating — look no further. Here are the best restaurants to eat healthy in San Diego.
Top Healthy Restaurants In San Diego By Neighborhood
Restaurants are plentiful and easily found in San Diego. However, if you are a foodie, on a diet, have health restrictions, or are simply looking for better choices for yourself, it may seem that all you see are burger joints and high-calorie fried food. Finding a healthy restaurant in San Diego is not difficult to do, and there is guaranteed to be a tasty choice in your neighborhood.
La Jolla Healthy Restaurants
La Jolla's beautiful beaches and resorts lend the area to automatically having some great choices for healthy food restaurants in San Diego. Perhaps you have had your fill of Italian Restaurants in La Jolla (because there are so many awesome ones to choose from), and are looking to help your system clear out all of that pasta. In this neighborhood staying active is a way of life for many people, so tasty healthy choices are in demand.
Trilogy Sanctuary
Trilogy Sanctuary is not only an organic vegan cafe, but it also offers yoga and aerial classes and a boutique that caters to health and wellness. Exciting plates include falafel tacos with a buckwheat tortilla and vegan nachos. There is rooftop dining available as well as delivery, and this cafe can also help you with a detox program for your system.
Address: 7650 Girard Ave., Ste. 400, La Jolla, CA 92037
Phone: (858) 633-3893
Hours: Mon – Sun 9 a.m. – 9 p.m.
Lean and Green Cafe La Jolla
Lean and Green Cafe allows online ordering and provides delivery as well as a fresh, open spot for indoor and outdoor dining. There are many options available, including vegetarian, vegan, and gluten-free, with menu items such as the ultimate sweet potato wrap and the power rice bowl. There are also a variety of smoothies and juices.
Address: 7825 Fay Ave. #180, La Jolla, CA 92037
Phone: (858) 455-5326
Hours: Mon – Fri 9 a.m. – 4 p.m.
Closed Sat & Sun
Fresheria La Jolla
Fresheria is a beautiful healthy restaurant in San Diego. Their motto is 'Be Fresh All Day' and their menu allows you to do just that, with fresh, healthy selections from breakfast to dinner and everything in between. Try an acai or oatmeal bowl for breakfast, tortas or salads for lunch, and soups, energy bowls, smoothies, or whatever you fancy for a healthy dinner.
Address: 627 Pearl St., La Jolla, CA 92037
Phone: (858) 551-8786
Hours: Mon – Sun 8 a.m. – 8 p.m.
North County Coastal San Diego Healthy Restaurants
The North County Coastal region of San Diego can be a big draw for tourists with all of the available attractions, and with tourists can come an overabundance of mouthwatering, delectable food choices that are also horrible for your health. Whether you are a tourist or a local and are looking for some healthier choices in this beautiful area, we have got you covered.
The Naked Cafe
The Naked Cafe is a simple, pretty stop in Carlsbad for breakfast and lunch items that encompass whole foods and eating to fuel your body. Start with a variety of juices or coffee drinks, or even get a healthy version of a mimosa. Other great choices include a 'green heart quesadilla' with artichoke hearts, or try one of their 'mediation bowls' or sumptuous tacos.
Address: 300 Carlsbad Village Dr., Ste. 107A, Carlsbad, CA 92008
Phone: (760) 720-7866
Hours: Mon – Sun 7:30 a.m. – 2:30 p.m.
GOODONYA Organic Eatery
GOODONYA has been creating quality healthy food since 2001, and even has a prepackaged hydrate product for sale that helps you get to your daily electrolyte needs. The restaurant in Encinitas serves a variety of drinks including sustainably sourced low and no sugar wines, and their food choices range from wraps to burgers to bowls.
Address: 1051 South Coast Hwy. 101, Encinitas, CA 92024
Phone: (858) 264-8550
Hours: Mon – Sun 7 a.m. – 9 p.m.
Local Greens
Local Greens in Solana Beach serves up exactly that – local greens. Their menu items are sourced sustainably from local organic produce, ensuring that your greens are the freshest available. They offer delivery through GrubHub and menu selections include bowls, wraps, and salads packed with quality veggies and protein.
Address: 124 Lomas Santa Fe Dr. #104, Solana Beach, CA 92075
Phone: (858) 224-KALE (5253)
Hours: Mon – Sun 11 a.m. – 8 p.m.
North County Inland San Diego Healthy Restaurants
The North County Inland area of San Diego may be less populated and more sprawling, that does not mean that you will suffer for choices of great healthy restaurants to go to when you are craving some fresh and healthy choices.
Everbowl
Everbowl focuses on bowl concepts that are made of only fresh, natural ingredients without preservatives or additives. They even have their own 'craft superfood coffee' with acai berries. The concept is a "build your own" bowl, starting with a superfood base (6 different types to choose from) and then building on unlimited ingredients to make an amazing, fresh, healthy meal. And if you love Everbowl, there are many different convenient locations including this one in Escondido.
Address: 1875-B Centre City Pkwy., Escondido, CA 92025
Phone: (760) 912-6072
Hours: Sun – Fri 9 a.m. – 7 p.m.
Saturday 9 a.m. – 8 p.m.
Ramona Family Naturals
Ramona Family Naturals is a natural foods market in Ramona that has a large variety of items for purchase as well as a deli, a restaurant, and a family loyalty program that gets you major discounts on products offered. Acai bowls and fresh coffee are highlights at the restaurant, while at the store you can find everything from organic local produce to your favorite familiar spaghetti sauce.
Address: 325 6th St., Ramona, CA 92065
Phone: (760) 787-5987
Hours: Mon – Sat 8 a.m. – 7 p.m.
Sunday 8 a.m. – 6 p.m.
GreensPlease
GreensPlease in the Poway neighborhood has a great selection of healthy and delicious whole foods to help you start or continue your day on a fresh note. They are open for breakfast and lunch and also have takeaway snacks like granola and beans. Try the Apple Cinnamon Power Oats or the Loaded Nachos.
Address: 12202 Poway Rd. #100, Poway, CA 92064
Phone: (858) 842-1001
Hours: Tues – Sat 10 a.m. – 3 p.m.
Closed Sun & Mon
Central San Diego Healthy Restaurants
Central San Diego means downtown, but it does not mean that you do not have some great choices for dining more healthily. Working downtown in any city may mean you have more food choices within walking distance, but are they always healthy? Finding the best healthy restaurants in San Diego may take some trial and error, but no matter where you are — even in the heart of the city — there is a good choice for you.
Cafe Gratitude
This beautiful location in Little Italy focuses on the simple pleasures of clean, plant-based nutrition. Eclectic menu names such as "I Am Giving" (flatbread pizza) and "I Am Elated" (southwestern style enchiladas) will keep you involved with your meal and provide a memorable experience. There is also a shop with things like take-home decorate-your-own-vegan-cookie kits and cookbooks.
Address: 1980 Kettner Blvd., San Diego, CA 92101
Phone: (619) 736-5077
Hours: Mon – Sun 9 a.m. – 9 p.m.
Peace Pies
Besides having a great name, Peace Pies has a great philosophy: providing raw, vegan, gluten- and soy-free foods for everyone to enjoy. Their Ocean Beach location provides an extensive menu of raw foods that are sure to please every palate, including a mushroom stroganoff, Noble Nachos, and even milkshakes and smoothies. They also have a shop offering on-the-go snacks and cookbooks.
Address: 4230 Voltaire St., San Diego, CA 92107
Phone: (619) 223-2880
Hours: Mon – Sun 11 a.m. – 8 p.m.
Jyoti-Bihanga
This restaurant in Normal Heights is owned and run by followers of a spiritual master with the goals of achieving inner peace, light, and joy. The vegetarian menu focuses on lunch and dinner options with a wide variety to choose from, and also has a Sunday breakfast buffet with everything you would expect.
Address: 3351 Adams Ave., San Diego, CA 92116
Phone: (619) 282-4116
Hours: Mon, Tues, Thurs, Fri: 11 a.m. – 9 p.m.
Wednesday 11 a.m. – 3 p.m.
Saturday 12 p.m. – 9 p.m.
Closed Sunday
East County San Diego Healthy Restaurants
East County is an inland area of San Diego that encompasses four major cities as well as a large amount of rural area and backcountry. Fresh, delicious, and whole foods options remain available in many areas throughout to fuel your everyday life or that trip up El Capitan.
Crafted Greens
Crafted Greens in El Cajon has a scratch kitchen focused on locally and ethically sourced natural foods, and even has a map on their website showing the locations where each type of ingredient originates from. Menu choices range from salads and sandwiches to entrees, flatbreads, and even kids' meals that are great choices for a healthier lifestyle.
Address: 745 Jamacha Rd., El Cajon, CA 92019
Phone: (619) 328-4044
Hours: Mon – Sat 11 a.m. – 8 p.m.
Sunday 11 a.m. – 7 p.m.
Bowls and Brews
This delicious healthy concept in Santee focuses on healthy power bowls, smoothies, and coffee drinks with a healthy twist. Get a premade bowl, smoothie, or brew, or create your own and power through your day. They also sell their own coffee blends, loose leaf tea, and catering packages available.
Address: 9292 Carlton Hills Blvd., Santee, CA 92071
Phone: (619) 334-6776
Hours: Mon – Fri 9 a.m. – 3 p.m.
Blendees
Blendees in El Cajon focuses on customizable smoothies and treats made with natural ingredients. Started by a mother who wanted to give her son a better option for a snack after football practice, Blendees has grown into a locally loved spot with rave reviews. Build your own smoothie, get a cleanse bundle, or try a delicious freshwater blend.
Address: 1297 E Main St., El Cajon, CA 92021
Phone: (619) 535-8525
Hours: Mon – Sat 11 a.m. – 5 p.m.
Closed Sundays
South Bay San Diego Healthy Restaurants
South Bay has a number of natural spaces and some great surfing, both of which require a great fueling for your body before you go adventuring in the wild. Even if you are just looking for cheap healthy restaurants in San Diego to go about your everyday life aside from your adventures, the areas in South Bay have several great choices.
Green Vine Delicatessen
This popping restaurant in National City serves up sandwiches, salads, smoothies, and all of the options in between in their sit-down restaurant, and also offers all of their healthy choices to-go. Menu options include breakfasts like steak and eggs and lunches such as a Monte Cristo, with plenty of sides and drinks to explore.
Address: 2429 National City Blvd., National City, CA 91950
Phone: (619) 512-1765
Hours: Mon – Sat 7 a.m. – 3 p.m.
Closed Sunday
Fresheria
Just like its La Jolla location, Fresheria in Bonita is a beautiful place to get healthy Mexican-based dishes made with clean, fresh ingredients that are fun and taste great. The scratch kitchen also offers takeout and delivery for all of your healthy food needs. Local reviews call out the acai bowls, turkey sandwiches, and Power Shots.
Address: 4012 Bonita Rd., Bonita, CA 91902
Phone: (619) 773-6858
Hours: Mon – Fri 7:30 a.m. – 8 p.m.
Sat & Sun 8 a.m. – 8 p.m.
Mango Mango
This fun name in Bonita is home to an equally fun and bright restaurant, full of fresh fruits and produce that makes its way into every dish served. Founded by a local family who wanted more available fresh and healthy choices, the extensive menu serves up breakfast, power bowls, salads, fruit salads, and a variety of fresh and tasty sandwiches.
Address: 4530 Bonita Rd., Bonita, CA 91902
Phone: (619) 470-7300
Hours: Mon – Fri 11:30 a.m. – 2:30 p.m. & 4:30 p.m. – 9:30 p.m.
Saturday 12 p.m. – 9:30 p.m.
Sunday 4:30 p.m. – 9 p.m.
Conclusion
Living a healthy, whole, fulfilled lifestyle includes paying attention to what goes into your body and making healthy choices for the fuel your body needs on a daily basis no matter your activity level. The West Coast is an abundance of healthy, fresh foods available on a year-round basis.
If you're looking for a healthy restaurant in San Diego, these restaurants take those ingredients and showcase them in fun, mouthwatering ways that will satisfy any eating requirements without sacrificing flavor. Enjoy any one of these healthy restaurants today!
About the author: When not hiding behind a laptop, Cara Becker can be found asleep or exploring the wide world of interesting things, like how to bake the perfect cheesecake and where to find the best waterfalls. If you're interested in exploring a food you've never tried or learning a word you don't know, please share your wisdom with her on her LinkedIn profile.