5 La Jolla Activities to Burn Off That Thanksgiving Feast
There aren't many holidays as food-centric as Thanksgiving in November, and the turkey-induced food coma that follows the great feast is almost always inevitable. If you're looking for a La Jolla activity to stretch your legs and shed some of those post-Thanksgiving calories without hitting the gym, you're in luck! La Jolla is the perfect spot to enjoy some sunshine, fresh air, and a bit of all-natural exercise — from coastal hikes to strolls through outdoor art collections.
1. Rent a Bike
One of the most enjoyable ways to burn a few calories is to enjoy a leisurely bike ride through La Jolla. Bike rentals are available at places like California Bicycle and Bike and Kayak Tours, Inc. If you're looking for something a bit more structured, La Jolla Kayak offers a Soledad Slide Bike Tour three times a day. Each tour is two hours long and begins atop Mt. Soledad, then continues down and along La Jolla's famous coastline.
You'll have a chance to stop and appreciate the amazing scenery along the way, including Windansea Beach, Bird Rock, the seals at the Children's Pool, and La Jolla Cove. La Jolla Kayak also offers combination bike and kayak tours, which combine the Soledad Slide Bike Tour and the Original La Jolla Kayak Tour for a half-day surf and turf adventure.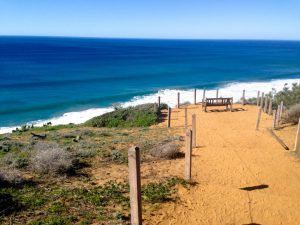 2. Take a Hike
La Jolla is home to many beautiful walking and jogging trails, the most notable ones being within Torrey Pines State Reserve. The popular 3/4 mile Beach Trail is a great one to start out with; it winds through trees, brushes, and down the cliffs to the shoreline. For a longer hike, try the Broken Hill Trail. Its 1.3 miles offers incredible views of the Pacific and the jagged sandstone cliffs for which Torrey Pines is so well known.
For a complete guide to the Trails at Torrey Pines, check out our full guide!
Tip: For a less crowded hiking experience, opt for the trails within the Torrey Pines Reserve Extension.
3. Walk Sunny Jim Cave
Sunny Jim Cave is one of the oldest and most unique spots in La Jolla. It sits below the Cave Store, which to this day remains the longest-running business in the Village. Once inside, you'll descend 145 steps to enter the only sea cave that's accessible by land in California. You'll travel through a tunnel that dates back to 1902 when German engineer Gustav Schultz started digging through layers of dirt and rock by hand. Fun fact: early visitors had to descend precariously by a rope until stairs were finally added a few years later.
Entrance is $5 per adult.
4. Take a Stroll Along Coast Walk
Coast Walk Trail is a longstanding local gem and one of the best ways to admire La Jolla's beautiful coastline. There are several parts to the trail, but our favorite section starts just to the left of the Cave Store. You'll see a path that turns into a dirt trail followed immediately by a lookout point that offers incredible panoramas of La Jolla Shores and Scripps Pier. The path continues along the cliffs to a wooded area and levels off at a wooden footbridge, where you'll be greeted with great views of the sea caves before the trail ends.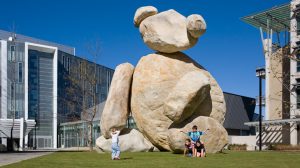 5. Walk the Stuart Collection at UCSD
The Stuart Collection is a group of 18 public art installations sprinkled throughout the UCSD campus and is one of fourteen free things to do in La Jolla. An agreement formed back in 1982 essentially allows for the entire campus to be considered as sites for commissioned sculpture, and the collection has only continued to grow since then. With pieces ranging from a 23-foot high granite bear statue to a grove of talking trees, this collection is funky, unique, and definitely on the list of must-do activities in La Jolla. You can print out a map that shows where each piece is located on the Stuart Collection website.