10 Fun Date Ideas for Couples in La Jolla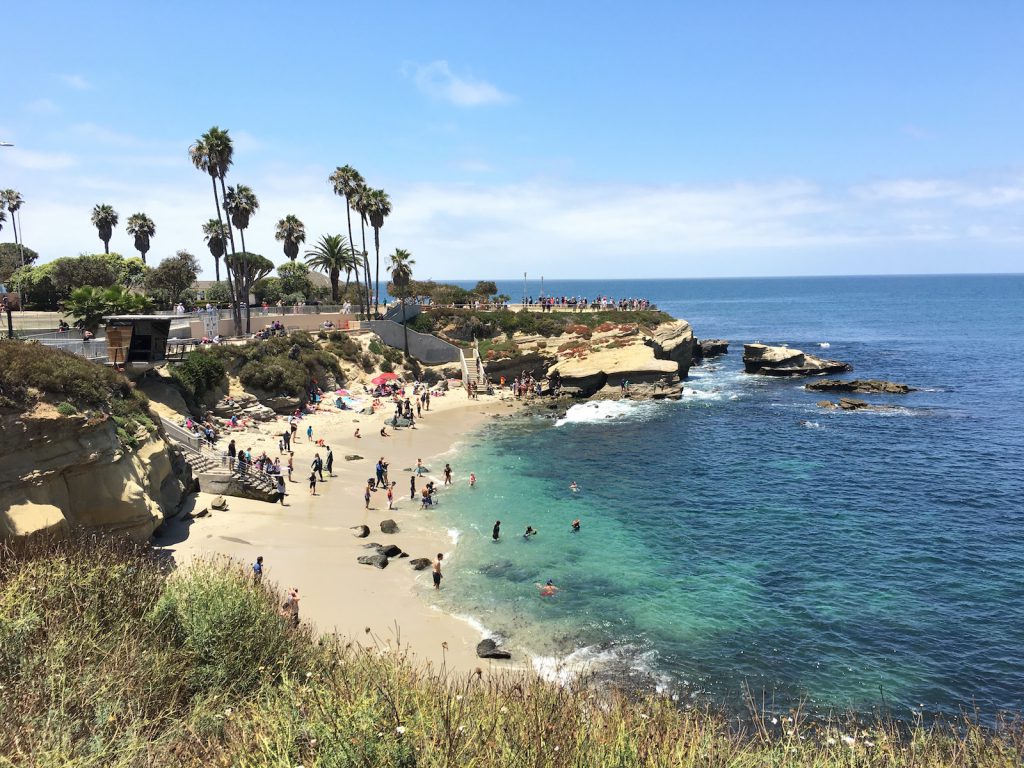 La Jolla is full of things to do, whether you're with a group of friends or that special someone! If you're looking for an especially romantic day or evening, however, La Jolla is definitely one of the top places to be in San Diego. Here are a few of our favorite date spots for couples in La Jolla and La Jolla Cove! As always, we recommend that you call ahead to check for availability on tours or screenings.
Spend the day at one of La Jolla's beaches with a picnic.
La Jolla Cove, La Jolla Shores, and Windansea Beach are all great spots to watch the waves and relax. Swimming, tanning and paying frisbee are all great additions to this free date option (if you own a frisbee already). You can also schedule a walking tour of Scripps Pier with the Scripps Institute of Oceanography to learn more about what they do and catch some great ocean views from out above the water. Afterwards, head to Shell Beach and sit at one of the green belvederes to watch a beautiful sunset!
Go on a walking tour of the La Jolla Murals.
Many of the murals are hidden in small areas of La Jolla, often out of the way of main traffic. Hunting out the murals will not only let you stretch your legs, but introduce you to new areas of La Jolla. (Hint: the murals also make for great Instagram photos).
Tour the gorgeous Salk Institute, especially if you're an architecture fan.
Just off of UCSD, the Salk Institute is a research institute that is beautifully designed with a focus on geometry, symmetry, and simplicity. Walking amongst the tall buildings and down angular hallways almost makes you feel like you're in an alternate reality.
Stroll through the Stuart Collection at UCSD.
Sprinkled throughout the UCSD campus are several unique works of outdoor art. Ranging from neon lights to a house perched precariously atop a building named, Fallen Star, and a bear made from boulders, these 18 pieces are hidden gems — and finding each of them makes for a great day of exploration! Follow this printable map. The Fallen Star is free and open to the public on Tuesday and Thursdays from 11-3pm.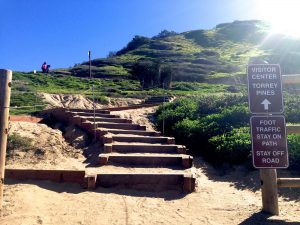 Check out Torrey Pines State Reserve
La Jolla has many great hiking options in easy reach, which means barely any planning on your part! Torrey Pines Reserve features a beach, trails of various difficulties, and a species of pine native only to La Jolla. Mt. Soledad is also a great hiking destination where visitors can see monuments to fallen U.S. soldiers from the Korean War, gaze up at a 42-foot cross, and enjoy panoramic views.
Head to the La Jolla tide pools
Keep an eye out for nature! When we're caught up in the shopping and dining, we can forget that cities are included in "the natural environment" too. La Jolla's great weather means we may not notice the seasons too much, but wildlife sure does. The La Jolla tide poolsalso make for a great free date where you can find beautiful creatures and experience the the biodiversity our area has to offer. There's also several types of animal attractions at the beach to enjoy from afar, including dolphin sightings, leopard sharks, baby seals, and more. You likely won't be able to see all these things at once, though. November to March is the best time for tide pools because of the lower tides, while December to May is when baby seals are born and August and September is when most of the leopard sharks appear.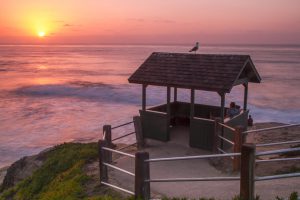 Image from Facebook.
Watch the sunset above La Jolla Cove.
The little green belvederes above the Cove and along the rest of the beach in La Jolla are great spots to bring a mini picnic, some blankets, and hot cocoa to watch the sunset. Get there a bit early to snag a spot, and enjoy the show!
Walk the sea wall at Children's Pool before a romantic dinner.
If you have dinner reservations at a cozy La Jolla restaurant, walk by the ocean or along the sea wall at Children's Pool beforehand. Dusk is a beautiful time to be on the water, especially during a full moon!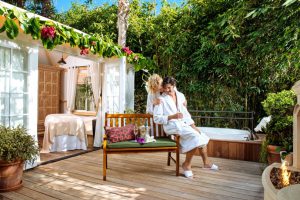 Treat yourselves to a spa day
It's no secret that La Jolla is home to tons of great resorts, beautiful spas, and relaxing hotels! Treat you and your honey to a relaxing day at the spa — indulge in a couple's massage or treat yourselves to a facial. The best part is, most spas allow you to stay as long as you like enjoying their facilities afterwards!
Check out one of La Jolla's many art galleries
Many art galleries in the Village are open to tour, including the Contemporary Fine Arts Gallery, Madison Gallery, Peter Lik Gallery, and more. The Athenaeum Arts Library on Wall St. also hosts rotating art exhibits that are open to the public, which typically feature a mix of sculpture and visual arts. It may not be the most romantic of venues, but depending on your interests, the Map and Atlas Museum of La Jolla could also be a really cool place for a free date.