Swim With Leopard Sharks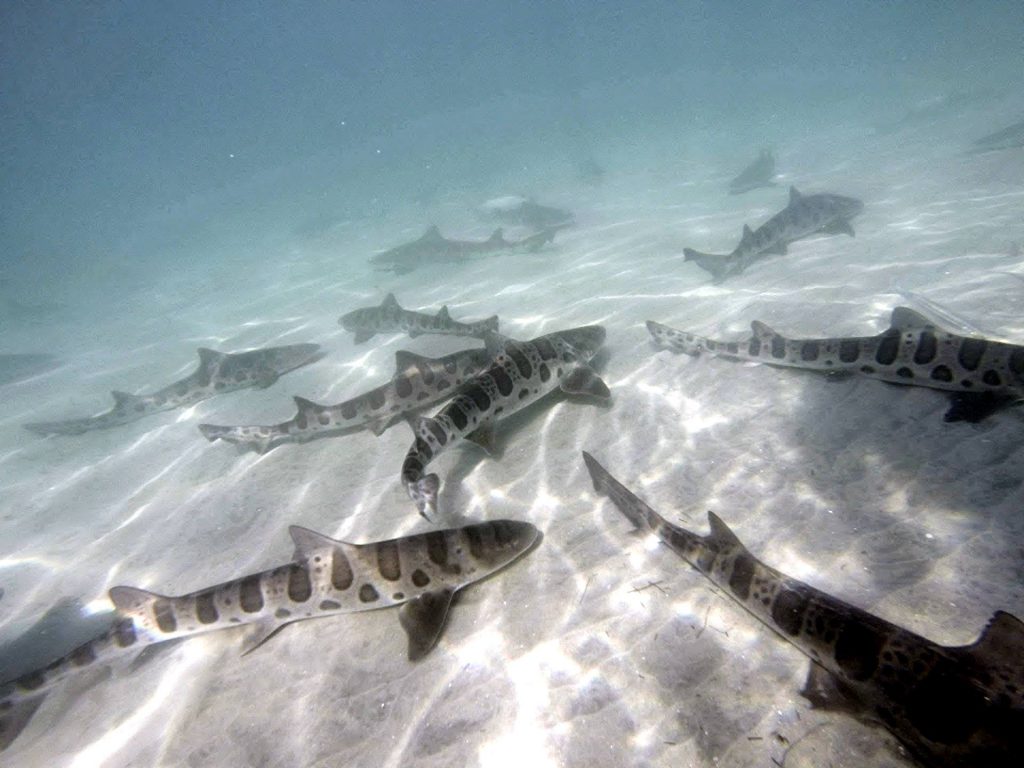 Why You Should Swim With La Jolla Leopard Sharks This Summer
Yes it's true, La Jolla is filled with leopard sharks. No, they are not dangerous — in fact, they are pretty friendly!
The first thing you probably imagine when you hear "shark" is vicious predator. But not all sharks are threatening to humans.
In fact La Jolla's leopard sharks are friendly and even fun to be around. La Jolla is a summer getaway for thousands of beautiful leopard sharks. They're non-lethal to humans and a delight to the eye. They even fun to swim, kayak, or scuba dive next to.
What makes leopard sharks different?
Well for one — they're one of La Jolla's most prized attractions. They draw visitors from all over the world, especially during summer. Their beautiful appearance is fascinating to look at, and despite being carnivores, they never attack humans.
Biologists estimate that the sharks that come to La Jolla are 97% female. Scientists estimate that a majority of of them show up to find a mate. The ones that are pregnant claim La Jolla as home to raise their young.
The toasty San Diego climate is a great location for the developing embryos to grow up. The warm weather sets up the perfect environment for healthy development in maturing sharks. There is plenty of food and resources for them to grow and mature.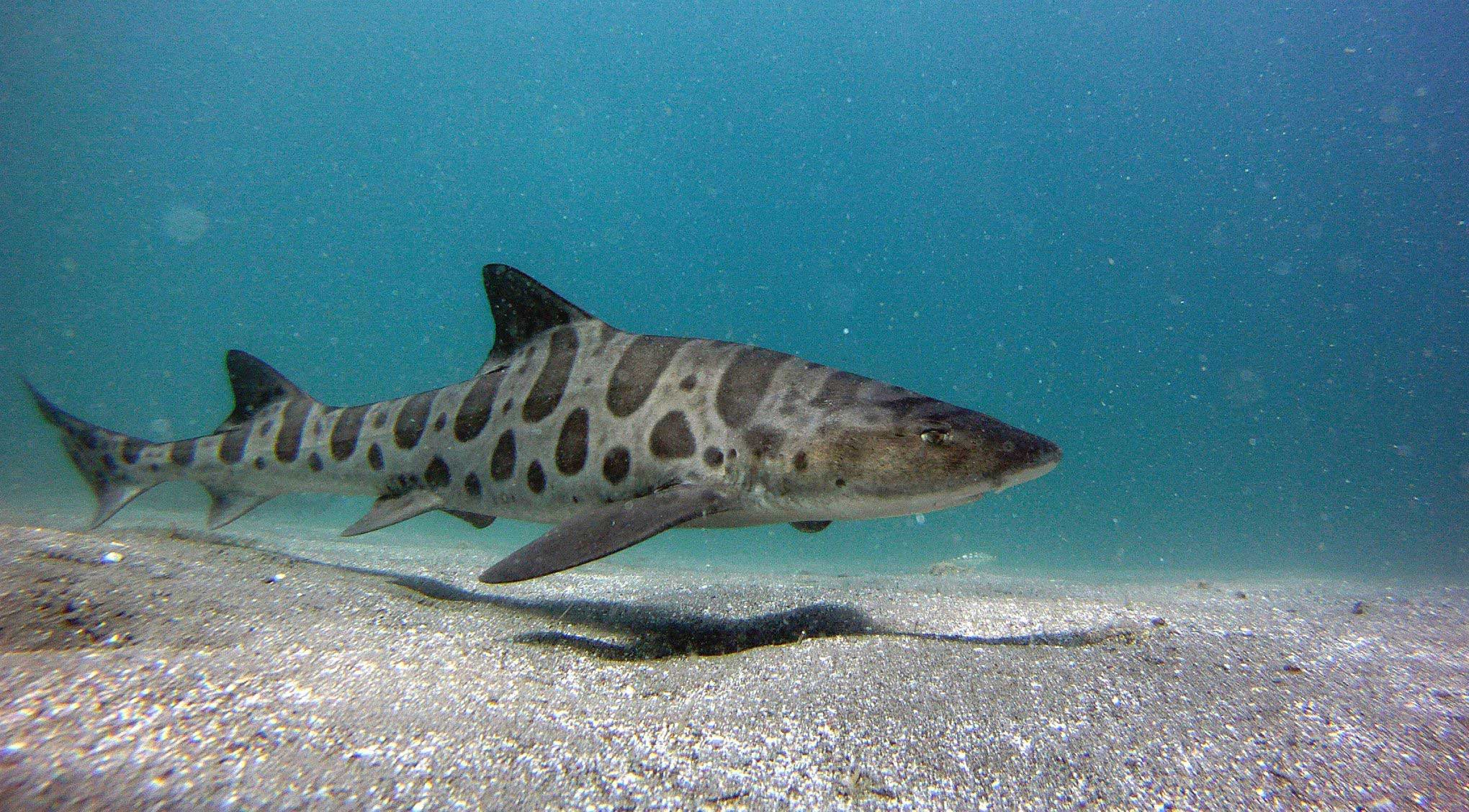 Fun facts about leopard sharks
Andrew Nosal, a researcher at La Jolla's Birch Aquarium says, "What the [females] are essentially doing is incubating… like [how] a mother bird sits on eggs to keep them warm." Leopard shark mothers are pregnant for about 10 months to a year and give birth to about 15-20 babies.
They take about 10 years to reach adulthood.
The sharks themselves are quite fascinating. Despite being fierce carnivores, they are known for their timid nature when interacting with humans. In fact, they are harmless to people. Most of the time when they encounter a human in the ocean, they swim away scared. In La Jolla, there has never been a recorded injury from a leopard shark.
Although they have the word "shark" in their name, the sharks don't attack humans unless heavily provoked. Their small mouths have about 75 to 100 tiny teeth that may appear sharp and menacing, but they're nonlethal to humans.
Nosal, who spent years researching the sharks, cautions the public, "It's always important to remember that these are wild animals and should not be touched or harassed in any way." Despite being a fish, leopard sharks have one thing in common with leopards (besides their skin of course). They are both predators who hunt down their prey.
Their diet consists primarily of shrimp, clams, crab, and fish. The food they consume is similar to what you can find at some of La Jolla's most exclusive seafood restaurants. And despite a fierce carnivorous nature, it's the beauty of leopard sharks that's most fascinating.
Their beautiful skin is a pleasure to the eye. Each leopard shark skin is unique to the fish with no two patterns being the same, just like human fingerprints.
Leopard sharks at La Jolla Shores are a beautiful tourist attraction you need to experience.La Jolla kayak shops offer tours to experience them up close. The tours take visitors to the leopard shark hot spots including feeding grounds and mating spots.
According to LaJollaKayak.com "[the sharks] can be seen just a few yards away from shore…" There's just no excuse to not experience the sharks.
During the summertime from July to September, Birch Aquarium offers 2-hour leopard shark Snorkeling Adventures where they cover the abundant variety of animals that live in La Jolla's waters. Participants must provide their own snorkeling gear.
If you don't feel like renting, you can head straight into the water and experience them first hand. Although the fish are easily frightened and often swim away from people, they are quite fun to be around.
Nosal suggests that, "The best thing to do is to stay motionless and allow the shark to come to you." While most people don't feel comfortable letting a shark come to them, it's one of the coolest experiences you will ever have.
Come experience the sharks for yourself — there's nothing quite like it!