Everything You Need to Know About Snorkeling with La Jolla Leopard Sharks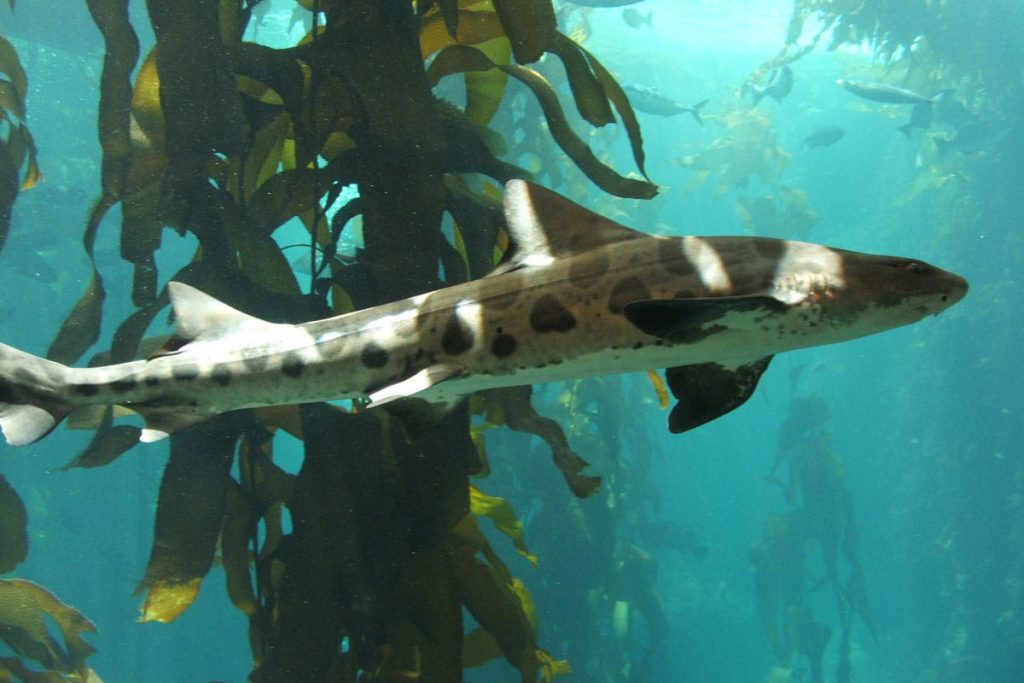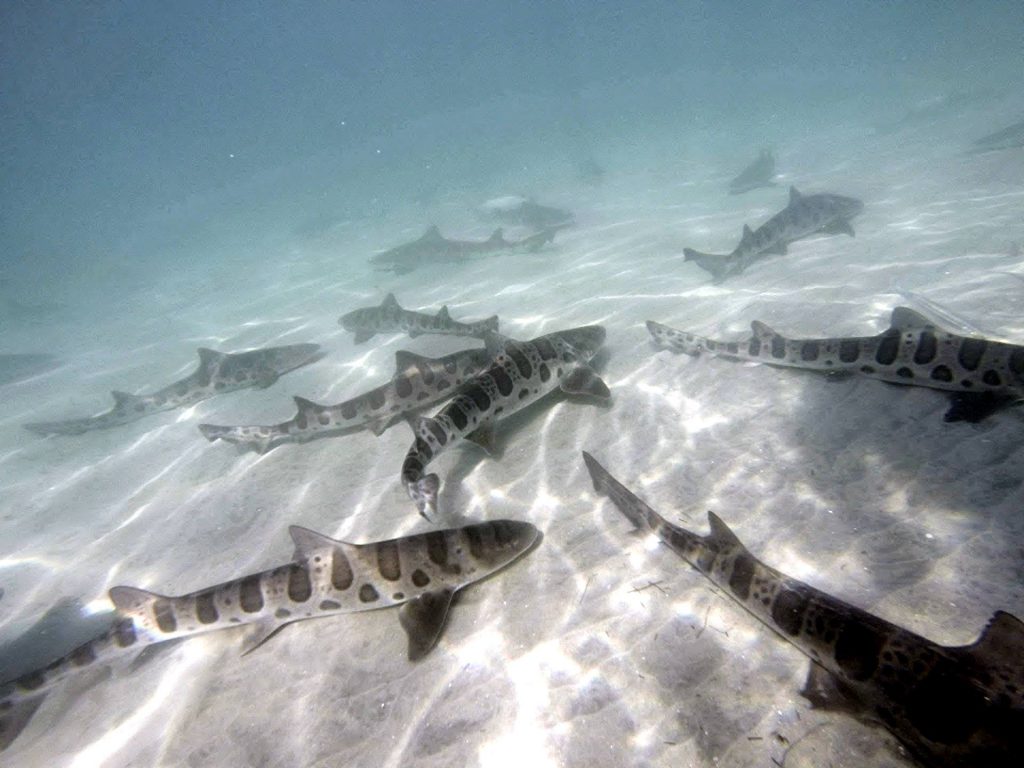 Every year, thousands of leopard sharks head to the shores off the coast of La Jolla Shores to mate and then hatch their young. The warmer waters here provide an ideal temperature to incubate, and the sharks will typically stay for up to six months to complete the process.
Shop La Jolla Artwork
The La Jolla leopard sharks are beautiful — and harmless — and snorkeling alongside them makes for an incredible afternoon out with the family. These little guys are hard to miss, and are distinctively marked with dark brown spots on a silvery, gray background that resemble a leopard print.
Here's the rundown on how to see the La Jolla leopard sharks; from where to go, when to go, and how to do it!
What time of the year can I see the La Jolla Leopard Sharks?
The leopard sharks are typically in their largest numbers from early June through the end of September or October, when thousands migrate to La Jolla Shores for their mating season. During the rest of the year about 100-200 local leopard sharks can still be seen, and some companies hold snorkeling tours through December or even year-round.
The leopard sharks congregate in the warmer shallow waters near La Jolla to look for food and find a mate; though they are a bit wary of humans, they typically keep to themselves and will gladly share the water with (respectful) swimmers and snorkelers.
When is the best time to visit?
End of August and September are usually the best times to see La Jolla Leopard Sharks, as this is towards the end of the mating season and there are higher numbers of sharks. The ideal time to go is during the day, when there are calm waters and when it's sunny (as they will be easier to spot).
Where is the best place to see the leopard sharks?
The La Jolla leopard sharks congregate at La Jolla Shores, where the water is warmer and shallower. It's easier for them to search for food in the sand and kelp forests, which are protected by the La Jolla Underwater Park Preserve. Their diet consists mostly of smaller shellfish; including clams, crabs, shrimp, squid, and fish eggs.
During peak season, you can simply swim out into the water at La Jolla Shores and see the leopard sharks — they will often be that close to shore. Wade out up to your knees or hips, and you'll see them swimming around your feet (which is quite an experience!).
There's no reason to be scared of these little guys, as they are completely harmless to humans and won't bite or bother you. Be respectful of them and you can expect them to do the same for you!
How can I snorkel with the La Jolla Leopard Sharks?
There are four different ways we recommend if you'd like to snorkel with the La Jolla leopard sharks.
Swim with a partner on your own at La Jolla Shores and simply watch them through the water, which is usually pretty clear.
Snorkel with a partner on your own and get a better look at the sharks through a snorkel mask; either with your own gear or a snorkel rental. If you don't have your own gear, many companies will rent you gear for the entire day at one price: Everyday California and La Jolla Kayak are just a couple.
Take a guided snorkeling tour from any number of companies located in La Jolla Shores:
Take the guided snorkeling tours offered by the Birch Aquarium at Scripps. The tours are typically held from July through September, and these are a great option if you want to learn more about the sharks, as there is a trained naturalist guiding each tour. Intermediate swimming ability is required and previous snorkeling experience is recommended (ages 10+).
5 Fun Facts About Leopard Sharks
Leopard sharks are only about four to five feet long.
They're found all over the coast of California, but they particularly like the warm water in La Jolla.
During breeding season, females can produce anywhere from seven to 36 offspring, which measure 20 centimeters at birth.
The maximum lifespan of this species is estimated at 30 years! They've lived up to 20 years in captivity, and are a popular attraction in many aquariums.
There is only one leopard shark attack ever recorded: in 1955, there was an unprovoked attack on a diver in Trinidad Bay, California. Fortunately, the diver was not injured and swam away unscathed.
5 Safety Tips and Guidelines for Swimming with Leopard Sharks
Use common sense — keep an eye on the tide, watch out for rip currents, and always be aware of your surroundings.
Always listen to the lifeguards.
Treat the animals with respect; don't try and touch them or interfere with they are doing.
Stay calm. Approaching the sharks quietly and calmly is your best bet to seeing them up close. If they perceive you as a predator, they may try and defend themselves.
Wear appropriate gear; if you want to see them up close, have your fins and snorkeling gear ready.
Shop La Jolla Artwork