Go Urban Exploring with the Murals of La Jolla
One of La Jolla's best features is its role as a patron of the arts! Besides MCASD La Jolla and numerous art galleries, La Jolla also features its own series of outdoor murals maintained by the Athenaeum. Here's our guide to planning your own Murals of La Jolla tour!
Currently, La Jolla hosts 16 mural locations maintained by private donations to the Athenaeum. You can view former murals in the online archive at the Murals of La Jolla Website, as 8 of the 16 have been updated with new murals since the start of the series in 2010. Each art piece stays up a minimum of two years. 2016 saw several additions, with 3 new murals and 2 new locations.
Planning Your Tour
If you want to take it easy, guided tours covering a majority of the murals are given by Athenaeum staff on the last Wednesday of each month at 4:30 pm. However, it's usually more convenient to draw up your own tour. You can even customize it for accessibility, walking distance, and snack stops.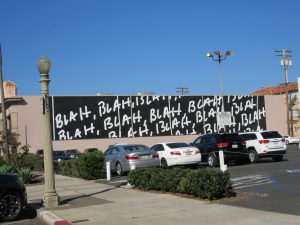 Firstly, you'll need to know where the murals are, which you can easily find with this printable map. If you only have a short bit of time or are looking for the most wheelchair-friendly route, we recommend going from Prospect St, to Herschel Ave, to Girard Ave for the most murals (and best sidewalks) in the shortest distance.
Special Murals of La Jolla
Oldest mural — Favorite Color by Roy McMakin at 7596 Eads Ave (2010)
Newest mural — Landing by Heather Gwen Martin at 7724 Girard Ave (2016)
Cutest Mural — Opening by William Wegman at 1162 Prospect St (2014)
Most Instagrammable mural — One Pointed Attention by Kelsey Brookes at 7835 Ivanhoe Ave (2014) (cover image)
Most out of the way mural — Walking in the Cityprojects by Julian Opie at 5535 La Jolla Blvd (2013) (side image)
* This one is a real trek but is just a few steps away from Bird Rock Coffee Roasters, which is arguably the best coffee in La Jolla. If you're up for it, it's a nice one to catch.
About the Murals
The Murals of La Jolla project began in 2010. Over the past few years, large-scale artworks have appeared in a variety of locations throughout the village of La Jolla; many are tucked away in more discreet locations, which makes them even more fun to find.
The project was founded by the La Jolla Community Foundation and continues to demonstrate that commissioning artists to create works for public spaces brings energy and vitality to a community. Here's the list of artists whose murals are on display right now:
Kota Ezawa
Steven Hull
Heather Gwen Martin
Lorenzo Hurtado Segovia
Byron Kim/Victoria Fu
Terry Allen
Marcos Ramirez ERRE
Mel Bochner
Jean Lowe
William Wegman
Kelsey Brookes
Fred Tomaselli
Mark Bradford
Julian Opie
Roy McMakin
John Baldessari
Overall, 24 murals have been commissioned since 2010, and the Foundation plans on continuing to commission local and international artists.
Favorite Restaurants Along the Way
If you want to eat on the go, you can get tacos from Puesto or burgers from Burger Lounge and look at both the Hamilton and Blochner murals across the street in the parking lot.
If you're in the mood for a treat, grab some Haagen Daz and eat it while gazing up at Wegman's Opening.
If you're looking for a sit-down meal, Brain/Cloud can be seen from the outdoor patio of George's, and Sexy Cash can be seen from the patio of La Jolla Brewing Company.
Happy touring, and let us know in the comments which your favorites were!
One Pointed Attention and Walking in the City images from muralsoflajolla.com