The Newest Azzurra Capri: Have You Heard it's Coming?!
Who doesn't dream of teleporting to Italy? We may not be able to walk on the sidewalks of Rome tomorrow, but that doesn't mean we can't walk in Italian style. Say hello to Azzurra Capri, the Mediterranean-inspired sandal brand. Featured in stores all over the world, this fall we get to a have an Azzurra Capri boutique, only the second one, right here in La Jolla.
Once Upon A Time…
There was a woman who loved shoes. Diana Carolina, owner and designer, says she's always been passionate about sandals. "The beauty of San Diego is the weather. When it's sunny and 70 year round, you really can rock sandals here any time of year!"
With this idea and niche in mind, Diana opened her first flagship store in San Diego's Little Italy neighborhood. It was originally intended as a simple showroom for her handmade Italian sandals, but soon enough turned into the popular boutique that is beloved across San Diego county today. With La Plaza's Mediterranean architecture, rooted in Spanish & Moroccan culture, Diana realized it was the perfect fit for her second store. She has a lot of loyal customers in North County, where she's originally from herself, and La Jolla will be the perfect bridge for these clients.
The New Azzurra Capri La Jolla Location
Shoppers can expect to see the signature type of sandals Diana is so famous for at the new La Jolla store. Diana also promises a strong concept of swimwear and resortwear, featuring new, fresh brands to the La Jolla Azzurra Capri boutique.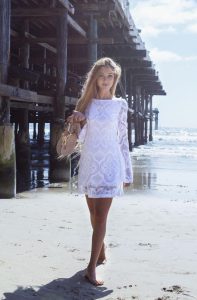 I love that Diana's style is authentic; she's consistently visiting Europe, including Italy, of course. There she attends trade shows and gets inspiration from the latest fashions. "Their (European) fashion is very much about having unique pieces in a closet that they'll have for a long time. Instead of a quick, trendy piece that won't last long, it's all about getting something that's really good quality and timeless." It is such timeless pieces we can look forward to seeing in La Jolla's Azzurra Capri.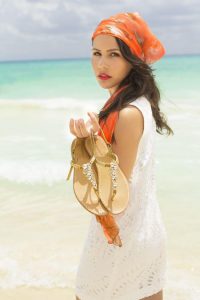 Azzurra Capri: The Starbucks of the Sandal World
Diana is the Starbucks of the sandal world because, like your tall mocha with peppermint syrup and non-fat milk, she can customize shoes to be exactly what you want. At both the Little Italy location and the new La Jolla La Plaza venue, you can come in and have custom sandals made just for you. This includes:
Sizing your feet for the perfect fit
Choosing your leathers
Creating your dream style and look, whether plain and simple or extra glam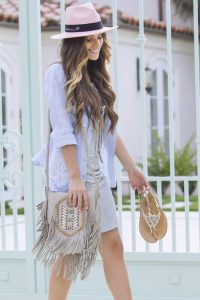 Until the Store's Fall Opening
I can't wait for the opening this fall. In the meantime, check out her website to get a feel for what's to come at: Azzurra Capri.
You can also see a seriously breathtaking bathing suit, featured from her Little Italy Azzurra Capri location, in a post from our guest blogger: Snorkeling & Kayaking at La Jolla Cove with Stephanie Blaunc.