The Inside Scoop on Himitsu, La Jolla's Newest Sushi Spot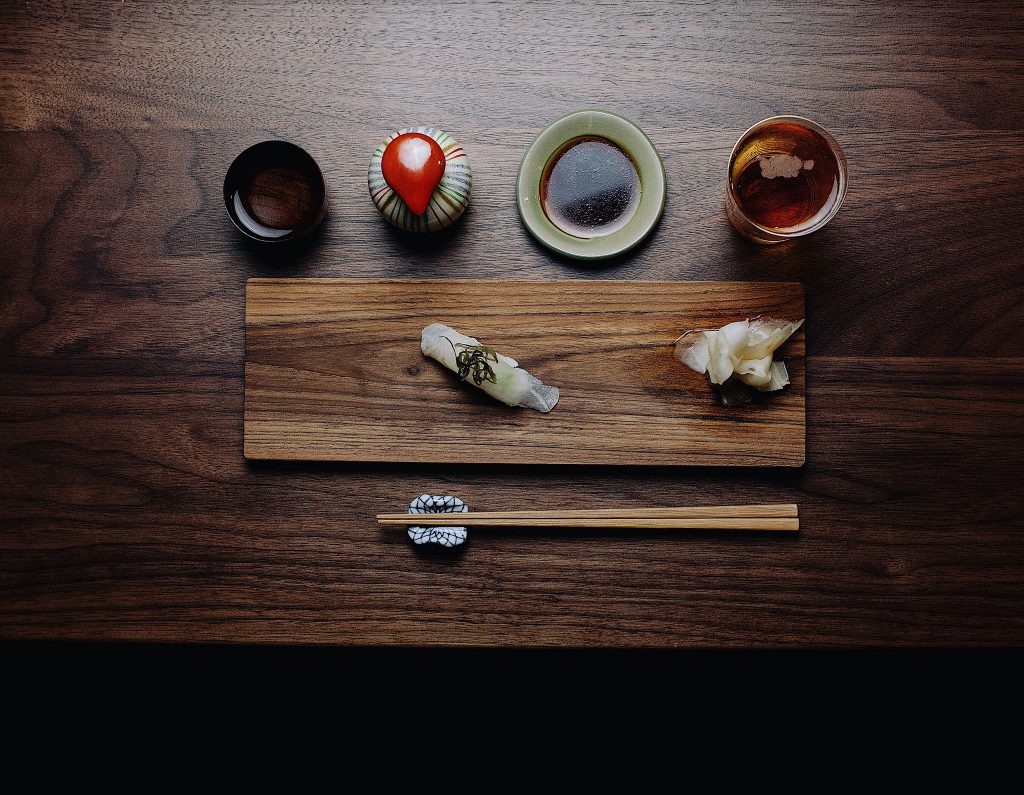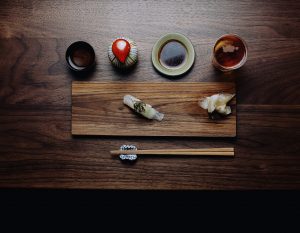 Himitsu, one of the highly anticipated new La Jolla restaurant has officially opened its doors. The name, which means 'secret' in Japanese, is well suited to its tucked-away corner on Torrey Pines Road. Executive Chef Mitsu Aihara has curated a unique menu of traditional sushi and nigiri along with Japanese-style tapas, multiple sakes, an excellent wine list, and essential Japanese beers.
Aihara has been a fixture behind the bar of well known Sushi Ota in Pacific Beach for the past 16 years until he received the blessing of his mentor to forge ahead with his own venture — Himitsu. The new spot (which was initially called Mitsu), is the latest project under the direction of Julian Hakim and Aram Baloyan, the duo behind the popular La Jolla Mexican restaurant, The Taco Stand.
Himitsu well on its way to becoming La Jolla's premiere new authentic dining spot. We got the chance to try it out for ourselves — and it did not disappoint! Here's the rundown on the new eatery.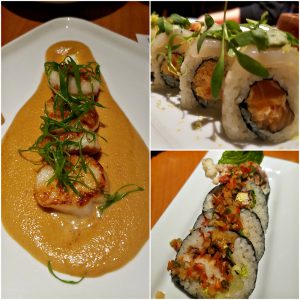 Aihara's take on Japanese cuisine is similar to the experience at Sushi Ota but includes other fresh seafood dishes and small plates (including omakase) that will rotate weekly or even nightly, depending on fish availability and the Chef's preference.
The Dining Experience
Our dinner for the evening consisted of an appetizer, sushi rolls, and scallops. We started off with the Spicy Edamame, which is flavored with a hint of garlic salt, chili pepper threads, and shichimi pepper. It was spicy, but not too spicy — and delicious.
Next up were the Seared Scallops (pictured above). Five Maine Scallops were served with a creamy, smooth corn puree,  mixed with a brown butter-soy cream with Mentaiko. This was definitely one of my favorite dishes of the evening; the sauce was melt-in-your-mouth incredible and complimented the mild flavor of the Scallops quite well.
We also indulged in the Himitsu Roll (pictured above), with spicy salmon and crab, scallop, jalapeno, cilantro aioli, and a hint of lemon zest. These were surprisingly fresh and light-tasting; I could see this being a go-to dish during the summer. All of the seafood was incredibly fresh, as well. The Soft Shell Crab Roll (pictured above) was filled to the brim with deep-fried soft shell crab, lettuce, asparagus, and drizzled with salsa — which gave it a different taste, and overall had a somewhat smoky feel. What stood out to us was how different each roll tasted. You could really tell which was which, and at a sushi restaurant, this really points to the skill of its chefs.
The Space
The space itself is composed of a large outdoor patio and an indoor intimate sushi bar. The outdoor patio is inviting, warm, and well-lit, which makes it perfect for a date night or dinner out with friends. Its location is central to downtown La Jolla, but the patio is set back and removed enough that you don't take notice.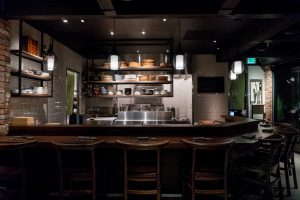 A few things that really stood out to us at Himitsu were the comfortable (casual but still with an air of fine dining) atmosphere, the unique textures and flavors of each roll, and the customized presentation of every dish. This is definitely a one-of-a-kind sushi restaurant, and a new La Jolla restaurant that should definitely go on your must-try list for sushi in San Diego.
The restaurant opened only recently (early October), so their menu is always changing. We may see a Happy Hour menu and lunch service in the near future.
Himitsu is open Monday-Friday from 5pm-10pm, and Saturdays from 5pm-10:30pm. They are located at 1030 Torrey Pines Road, Suite G, right in La Jolla and just a half hour north of downtown San Diego. Visit himitsusd.com for reservations or give them a call at (858) 263-4463.
[Images courtesy of Himitsu La Jolla]