San Diego Luxury Hotels: The Best of the Best in 2023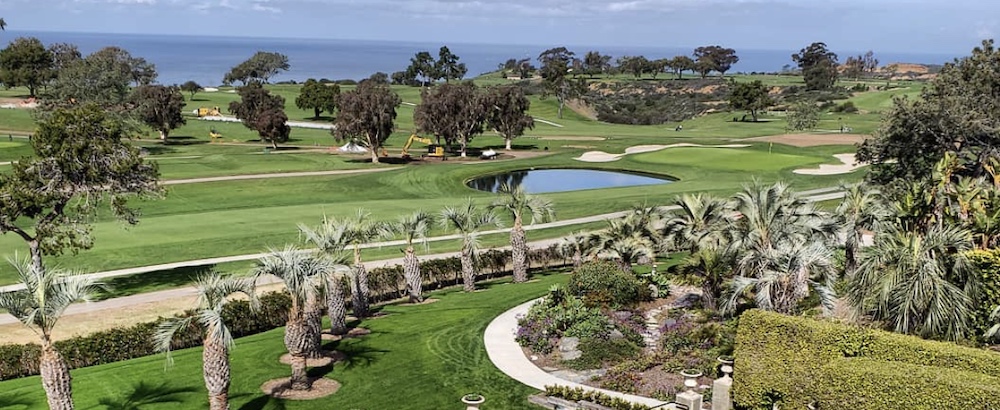 How much do these San Diego luxury hotels cost? From the Fairmont to the Four Seasons, Estancia to Pendry… just click the link below each hotel's map to find out!
September 2023—Suppose you're looking for the perfect paragon of paradise for your next vacation or special event. In that case, you need look no further than the 5-star hotels in San Diego for the opulence and style you're craving. These San Diego luxury hotels are the best way to enjoy breathtaking scenery and exquisite experiences with the local coastal views, sensual sunsets, and exclusive amenities. From sunbathing on stunning beaches or golfing on a championship course, these hand-picked hotels and resorts can accommodate your every need during your next excursion to the San Diego area.   
The Best Luxurious Hotels in San Diego
When you want to get away, what's your ultimate objective? If your answer is having a transformative, immersive experience, then do your vacation plans a favor by escaping to our exclusive luxury hotels in San Diego, California. Whether you are seeking classic, ultra-chic accommodations or swanky jacuzzi suites, San Diego serves up five-star lodging and sumptuous surroundings that you or your whole family will savor during your stay in SoCal.
Your opportunities for an ultimate excursion in San Diego are limitless because of the diversity, beauty, and exciting experiences it offers. From skydiving over the Pacific Ocean, improving your swing at the prestigious Torrey Pines Golf Courses, or lavishing in one of our world-class spas, there is so much to do and enjoy during your stay. To ensure total satisfaction during your trip, here is a guide to the best luxury hotels in San Diego that will make your visit both gratifying and memorable.
Fairmont Grand Del Mar
Since 1907, the Fairmont name has maintained high standards of indulgence and opulence that elite travelers have come to expect. The Grand Del Mar features eye-popping, Mediterranean-style decor nestled on 400 acres in serene coastal canyons five miles from the Pacific. Kid-friendly and dog-friendly, this estate is a welcome oasis for the whole family. It boasts a Michelin star restaurant, five-star spas, and voted #1 luxury hotel in California by Trip Advisor. But the Grand Del Mar is much more than a pristine hotel; among San Diego luxury resorts, this property features tennis courts, a stunning wellness center, and an exclusive championship golf course. Renowned chef and restaurateur, Thomas Keller, proclaimed the resort and its fine dining as, "Refinement and simplicity to the utmost degree."
Address: 5300 Grand Del Mar Court, San Diego, CA 92130
Phone: (858) 314-2000
Estancia La Jolla Hotel & Spa
This Spanish Colonial-style accommodation in La Jolla is perfect for anyone who is serious about superior relaxation. With a meditation garden, a eucalyptus steam room, heated saltwater pool, rejuvenating massages, and organic facials the Estancia is just what the doctor ordered to masterfully soothe stress away. This tranquil sanctuary is tucked amid 10 acres of verdant gardens, where guests can relax, play games or even attend rejuvenating yoga sessions. Estancia won the Condé Nast Traveler Readers' Choice Awards three years in a row. Only five minutes from Black's Beach, the Estancia is a gem among the La Jolla hotels on the beach and is sure to be your panacea for whatever ails you.
Address: 9700 N. Torrey Pines Rd., La Jolla, CA 92037
Phone: (855) 318-7602
Four Seasons Residence Club Aviara, North San Diego
Sheltered away from the hustle and bustle of the city, yet replete with impeccable resort amenities, the Aviara enjoys rave reviews among the shining 5-star luxury hotels San Diego offers. Top San Diego hotel expert, Katie Dillon, reports the Aviara is one of her most booked and coveted properties and says it's, "A hidden gem along the rolling foothills of relaxed coastal Carlsbad." The accommodations are unique as they are residential suites, giving you a home-away-from-home feel while still enjoying all the refinement and luxury travelers have come to expect from the Four Seasons name. If you would rather dine out rather than cook in your own en-suite kitchenette, dine at the Ember and Rye, a five-star restaurant at the Aviara featuring fine dining captained by famous chef Richard Blais. The Aviara is also known for its kid-friendly environment. Kids can enjoy their own private club where they can play games and have fun on the waterslide at the kid's pool. The resort also offers babysitting services so you can enjoy the lagoon, spas, yoga classes, saunas, whirlpool, or have a walk on the nearby beach.
Address: 7210 Blue Heron Place, Carlsbad, CA 92011
Phone: (760) 603-3700
InterContinental San Diego
If you're looking for sophisticated style and stellar Bay views, the InterContinental is an optimal choice among downtown San Diego luxury hotels. Take in the beauty of the harbor while gazing through floor-to-ceiling windows installed throughout the hotel, or continue to soak in the sun while floating in the fourth-floor pool. Thanks to its centralized location, it's easy to take advantage of entertainment at nearby parks, the zoo, restaurants, or just hang out by the waterfront and savor the sunset. Whether business or pleasure, the InterContinental is a traditional, classic hotel with superior service staff so your stay is sublimely satisfying.
Address: 901 Bayfront Court, San Diego, CA 92101
Phone: (619) 501-9400
Hilton La Jolla Torrey Pines
If you love golf, then you're going to love this clean, distinguished Hilton for its superior views and close proximity to the Torrey Pines Golf Course. With three restaurants in the hotel and a giant outdoor pool, visitors are free to sit on their private balcony and soak in the show-stopping views of rambling golf greens, the Pacific Ocean, and the golden sunsets La Jolla is famous for. In addition, reviewers consistently praise the hotel for its attentive, professional staff with comments from guests such as "The staff was so friendly and helpful" and "Really wonderful service."
Address: 10950 North Torrey Pines Rd., La Jolla, CA 92037
Phone: (858) 558-1500
Rancho Valencia Resort and Spa
Perhaps one of the most romantic and best hotels in San Diego for couples, the Rancho Valencia is more than a hotel, it's an experience. This resort is a feast for the senses as it showcases stucco-studded villas and casitas sporting hacienda-inspired Spanish tiles all aglow with soft lighting and lush greenery. Guests at Rancho Valencia can enjoy plenty of privacy and majestically manicured grounds, including orange groves, palm trees, and fragrant tropical flowers. According to Forbes Magazine, "The resort's ruggedly romantic edifices rise from the gardens in arcaded silhouettes awash with rich alluring tones." In other words, this is a perfect vacation destination for couples seeking quiet, sensual moments in authentic Spanish Colonial style while still enjoying all the modern amenities provided by the resort.
Address: 5921 Valencia Circle, Rancho Santa Fe, CA 92067
Phone: (858) 759-6240
Pendry San Diego
This distinctive hotel was ranked best in chic boutique-style by TripSavvy.com amidst other downtown San Diego luxury hotels. The Pendry is a mix of sleek modern design while embracing classic traditionalism in the vibrant Gaslamp Quarter of San Diego. Experience the lively atmosphere of this region of the city by visiting the colorful, swanky pubs nearby and drink in the electric nightlife singular to the Gaslamp area. Be sure to also relish the diverse, breath-catching San Diego skyline while sipping a cocktail at the rooftop whirlpool or grandiose swimming pool. Unique features include a champagne vending machine, complimentary French macaroons, spa treatments, and six restaurants within the hotel. The Pendry San Diego is sure to satisfy the most elitist epicurean appetites.
Address: 550 J St, San Diego, CA 92101
Phone: (619) 773-0530
The Westgate Hotel
The Westgate is a glimmering diamond of style, elegance, and refinement among the hotels near San Diego airport. As the first skyscraper built in San Diego, the Westgate towers 20 stories in the sky with sensational views of the city. For over 40 years, this hotel landmark has enjoyed high praise and critical acclaim for its gorgeous decor, and lavish amenities. According to the hotel's spokesman and its developer, Arnholt Smith, the Westgate is "One of the most elegant hotels built in the 20th Century" and, "Its rooms, meeting facilities, lobby restaurants, and overall mood represent luxury rarely found in modern hotels." Tasteful touches and attention to detail are Westgate's crowning claim to fame for wedding venues and are why it ranks as one of the best hotels in San Diego for couples. Its innovative design is wrapped in sensory delights such as flooding floral arrangements in the grand foyer and opulent furnishings throughout the hotel. If you're looking for old-world splendor and impeccably grand service, the Westgate is a must for your next stay in San Diego.
Address: 1055 Second Ave., San Diego, CA 92101
Phone: (800) 522-1564
Hotel del Coronado, Curio Collection by Hilton
Since 1880, the Hotel del Coronado (affectionately known as "The Del") has been a beloved and highly esteemed landmark. It distinguishes itself from other San Diego luxury hotels with its vintage charm and rich heritage. With prominent guests such as President Taft and Marilyn Monroe, the hotel holds as much history as it does majesty. The 757- room estate has been the venue of grand parties and the origin of fond memories for guests and families over the years. The hotel is even the subject of a book of memoirs written by a young guest who declared the hotel as "The most loveliest hotel you can imagine" during her three-month stay. If you think all this historical value might make for a stuffy experience, think again. The Del is as palatial and accommodating today as it was decades ago. Aside from astonishing attention to detail and epic architectural design, The Del's most jaw-dropping feature is its location right on the beach. This distinctive destination is perfect for family reunions, gatherings, and beach ball fun with its retro style that hearkens back to simpler, halcyon days of pleasure and enjoyment.
Address: 1500 Orange Ave., Coronado, CA 92118
Phone: (619) 435-6611
Beach Village at The Del
If you're looking to boost your seaside vacation game with a more contemporary feel, then the Beach Village at The Del rolls out the red carpet for a superior SoCal getaway. This ultra-exclusive destination offers posh amenities and private beachfront villas just a few barefooted steps away from the scintillating sands of Coronado beach. This resort-style environment has everything you and the family need to experience a deluxe vacation. With delicious fine dining crafted by expert chefs, ocean breezes, iconic views, and secluded cabanas, the Beach Village at The Del provides infinite opportunities for fun, relaxation, and revitalization. This destination features personalized concierge service, wellness spas, secluded sparkling pools, private fire pits, and it's all embraced by the broad bounty of the Pacific Ocean.
Address: 1277 R.H. Dana Place, Coronado, CA 92118
Phone: (866) 433-3030
Omni La Costa Resort & Spa
Sporting eight swimming pools, two championship 18-hole golf courses, and seventeen tennis courts, the Omni La Costa Resort is a heavyweight for entertainment, leisure, and luxury. Amid all the other San Diego luxury resorts, Omni La Costa is perhaps the most expansive with all of these enticements as well as six on-site restaurants and exclusive shopping on the estate. Spanning across 400 rolling acres this resort is a magnet for discerning families seeking fun in the California sun. The rooms are spacious and equipped with all modern amenities including room service, Wi-Fi, movies on demand, and lavish furnishings. The resort also offers villas that are nothing short of astonishingly accommodating with fully stocked kitchenettes, and marbled balconies or patios. The Omni is a big attraction for kids, featuring scavenger hunts, engaging activities, computer stations, a supervised nursery, and a whopping 600-gallon saltwater fish tank in the kid's area. While the children are content in the kid-centric playtime areas, you can enjoy an ultimate spa experience with organic treatments, full body massage, and aromatherapy sessions on the premises. Travel expert Lore Kaplan, raved about the family-friendly features, saying "Not only is there the spa, golf, and tennis for adults, but families love La Costa's facilities for children like Kidtopia and the kid's pool."
Address: 2100 Costa Del Mar Rd., Carlsbad, CA 92009
Phone: (760) 438-9111
Solamar San Diego
With rooftop poolside yoga overlooking the striking San Diego skyline and exquisite farm-to-table dining, the Solamar is a winner among the lottery of San Diego luxury hotels. Balboa Park and the San Diego zoo are a stone's throw away from this pristine hotel, along with artisanal shops and theaters within walking distance. The hotel features free craft beer and wine tasting every evening while guests enjoy the high-voltage Gaslamp Quarter vibe. It's noted as extremely pet-friendly with designer doggie beds and special treats for the beloved pooches in any traveler's life. The staff of the hotel enjoys consistently high marks with guest comments such as "Thoughtful courteous staff at Hotel Solamar helped with every iota of my stay in San Diego." according to a vetted TripAdvisor.com user. Guests also give enthusiastic props for the warm, chic, and inviting environment the Solamar provides. Overall, this hotel abounds with hospitality, generous extravagance, and memory-making moments at every turn.
Address: 435 6th Ave., San Diego, CA 92101
Phone: (619) 819-9500
Park Hyatt Aviara Golf Club and Spa
Modern, urban-chic meets classic Spanish Colonial architecture in this revived, lavish refuge in coastal Carlsbad, California. The Hyatt Aviara packs a powerful punch in value with affordable rates that include amenities such as access to Pacific beaches, and world-class recreational activities. You can opt to soothe yourself in the marble tub in your en-suite bathroom or relax in finely crafted furnishings in your room. Or, you may want to venture out into the Hyatt Aviara's superior spa for a day of maximum indulgence. This location also tailors athletes with its magnificent golf course and epic tennis courts. All of these attractions are wrapped in botanical beauty that lends a verdant robe of lively greenery upon the 200 plush acres of the Hyatt Aviara.
Address: 7100 Aviara Resort Dr., Carlsbad, CA 92011
Phone: (760) 448-1234
THE US GRANT, a Luxury Collection Hotel, San Diego
This is a truly precious gem among the 5-star hotels in San Diego. For over a century, THE GRANT has hosted celebrities, presidents, and the elite of society. But don't let the posh exterior of this 11 story feat fool you. The depth of personalized care and attention to detail offers guests comfort without stodgy pomp. Allow the history of the downtown Gaslamp district to unfold before you as you revel in the delights this hotel offers in opulence and simple elegance. THE GRANT offers culinary excellence with their four-diamond-rated, art deco designed Grant Grill. Equipped with laundry service, expert concierge, fitness facilities, and valet parking, this hotel is a luxurious delight for the discerning traveler. While contemporary and edgy, the hotel has a rich history that makes this a charming, pet-friendly stay for anyone looking for an opulent retreat.
Address: 326 Broadway, San Diego, CA 92101
Phone: (619) 232-3121
La Valencia Hotel
As the TripAdvisor.com Traveler's Choice in 2020, La Valencia earned its distinctive place in hotel fame by magnetizing Hollywood celebrities and discerning travelers for over 90 years. With expansive Pacific coastline views and an array of villas and suites, anyone can find the perfect perch to enjoy a vacation that will make travel to La Jolla remarkable and memorable. This hotel is beautifully crafted among Southern California's most pristine oceanfront locations and features elite shopping experiences, art galleries, scuba diving, sparkling beaches and so much more. Whether you're looking to improve your swing at the Torrey Pines Golf Course, or simply settle into a lounge chair to indulge in the scenic views, La Valencia Hotel will meet all your vacation needs. Known as the "Pink Lady", guests of this landmark hotel in La Jolla consistently swoon over the accommodations and amenities.
Address: 1132 Prospect St., La Jolla, CA 92037
Phone: (855) 476-6870
L'Auberge Del Mar
The best luxury hotels in San Diego go to the ultimate degree to sustain the area's natural beauty while still catering to the needs of their elite clientele. The L'Auberge Del Mar does this in spades with its panoramic beach views in the heart of Del Mar. During their visit, guests can feel better knowing the L'Auberge is committed to the environment with their Green Earth Project that incorporates eco-friendly, sustainable practices into their daily operations. Exclusive features include complimentary electric or cruiser bikes, surfing, deluxe spa treatments, and a wealth of superior restaurants and chic shopping all within bicycling or walking distance. Voted #1 boutique hotel in Southern California by Condé Nast Traveler, it's known for being a "Luxury beachfront property, one of the top hotels on the Southern California coastline. Lovely, homey rooms with private balconies or terraces, overlooking the ocean." according to Oyster.com
Address: 1540 Camino Del Mar, Del Mar, CA 92014
Phone: (858) 386-1336
Rancho Bernardo Inn
If you're searching for a peaceful retreat away from the distractions of the city, Rancho Bernardo is your destination for tranquility and serenity. Meditate or take a stroll through the 265 acres of pristinely groomed gardens bedecked with flowers and manicured greenery. The Inn features culinary delights crafted from ingredients freshly picked daily from their own Chef's Garden. Deepen your zen with the truly remarkable organic spa treatments within your private, jasmine-scented casita. A stylish saltwater pool is available to soothe your stress away, as well as an adult-only pool and a family pool. Rancho Bernardo also provides private golf lessons, mellow yoga sessions and even private falconry encounters. This boutique-style inn takes rest and relaxation to the max, and is ideal for those seeking revitalization and restoration.
Address: 17550 Bernardo Oaks Dr., San Diego, CA 92128
Phone: (888) 976-4417
Living the Dream San Diego Style
When it comes to experiencing the pinnacle of elegance, refinement and indulgence these San Diego luxury hotels are the dreamiest, creamiest of the crop in Southern California. Whether you are planning a wedding in a sultry seaside setting, or craving a stroll on sparkling sandy beaches, So Cal has the perfect venue for your every desire. While each of these destinations is unique, they all have one thing in common. They all celebrate the hallmark beauty, personality and vitality of San Diego County.
About the banner photo: Thank you to @rob_mnky on IG for this photo of the view from Hilton La Jolla Torrey Pines.