San Diego to Las Vegas Road Trip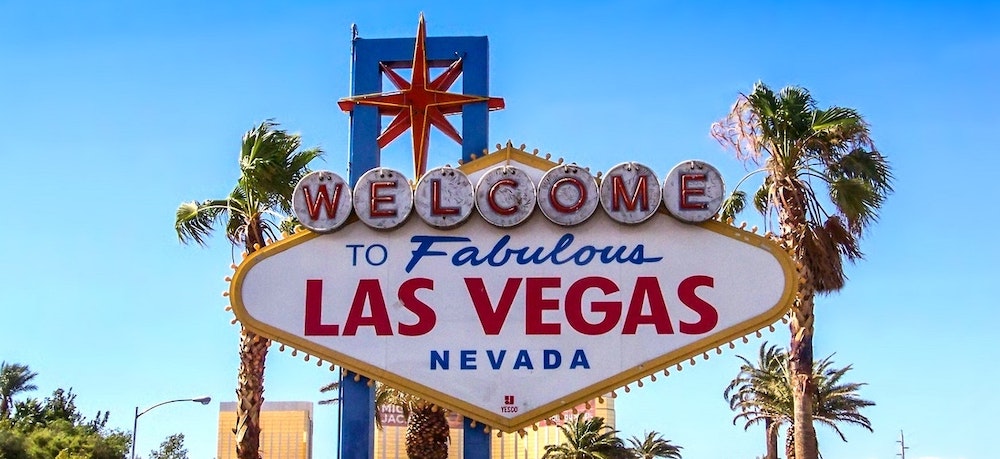 San Diego is a destination city. It is not the place where you stop off on the way to someplace else. In the same way there is no place like home, there is no place like San Diego. When you get there, you know that you have arrived.
But that doesn't mean there are no other interesting places to explore. One of the best things about America's Favorite City is its proximity to other great places. Since California is a car culture, it is a great place to start your land cruise. Consider a San Diego to Las Vegas road trip. It is not just about your starting point and destination, but everything in between. The Star Trek Voyager crew who found themselves lost in the Delta Quadrant discovered the greatest truth of all road trips: It is not about the destination. It is about the journey.
It is also about that inner drive that pushes you forward and makes you want to see what is around the next corner and over the next horizon. Not everyone is made for adventure on the open road. But you are. With or without a pink Cadillac, you just want to drop the pedal and go. If you are headed toward Las Vegas, read on:
The Best Stops on a San Diego to Las Vegas Road Trip
The distance from San Diego to Las Vegas is about 360 miles. But that depends on how scenic and meandering you want your route to be. Set aside about 5.5 hours of drive time. That said, on a trip like this, drive time is not really a good measure of how long your trip will be. That is more dependent on how many stops you want to take and how long you will take at each stop. Let's have a closer look at your options:
How Long Is the Drive from San Diego to Las Vegas?
If you are driving straight through and don't start the clock until you hit the freeway without pitstops, you should budget at least 5 hours. You could get there a little faster depending on how much lead is in your foot and how heavy the pedal is underneath it. Take the I-15 N for about 330 miles to get from San Diego city limits to Las Vegas outskirts. Oh, and you will have to do it during a time of day when there is no traffic congestion. Good luck with that.
Take the I-10 E to the CA-62 E for a slightly more leisurely drive. It will only add about 30 miles and 30 minutes. But you will gain a nicer drive with more sights to see along the way. Unless you have money burning a hole in your pocket that you just can't wait to donate to the Vegas economy, the slower route is better for a road trip from San Diego to Las Vegas where the journey is every bit as important as the destination.
Road Trip Routes from San Diego to Las Vegas
Take the I-10 E to the CA-62 E for a slightly more leisurely drive. It will only add about 30 miles and 30 minutes. But you will gain a nicer drive with more sights to see along the way. Unless you have money burning a hole in your pocket that you just can't wait to donate to the Vegas economy, the slower route is better for a road trip from San Diego to Las Vegas where the journey is every bit as important as the destination.
If you take the 15, look for the exit to 215. It is just a little past Temecula. It will merge with 15 after 54 miles. At that point, 213 miles separates you from your ultimate destination.
Best Time to Drive from San Diego to Las Vegas
When it comes to timing, there are two considerations: time of day and time of year. The best time of day for this type of trip is just after the morning rush. You will have plenty of time to drive to your destination before the evening rush takes over at the other end of the journey. The time of year is really just a matter of personal preference. There is always something to do in both cities year-round. Dealer's choice.
Where to Stop and What to See Between San Diego and Las Vegas
Potato Chip Rock
Full disclosure, these rocks are not made from real potato chips. Pity. However, they are quite spectacular and frame one of the most popular trails for photo ops on the tour. This is nature at its best. Expect lots of people on the 11.7 kilometer trail. You will understand the popularity the moment you arrive. Make sure you bring your own drinking water, because there is none on the hike. It takes most people between 3 – 4 hours to do the hike.
Pechanga Resort & Casino
200, 000 square feet of gaming space is the largest on the West Coast. With 4,500 modern slot machines, you will see there is something for everyone. You will even have access to a non-smoking poker room. The Pechanga Resort & Casino is located off the 15, about 4 miles from downtown Temecula.
Wineries in Temecula
Temecula Valley is wine country. This is where you will take some of your best pictures of California. Wineries are open daily from 10 a.m. to 5 p.m. This jewel of Riverside County is just an hour outside of San Diego on I-15. Depending on what you brought in your snack pack, it is perfectly okay to confirm that yes, you would like some wine with that cheese. To give you an idea of where you're headed, here's a map to get you to one of the many wineries in the area:
Calico Ghost Town
What do the Maggie Mine, the Calico Odessa Railroad, the Calico Mystery Shack, and the Gold Panning Adventure have in common? They are all attractions in the Calico Ghost Town. Take a step back into yesteryear and leave with your very own piece of living history. The town is maintained by the San Bernardino County Regional Parks system, and it's open daily from 9 a.m. to 5 p.m. just about every day but Christmas Day. There are shops and restaurants in addition to opportunities for off-roading, camping, and hiking.
Cabazon Dinosaurs
The Wizard and Pee Wee Herman's Big Adventure both featured this iconic sight. You can also take part in pop culture history by visiting the dinosaurs. Enjoy the trails and pick up some great gifts from the store before continuing along your journey; the gift shop is usually open from 8 a.m. to 8 p.m.
Palm Springs Aerial Tramway
Is 8,516 feet of elevation enough for you? Then you are going to love the breathtaking view from the world's largest rotating tram car. You will always have the perfect view and be in the best spot for photos. Don't forget to take the tours and enjoy a nice dining experience while you're there. The address is "1 Tram Way" in Palm Springs. They're open (almost) every day from 10 a.m. – 6 p.m., and they're usually open from 8 a.m. – 7 p.m. on Fridays, Saturdays, and Sundays.
Cabot's Pueblo Museum
The man frequently referred to as "Mr. Desert Hot Springs" built more than a stunning home and museum. He established a legacy as a renaissance man before his time. The museum is an essential cultural milestone that you are not going to want to miss. Is traveling good for you? The answer is a resounding yes. This type of cultural enrichment is a big reason why. Cabot's Pueblo Museum is closed Sundays and Mondays, but the rest of the week it's opened from 9 a.m. – 1 p.m. unless it's a holiday.
Joshua Tree National Park
You don't need to go to Saudi Arabia to visit a real desert full of mystery, story, and adventure. Joshua Tree National Park has it all. Just remember that it is a real desert. It is not just one desert ecosystem, but two: the Mojave and the Colorado. You will need more than sunscreen if you want to be safe exploring its wonders. Set aside some time for this adventure, as well as a lot of water for hydration. You will be in for the time of your life. In addition, many of the TV shows, movies, and television commercials you've watched in your entire life were filmed in and around Joshua Tree. So don't be surprised if you feel an uncanny feeling that you're at home when you're there!
Mojave Memorial Cross
This national preserve is where you go for all your outdoor/nature thrills like 4-wheeling, hiking, backpacking, biking, camping, and hunting. This is not the place to go if you are looking for 4-star accommodations. But if the sky is just right, you will be accommodated with 4 billion or so stars. The White Cross World War I Memorial was given to the California Veterans of Foreign Wars in 2012. The National Park Service installed a fence around it, and there are two entrance areas for the public to access the memorial.
Primm, Nevada
There is the 100,000 square feet of gambling space to consider, or the ridiculously awesome Desperado roller coaster running through Buffalo Bills, or maybe it's the 6,500 seat "Star of the Desert Arena". There are lots of reasons to make a significant stop over in Primm. If you just want to ditch all the adventure and go shopping, the Fashion Outlet of Las Vegas and its 100+ stores will ensure you enjoy the rest of your journey in style.
Seven Magic Mountains
About 10 miles prior to reaching your destination, you will encounter the artistic vision of Ugo Rondinone. This very unique installation is not only close to where you are already headed, but requires no reservations. To get there, head north on 1-15 to Jean, NV. It's exit 12. Then turn right/east on NV-161 towards Las Vegas Blvd. Drive about 5 miles north on Las Vegas Blvd, and you'll eventually see the installation on your right.
Lion Habitat Ranch
So you're interested in the big cats. Turn off Netflix and get in the car. The big cats are on the way to your destination. And once you get there, you will know the difference between watching them on TV and being up close and personal with their royal presence. Don't worry. You will be well taken care of at Lion Habitat Ranch. They're usually closed on Tuesdays and Wednesdays and open the rest of the week from 10 a.m. – 2 p.m., holidays excluded.
When You Get to Las Vegas
"Sin City" is quite the title. One questions how it got the name and what all an adventurous soul can get up to in such a place. One will have to wonder because as you already know, what happens in Vegas stays in Vegas, unless it happens in front of a bunch of cameras and ends up going viral. Hey, that drunken afterparty with that bus load of Elvis impersonators is entirely on you.
While you are in Vegas, be sure to take in one of the many world-class shows, one of those pay-per-view boxing matches, a concert, 4-star places to eat in Las Vegas, and of course, all the gambling your bank account can handle. It's all fun and games until someone gets hurt. So take this part very seriously: If you find yourself abusing alcohol or drugs or gambling, take a step back and reach out. There is help. You need not ever try to go it alone. When you're in Vegas, San Diego, or anywhere in between, you are among friends.
Conclusion
You don't actually need anyone to tell you that there are lots of interesting places between San Diego and Las Vegas. You also realize there are too many such places for any one trip. Heck, you might even decide to extend your road trip to Texas. Just do yourself a favor and pick out two or three new places to visit along the way. You don't have to rely on luck. When you are on a road trip adventure between San Diego and Las Vegas, you have already struck it rich.