Why Snooze La Jolla Is Your New Favorite Boozy Brunch Spot
An alcoholic Orange Julius (complete with vodka-infused whipped cream). Pineapple Upside Down Pancakes. If your mouth is already watering, just wait until you see the rest of the menu at Snooze La Jolla.
Tucked away in the Shops at La Jolla Village Center on Villa La Jolla Dr., Snooze, An A.M. Eatery is a casual, funky breakfast and brunch restaurant. While it is a chain (other locations in San Diego include Del Mar and Hillcrest) it's absolutely not your local Denny's or IHOP.
Snooze usually gets attention for its imaginative and indulgent food, but what makes a visit really worth your time is the seemingly endless list of craft breakfast cocktails. If you want a new kind of happy hour in La Jolla, look no further — here's why you should enjoy your next brunch with booze at Snooze!
The fun, young atmosphere
Brunch is a full-on outing; you want an environment that gives you a great experience in addition to great food. A modern update on the 1950s-style diner, the atmosphere at Snooze La Jolla is both friendly and laid back. Every Snooze is required to have a full bar, so there's no judgement for enjoying some good old-fashioned day drinking — that's what a lot of people are there for!
With its proximity to UCSD and reasonably priced high-quality food, Snooze is perfect for students and young professionals; most other brunch spots require a trek to Downtown La Jolla or UTC Mall.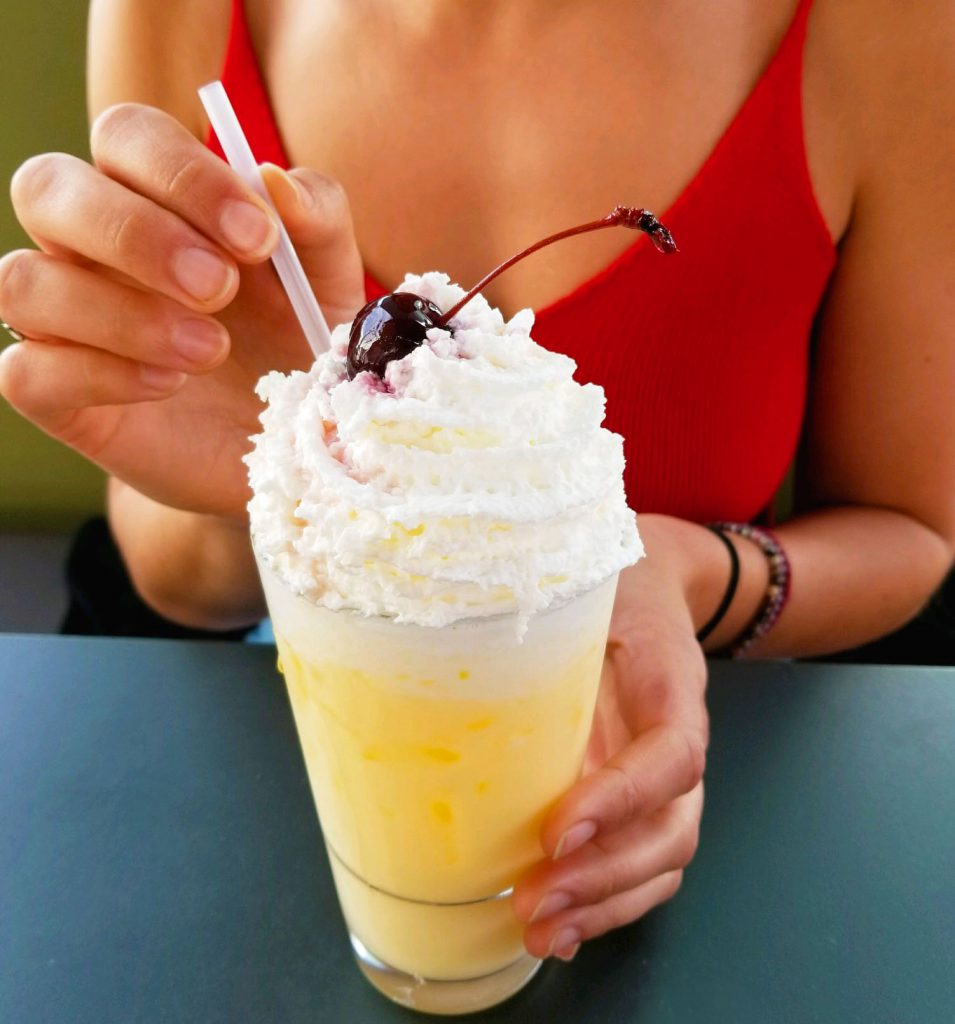 The cocktails
At Snooze, you can forget about basic. While you can still get your favorite traditional drink, the menu is full of innovative libations, from savory to sweet. Besides the year-round menu, they also have a rotating list of new concoctions for every season.
Here are a few that we love:
The Palomimosa. Feeling classy? This drink combines the sweet sparkle of a mimosa with the tangy goodness of a grapefruit Paloma. It's refreshing, light, and perfect for sipping on during a Sunday with pals.
The Bangkok Bloody Mary. Attention, fans of the savory. It's difficult to pick only one out of the 5 knockout bloody recipes on Snooze's menu, but this is consistently the most popular. The fish sauce, sriracha, and basil give this drink an Asian-fusion flavor and will satisfy your salt craving. If you're looking for something with more kick, you'll want to go with the Spicy Bloody Mary.
The Orange Snoozius. An adult version of the infamous DQ classic, the Orange Snoozius will take you back a few years. With vodka-infused whipped cream to top off its sweet and citrus-y blend, this is for the big kid in you. It's even topped with a giant maraschino cherry.
The Dirty Drunken Chai. Hey, we get it, mornings are for coffee! But that doesn't mean you can't shake things up. The Dirty Drunken Chai is a spiced blend of everything delicious, with an added shot of espresso and some rum for a little something extra.
The epic shareable plates
Even if you're only coming for the drinks, every brunch cocktail needs some quality munchies. There's no need to drink on an empty stomach when you can enjoy the huge variety of breakfast, brunch, and lunch options on Snooze's menu!
If you're looking at the menu and already getting FOMO about all the dishes you won't get to try because you have to pick just one, don't fret. Snooze lets you combine some of their most popular choices as half orders. So if you're having a difficult time giving up your traditional Eggs Benedict for the chili verde style, you don't have to.
Can't decide which of the nine different types of pancakes and french toast you want? Go for the "pancake flight" that lets you try three different styles. We recommend the Nana's Hot Cocoa or Pineapple Upside Down Pancakes.
This family-style approach to the menu also makes it ideal for groups. Everyone can try several dishes and there'll still be plenty of food to go around.
A Few Tips for When You Go
While the other locations in San Diego are packed from the moment they open, it's much easier at this Snooze eatery to grab a table. We were seated as soon as we walked in on a Thursday, and within minutes on a Saturday.
Take advantage of the patio outside if it's sunny. There are heaters to keep you warm while you soak in the homey outdoor vibe.
Waiting on the rest of your group? Challenge your friends to a round of giant Jenga or corn hole to pass the time.
Fun fact: if you're really set on having a certain dish, but are dying to try one of the pancakes, you can sub in one of them instead of having toast or hash browns as a side.
Snooze La Jolla is located at 8861 Villa La Jolla Dr #509, La Jolla 92037, and is open from 6:30am-2:30pm daily.