Things To Do in San Diego During Covid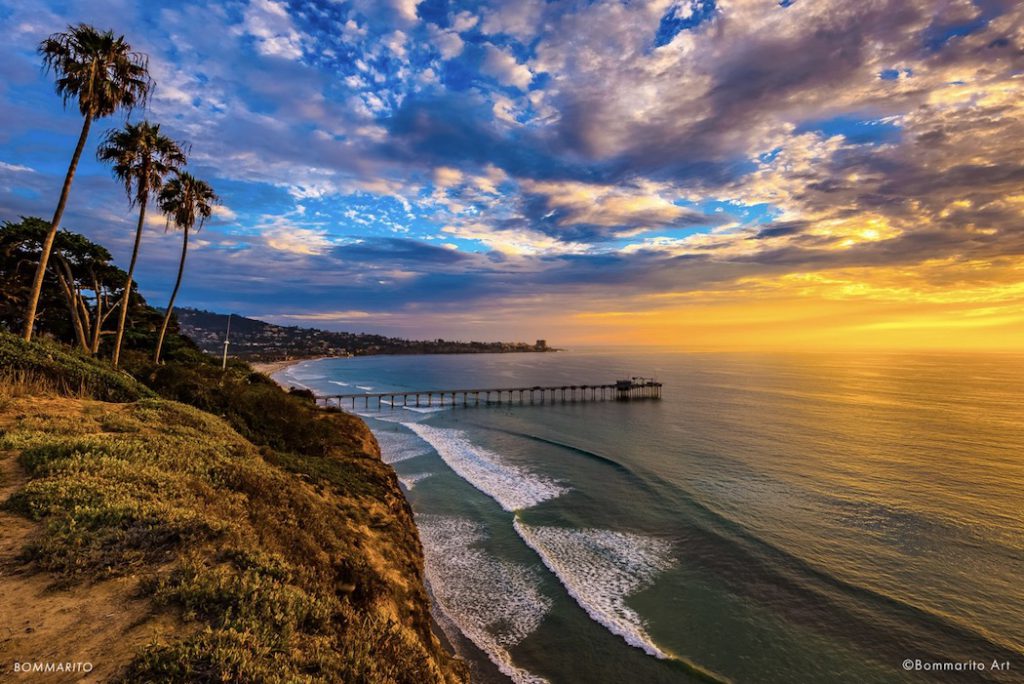 The current pandemic situation has surely taken its toll on our lives, from how we learn to our traveling habits. Many counties were under lockdown for quite some time, including San Diego, until just recently when the regional stay home order was lifted and San Diego moved to Purple Tier. Because of this, you might ask yourself, "What to do in San Diego?" After all, there's only so many times you can refresh your social media feed or try to find out if you have any unclaimed money or check to see if anything good was released on Netflix today. Well, businesses have been allowed to reopen with some restrictions.
Save up to 60% on San Diego Activities
The following restrictions are currently active in the state:
Restaurants are open for outdoor dining and take-outs.
No indoor use of libraries.
Movie theaters, family entertainment centers, and casinos are closed down unless they are outdoors.
Indoor hair salons and barbershops are closed.
All indoor recreational facilities are closed.
Museums, zoos, and aquariums are closed. They are permitted to operate only outdoors.
Basically, indoor activities are still forbidden. Nonetheless, these restrictions should not keep you from having a fun-filled vacation. Going on vacation and finding things to do in San Diego during Covid is perfectly safe if you follow all the safety guidelines against covid-19 transmission.
What To Do in San Diego During Covid?
Luckily, most of the fun things to be done in San Diego are outside, which is excellent against the spread of coronavirus. So, let's move on and see what fun activities can be done in San Diego, even during the covid-19 pandemic.
Enjoy a picnic on one of the many beautiful beaches in the area. Restaurants may be closed for indoor dining, but they are still open for take-out, so you can still enjoy your favorite meal in an even better setting than a restaurant.
Go hiking. Go cycling. Go off-roading. Go kayaking. Go fishing. Do yoga on Sunset Cliffs. Watch the sun set into the ocean. There are plenty of alluring beaches in the area, so we've made a list of the most popular ones: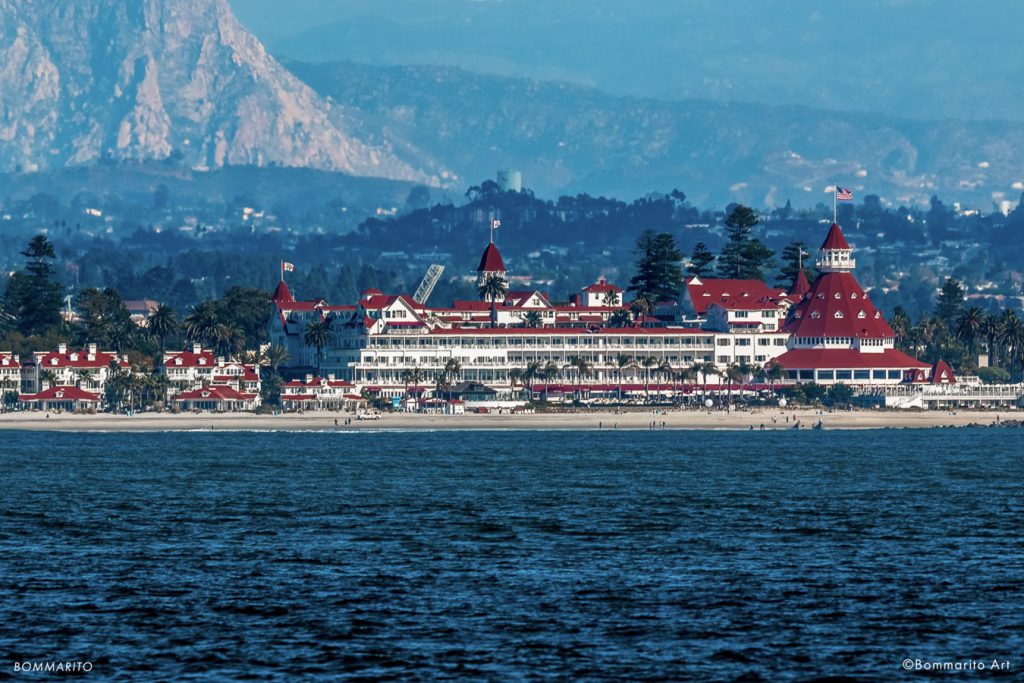 Hotel del Coronado. Photo By BommaritoArt.com.
Located on Coronado Island, this gorgeous beach is also close to the Hotel del Coronado. The hotel dates back to the 19th century and is a popular destination for royalty and celebrities. It contains four beach areas, including Coronado City Beach, Tidelands Park, Glorietta Bay Park, and Centennial Park. Tidelands Park and Glorietta Bay Park both have picnic areas, grassy fields, and play areas for children. All the beaches have glittery sand due to the presence of mica, which makes it sparkle under the sun, making it look like gold. You can easily reach this beach by public bus, car, private shuttle, or taxi via San Diego-Coronado Bay Bridge.

This beach is located at the northeast end of Ellen Browning Scripps Park in La Jolla. From the grass park above, two stairs lead you down to the beach. For a little after-meal adventure, you can explore the tunnel at the south end of the cove that will lead you to some pretty cool tide pools. This if you are willing to hop around on large boulders.
Save up to 60% on San Diego Activities
Solana Beach is a secluded spot in San Diego's North County with many hidden coves (accessible by staircase on nearly every street corner). Solana is also a great place for antique and vintage shoppers, being home to the Cedros Design District.
Pacific Beach, most commonly known as "The Strand," is a two-mile stretch of beach and one of the top destinations in San Diego, drawing crowds every season of the year. It has an abundance of shops and restaurants along its north end where you can grab a delicious bite to enjoy on the beach.
Enjoy a North County Staycation
North County San Diego is the perfect place for a relaxing staycation. You are conveniently close to downtown San Diego where you can find whatever you may need, and there are plenty of beautiful places in nature where you can enjoy a breath of fresh air. Here you can find some great ocean view rentals for the best staycation experience. So what activities can you still enjoy, even during the coronavirus pandemic, here in North County?
The Torrey Pines State Natural Reserve Park is one of the most beautiful places to see in South California & one of the top things to do in San Diego during Covid. With desert landscapes, breathtaking coastal sights, pine forests, sandstone canyons, rugged cliffs, and hiking trails on the bluffs that offer gorgeous views of the ocean that will make your trip simply unforgettable. From the high viewpoints on the bluffs, especially the ones that stick out into the ocean, you can have a novel experience watching migrating gray whales from December to March.
Spend a Day at the Famous Swami's Beach
Swami's Beach is an internationally known surfing spot located in Encinitas that draws up surfers from around the world, especially during the fall-winter seasons when waves can surpass 10 feet. On days like that, surfers line up to catch their big wave, and people gather on the cliffs above to watch the surfers tackle the ocean's waves. The beach also has a spiritually rich history. It gets its name from Swami Paramahansa Yogananda, an Indian monk, yogi, and guru that chose the grounds of the Self-Realization Fellowship ashram, built in 1937, to overlook this reef point.
Visit the Historical Oceanside Pier
Standing 1,942 feet long, the historical Oceanside Pier is one of the most iconic landmarks of Oceanside city. Its first piling was driven into the sand 125 years ago, and the remnants of that first pier are still there, occasionally making an appearance during low tides and low sand levels.
San Diego North County offers plenty of choices when it comes to wine tasting. More than 60 grape varieties are grown commercially throughout the county, from Albariño to Zinfandel, with small, often family-owned wineries producing a wide range of whites, reds, and rosés, plus sparkling, port, and dessert-style wines.
Save up to 60% on San Diego Activities
Check Out the Local Surfing Spots
If you want to enjoy the ocean view and experience the waves, the San Diego area surfing scene is abundant and colorful, and you can surely find the most suitable waves for your surfing skills. Here are some of the best surfing spots in North County:
Swami's Beach, Encinitas
Windansea, La Jolla
Silver Strand State Beach, Coronado
Imperial Beach Pier, Imperial Beach
Ocean Beach, San Diego
Cardiff Reef, Cardiff-by-the-Sea


We know it's hard to plan for a vacation and find things to do in San Diego during Covid within these restrictive times we live in. Still, you deserve a relaxing, recharging break, and we hope that the information we provided in this article will help you make the right choice for a perfect vacation, even during the pandemic.
Photo Credit: Banner Photo by BommaritoArt.com
[mv_create key="9″ layout="grid" thumbnail="https://lajolla.com/wp-content/uploads/2015/02/la-jolla-blog-img-12.jpg" title="San Diego Outdoor Activities" type="list"]