The Ultimate La Jolla Summer Bucket List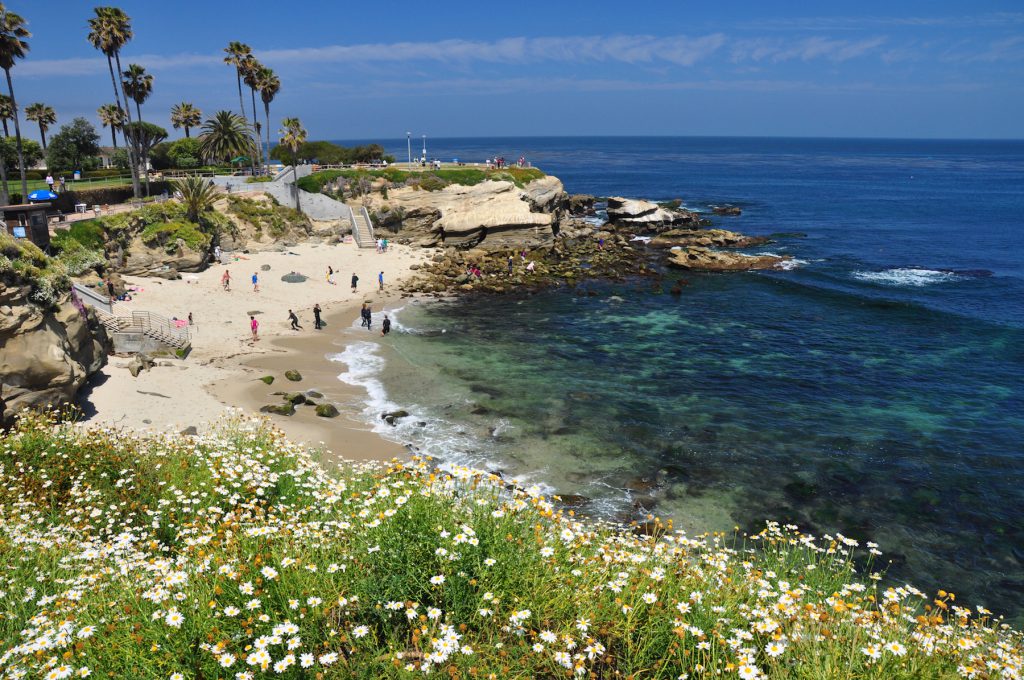 We won't lie — summer in La Jolla is a beautiful thing! Endless hours of sunshine, warm weather, and seven miles of gorgeous, sandy beaches make our little village by the sea one of the best places to spend the summer in all of San Diego.
With so many things to do in La Jolla (not to mention the world-class dining options), you'll definitely want to take advantage of absolutely everything while you're here. So, we've put together the ultimate activities guide for things to do in La Jolla this summer; start ticking things off the list and get out there!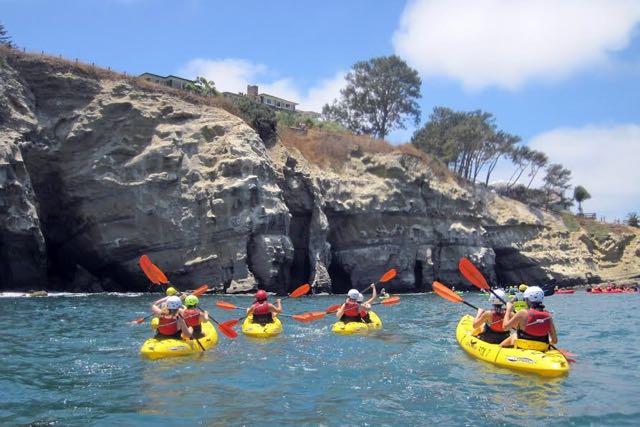 Take a kayak tour of the La Jolla caves
If nothing else, this is the one activity you absolutely cannot miss during a visit to La Jolla. The seven sea caves that line the shore are millions of years old and carved from sandstone; they're beautiful to look at, and even better, incredible to kayak through.
Guided kayak tours (you can choose from several local tour companies down at La Jolla Shores, where the tours start) will allow you to experience the whole enchilada, from paddling out and braving the waves to exploring Clam Cave, the biggest and one of the easiest ones to kayak through. On lower tide days, you'll also get the chance to kayak into one or two of the smaller caves, but that may be an activity reserved for the braver members of your group!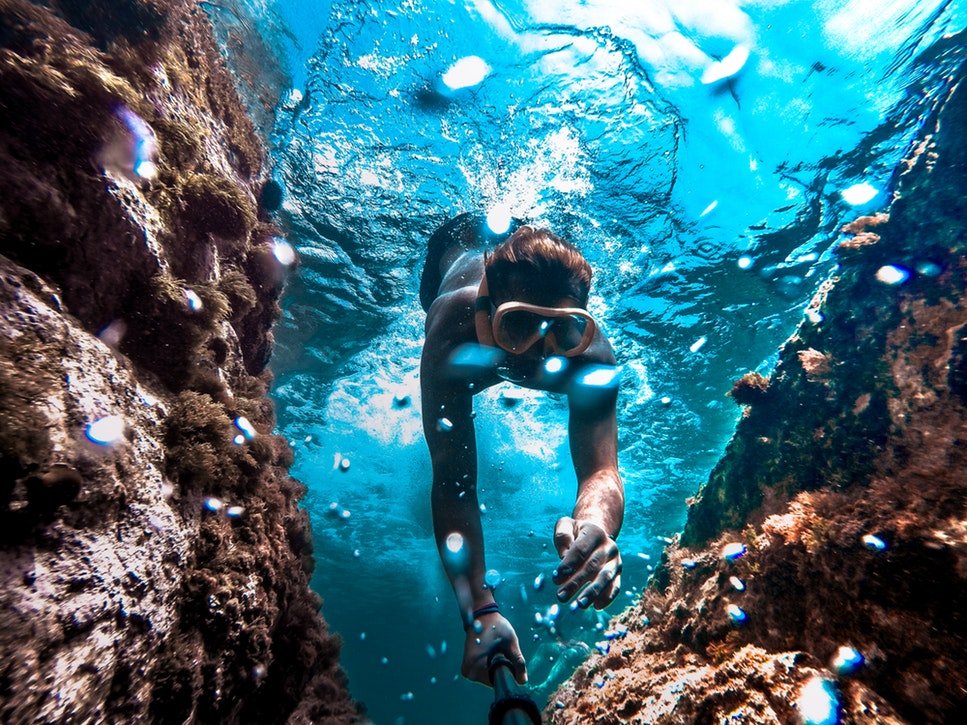 Snorkel around La Jolla Cove
There's nothing quite like getting up-close-and-personal with the marine life at La Jolla Cove. During the summer months, leopard sharks number in the thousands when they come here to hatch their young. The sharks are harmless, and the Birch Aquarium even hosts guided snorkel tours that take groups out to the most populated spots.
Other creatures you may see while exploring include Garibaldi, shovelnose guitarfish, sea urchins, sea anemones, crabs, stingrays, great white sharks, and all types of other fish.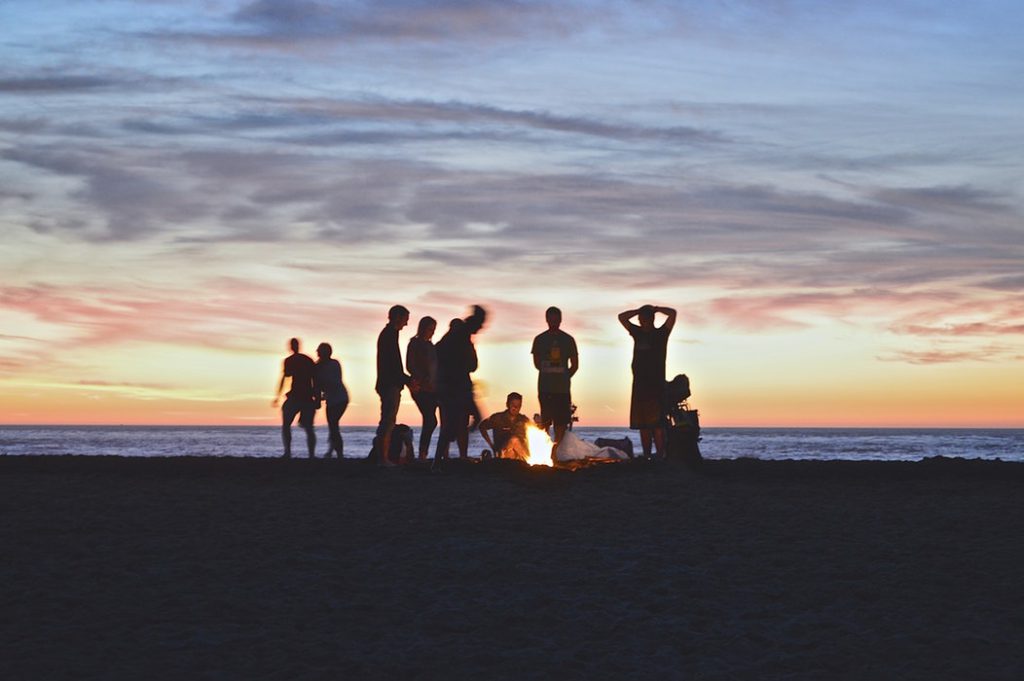 Have a beach bonfire at La Jolla Shores
Need we say more? Beach bonfires down at the Shores are pretty much the epitome of an awesome summer night in La Jolla. There are several bonfire pits located on the sand along the shores at this beach, but fair warning: they do fill up very early on weekends. To secure a pit, you'll probably need to get down there and stake one out around 11am. But hey, it's totally worth it once you're staying warm next to a roaring fire right on the beach.
For more information on how to have a bonfire, head here.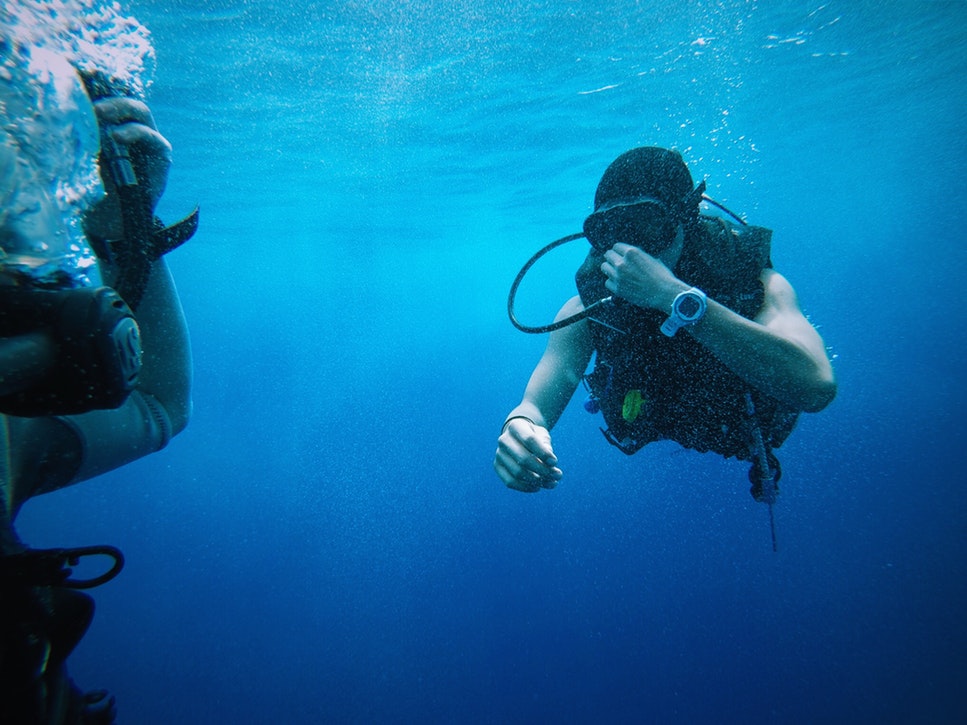 Learn how to scuba dive
Interested in going one step further than snorkeling in La Jolla? Try your hand at scuba diving! There are a couple of different companies (such as SD Expeditions) that offer scuba diving certification and classes throughout the year. From beginner open water certification to advanced rescue diver classes, you'll be able to customize your own experience and really get a feel for how it all works. Plus, the amount of marine life you'll be able to see is incredible!
Venture into Sunny Jim Cave
Sunny Jim Cave is the only sea cave accessible from land in California; which is a pretty cool thing in and of itself when it comes to things to do in La Jolla. Adventurers can access the cave via The Cave Store, which has been there since 1903, and pay the $5 to head down 145 stone steps to one of the most unique views that you'll see in all of La Jolla. There are six other sea caves, but most of them are inaccessible except for by kayak during low tide and calm waters.
[button url="https://www.lajolla.com/article/la-jolla-caves-things-you-may-not-know/" text="Learn More About the Seven Sea Caves Here!"]
There has been much speculation regarding the origin of the cave's name; though the most common theory is that it was named by Frank L. Baum for a British cartoon character!
Take one of La Jolla's coastal hikes
There's nothing better on a clear, sunny day than going on a great hike! There are a ton of great hikes in San Diego alone, but there are a few hidden gems right here in La Jolla. The Coast Walk Trail, which begins at the Cave Store, travels along the bluffs for a super scenic, easy walk.
The Scripps Coastal Reserve is a bit more of a rugged hike, but offers terrific views of the Torrey Pines Gliderport and beyond. Finally, there's the Coastal Meander Trail, which starts at La Jolla Shores Dr. and heads down to a bluff overlooking Scripps Pier for sweeping ocean views.
Whichever hike you choose, you're definitely going to be greeted with scenic panoramas of the Pacific Ocean and all of San Diego.
Walk the sea wall at Children's Pool
Walking along the sea wall down at The Children's Pool is one of our favorite pastimes. If you walk all the way to the end, you'll get a great perspective of looking back at La Jolla from the water; which is hard to do unless you're out in a boat or kayak. Fair warning here: you most likely will get wet by doing this! But that's really all part of the fun, right?
Hang out in an epic La Jolla hotel pool
https://www.instagram.com/p/BfrCz5HACOT/?taken-by=scott_fairchild
There's no better way to cool off during a hot summer day in La Jolla than spending it in a pool — much less a beachside pool! There are a ton of great hotel pools in La Jolla, from La Valencia to the Grande Colonial and La Jolla Shores Hotel & Restaurant.
Enjoy dinner with a view
La Jolla is home to a number of incredible fine dining restaurants along the coast, boasting great views. Prospect Street is your best bet for dining with an ocean view — George's at the Cove, Eddie V's, Crabcatcher, Duke's La Jolla are all incredible fine dining restaurants and will make for an experience you won't soon forget!
Paraglide at the Torrey Pines Gliderport
Adrenaline seekers, here's an activity for you! Hang gliding or paragliding from the Torrey Pines Gliderport is an awesome experience that's totally unique to La Jolla. You can take a tandem flight with an instructor (which is recommended for those who have never flown before) or learn how to fly one yourself. For the experienced flyers, there are even advanced clinics that take place every few weeks.
Bonus: Falconry classes are offered at the Gliderport during certain months of the year! This is seriously a must-do bucket list item if you happen to be in La Jolla when they're happening. Check their page for the class schedule.
Experience a High Tide Dinner at The Marine Room
Each spring and summer, The Marine Room offers a series of High Tide Dinners, where guests can experience the magic of giant waves crashing up against the floor-to-mirror windows while they dine. This is truly one of the best restaurants in San Diego, and is definitely worth a visit if you've never been. Their website lists the exact time at which the highest tide will be, so you can plan your reservation accordingly. Do reserve in advance, as these fill up way ahead of time!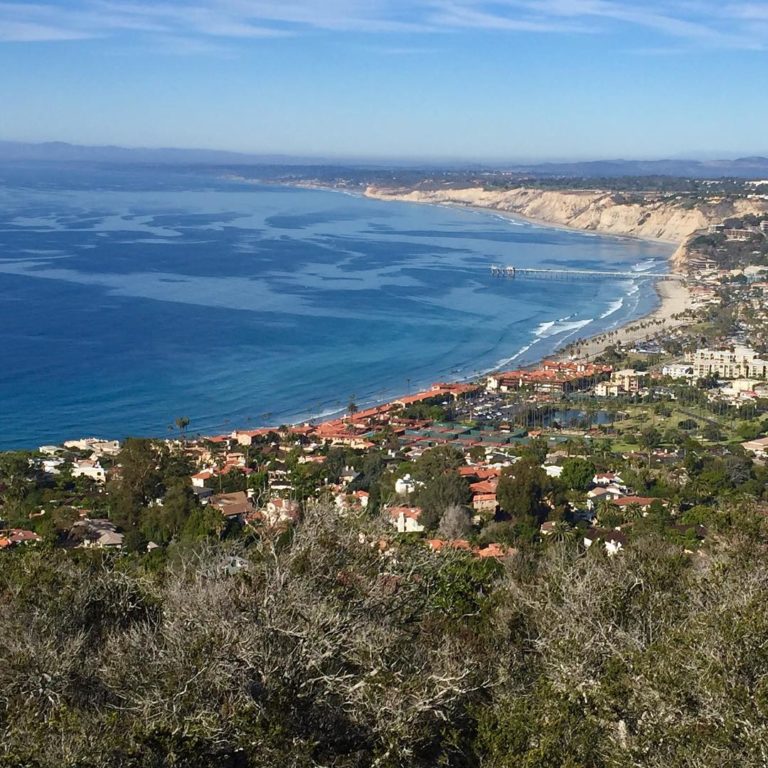 Check out the views from Mt. Soledad
If you're looking for an Instagram-worthy view, Mount Soledad should definitely be on your list. The mountaintop offers 360-degree panoramas of La Jolla, downtown San Diego, and even Mexico (on super clear days), and it's totally free to go and park. Pro-tip: go just before sunset for an even more gorgeous view!
If you're in the mood for some walking, take the 5-minute drive over to La Jolla Heights Open Space Park. It's a short walk that will give you even more great views, plus a cute little bench to sit down on and take in the scenery. It's worth checking out!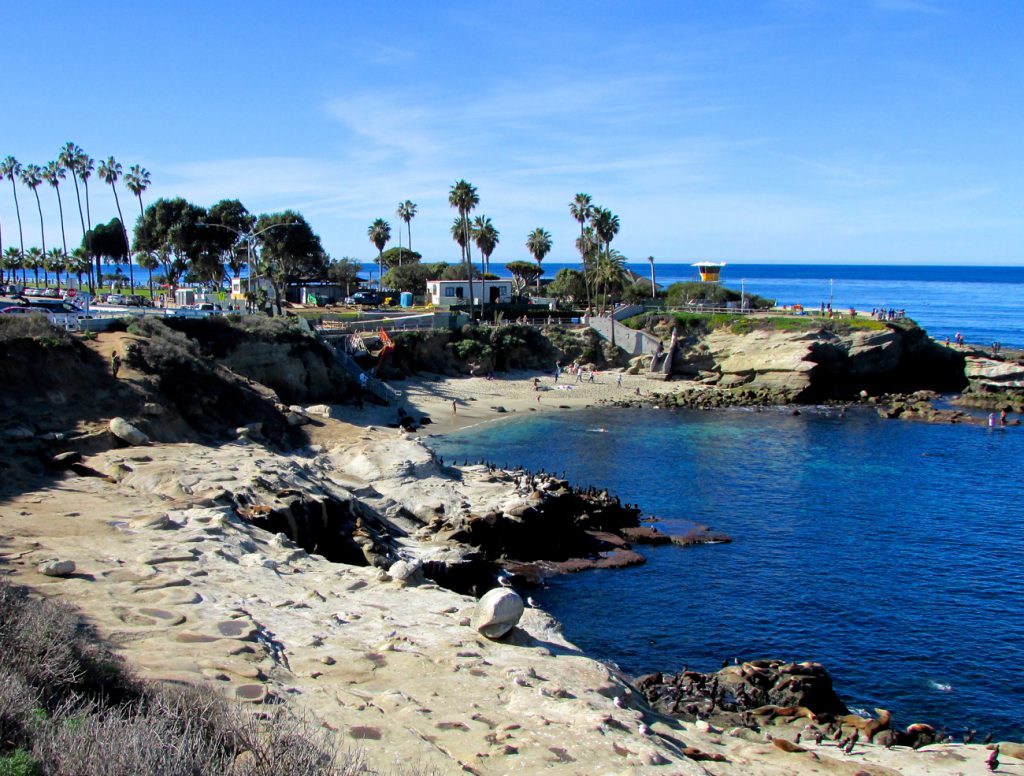 Watch the seals at La Jolla Cove
We would be remiss if our list didn't include a visit to the seals at La Jolla Cove. Though a bit odiferous, it's great to see these creatures up close. You can usually find them sunning on the rocks just offshore from the Cove, or on the sandy beach and rocks at the Children's Pool nearby. You can easily walk from the Cove to the Children's Pool; stop to have a picnic or a drink of water at Ellen Browning Scripps Park to break the walk up a bit. Read up on how best to see these animals without endangering their safety before you go.
Take in the art galleries and museums downtown
La Jolla is a great place to experience a little arts and culture. Museums in downtown La Jolla include the Museum of Contemporary Art San Diego (which is closed for renovations until 2019, but you can still check out the Edwards Sculpture Garden in the back), the Map & Atlas Museum of La Jolla, Athenaeum Music & Arts Library, and the La Jolla Historical Society.
There are also several incredible art galleries here, including Madison Gallery, Thumbprint Gallery, and the Legends Gallery which is home to a huge collection of Dr. Seuss' art.
These spots are pretty gorgeous parts of San Diego, and as you can see from the list, there is definitely no shortage of awesome things to do in La Jolla!