Yoga in San Diego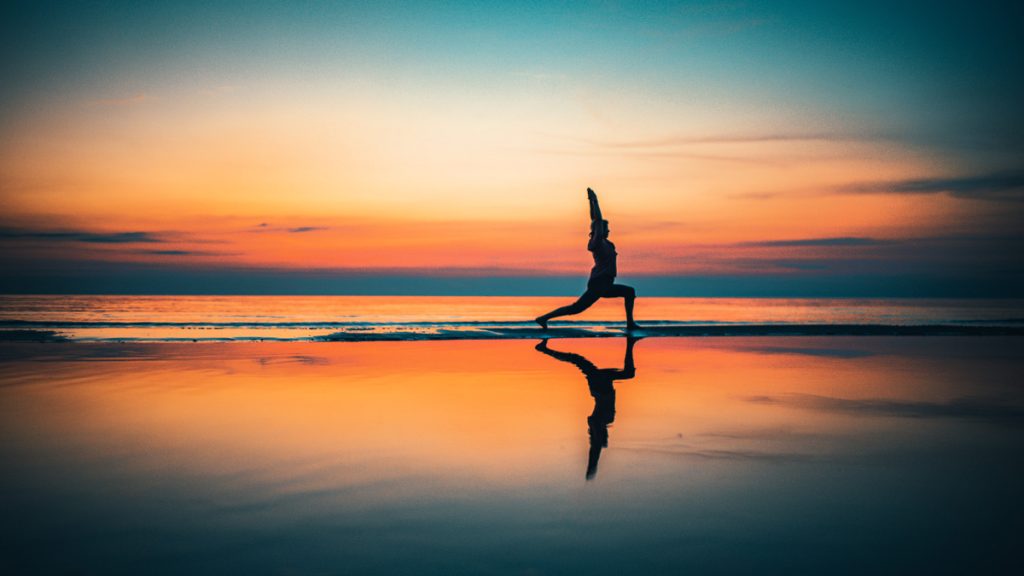 Sacred texts allude to the notion that the practice of yoga was integrated into civilization as early as 500 B.C., in Northern India. The ancient eastern practice has since then evolved over several centuries to accommodate the Western World, and for good reason.
Without question, the benefits of yoga are boundless. From treating insomnia to combating depression, anxiety, trauma, and PTSD, yoga is well-known for treating a variety of ailments and protecting against certain diseases and genetic predispositions. It's no wonder it has been passed down from our ancestors. 
Want to reduce weight, increase muscle strength, and help overall cardiovascular and respiratory health? Try yoga. Need an escape from your all-consuming thoughts and the hustle and bustle of daily life? Try yoga. Think you don't need yoga because you won't be able to power through sitting with your thoughts for 60+ minutes straight? Then you definitely need to try yoga. No matter what predicament you find yourself in or what the source of your stress is, all signs lead to giving yoga a shot to help you heal. What have you got to lose?
For all the avid yogis or those beginning to dip their toes in the water, you're in luck; finding a place to practice yoga in San Diego is like searching for sand on a beach–no matter where you are, you'll be surrounded by it (and it will help you feel grounded). If you want to supplement yoga in addition to a gym membership, that's also easily accessible; some of the best gyms in San Diego offer yoga classes. Fitness studios not only understand the high demand, but also recognize the immense advantages that practicing yoga has on one's life and personal character.
The Best Yoga in San Diego
No matter how hot it gets outside, hot yoga in San Diego is always a great way to break a sweat and ground down. The best fitness classes you'll find in San Diego are spread out across the board, so you won't have to commute long distances to get your stretch on. So you can leave the sweating to the classroom, we've created a blueprint of our favorite yoga studios in San Diego. Let's take a gander, shall we?
North County Coastal Yoga in San Diego
On the coast up in North County, work through mental and physical blockages at one of the countless incredible studios that line the shore. Check out these hot spots for yoga in San Diego we think you'll dig.
Peace Love And Yoga
Hot yoga in San Diego? Yes please! PLAY offers challenging and dynamic hot Vinyasa yoga classes at their studio in Carlsbad. They also have another location in Encinitas. If you're feeling a bit on the adventurous side, they also offer aerial yoga. Their studio features lots of natural light, so you can actually rise with the sun and stretch as the sun sets.
Address: 2588 El Camino Real suite o, Carlsbad, CA 92008
Phone: (760) 720-0619
Hours: Mon-Sun 6:00a.m. – 8:00 p.m. (open every day)
Soul of Yoga
Soul of yoga is a tranquil studio that rests along the same road as San Diego Union High School District. They offer everything from Hatha and Vinyasa yoga to more obscure forms of yoga such as Kundalini. You can attend one of their workshops or explore Sound Healing, QiGong, Prenatal yoga, Meditation, and beyond. Soul of Yoga is a sanctuary of a space that has eclectic events for anyone interested in energy work, holistic healing, and movement. Some events they have include: trauma release Yoga Nidra, a Reiki circle and meditation, a new moon ceremony, and yoga teaching training. They also have a quaint shop filled with yoga wear, healing tools and crystals.
Address: 627 Encinitas Blvd, Encinitas, CA 92024
Phone: (760) 943-7685
Hours: Wed 7:30 a.m. – 9:00 p.m.
Thurs: 6:00 a.m. – 9:00 p.m.
Fri: 6:30 a.m. – 9:00 p.m.
Sat: 8:30 a.m. – 9:00 p.m.
Sun: 8:15 a.m. – 9:00 p.m.
Mon: 7:30 am. – 9:00 p.m.
Tues: 6:00 a.m. – 9:00 p.m.
Vibe Flow Yoga – Del Mar
VibeFlow Yoga, nestled right off of Del Mar Heights Road in between Torrey Pines High School and Carmel Valley Recreation Center, offers a sleek and modern take on the traditional yoga classroom. They offer classes outdoors on a large patch of grass situated within a quaint courtyard where you can stretch while simultaneously soaking up the sun, or with their bright LED branded logo and glimmers of light from adjacent windows. Their classes are focused on enhancing your health through spiritual yoga practice coupled with audio immersion and whole-body vibration. They offer Vinyasa, Restore, and shred classes for those who want a little more of a challenge.
Address: 12895 Paseo Vlg Wy #1260, San Diego, CA 92130
Phone: (858) 492-0441
Hours: Wed 6:00 a.m. – 12:00 p.m., 4:00 p.m. – 8:00 p.m.
Thurs: 6:00 a.m. – 1:30 p.m., 4:00 p.m. – 8:00 p.m.
Fri: 6:30 a.m. – 9:00 p.m.
Sat: 8:30 a.m. – 9:00 p.m.
Sun: 8:15 a.m. – 9:00 p.m.
Mon: 7:30 am. – 9:00 p.m.
Tues: 6:00 a.m. – 9:00 p.m.
North County Inland Yoga in San Diego
If you're a bit further inland from the coast of North County, invigorate your mind and deepen your practice at one of these charming studios.
Sattva Yoga Center
Steps away from the Escondido Public Library and the Regal & IMAX Theatre, you'll find Sattva Yoga Center–a serene sanctuary to practice the art of yoga. Sattva stands for the illuminating, pure, and good quality of nature–a state of balance. Yoga practitioners at Sattva incorporate that motto into their magnetic and gratifying class structures. The studio is spacious with high ceilings and large windows, which allow rays of light to pass through as you engage in your flow. Practice unique forms of yoga including Stap Wall Yoga, Kundalini, or Restorative Yoga. Alongside moon ceremonies, sound baths, and women's circles, Sattva hosts yoga retreats in breathtaking places such as Puerto Vallarta and France.
Address: 433 W Grand Ave, Escondido, CA 92025
Phone: (760) 877-8180
Hours: Wed 6:30 a.m. – 8:45 p.m
Thurs: 6:30 a.m. – 8:45 p.m
Fri: 9:00 a.m. – 7:00 p.m.
Sat: 8:00 a.m. – 12:30 p.m.
Sun: 9:00 a.m. – 10:45 a.m.
Mon: 9:00 a.m. – 9:00 p.m.
Tues: 6:30 a.m. – 8:30 p.m.
Yoga-4U
In the quiet town of Poway a few blocks from Twin Peaks Middle School and just North of Old Poway Park sits Yoga-4U. Their dynamic classes help you ease into a state of relaxation, while bringing balance into your life, both on and off the mat. Their well-versed instructors will lead you through a series of postures that will test your patience and awaken your senses. Yoga-4U's studio interior is both charming and tranquil. If you're looking to open your heart and mind to the possibilities of a higher state of being, check out Yoga-4U when you get the chance.
Address: 14463 Kentfield Pl, Poway, CA 92064
Phone: (858) 334-8796
Hours: Mon – Thurs 12:30 a.m. – 7:00 p.m.
Closed Friday through Sunday
Central Yoga in San Diego
Utilize your breath to channel your energy into your movement practice in Central San Diego.
The House of Yogi
Alleviate your stress and find your zen with creative classes, Vinyasa flows, workshops, awesome adjustments, all at The House of Yogi. Their studio location lies within the Midway Towne Center and is just a hop skip and jump away from the Sports Arena in Point Loma. The House of Yogi also organizes curated retreats in remote tropical areas of the world, such as Belize, Baja, and beyond to encourage you to step out of your comfort zone and into your power. Give your body, mind, and spirit the tender love and care it needs to nourish your soul. When you show up for yourself, you are able to lend your newfound energy to show up for others, too.
Address: 3954 W Point Loma Blvd b, San Diego, CA 92110
Phone: (858) 609-0064
Hours: Tues – Thurs 6:00 a.m. – 8:00 p.m.
Friday & Monday: 6:00 a.m. – 8:15 p.m.
Sat: 8:00 a.m. – 11:30 a.m.
Sun: 8:30 a.m. – 7:00 p.m.
South Park Yoga and Wellness
Let your body soften and release built up tension at one of South Park Yoga's incredible flows. Sunlight illuminates the room as sun punctures through the glass ceiling, providing an airy warmth during your flow and a romantic view of the night sky during evening classes. South Park Yoga offers classes for all-levels and provides modifications for those with injuries, muscle tension, pain, or who are pregnant. The yoga community at South Park Yoga is exceptionally friendly and is dedicated to creating a safe space and nurturing environment for you to unwind and peel back layers of yourself and your traumas. The studio rests on the outskirts of Balboa Park Golf Course.
Address: 2985 Beech St, San Diego, CA 92102
Phone: (619) 338-9642
Hours: Mon – Sun: 8:30 a.m. – 7:00 p.m.
Chuze Fitness
Chuze Fitness is the perfect hybrid of sweat, strength, and spirit. You'll find everything from beginner spin class to Bootcamps, Pilates, Zumba, and of course, yoga. Their prices are unbeatable, with a basic package starting out at just $15.99/month, which is the price–or even lower than the price–of a typical yoga class. The amenities are pristine and the motivation you will receive from fellow gym-goers will rub off on you, encouraging you to be consistent with your exercise. Their yoga classes harness flexibility, stability, and balance to provide you with a well-rounded flow that will leave you feeling rejuvenated and powerful. Pop on over to the Westfield Mall or Trader Joe's in Mission Valley after a gym session for some self-care snacks or shopping.
Address: 1233 Camino del Rio S, San Diego, CA 92108
Phone: (858) 256-7587
Hours: Mon – Thurs: 5:00 a.m. – 11:00 p.m.
Fri: 5:00 a.m. – 9:00 p.m.
Sat & Sun: 6:00 a.m. – 8:00 p.m.
East County Yoga in San Diego
East County Residents are in store for some superlative studios to sweat and glow. Check out this short list of yoga studios where you can get bendy, free of judgment.
Hot Yoga Santee
Perched between Mission Gorge Road and Magnolia Ave by the Omelette Factory and Best Western in Santee is a refined yoga studio where you will find individual coaching within each group class. Get ready to Glisten with sweat whilst improving your respiration, energy, and vitality at this calming safe haven. If you're looking for something low impact yet challenging with substantial benefits, head on over to Hot Yoga Santee for a refreshing form of movement.
Address: 8840 Magnolia Ave #240, Santee, CA 92071
Phone: (619) 663-9811
Hours: Mon: 6:00 p.m. – 7:00 p.m.
Tues: 5:30 a.m. – 6:30 a.m., 10:00 a.m. – 11:00 a.m., 5:00 p.m. – 7:00 p.m.
Wed: 10:30 a.m. – 11:30 a.m., 6:00 p.m. – 7:30 p.m.
Thurs: 5:30 a.m. – 6:30 a.m., 4:00 p.m. – 7:30 p.m.
Fri: 5:30 a.m. – 6:30 a.m.
Sat: 7:00 a.m. – 11:30 p.m.
Goatoga
Feeling a bit on the playful side? Practice yoga while getting to play with real life goats!
Stretch, move, shake, and let go of your inhibitions while soaking up the cuteness of the goats that will leisurely wobble about you as you move through your Vinyasa. Goat Yoga allows you to tap into your fun-loving side while accomplishing the feat of staying within postures while a goat climbs on your back or licks your face.
Goatoga is unlike any type of yoga you've experienced before, as it takes some seriousness out of yoga and will guaranteed bring a smile to your face. It can also serve as a unique way to bond with family or friends, or as a creative team-building experience for you and your colleagues. Since you'll likely be in a silly, goofy mood post-yoga, you might want to check out Alpine Beer Company Outpost just down the street to keep the buzz going.
Address: 794 S Grade Rd, Alpine, CA 91901
Phone: (619) 722-4069
Hours: Saturdays: ~9:00 a.m. – 10:00 a.m. (but call for exact class times and to reserve your spot)
Tranquil Earth Yoga Online & Center
Tranquil Earth Yoga welcomes all shapes, sizes, and experience levels to join their charming online and in-person community. Their balanced yoga sequences will bring harmony and awareness into your day to day. Should you want to try out a more intense and demanding exercise, Tranquil Earth also offers Kickboxing, Aerial Yoga, and group programs. Their super high ceilings make the studio feel nice and roomy, so you can spread out and dive into your Vinyasa without worry of getting too close to your neighbors. The studio sits due East of MacArthur park, so if you're zenned out after your session, you can absorb all the effects of your practice under the shade of a tree enveloped within a lush grassy knoll.
Address: 8691 La Mesa Blvd, La Mesa, CA 91942
Phone: (619) 713 – 6234
Hours: Mon – Thurs 10:30 a.m. – 7:00 p.m.
Fri: 10:30 a.m. – 1:00 p.m.
Sat: 10:30 a.m. – 2:00 p.m.
Closed Sunday
South Bay Yoga in San Diego
Some of the best yoga in downtown San Diego lies in South Bay.
Kula Yoga
Yoga in San Diego can be found all the way down to the border. No matter what side of the divide you live on, you'll be pleasantly greeted at Kula Yoga's bright and peaceful brick and mortar, a couple blocks inland of Bayside Park in Chula Vista. Explore the ins and outs of your body with a variety of yoga flow classes. If you're looking for transformative guided flows that test your physical and mental toughness, Kula is a fantastic choice.
Address: 276 3rd Ave E, Chula Vista, CA 91910
Phone: (619) 992-6007
Hours: Mon – Sat: 9:00a.m. – 8:30 p.m.
Sun: 9:00a.m. – 12:00 p.m.
Namaste Fitness
Stationed within the Otay Ranch Town Center, Namaste Fitness boasts a light and comforting refuge for those wanting to ground down and look within. They offer both indoor and outdoor classes, and have a charming shop where you can purchase yoga wear and accessories. They offer some unique spins on regular yoga including Chair Yoga, Yoga Wall Therapeutics, and Connected Warriors–which empowers service members, Veterans, and their families through trauma-conscious yoga. Unlike traditional yoga studios, Namaste Fitness also offers HIIT classes, Barre, Pilates, TRX, and Tai Chi, so you'll never run out of options. The atmosphere, community, and instructors are all very loving and put major emphasis on the importance of connection and wellness within their sequences in order to bring you into a harmonious state of being.
Address: 2015 Birch Rd #217, Chula Vista, CA 91915
Phone: (619) 964-2348
Hours: Tues & Thurs: 8:00 a.m. – 12:30 p.m., 3:45 p.m. – 8:30 p.m.
Mon, Wed, Fri: 8:30 a.m. – 1:00 p.m., 3:45 p.m. – 8:30 p.m.
Sat & Sun: 7:45 a.m. – 1:00 p.m.
Reverence Yoga
Whether you're looking for an in-person extended 75 minute yoga class, or a livestreamed experience to practice from the comfort of your own home, Reverence Yoga offers pleasant and easy to follow yoga sequences that are sure to open your heart, relax your mind, and bring some definition to your muscles. Should you decide you want to practice in-person, Reverence is located at the Silver Strand Plaza LLC and in a plant-filled and airy environment with a separate treatment room for massage and Reiki. They are a community-focused establishment and care just as much about making you feel at home as they do about engaging and inspiring you throughout your yoga practice.
Address: 600 Palm Ave Ste 108, Imperial Beach, CA 91932
Phone: (619) 361-0502
Hours: Tues – Fri: 6:00 a.m. – 10:30 a.m., 5:30 p.m. -9:30 p.m.
Sat: 8:00 a.m. – 12:00 p.m.
Sun: 5:30 a.m. – 6:30 p.m.
Evidently, Avid yogis and beginners alike can reap the benefits of yoga after just one class. It is a great practice to develop to aid with digestion and rinse the body of unwanted toxins. Moreover, you are strengthening your foundation, increasing your flexibility, and relieving chronic stress patterns. Yoga allows yogis to step outside their day-to-day and step into their highest power.
Of course, this list doesn't cover all the magnificent options for yoga in San Diego, as that list would continue on into the length of a college thesis. However, we have covered top-notch free yoga classes in San Diego to round off your exploration.
Aside from yoga offered within a classroom setting, there are tons of pop up yoga events and beach yoga that happen on any given day of the week, at any given moment in time. As such, you'll be able to browse your options until you find a community or studio you resonate with. While this is just a small sample of what San Diego has to offer, we hope you find it useful on your journey to heal your energy centers and search deeper within.
Yoga is the foundation of youth. If you are a newbie to the yoga scene and have hesitation around trying out your first class, just remind yourself that every yogi guru had to start somewhere. No one is focused on your path and whether you can do a Warrior 1 or if you fall off balance in Tree pose– they are all too busy wrapped up in their own beautifully chaotic lives.
Stretch your body, clear your mind by checking out one of the yoga centers in San Diego today.