Unwind and Recharge: Your Comprehensive Guide to Free Yoga Classes in San Diego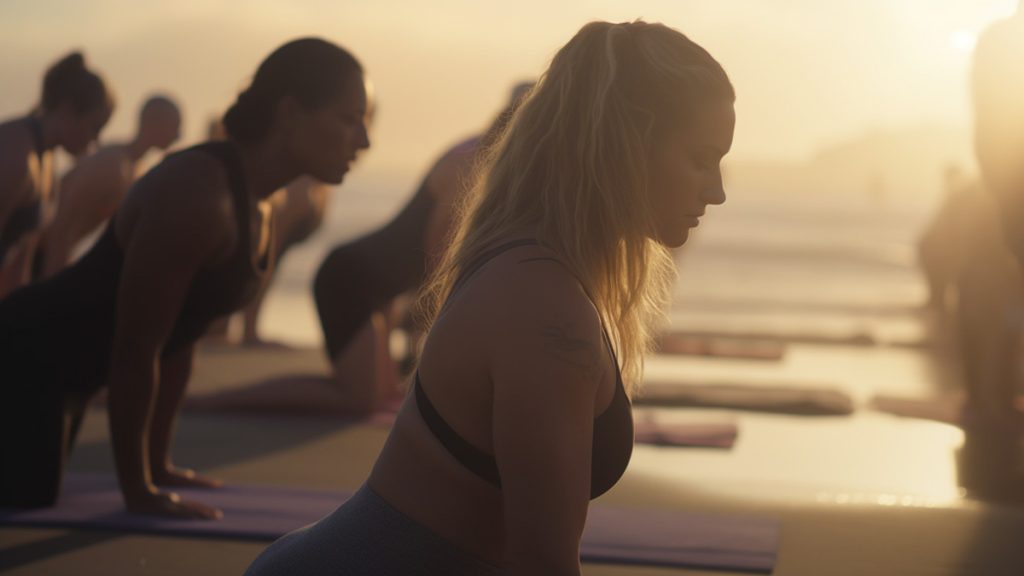 San Diego, with its perfect climate and laid-back vibe, is a true paradise for yoga enthusiasts. With a wealth of free yoga classes available throughout its diverse neighborhoods, you can discover the transformative power of yoga, from improving physical strength and flexibility to finding a serene oasis amidst the bustle of daily life. If you're wondering how to create a workout routine, you can't go wrong when you add these free yoga classes to your health and fitness regime. From the sea-kissed shores of La Jolla to the vibrant southern and serene eastern neighborhoods – when it comes to free yoga, San Diego has you covered.
Free Yoga Classes in La Jolla
La Jolla, the jewel in San Diego's crown, offers stunning vistas and a tranquil ambiance perfect for practicing yoga. This bright, beautiful area of SD inspires with its ocean views and tantalizes with its luxurious yet laid-back vibes. With its stunning beaches and perfect weather, you might find yourself attending workout classes in La Jolla, including these free yoga classes right on the shores of the Pacific Ocean! Here are some free yoga classes to explore in La Jolla:
Yoga in La Jolla Cove
Embrace your asanas amidst nature's grandeur with this beach yoga class, where the soothing lull of the waves and the gentle sea breeze provides an unrivaled yoga experience. The event is free, on the beach, and meant for all skill levels. The season lasts about an hour.
Bare Naked Yoga
This might be something a little different. Yes, it's what you think. Naked yoga on the renowned Black's Beach.  Let your cares fall away as the sun soaks into your skin while the waves on the beach lull you into serenity. This is a 60-minute class for all skill levels.  Clothing is optional. It is free, but the group runs on donations, so leaving a monetary gift is recommended. So, whether you are looking for yoga to ease trauma, or just want to relax in the buff – Bare Naked Yoga might be your best free option.
When: Saturdays at 10 a.m.
Where: Parking is at Torrey Pines Gliderport, 2800 Torrey Pines Scenic Dr., La Jolla, CA, 92037 Attendants will walk to Black's Beach for their free beach yoga San Diego session.
More Info: Bare Naked Yoga
Outdoor Yoga La Jolla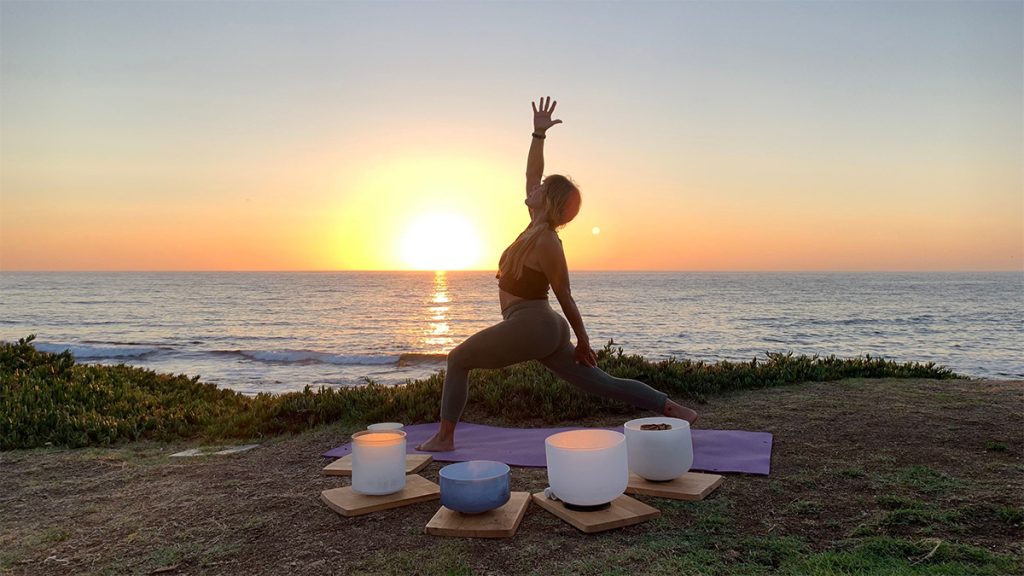 Unwind in the picturesque surroundings of the beach with studio-level yoga classes for free! Taught by trained yoga instructors for folks with all skill levels, Outdoor Yoga offers free yoga classes in San Diego with a focus on vinyasa style and an aim toward focusing on mind-body-breath. Locations for group yoga meetings vary, so check their Meetup page (link provided below) before you go.
Free Yoga Classes in Pacific Beach
Pacific Beach is another San Diego neighborhood that offers free yoga classes. Known as "PB" to the locals, this area of San Diego is a host to incredible nightlife, deluxe shopping, and amazing 5-star dining. If you find yourself in the area, you can also take advantage of these free San Diego – PB-style yoga classes!
Pacific Beach Outdoor Yoga at Kate Sessions Park
This free yoga class is held in the tranquil environment of Kate Sessions Park. The class is beginner-friendly, making it an excellent choice for those new to yoga. While the first session is free, consecutive classes do require a fee. You can also bring a friend for free (that is, if he or she has never attended before). This is a vinyasa-style yoga and is available to all skill levels.
Donation-Based Beach Yoga at Mission Bay Park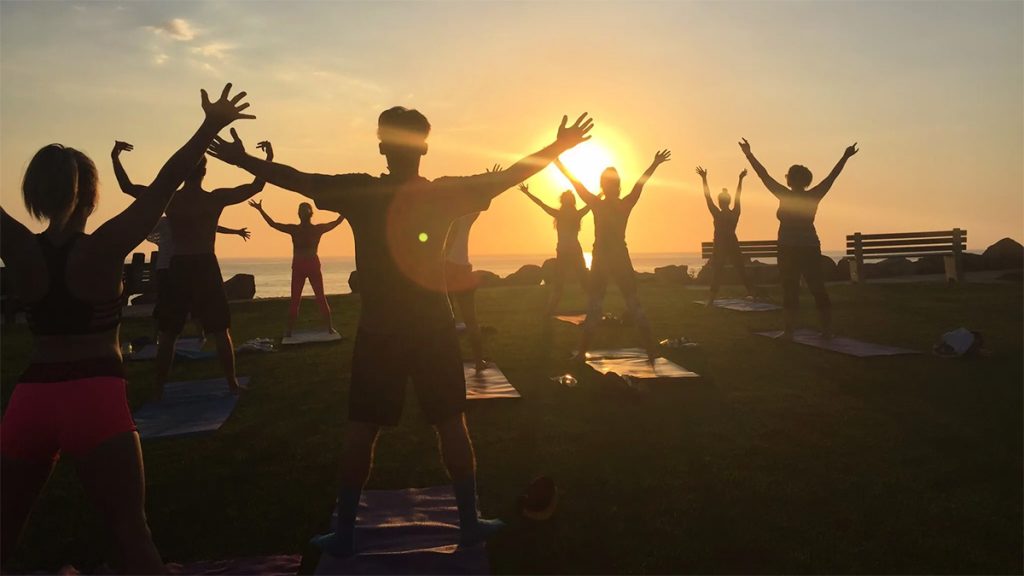 This yoga class is held at the beautiful Mission Bay Park, overlooking the water. Practicing yoga in this peaceful environment allows for a truly calming experience. You can learn from various poses and styles, and in terms of free yoga, San Diego won't disappoint with Mission Bay views, deep breaths, and asanas for all.
When: Wednesdays at 6 p.m.
Where: Mission Bay Park, 2688 East Mission Bay Drive San Diego, CA 92109
Free Yoga Classes in Encinitas
Located in northern San Diego, Encinitas is a haven for yoga practitioners. If you're lucky enough to work and play in Encinitas, you know all about this town's incredible shopping, entertainment, and vibrant community. And did we mention Encinitas is home to some of the best surfing sites in SoCal? So, after a swimmingly good time at free Bikram yoga, San Diego will keep delighting you with its glorious Encinitas beaches and surfing opportunities. Here are some free yoga classes in the neighborhood:
Restorative Yoga and Sound Therapy Community Class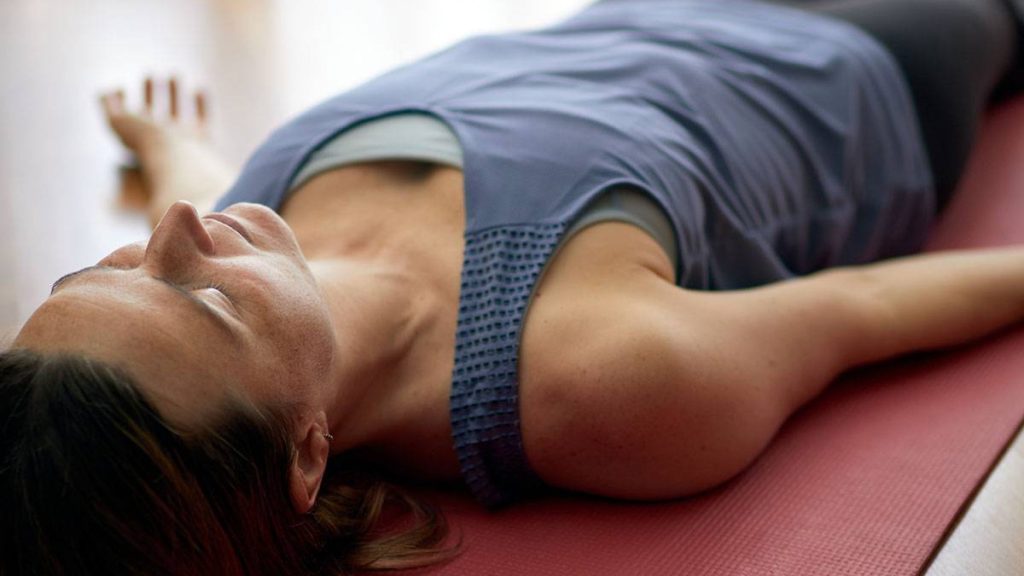 Relax and gently stress to the sound of chimes, gongs, and singing bowls at the free yoga classes offered by Restorative in Encinitas. Sessions focus on meditation and mindfulness, complementing physical motion and balance with spiritual growth. Classes are 60 minutes long, and geared for all experience levels.
When: Saturdays at 9:30 a.m.
Where: Scripps Encinitas Rehabilitation Services, 1092 N. El Camino Real, Encinitas, CA 92024
Silver Age Yoga
This outdoor class offers a unique opportunity for seniors to practice yoga for free. This is a great way for mature members of the community to limber up, and feel young and vibrant. Classes are geared to accommodate seniors. Some materials might be provided, but it's recommended you bring your own mat or supports. This is also an ideal place to make new friends while getting a little exercise.
When: Thursdays at 10 a.m.
Where: San Dieguito United Methodist Church, 170 Calle Magdalena, Encinitas, CA 92023
More Info: Silver Age Yoga in Encinitas
Free Yoga Classes in Barrio Logan
Barrio Logan is a vibrant neighborhood in southern San Diego. Widely known for its electric art scene, Barrio Logan features breathtaking murals, art installments, and this is an area of SD where creativity explodes. Aside from that, the Barrio enjoys a close community feel that you'll enjoy while attending any of these free yoga opportunities:
Free Yoga at Mural Alley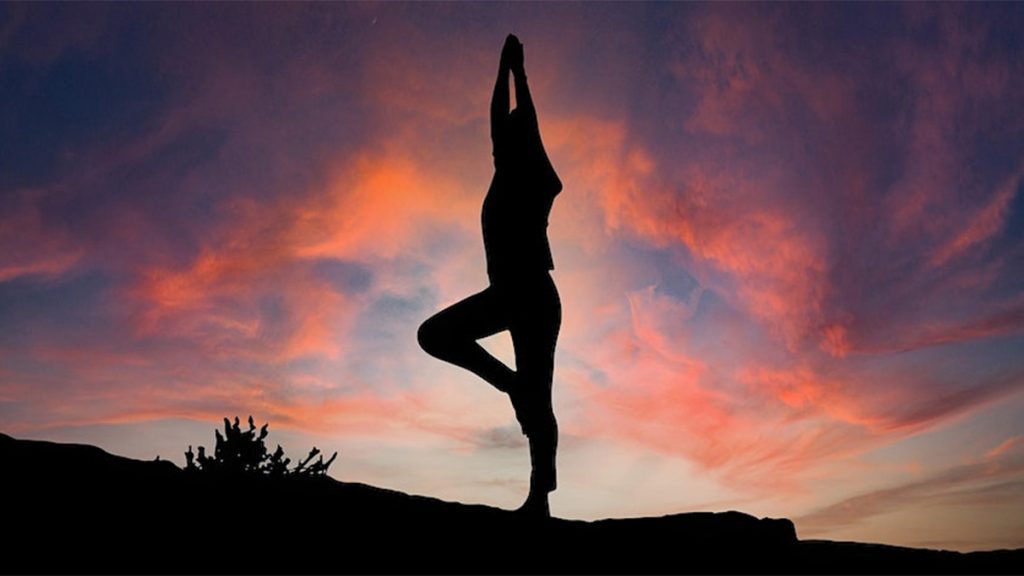 In the cultural heart of Barrio Logan, Mural Alley offers free yoga classes that focus on yoga as an art form. Sessions are 45 minutes, and you can tour the sensational art splayed all over the walls in this enchanting setting. Bring your own mat, and prepare to chill with good people, great yoga, and spectacular art.
Barrio Logan College Institute
While this isn't an in-person yoga venue, the BLCI offers loads of online classes for you, your kids and the whole family. Among these classes are several virtual free yoga sessions you can do from the comfort of your home. You'll be motivated and inspired by their lively online instructors while you stretch your way to a healthier, happier you.
Free Yoga Classes in Rancho Bernardo
In the eastern reaches of San Diego, Rancho Bernardo presents peaceful locales for rest, relaxation, and recreation. Nestled in a cross pattern of dynamic canyons, this area has been a magnet for nature lovers and locals alike. Then there are the beaches, which are plentiful, sparkling, and a great backdrop for free yoga classes in San Diego:
Community Yoga at Rancho Bernardo Public Library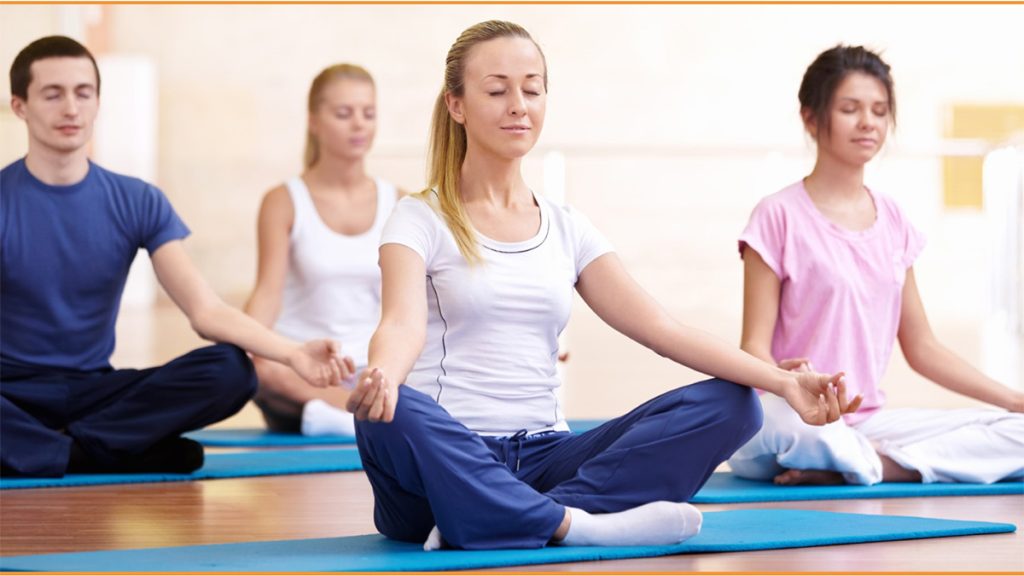 You don't need to be a bookworm to attend this free yoga session is geared to bring the community together at the Rancho Bernardo Public Library. However, you're welcome if you want to grab the latest fiction novel before or after your free yoga class. A $5 donation is not required but is encouraged. Mats are not included.
The BXNG Club
Your first class is free when you register to take yoga at BXNG Club in Rancho Bernardo. Yes, they do have boxing classes, and their clientele proclaims they have the best workout classes in San Diego. But their variety of yoga teachings is truly worth a try. They focus on breathwork, balance, and mind-body connection, and their yoga instructors are highly trained as well as super-friendly.
Free Yoga Classes in North Park
Perhaps best known for its craft-beer establishments, North Park, is also known for its vibrant arts scene. Fine dining, brilliant craft brews, a scintillating art scene, and incredible entertainment – North Park has what you need – including invigorating and inspiring free yoga classes in San Diego
North Park Yoga Box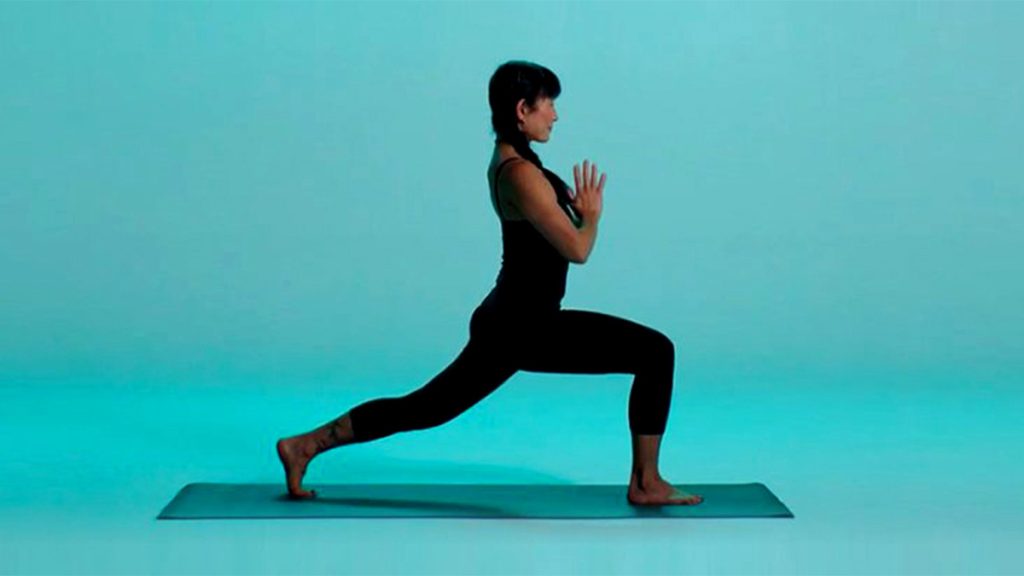 While not all classes are free, you can try Yoga Box in North Park because they offer three free sessions. This will allow you to sample all types of yoga styles such as vinyasa, sculpture, restorative, and Amanda Burns' Yoga Box method. Get your three free yoga classes in San Diego today by contacting North Park Yoga Box and begin to feel a whole new strengthening of your mind-body connection.
When: Dates vary
Where: 3039 University Ave., San Diego, CA 92104
More Info: North Park Yoga Box
Free Yoga at Tecolote Shores
Tecolote Shores is a wonderful setting for outdoor yoga. Experienced instructors teach these free sessions with 500+ hours of training and teaching time. Instructors are also military veterans; their yoga classes focus on mindfulness and trauma healing. Bring your own mat, and prepare to get an excellent stretch among great community members and yoga teachers. The classes are free and suitable for yogis of all levels.
Free Yoga Classes in Downtown San Diego
For everything you need, want to see, and certainly all you want to do – you've got to go to downtown San Diego. This city is legendary for its artful attractions, theme parks, sophisticated nightlife, phenomenal food, and so much more. From its resplendent beaches to its breathtaking climate – San Diego is the place to be – especially for free yoga!
The Om Experience in Balboa Park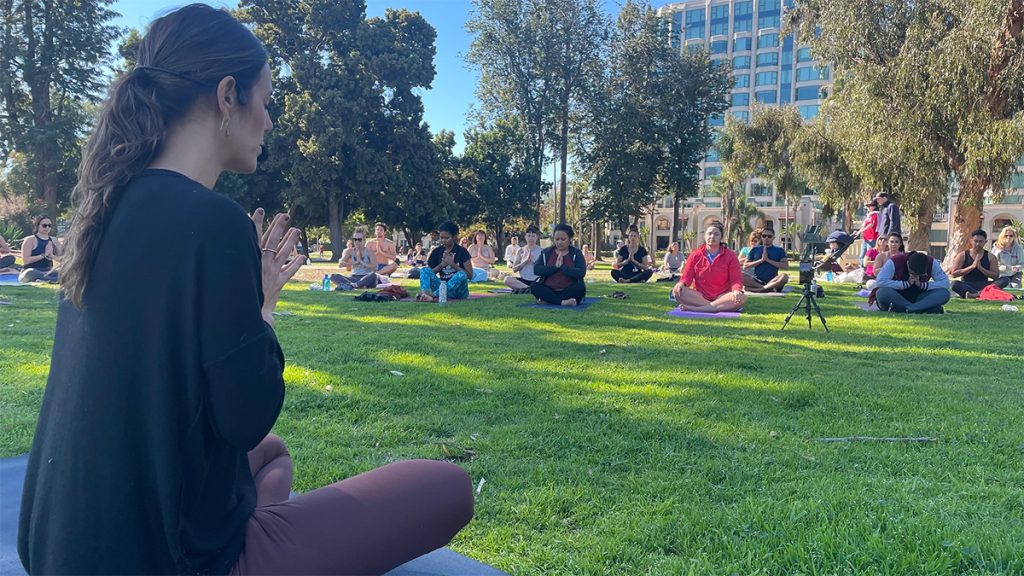 Amidst lush greenery, Balboa Park is ideal for a calming yoga session, with free classes held every Sunday. This community service is intended to bring like-minded folks together and enjoy all the life-affirming benefits yoga offers. Sessions are open to first-timers and yogis alike. Bring your own mat, and you may want to call and confirm times.
Laughter Yoga
Get some giggles in with your asanas with free Laughter Yoga classes in downtown San Diego. All ages and skill levels are welcome. The qualified instructors focus on intentional laughter, focused breathing, and yoga positions that result in a belly-busting (and fat-burning) good time.
When: Wednesdays at 11 a.m.
Where: War Memorial Building at 3325 Zoo Dr., Room 2, San Diego, CA 92101
More Info: Laughter Yoga
Free Yoga Classes in Ocean Beach
To say Ocean Beach has a relaxed vibe and beautiful views is an understatement. This is a small beach town that offers eclectic boutique shopping, and loads of entertainment. From its scenic views and mind-blowing beaches, Ocean Beach is the spot for sunbathing, surfing, and being seen with the sensational yoga bod you got from these free classes in Ocean Beach.
Donation-Based Outdoor Yoga at Sunset Cliffs
What could be better than practicing yoga with a view of the sunset? This free class at Sunset Cliffs offers just that, making for a truly unique experience. Technically these hatha-based yoga sessions are free, but a $10 donation is encouraged (not required). All ages and skill levels are welcome, and each class provides meditation, breathwork, and ends with a deep savasana relaxation technique.
San Diego Beach Yoga
This free class offers a tranquil environment for yoga practice. Whether you're a beginner or an advanced practitioner, this class is a great choice. Enjoy the majesty of the beach as you connect body movement with breathwork. The combination is healing and incredibly restorative. Classes are taught by experienced yogi John Beck, every week at Ocean Beach.
Embrace Yoga's Transformative Power in San Diego
San Diego's rich offering of free yoga classes presents opportunities for everyone, from the chic, seaside neighborhood of La Jolla to the spirited southern and tranquil eastern neighborhoods. These classes, set amidst San Diego's natural beauty, provide a platform to improve physical health, enhance mental clarity, and foster a community of like-minded individuals.
Whether a seasoned yogi or a novice, roll out your mat and explore the best yoga in San Diego. As you embark on this journey of self-discovery and personal growth, you'll find more than just physical exercise. You'll connect with nature, meet a vibrant community of fellow yogis, and experience the profound peace that yoga can bring.
In the sprawling cityscape of San Diego, you'll find yoga is more than a practice—it's a way of life. So go ahead, and explore these wonderful classes across the city. Embrace the spirit of yoga and let it guide you toward a healthier, more tranquil lifestyle. After all, in San Diego, free yoga isn't just an activity—it's an adventure in self-discovery and transformation. So roll out your mat, breathe in the fresh air, and embark on your yoga journey today. You'll find that the world truly is your yoga mat in this beautiful city. Enjoy the journey!