San Diego City Council to Hear Objection to Belvedere Project at Windansea Beach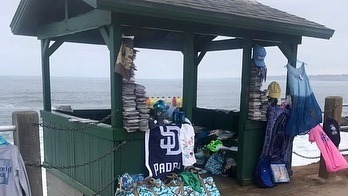 The San Diego City Council is slated to hear an appeal from opponents of a belvedere construction project at Windansea Beach on Nov. 16.
The project in its current form calls for both coastal development and site development permits for a public-private endeavor that would include construction of a belvedere — or gazebo — on Neptune near Rosemont Street, the La Jolla Light reported Tuesday.
That proposed belvedere is said to be a replacement of a previous structure believed to have been torn down in an "act of vandalism" in the 1980s. The new structure would be similar to others lining the La Jolla coast. It would be about 9 feet tall, 10 feet long and 6 feet wide, and will feature historically accurate wood.
Although the concept, which first began circulating in 2018, was approved by permit review committees and planning associations, there has been some public opposition to the project. That includes the Preserve Windansea Beach Association, which includes local homeowners and others who want to "visit Windansea shoreline and beach to recreate and enjoy its open, unobstructed vistas and epic sunsets."
The belvedere, according to the Preserve Windansea Beach Association, is an "unnecessary" structure. The group also takes issue with the city staff's determination that the project would have no environmental impact.
After hearing the opposition, Friends of Windansea — which is funding the project — has made minor changes to the structure. Those changes include addressing safety concerns by removing some of the slats surrounding its base, a modification addressing concerns about the ability to see if someone is inside the belvedere.
In addition to the belvedere, the project would also continue the construction of post-and-chain barriers and new benches and trash bins.
Jim Neri, a landscape architect and member of Friends of Windansea, said the project was more focused on protecting the slopes with the new barriers. He also said that local belvederes in La Jolla are "iconic" and "part of our community fabric that has been torn."
About the author: Mike Peterson is a freelance journalist and writer based in North San Diego County. He's written and worked for a number of local media outlets, including the San Diego Union-Tribune, the North Coast Current, and the Oceanside Blade.
Note: The banner photo for this article is courtesy of BommaritoArt.com.