Caribbean-Inspired Tropical Rooftop Bar & Eatery Coming to Little Italy in May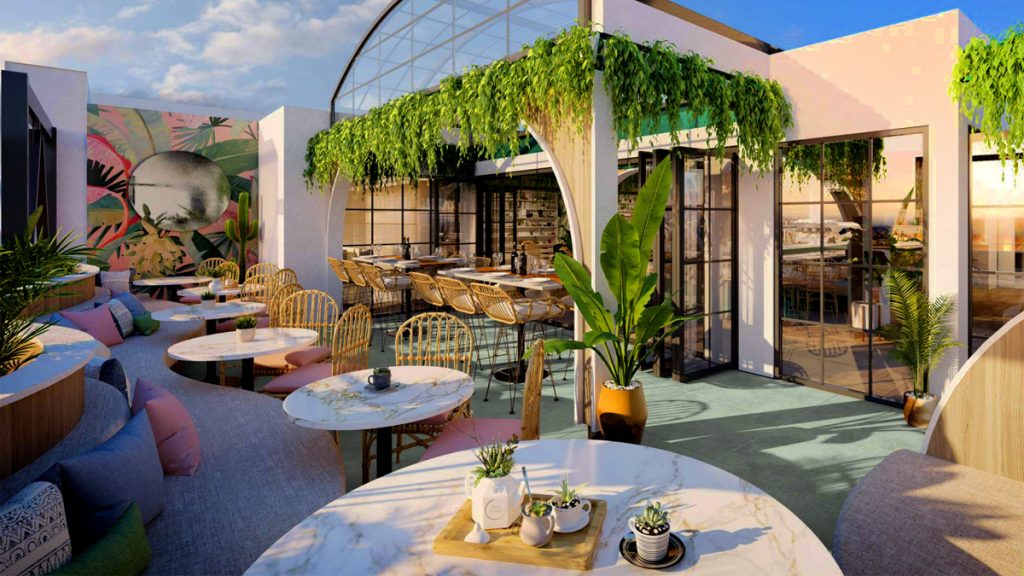 If you want to get a small taste of the Caribbean without leaving San Diego, you'll have the opportunity to do so at an upcoming rooftop bar in Little Italy later this year.
Coco Maya by Miss B's — a new endeavor by Grind & Proper Hospitality Group — is landing in Little Italy in the former Prepkitchen location by May 2022, according to Eater San Diego.
The tropical rooftop bar is being designed by GTC Design Studio. It'll feature an open-air aesthetic crafted to mimic the boho vibes of Tulum, a town on the Caribbean coastline of Mexico's Yucatan Peninsula.
Coco Maya's central cocktail bar will feature a massive skylight, while part of the location's roof is being removed to create a 900-square-foot deck.
Influenced by many locales in the Caribbean, Coco Maya will feature a menu stock full of tequila drinks based on the Yucatan Peninsula.
Customers can also expect a tropical menu featuring modern takes on Jamaican coal pot cooking. There will be an authentic Josper charcoal oven in the kitchen that will be used to create the Caribbean-style cuisine.
Executive chef Ricardo Heredia is also working on an extensive menu inspired by Latin Caribbean ingredients and flavors.
Grind & Prosper Hospitality is known for past projects like Louisiana Purchase, a Cajun-themed restaurant in North Park, and Miss B's coconut club, a laid-back restaurant in Mission beach that also serves up Caribbean-inspired food options and tropical cocktails.
No exact opening for Coco Maya by Miss B's was given, but the restaurant should be operational by late May.
About the author: Mike Peterson is a freelance journalist and writer based in North San Diego County. He's written and worked for a number of local media outlets, including the San Diego Union-Tribune, the North Coast Current, and the Oceanside Blade.
The banner photo for this article is courtesy of Eater San Diego