The Top 4 Beach Wedding Venues in La Jolla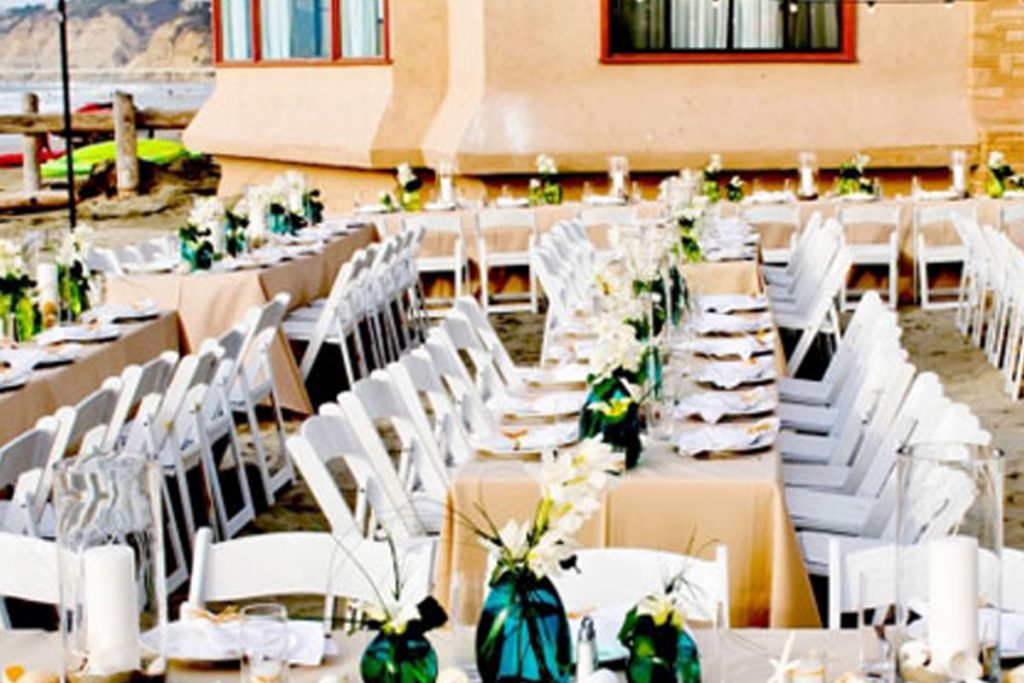 Can You Get Married On The Beach In La Jolla?
Many couples dream of a La Jolla beach wedding because La Jolla is the perfect locale to turn those dreams into reality. Yes, you can indeed get married on the beach in La Jolla! The city offers a variety of stunning beach venues ranging from the intimate settings of Windansea Beach to the luxurious La Jolla Shores Hotel with its private beach access. Each location has its unique charm. With the right permits and planning, you can say your "I dos" with the sound of the waves and the beauty of the Pacific Ocean as your backdrop. If you pick the right venue, you can jazz up your nuptials with impressive features for your guests, such as including a free wedding website, valet parking, fine dining options, beach-themed wedding favors, and so much more. To be sure, beach weddings in La Jolla, CA, are a romantic and unforgettable way to start your life together.
The Top 4 La Jolla Beach Wedding Venues
Are you considering getting married in La Jolla? If so, we're guessing "beach" is near the top of your possible venue list. We don't blame you. A beach wedding is the dream ending of classic romance movies for a reason.
Here are the best 4 beach venues (and organizations) to give you the ultimate oceanside La Jolla wedding.
1. La Jolla Shores Hotel: La Jolla Shores
There are almost no private beaches in California; however, here in La Jolla, you can have a beach wedding on one of these few private beaches.
The La Jolla Shores Hotel provides the opportunity to get married right on the sand of a private beach. You can have your perfect beach wedding set up through La Jolla Shores Hotel. Learn more about booking this premier beach event space and all the potential add ons at the La Jolla Shores Hotel wedding website.
2. Windansea Beach
For a more intimate, secluded wedding experience, we recommend a Windansea Beach wedding. This quiet spot is perfect for tying the knot with close family and friends. Located at the end of Nautilus, it is right by Bird Rock and the downtown La Jolla Village.
3. La Jolla Beach & Tennis Club: La Jolla Shores
A La Jolla Beach & Tennis Club wedding is guaranteed to be beautiful, smooth and seamless. This club is highly experienced in putting on weddings, especially beach weddings. They are happy to work with you, your fiancee and bridal team to put on a beach wedding ceremony know one will ever forget.
4. Ellen Browning Scripps Park
La Jolla's Ellen Browning Scripps Park offers the perks of both a green park and the beach. Get married on soft grass while enjoying a view of the ocean. Learn more about the venue and other location options at La Jolla Cove Scripps Inn's website.
Picking your venue is one of the very first to dos. Tick off this and see everything else that needs to be taken care of with this top-notch list: Your Wedding Planning Checklist.
Why Choose La Jolla for Your Beach Wedding?
La Jolla's coastline boasts dramatic cliffs, pristine sands, and sparkling waters. The town's upscale yet laid-back atmosphere is perfect for couples seeking both elegance and relaxation for an unforgettable La Jolla beach wedding ceremony.
Benefits of a Beach Wedding in La Jolla
Natural Beauty: The scenic beaches of La Jolla provide a natural backdrop, eliminating the need for extravagant decorations.
Casual Elegance: Depending upon your aesthetic, a La Jolla beach wedding should allow for a blend of formal wear and casual comfort.
Unique Photo Ops: Capture moments with stunning sunsets, playful marine life, and the vast Pacific horizon.
Things to Consider Before Booking Your La Jolla Beach Wedding
Weather: Coastal climates can be unpredictable. It's wise to have a backup plan.
Tide Timing: Some beaches in La Jolla can get narrower during high tides. Check tide schedules for your chosen date.
Permits: Ensure you have the necessary permits for beach weddings.
How To Obtain A Permit For A Beach Wedding In La Jolla
To secure a permit for your beach wedding, you should contact the City of San Diego's Parks & Recreation Department. They'll provide you with the necessary information and guidelines to ensure your wedding is both memorable and compliant with local regulations.
Best Season for La Jolla Beach Weddings
La Jolla is renowned for its year-round pleasant climate, making it an attractive destination for weddings regardless of the season. However, if you're aiming for optimal beach wedding conditions, spring and early summer stand out as especially popular times. During these months, the weather is typically mild, often accompanied by clearer skies, providing a picturesque backdrop for your special day. Nonetheless, given the occasional variability in coastal weather, it's prudent to monitor local weather patterns when selecting your date. This ensures you're choosing the most suitable time for your oceanside nuptials.
Accommodations for Guests
La Jolla offers a range of accommodations, from luxury resorts to charming B&Bs. Pick the right accommodations so your guests have a comfortable stay and maybe even a mini-vacation!
Local Vendors to Consider
Supporting local businesses can make your wedding planning easier and more personal. Consider La Jolla beach wedding venues that utilize local florists, caterers, and photographers to add a local touch to your wedding.
Eco-Friendly Beach Wedding Tips
A quintessential La Jolla beach wedding is not just about style and magnificent views – it's also about honoring the natural beauty stuffed in every moment of your special day. Maintain the beauty of La Jolla's beaches by considering sustainable practices like:
Using biodegradable decor
Skipping the release of balloons or lanterns
Encouraging carpooling or shuttle services for guests
Post-Wedding Activities in La Jolla
La Jolla is not just a wedding destination but also a treasure trove of adventures and relaxation opportunities. After the festivities, newlyweds and their guests can embark on a myriad of activities. The Village offers upscale shopping and exquisite dining options. For nature lovers, the La Jolla Underwater Park and Ecological Reserve is a snorkeling and diving paradise. Or, simply stroll along the Coast Walk Trail for breathtaking views of the cliffs and the Pacific. You can also treat the art enthusiasts at your wedding party by visiting the Museum of Contemporary Art for a touch of culture. Whether it's relaxation, adventure, or art you seek, La Jolla promises memorable moments for every guest.