8 Great Activities to Enjoy in La Jolla

Enjoy La Jolla
Known as the Jewel City, this affluent San Diego neighborhood lives up to its nickname! La Jolla visitors can experience both chic and modern city culture and beautiful natural vistas within a very small radius, making this area the perfect balance for days spent exploring both the outdoors and downtown. (Just make sure to wear sunscreen if you spend a lot of time outdoors!)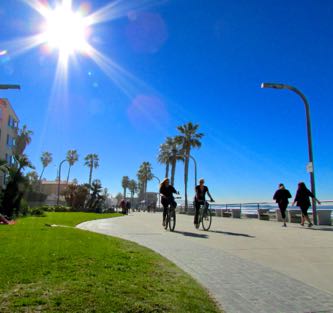 Visit Birch Aquarium
Seahorses, gray whales, and leopard sharks–oh my! Birch Aquarium is a great place to spend the day learning about our oceans and the creatures that live there. Scientific education becomes fun for both children and adults with interactive tide pools, award-winning oceanography exhibits, and a live camera feed of the off-shore kelp forest.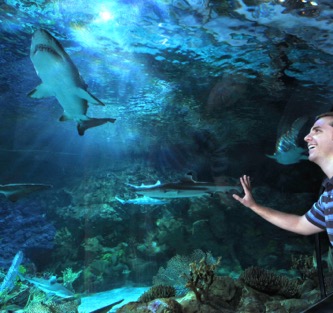 Take a Bike Tour
Electric bike tours are a great way to get your bearings and enjoy the sun and fresh air in La Jolla. Fly Rides offers guided tours on these bikes, which run on clean-energy electricity supplemented by light pedaling. It's a great in-between option for those who like the immersive feel of walking tours but want to keep their energy for other activities later in the day.
Snorkel & Scuba
La Jolla Cove and La Jolla Shores are the area's most famous snorkel and scuba spots. The caves of the cove are breathtaking, making in one of San Diego's most photographed beaches–however, the water tends to be chillier than its sunny shore counterpart, so divers may want to invest in a wet suit. Either way, you're in for some great views!
Laugh at the Comedy Store
The Comedy Store has made its mark as America's first road comedy club. Greats like Robin Williams and David Letterman performed here in their early careers, and the club has continued its reputation for showcasing both comedy's biggest names and its best up-and-coming talents.
Hangliding & Parasailing
For those seeking amazing views, Torrey Plains Gliderport can give you an absolutely unforgettable experience. The gliderport has been active in Southern California for a century, servicing all types of man-powered flight. The gliderport offers training, tandem flights with their experienced pilots, and equipment rental for fliers with proper certification.
View Madison Gallery
This contemporary art gallery offers stunning and evocative exhibits from local and international artists in a serene and minimalistic setting. The gallery upholds a high standard of artistry in a variety of mediums, and makes a perfect afternoon or evening sojourn for the creatively-minded.
Shop Girard & Prospect
Girard Avenue and Prospect Street offer some of the best high-end shopping in the neighborhood as well as a wide selection of restaurants. If you're looking for something in particular, you'll probably find it here. If you're just looking for a great walk and window shopping, you'll find that too!
Cruise at Sunset
No sunset is ever quite the same but in balmy La Jolla, each one is memorable. Mission Bay sunset cruises are a beautiful and peaceful way to wind down and relax after an eventful summer day. Depending on your preferred charter, you can opt to spend a tranquil evening enjoying a romantic dinner and drinks, a panoramic tour of La Jolla's coastline and oceanic wildlife, or both.
About the Writer: Christy Woodrow is an award-winning travel photographer and professional blogger based in San Diego, California. She launched her popular adventure travel blog, Ordinary Traveler, with her partner in 2010 – as a way to inspire others to travel the world and realize their dreams. Christy's work has been featured on sites such as Lonely Planet, National Geographic Traveler, Go Abroad, Pinterest's blog, Gap Adventures, and more.