Spice up Your Love Life: Best Adult Stores in San Diego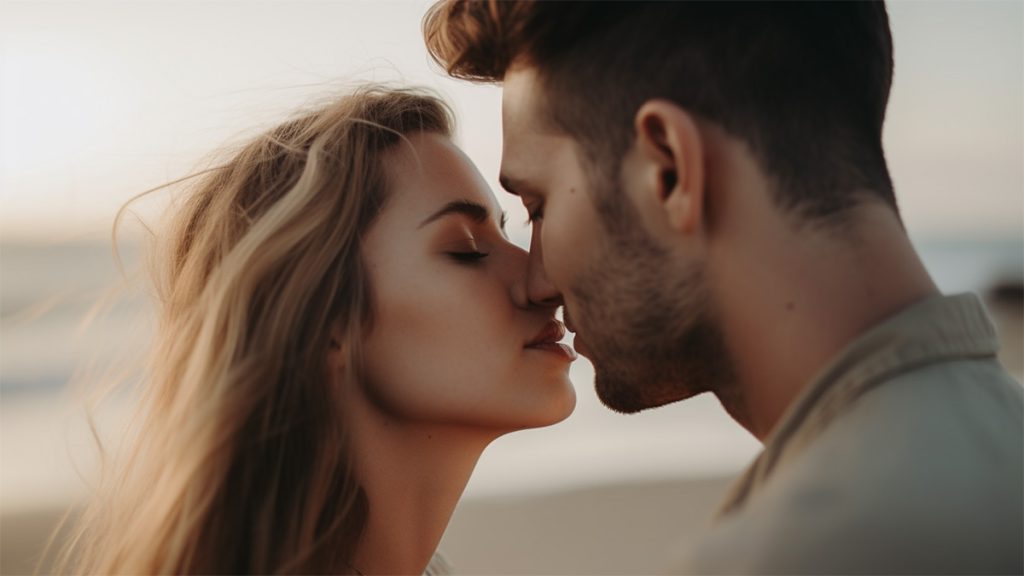 Years ago, conversation about sexual wellness was considered somewhat taboo. Masturbation and sexual livelihood were often looked down upon, something to feel ashamed of–especially when taught about the birds and the bees in grade school.
Thankfully, the dynamic has shifted and the perspective of the general public regarding sexual health has become less controversial and more welcomed. This wider acceptance can be attributed to educational podcasts, influencers, and sexual health coaches that have taught the masses to treat sexual desire and needs as part of the human experience, as something to be explored and appreciated.
While sex toys may still carry stigma for some, they can be a valuable resource for those looking to explore their sexuality in a safe and judgment-free zone. Exploring different toys and products can be a great way to enhance your sexual experiences and discover new levels of pleasure. And where better to do it than an adult store?
Best Adult Stores in San Diego By Area
Whether you are single as a pringle, happily married, in an open relationship, or simply in the market for a new kinky toy, we've got you covered. San Diego–which is known to have a large polyamory community–encourages sexual exploration, and for that reason there are tons of adult entertainment stores spread across the county. If you're in the market for a new erotic gadget, male adult sex toys, lingerie, lubricant, or costumes, we've conjured up a list of unique adult stores for you to mosey on into.
Adult Stores in North County
Lingerie and sexy accessories to help set the mood and ignite the excitement are just around the corner at your local North County adult store!
Romantix–Oceanside
Here you'll find male adult toys, a nice selection of lube, and a plethora of naughty knick-knacks to be enjoyed either solo or with a friend. More into old school print magazines or DVD's? Romantix has quite a variety of old-fashioned pornographic goods. No matter how small the establishment is, this sexy shop has tons to offer, including apparel. Costumes, corsets, dildos, fetish related products, and beyond!
Address: 316 Pierview Way, Oceanside, CA 92054
Phone: (760) 757-1204
Hours: Mon – Thurs, 2 p.m. – 10 p.m.
Fri – Sat, 1 p.m. – 11 p.m.
Sun 2 p.m. – 10 p.m.
Deja Vu Love Boutique–Vista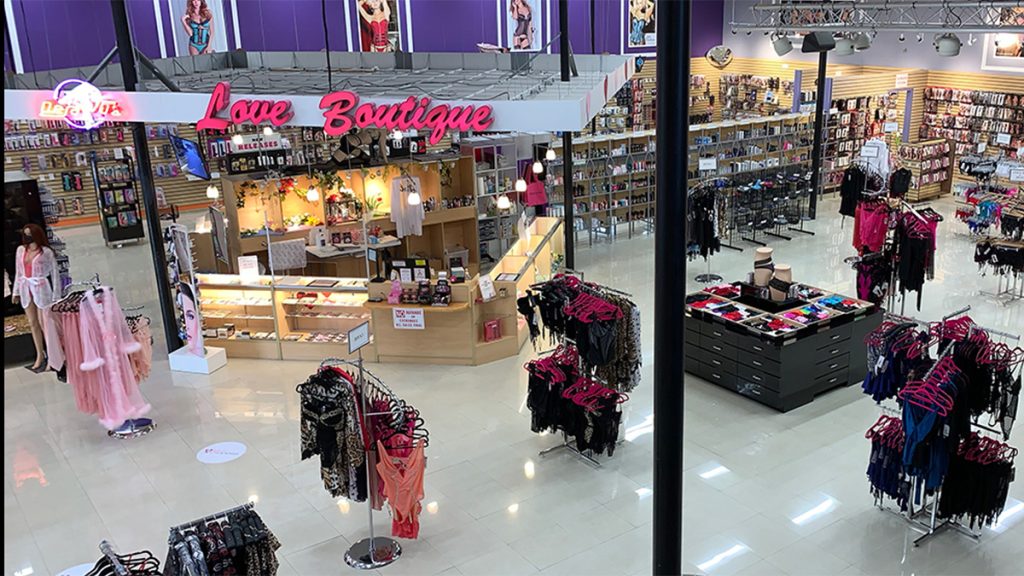 Butt plugs, penis toys, silly keychains, lacey bodysuits and babydoll sets, nipple pasties, festival attire, robes, wigs, and shoes–Deja Vu Love Boutique has more than enough playful products to get you excited about dressing up and getting intimate in the bedroom. No matter what the occasion–an anniversary, a concert, a quiet night in, a seductive night out, a costume party–you'll find what you're looking for at this erotic boutique. Brownie points because dancers, industry workers, and military get discounts.
Address: 2130 Industrial Court, Vista, CA 92081
Phone: (760) 598-5889
Hours: Mon – Sun, 10 a.m. – 10 p.m.
Sam & Delilah
This is the perfect place to find sexy lingerie for a bride-to-be or to be purchased as a hot and sexy surprise for your partner. If you're into BDSM, you'll particularly enjoy the eclectic array of products they have. If you're shopping for fun gag gigs and phallic-like things–whether for a sex party, a bachelor or bachelorette party, or for your own entertainment, this is a place to stock up. Sam & Delilah also has other amusing products like hemp lube and flavored body oils great for licking off your partner.
Address: 1155 Garnet Ave, Vista, CA 92109
Phone: (858) 272-2594
Hours: Sun – Thurs, 1 p.m. – 9 p.m.
Fri – Sat, 1 p.m. – 11 p.m.
Adult Stores in Central San Diego
Pit stopping through central San Diego? You won't want to miss these adult lifestyle stores.
Barnett Avenue Adult Superstore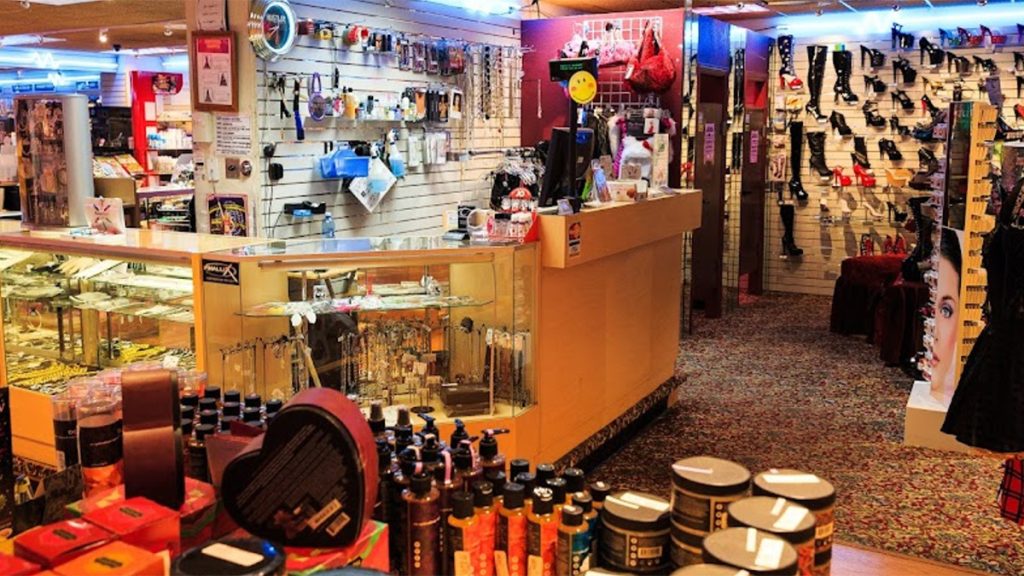 They don't call it a superstore for nothing! This place is loaded with toys for all occasions and preferences. Barnett Avenue Adult Superstore is clean, well-organized, and offers reasonable pricing. One unique aspect of this store is their theater, where you can watch raunchy films amongst strangers. Oh, and if you like role playing, their range of costumes is pretty spicy!
Address: 3610 Barnett Ave, San Diego CA 92110
Phone: (619) 224-0187
Hours: Open 24 hours, 7 days a week
Adult Emporium
Allegedly, the Adult Emporium is one of the few places left in Southern California where you can get a peepshow with a live lady. You can rent a preview room either solo or with a partner and watch x-rated behavior take place. Another aspect of this emporium is that they offer dances. Be forewarned that this is the type of place you'll want to check out if you already have an idea of what you're looking for, as the employees are a bit hands-off.
Address: 5101 Convoy St, San Diego CA 92111
Phone: (858) 874-2317
Hours: Open 24 hours, 7 days a week
Hustler Hollywood
Not to boast, but Hustler Hollywood is a hip shop for all things hot and kinky. If you want to gear up with the latest and greatest gizmos and gadgets to help set the mood, this is your one-stop shop. Their megastore–3 whopping floors of fun–is located right next to the Balboa Theatre, and carries everything from naughty apparel to novelties and pleasure kits. They offer toys for couples, and enhancers in case you need that extra boost to keep going all night long.
Address: 929 Sixth Ave, San Diego CA 92101
Phone: (619) 696-9007
Hours: Mon – Thurs, 11 a.m. – 12 a.m.
Fri – Sat, 11 a.m. – 2 a.m.
Sun 12 p.m. – 11 p.m.
X Spot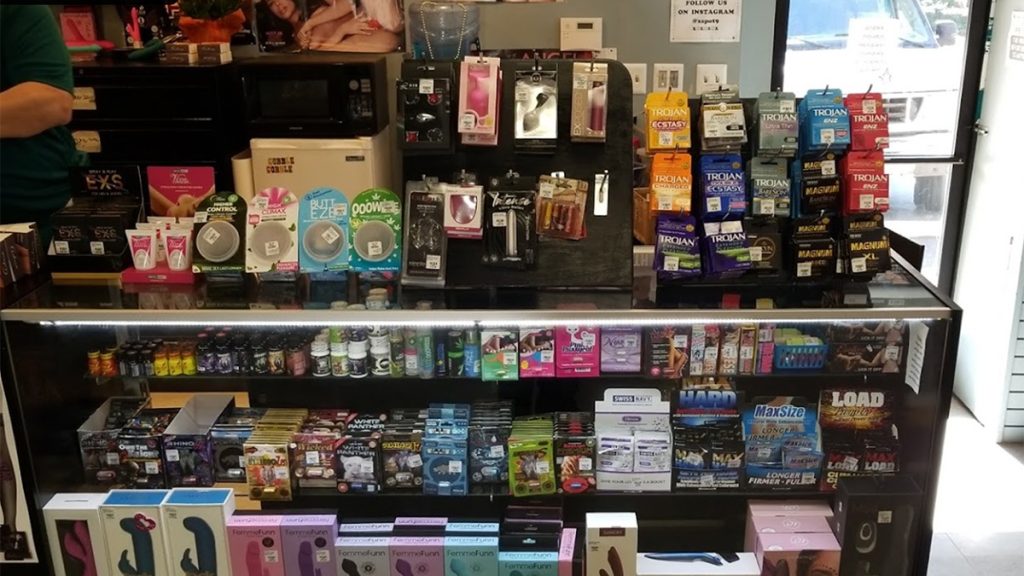 This hidden gem is a cute little sex shop that packs a punch! Whether you need a new outfit to impress your bae, DVD's, condoms, pills and herbal supplements, or fun gifts for a birthday or bachelor and bachelorette party, X Spot has a ton to choose from. Struggle getting or keeping it up? Not to worry! They also offer a wide selection of male enhancement remedies as well as kegel and pelvic exercises. If you'd like to spice things up with friends or your partner, you can try out one of their games, vibrating toys, or nipple stimulators.
Address: 3606 Midway Drive, San Diego, CA 92110
Phone: (619) 226-3235
Hours: Mon – Sun, 10 a.m. – 2 a.m.
Adult Stores in East County
For those who reside inland, there is no shortage of sexcapades! Let's explore the adult stores in East County.
Deja Vu Love Boutique El Cajon–Obsession Depot
Not only is the staff welcoming and knowledgeable, but they will guide you to the best products for your specific sexual needs. This Love Boutique has an extensive inventory of adventurous toys and their lube selection is off the charts. If you have any desire to amplify your sex life or get more intimate with yourself, this hot haven for all things erotic is the perfect way to get started.
Address: 1560 N Magnolia Ave, San Diego CA 92020
Phone: (619) 448-3791
Hours: Mon – Sun, 9 a.m. – 2 a.m.
Pleasures and Treasures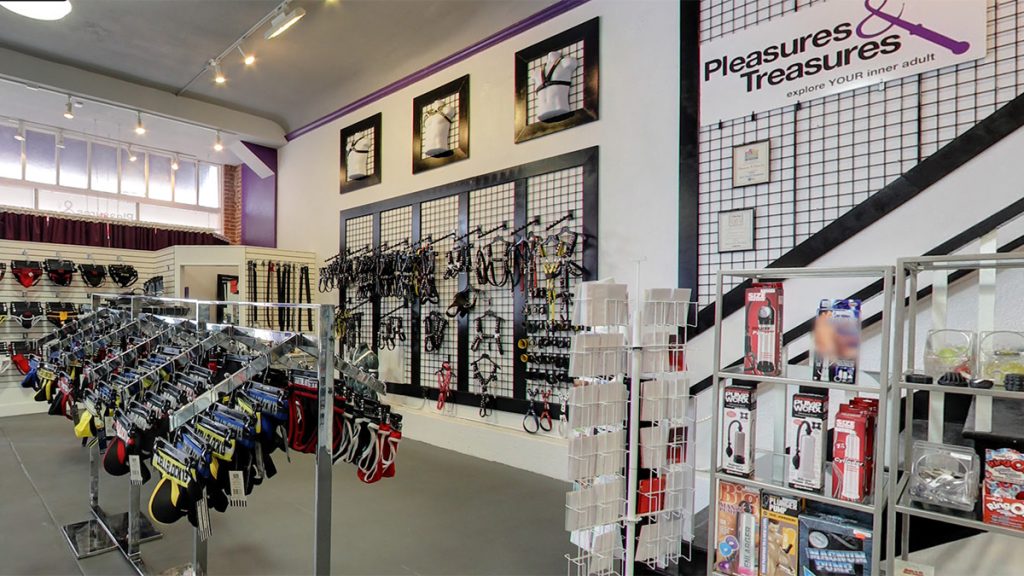 Here you'll find a wide selection of adult products–from classic vibrators and dildos to more specialized items like strap-ons and anal beads. Pleasures and Treasures is not only clean with exceptional staff, but they are big advocates for self exploration and experimenting with new pleasure-inducing toys.If you're into bondage, they've got leashes, collars, binders, cuffs, restraints, blindfolds, ropes, spreader bars, and tons of other niche products that are sure to provide a good time.
Address: 2525 University Ave, San Diego, CA 92104
Phone: (619) 822-4280
Hours: Mon – Sun, 12 p.m. – 8 p.m.
Fantasyland – Spring Valley
If you're interested in a good time, stop by Fantasyland to engage in a naughty shopping spree. This establishment offers arcade booths that have no doors, where you can view adult material right in the store–though the lack of privacy isn't for everyone. If you like lickable oils, sexy DVD's and adult books, and other kinky merchandise and wearables, you'll want to add Fantasyland to your list of must-see adult stores.
Address: 11157 Sweetwater Rd, San Diego CA 91977
Phone: (619) 463-3223
Hours: Mon – Sun, 7 a.m. – 2 a.m.
Adult Stores in South Bay
Of course, we can't forget those who live in South Bay! While the options are more limited around here unless you pass over the Tijuana border, there are still a few gems to be explored.
Fifty Shades of Play
This Chula Vista sex store staple is located in the Hilltop Business Center, and is a mecca of whips, chains, and pleasure products. If you opt to order online, you can even select discreet shipping to keep your gifts a surprise from your partner. This adult store is unique in that it hosts BDSM parties from time to time so you can engage in some group exploration activities.
Address: 3800 Main Street #3, Chula Vista, CA 91911
Phone: (619) 407-7135
Hours: Mon – Fri, 8 a.m. – 4 p.m.
Sat, 10 a.m. – 2 p.m.
Closed Sundays
Roy's Adult Fantasy Outlet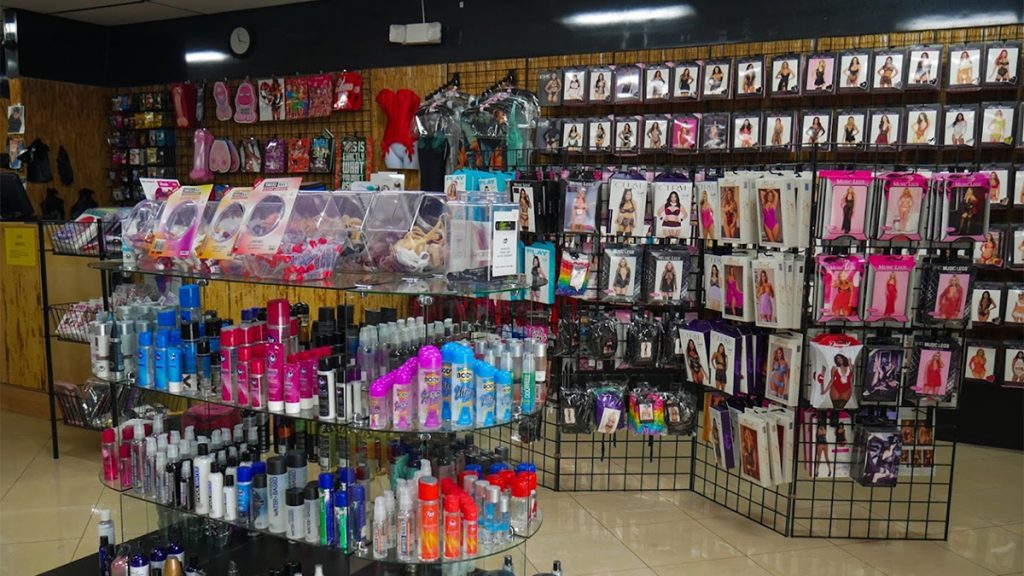 Located in the Border Village Shopping Center, this San Ysidro Fantasy outlet is a phenomenal choice to help you explore all your sexual fantasies at a decent price. The staff is very professional and informative and there to guide you to the right erotic items in order to make your sexual experiences ones to remember.
Address: 4650 Border Village, San Diego CA 92173
Phone: (619) 428-2993
Hours: Mon – Sat, 9 a.m. – 11 p.m.
Sun, 9 a.m. – 9 p.m.
Romantix
Romatnix has online prescriptions for everything you need related to mediation for sexual wellness. They've got toys at every price range and a whole line of sexy lingerie as well as erotic BDSM costumes and gadgets. This Imperial Beach romance retailer was voted Sexiest Adult Boutique for a reason–they've got everything and their staff makes you feel more than comfortable as you learn their wide range of offerings, specifically designed to delight.
Address: 11777 Palm Ave, San Diego CA 91932
Phone: (619) 575-5081
Hours: Sun – Wed, 1 p.m. – 9 p.m.
Thurs – Sat, 12 p.m. – 11 p.m.
Conclusion
When it comes down to it, adult stores promote sexual wellness by providing a safe and welcoming environment for individuals and couples alike to explore their sexuality and enhance their intimate relationships. So why not make a day out of going shopping at an adult store? Either grab your partner, or take yourself on a sexy date at your local adult shop for a little treat that you can enjoy over and over again.  And if you're looking for a more discreet and convenient option, you'll be glad to know that you can find an incredible variety of sex toys online, too.
Whether you're looking for something to spice up your sex life or want to get freaky with your own desires, an adult store can be a great place to start. Don't feel strange asking the employees where to start and what they recommend–that's what they are there for!
While shopping for adult products can be fun and games, it is important to remember to always prioritize consent and safety when exploring new sexual experiences, no matter how well you know your partner. Make sure to communicate with your partner(s) and have a safe word to ensure that they feel comfortable expressing themselves even in times of discomfort.
Thank you and happy shopping!