A Beer Lover's Guide to La Jolla

Football games, lazy afternoons at the beach, BBQs on summer evenings. Most of us agree these are all experiences highly enhanced by a good, cold beer in hand, and what better place for quality beer than La Jolla? San Diego is known for our fantastic craft beer, and we're not called "The Capital of Craft Beer" for nuthin'.
Unfortunately, the best beer in San Diego is not brewed in the 92037 zip code. But that doesn't mean you can't get your hands on it. Here's our guide for the best places in La Jolla to get fantastic beer.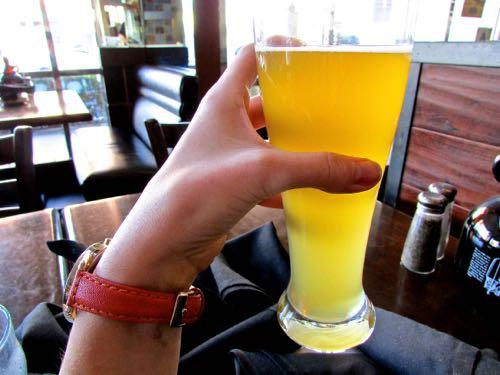 New English Brewing
Okay, technically New English Brewing is in Sorrento Valley, not La Jolla. But if you take Torrey Pines Road from downtown La Jolla, it's less than 10 miles to the tasting room.
Why do we want to include this brewery on this list so badly? For those of you who aren't familiar with New English Brewing, it's the product of owner/brewer Simon Lacey and his team. Ask any respected brewer in San Diego to give you a short list of brewers they respect, and Simon is probably on that list. Ask any brewer in San Diego for a short list of their go-to IPAs, and we pretty much guarantee that the New English Pure & Simple is on that list.
Simon is from the UK; he learned to brew in the 1990s San Diego beer scene. As a result of those two things, you can expect balance and artistry in his beer. Urban Legend has it that Simon's 'Humbly Legit IPA' got its name from being the complete opposite of Stone's 'Arrogant Bastard Ale'; that ought to tell you something about how the man wields his hops.
If you enjoy more styles than just IPAs, try the New English Explorer ESB or the Brewers Special Brown. The Zumbar Chocolate Coffee Imperial Stout makes for a great nightcap. Oh, but you can get a hazy IPA if you want it, too.
Address: 11545 Sorrento Valley Rd. #305, San Diego, CA 92121
Phone: (619) 857-8023
Hours: Closed Mondays
Sun 1-8PM
Tues 3-8PM
Wed 3-9PM
Thurs 3-9:30PM
Fri & Sat 1-9:30PM
Public House La Jolla
If you want to drink craft beer and you don't want to drive to Sorrento Valley, try La Jolla Public House on Kline Street. They have burgers, beer on draught, and a solid selection of barrel-aged beers in bottles, including sours.
A well-curated beer list is something that will always change, so we don't want to tell you about the Russian River, Bruery, or even the European selection that we're looking at on their menu as we write this. After all, we don't want you to show up looking for a Monk's Cafe or a Pliny the Elder on a day that they're out. Suffice it to say that, if the draft list doesn't speak to you, the bottle-and-can program probably will. (Oh, and your non-beer-drinking friends can get a hard seltzer.)
Address: 830 Kline St., La Jolla, CA 92037
Phone: (858) 551-9210
Hours: Mon-Fri 11AM-Late
Sat-Sun 10AM-Late
What About Micheladas?
Who said this article has to be all about craft beer? Sometimes you just want a cold Mexican beer, or a michelada.
What is a michelada, you ask? It's basically a bloody mary, but the vodka is replaced with beer. And perhaps the best place for a michelada in La Jolla is Jose's. It's pretty much a guarantee that chips, salsa, queso, ceviche, and enchiladas all pair extremely well with ice-cold Pacifico.
Address: 1037 Prospect St., La Jolla, CA 92037
Phone: (858) 454-7655
Everyday Hours: 11AM-10PM
The Irish Pub Experience: Hennessey's
You may not be able to fly to Ireland at any given moment, but that's no problem; you can always walk into Hennessy's pub to grab a pour of Guinness. Plus, with happy hour between 4 and 7 pm from Monday and Friday, you can enjoy good deals, as well as authentic atmosphere.
Address: 7811 Herschel Ave., La Jolla, CA 92037
Phone: (858) 551-8772
Everyday Hours: 11AM-2AM
Beer Take-Out Only Spots
If you want to pick up craft beer in La Jolla, there are always the usual suspects: grocery stores and liquor stores. Here's the deal, though. Look for a brewed-on date on the beer you're buying. A bottle of bourbon-barrel-aged barleywine might still be delicious years later if it's stored properly, but most beer styles don't benefit from sitting around. IPAs and pale ales especially lose their finer qualities with age. (Yes, we know, IPAs were invented as a way to keep beer from spoiling. That doesn't mean the beer was still delicious at the end of a long ship's voyage!)
Liquor stores can be especially bad about rotating old stock. It's no fun to get home with a $10 double IPA only to realize that it was brewed before COVID.
Whole Foods Market (8825 Villa La Jolla Dr.) generally has the best craft beer selection of any grocery store, but in a pinch Vons (7544 Girard Ave.) and Ralph's (8657 Villa La Jolla Dr.) have a limited selection and can work in a pinch.
Keg N Bottle (1030 Torrey Pines Rd.) is another place to pick up beer to go. They sell kegs, too. You may remember buying (renting?) a keg at Keg N Bottle stores back in your college party days, but they sell more than just Bud, Miller, and Ballast Point. At any given time, there are usually a few craft beer offerings on the list; look for beers from New English, Sierra Nevada, Pizza Port, Port Brewing, North Coast, Mother Earth, Racer 5, Stone, or Karl Strauss.
A final tip for buying craft beer in a store: When in doubt, always go with Sierra Nevada. Those guys basically helped invent craft beer, and their brews are still the craft beer equivalent of a pair of classic Vans Old Skools.
What Used to Be: Closed La Jolla Beer Spots
One of the great things about San Diego is that our local craft beer scene is in a constant state of change. However, this fluidity (no pun intended) causes articles like this to become outdated. There used to be more places in La Jolla devoted to craft beer, but as you'll see, some beer spots come and go.
Torrey Pints in Whole Foods (Not Permanently Gone – Or So We've Heard)
Torrey Pints is temporarily closed. Tucked into the Whole Foods by the UCSD campus, it's a great spot for people attending, visiting or simply near the university. People loved Torrey Pints because they had a great selection of food and it was extra convenient for picking up any needed groceries after having a pint or two.
We called the Whole Foods in September 2021 and were told that Whole Foods management plans to re-open Torrey Pints as soon as they're able to staff the bar and food service positions. Apparently they had to close it down because there weren't enough staff to work in the grocery store and Torrey Pints.
La Jolla Brewing Company
La Jolla Brewing Company used to be located at 7536 Fay Ave, between the Rubio's and Bernini's Bistro. The brewery closed its doors for good sometime around the end of 2017 (reports say it happened around New Years Eve). A new brewery called Absolution by the Sea opened in this space in February of 2018, rebranding themselves about a year later as CAVU Brewing. CAVU eventually closed, too; their last Instagram post was on October 12, 2020.
Karl Strauss La Jolla
Queenstown Public House, a New Zealand-style restaurant, is opening where the old Karl Strauss used to be. The Karl Strauss Brewery itself didn't go out of business–just the La Jolla restaurant and bar. Karl Strauss closed the La Jolla location in 2021, a casualty of the pandemic and a diverse craft beer scene.
Don't let this closure fool you, though. The Karl Strauss brewery has won at least 13 GABF (Great American Beer Festival) medals since they started showing up to the festival in 2009. At least six of those were gold medals. If you're staring at the shelves in Whole Foods trying to decide what to take home tonight, consider that Red Trolley and Windansea Wheat are both gold-medal beers.
Cafe Solange
Cafe Solange, which closed in 2015, was a bakery with a fantastic selection of beers that were all on draft. It was nestled in the La Jolla Shores area, making it the perfect spot to hit on a beach day. After a day of surfing and swimming in the Pacific, there was truly nothing like a crisp, refreshing beer. RIP.