Best Health Food Stores in San Diego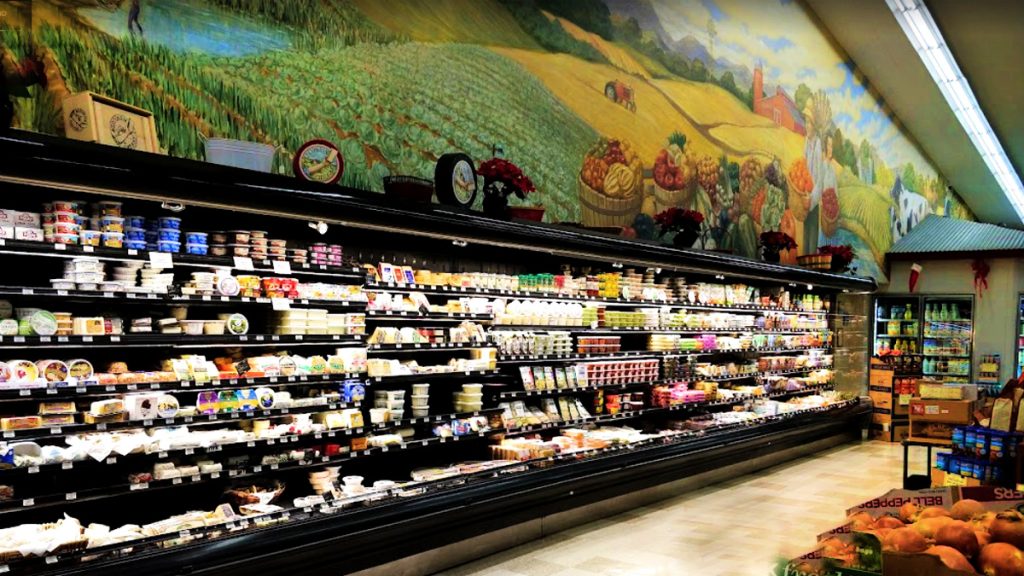 When it comes to health food stores, San Diego is a mecca. It's no secret that San Diego is home to so many people with glowing auras. With a culture that swears by the motto "health is wealth," it only makes sense that San Diego has become a hub for local farmers markets, health food stores, holistic spas, and wellness events. Maintaining one's health is placed at such a high value here that it has dictated the way health food grocery store chains and local grocers design their products and offerings.
Finding the right place to purchase organic produce, fresh ingredients, healthful supplements and quality meat that isn't pumped with toxins and chemicals can be tricky–if you don't know where to look. Luckily for the organic food fanatics who opt for sustainable and natural food, there are a handful of health food stores in San Diego. Most of these stores carry a wide array of certified organic produce from local suppliers, and sustainable meat or a full stack deli with freshly prepared, minimally processed eats. Grocery store shopping no longer has to be about redundantly scanning labels to check for preservatives and harmful ingredients, it can be a pleasurable experience that people actually look forward to doing.
Natural Health Food Grocery Stores
Processed foods and preservatives–begone! This list of natural health food grocers will alter your shopping experience and enhance the ingredients in your kitchen cabinets.
La Jolla Health Food Stores
Let's begin with all the unique health food offerings La Jolla has to offer, because this is LaJolla.com after all!
Valley Farm Market La Jolla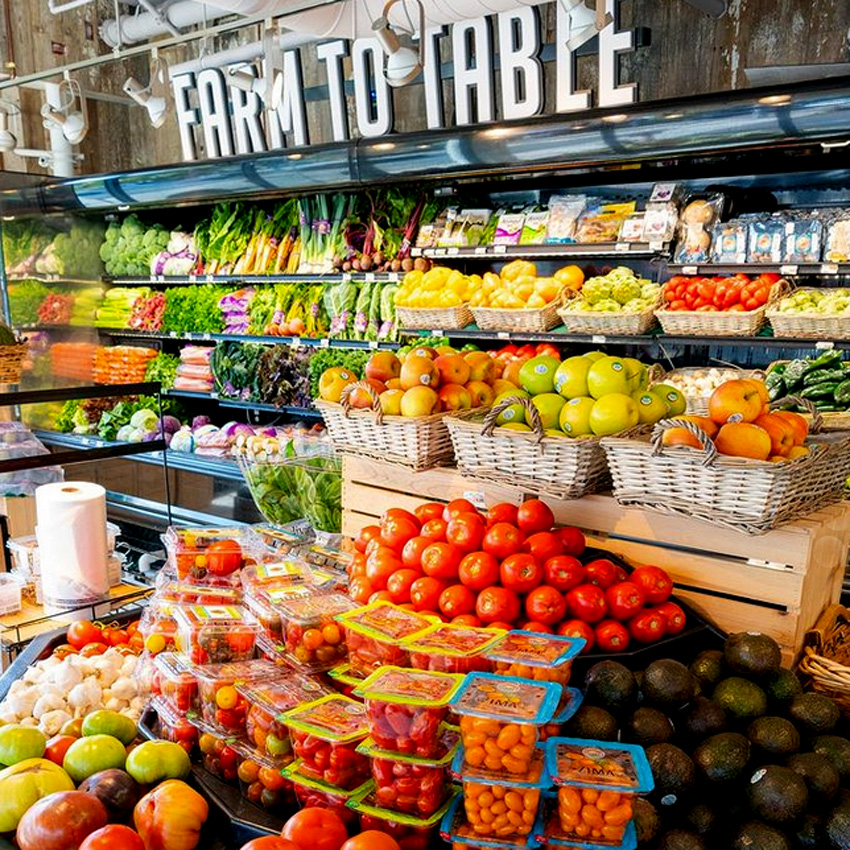 This specialty market and butcher shop has been operating and providing for the San Diego community for over 60 years–and going strong! Situated in historic La Jolla, Valley Farm Market is just blocks from WindandSea Beach, making it the perfect pit stop to grab some deli delights before heading for the shores for a nice ocean dip. Not only does this local favorite have tons of delicious protein bowls and poke for days, but they also have cold-brewed and primo Guatemalan coffees, made-to-order smoothies, fresh-squeezed juices and freshly baked goodies. They carry USDA Prime and Choice, All Natural Black Angus Beef, and plenty of other award-winning meats. If you're more of a seafood guy or gal, this is your spot, as Valley Farm Market only carries the freshest, most sustainable wild caught fish and seafood.
Address: 6902 La Jolla Blvd, La Jolla, CA 92037
Phone: (858) 999-0358
Hours: Mon – Sun 8:00 a.m. – 8:00 p.m.
La Jolla's Little Vitamin Shop
La Jolla's Little Vitamin Shop is a performance enhancement and nutritional supplement supply store that carries top quality products designed to help you achieve all of your health goals and needs. Many performance enhancers are loaded with animal products, hormones, GMO's, chemicals, dyes, and other toxins that are harmful to the body. At this cutesy little vitamin shop, you'll find healthier alternatives that are hormone-free, GMO-free, and come loaded with vegan protein as opposed to animal protein. With a major focus on health and beauty, La Jolla's Little Vitamin Shop takes pride in providing products for their wellness and fitness focused customers who desire to lose weight, boost energy, bulk up, tone down, or enhance their performance experience–the healthy way. Their supply of vitamins boost energy levels and can do wonders for those needing an extra push to get through their day.
Address: 1115 Wall St, La Jolla, CA 92037
Phone: (858) 291-8889
Hours: Mon – Fri 11:00 a.m. – 5:00 p.m.
Sat – Sun 10:00 a.m. – 4:00 p.m.
Gelsons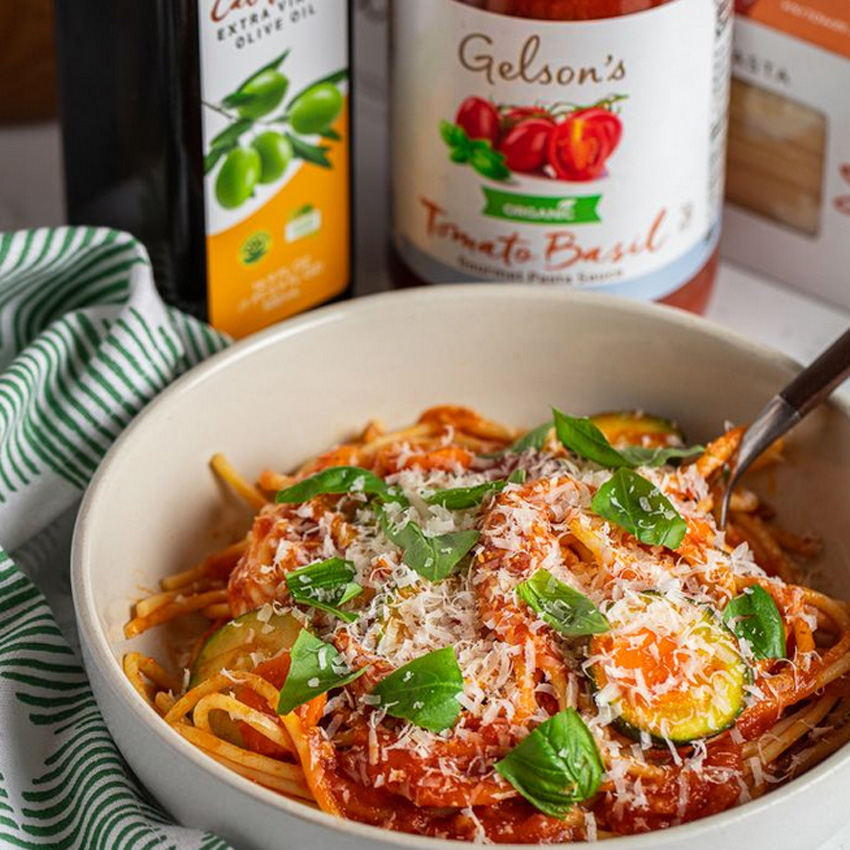 Gelsons is an upscale grocery store chain that offers an enormous selection of gourmet everything: cheese, fresh seafood, sushi made daily, coffee, kosher food, premade meals, and a full-service deli. They are known for always restocking their shelves with new items and providing exclusive deals and promotions for rewards members. At Gelsons you'll also find delicious meals to go–made by in-house chefs for the whole family–that are perfectly seasoned and balanced, with nutritious fruits, veggies, and proteins and carbs. Gelsons is expensive in comparison with other natural health food stores, but worth the price for the product and experience. You can also find houseplants and fanciful flower arrangements to decorate your home. Pro-tip: Gelsons is open later than most grocery stores, in case you need that late night snack.
Address: 730 Turquoise St, San Diego, CA 92109
Phone: (858) 488-0044
Hours: Mon – Sun 7:00 a.m. – 9:30 p.m.
North County Coastal Health Food Stores
The coast up in North County has some of the most unique health food stores in all of San Diego, namely because of their interesting and rare offerings that you won't find at other local grocers. Let's take a look, shall we?
Cardiff Seaside Market
If you've been up to Cardiff or have a friend from the area, you've likely heard of Cardiff's world-famous tri-tip sandwiches, more commonly referred to as their "Cardiff Crack" because it's just that addictive. Cardiff Seaside Market is a very special grocer and as one customer likes to call it, Cardiff Seaside Market is "the pinnacle of prepared food." Aside from top-notch breakfast burritos, grab-and-go cheese plates, and diverse floral arrangements, and vegan sourdough bread, this adorable market also offers tons of weekly specials and wine tasting events. You'd be foolish to pass up on trying one of their famously juicy and flavorful sandwiches or their dessert counter, which exceeds all expectations.
Address: 2087 San Elijo Ave, Cardiff, CA 92007
Phone: (760) 753-5445
Hours: Mon – Sun 7:00 a.m. – 10:00 p.m.
Frazier Farms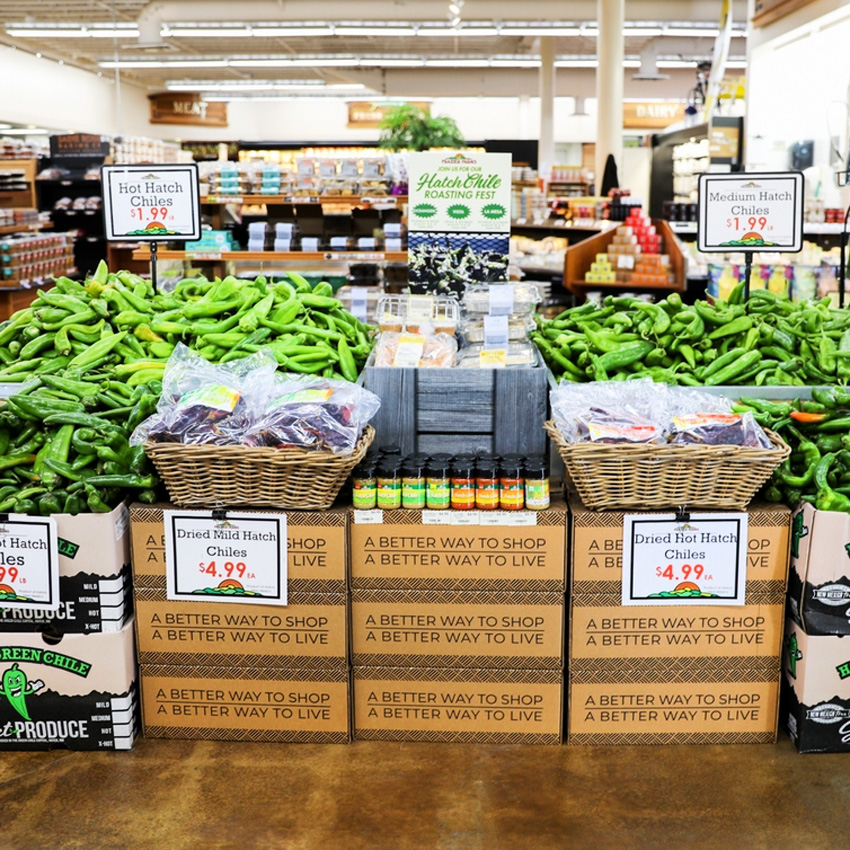 Frazier Farms is one of the health food stores in San Diego that is both high class yet laid back. Their friendly staff helps set the tone for the positive atmosphere felt as you shop, and if you're spending many hours paddling out on the water catching waves, you'll be pleased to know that Frazier Farms offers surfer-friendly sandwiches jam-packed with veggies, nutritious ingredients, and protein. Alongside other delicious ready-to-eat food from the deli section–such as salads and other foods, Frazier carries superior organic greens, an impeccable selection of cheeses, and a large variety of vegan options and Asian products. Frazier Farms even offers rarer items such as bone marrow. This foodie paradise is one of the few grocers in the area, so don't miss out!
Address: 1820 Oceanside Blvd, Oceanside, CA 92054
Phone: (760) 429-2092
Hours: Mon – Sun 8:00 a.m. – 9:00 p.m.
Just Peachy
This adorable little grocery mart prides itself on featuring fresh produce and veggies from local farms, and an extensive spice selection. Just Peachy also carries tons of rarer frozen fruits and veggies such as pomegranate kernels and aloe vera–perfect to throw in a blender and whip up for a nourishing homemade smoothie. Not every natural food store San Diego has seen offers such a divine selection of organic, high quality goods at such a fair price. If you're an Encinitas local, this market should be your one-stop shop. Bonus points because the shelves are constantly loaded up with new and unique products, such as foods and spices from the Middle East.
Address: 1354 N Coast Hwy 101, Encinitas, CA 92024
Phone: (760) 635-3656
Hours: Mon – Sat 7:00 a.m. – 7:00 p.m.
Sun 7:00 a.m. – 6:00 p.m.
North County Inland Health Food Stores
If you've been itching to find organic stores in San Diego, North County Inland has all you need and then some.
Jimbo's
Jimbo's health food-forward grocery is an absolute gold mine if nutrient-packed, tasty pre-cooked food is what you're looking for. It is a loftier local small business that has a lot to offer, carries specialty brands that are difficult to find elsewhere, and makes all their deli food in house. This clean and organized establishment makes it easy to conveniently locate your desired grocery list items, and then some. Oh, and did we mention there is a boat load of vegetarian and vegan options? Jimbo's might as well be named fresh, because that's all they've got–fresh produce, fresh baked goods, fresh ready to eat meals, and beyond.
Address: 10511 4S Commons Dr #155, San Diego, CA 9212
Phone: (858) 432-7755
Hours: Mon – Sun 8:00 a.m. – 9:00 p.m.
Barons Market Rancho Bernardo
Baron's Market in Rancho Bernardo is a spectacular supplier of organic food San Diego residents will not want to miss out on. They are essentially a paradise of produce with an unbeatable soup selection and a salad bar that will keep you coming back for more. The employees that work at Barons are absolute sweethearts, so if you need assistance with anything–from picking out the perfect flowers for your partner or a pie for a potluck–they will be glad to help make your experience as fun and playful as possible. Oh, and their specialty ice cream selection? Out of this world!
Address: 11828 Rancho Bernardo Rd #108, San Diego, CA 92128
Phone: (858) 485-8686
Hours: Mon – Fri 8:00 a.m. – 9:00 p.m.
Central San Diego Health Food Stores
Central San Diego houses a little health food stores that have delicious local eats good for the mind, body and soul. Sure you can find healthy food downtown San Diego, but these are our select few favorites located centrally.
Ocean Beach People's Organic Food Market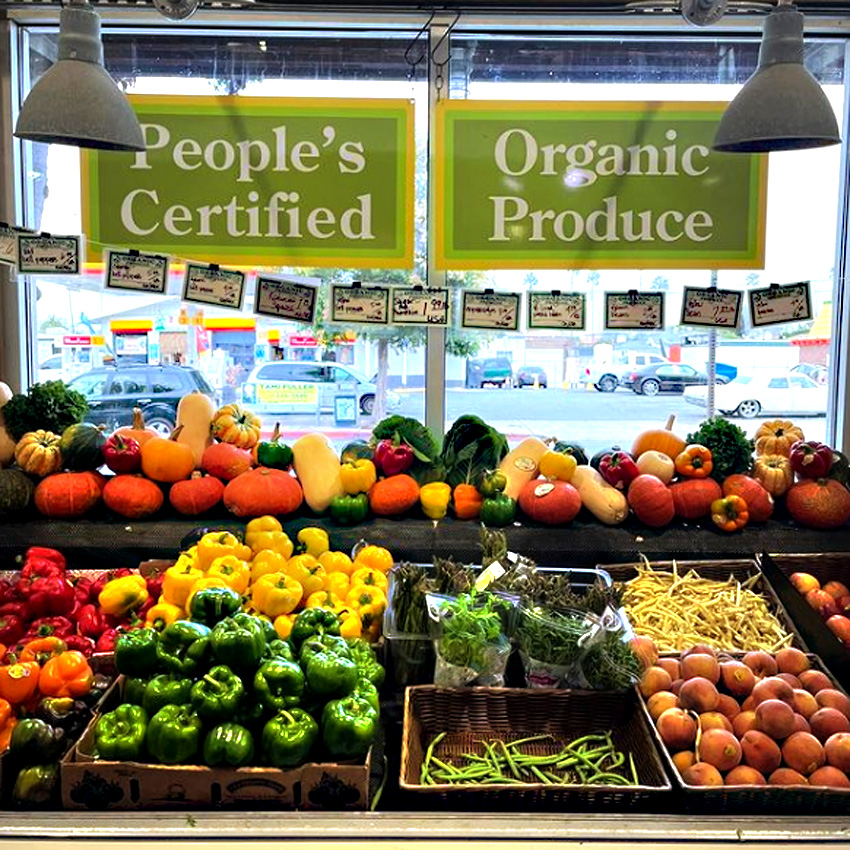 This co-op is one in a million, and one peak inside the store, you'll quickly see why. OB People's Organic Food Market is a local organic grocer with a down to earth vibe, focused on plant-based everything. For annual members, you'll receive extensive savings on everything in the books, including local brand products you might only be able to find at the farmers market–for a higher price. This OB gem is also constantly updating their hot and cold bar section with new tasty treats, and you can buy tons of things in bulk like organic nuts, dried fruit, grains, olive oil, local honey, and nut butters. A must-see area of the store are the wellness, health and beauty products. You'll find rare oils, entirely vegetarian vitamins and supplements, organic herbs and spices, and plant-based cosmetics and body care products such as salves, creams, and flower essences. They focus on certified organic or ethically wildcrafted aromatherapy, and they also do not sell meat. Emphasis on sustainable and ethical!
Address: 4765 Voltaire St, San Diego, CA 92107
Phone: (619) 224-1387
Hours: Mon – Sun 8:00 a.m. – 9:00 p.m.
Windmill Farms
Windmill Farms is a community market with special offers and tons of new weekly ads, which keeps the customers on their toes. Their coffee bar, natural foods selection, and gluten-free options, and vitamin section are outstanding. You can earn rewards for money spent by taking advantage of their reward system, which hooks members up with exclusive deals via an appcard app. Don't forget to peep their amazing selection of premade food available at their deli counter that boasts huge portions for an agreeable price, or their farm fresh produce section, because they are both the cats' meow.
Address: 6386 Del Cerro Blvd, San Diego, CA 92120
Phone: (619) 287-1400
Hours: Mon – Sat 8:00 a.m. – 9:00 p.m.
Sun 9:00 a.m. – 8:00 p.m.
East County Health Food Stores
East County has got the goods for bomb diggity health food stores. Let's find out where it's worth popping into for your next grocery run.
Valley Farm Market Spring Valley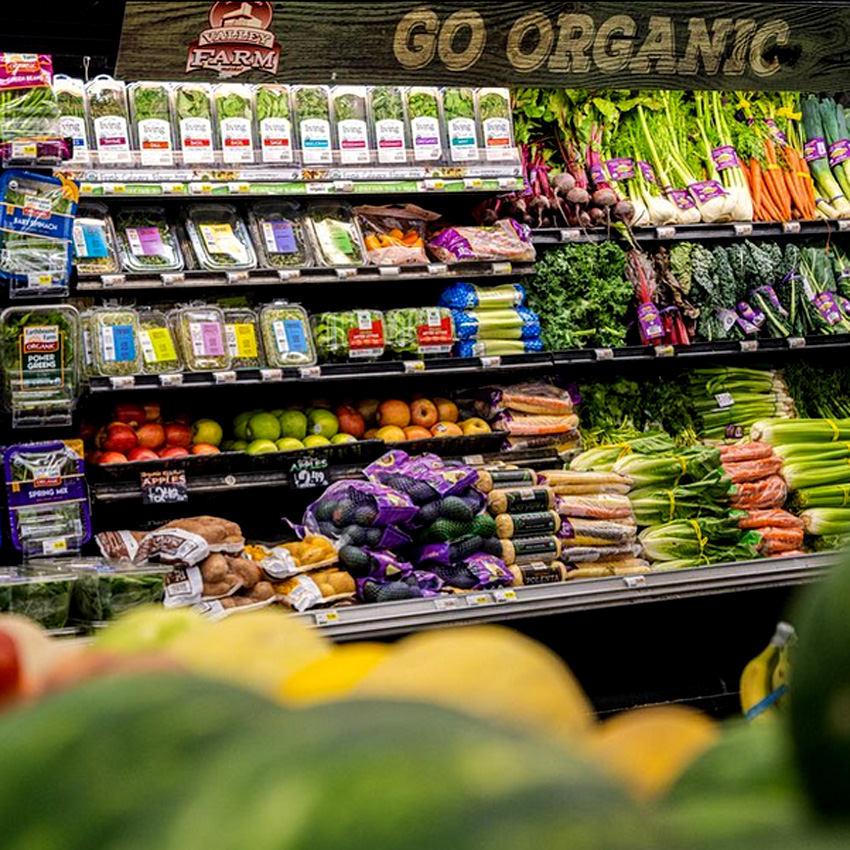 Situated near just South of Eucalyptus County Park in La Mesa you'll find this family-owned grocery joint. They feature a vast selection of range-fed meats and farm fresh produce, which you can order and grub down via their made-to-order menu, which includes burgers, sandwiches and buddha bowls. Their protein bowl section is seriously out of this world–with the choice of grilled shrimp, chicken, carne asada, tofu or kimchi, or pulled pork. To top it off, Valley Farm's wine and liquor section highlights both local and foreign delicacies that complement their grab and go foods perfectly.
Address: 9040 Campo Rd, Spring Valley, CA 91977
Phone: (619) 463-9595
Hours: Mon – Sun 8:00 a.m. – 9:00 p.m.
Barons Market Alpine
Barons Market in Alpine houses friendly staff members eager to kindly assist you in checking off your shopping list items. Here you'll find certified organic and immensely fresh produce, cute houseplants, rare fruits and veggies you won't be able to find at just any grocery store, natural dips, healthy snacks, and beyond. Barons offers live demos and a delicious assortment of varieties at their soup and salad bar, as well as tons of premade salads and ready to eat hot meals. Some local favorites include their natural pure honeycomb and bacon-infused chocolate.
Address: 1347 Tavern Rd, Alpine, CA 91901
Phone: (619) 445-5600
Hours: Mon – Sun 8:00 a.m. – 9:00 p.m.
Harvest Ranch Market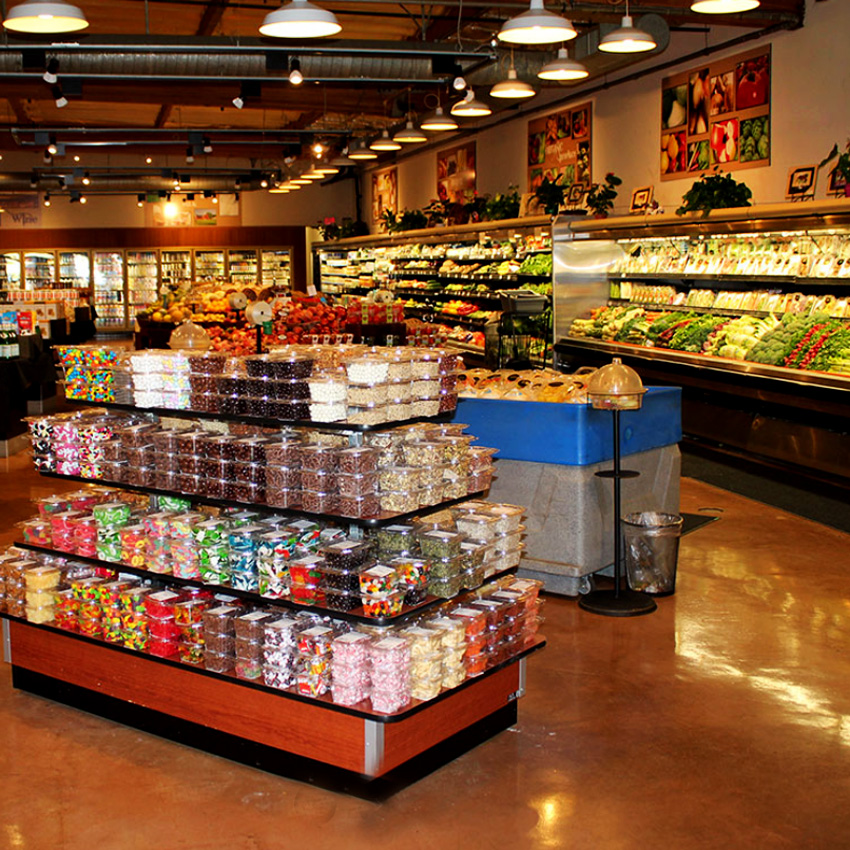 Harvest Ranch–located inland San Diego, North East of the Nature Trails park in Encinitas–is a high-end specialty market with a boat load of gourmet eats, including a freshly made sandwich deli. Where else will you find weekly wine tastings at your local supermarket than at Harvest Ranch Market? Customers rave that the sushi grade seafood and full-service butcher shop offers incomparably tender choices of meats including Kobe beef and prime ribeyes. This lovely grocery store does have steeper prices compared with the vons and ralphs of the world, but for the quality, it's worth it
Oh, and did we mention there is a fresh squeezed orange juice machine on-site, and dessert options a sweet tooth could only dream of?
Address: 759 Jamacha Road #3202, El Cajon, CA 92019
Phone: (619) 442-0355
Hours: Mon – Sun 8:00 a.m. – 8:00 p.m.

South Bay Health Food Stores
South Bay health food stores might be few and far between, but Otay Ranch has a health food store with a shocking amount of delicious goodies.
Barons Market Otay Ranch
This large market–which sits in Otay Ranch Town Center–comes chock-full of fresh produce, yummy self-service hot food and soups made fresh daily. Many like to compare Barons to a local Whole Foods–but better and more curated to the locals and less pricey. Their cold pressed beverages are the perfect wake-up call to get you up in the morning, and they have adorable plants for purchase to help perk up your home. You can also buy a variety of things such as nuts and grains in bulk to store in your pantry. Their vibrantly fresh produce and featured local pies, however, are the true bread and butter at Barons.
Address: 2015 Birch Rd #980, Chula Vista, CA 91915
Phone: (619) 271-3900
Hours: Mon – Sun 8:00 a.m. – 9:00 p.m.
The Last Word on Health Food Stores in San Diego
There are plenty of places to find natural health food and organic produce in San Diego to help you keep in line with your health goals. We hope you get to explore one or all of these health food stores in San Diego, and if you do, please let us know what you thought was great about them! Remember, support local and trust the source.
Thank you for reading and happy grocery store shopping!
About the author: Courtney Pester is a San Diego based San Francisco bred millennial with a passion for design and self-expression. She prides herself in her charcuterie board making skills and has a soft spot for animals. When she's not pumping out articles you can catch her playing tennis and enjoying the diversity of events and restaurants San Diego has to offer.
The banner image of healthy selections is courtesy of WindmillFarmsMarket.com in San Diego