Best Running Trails In San Diego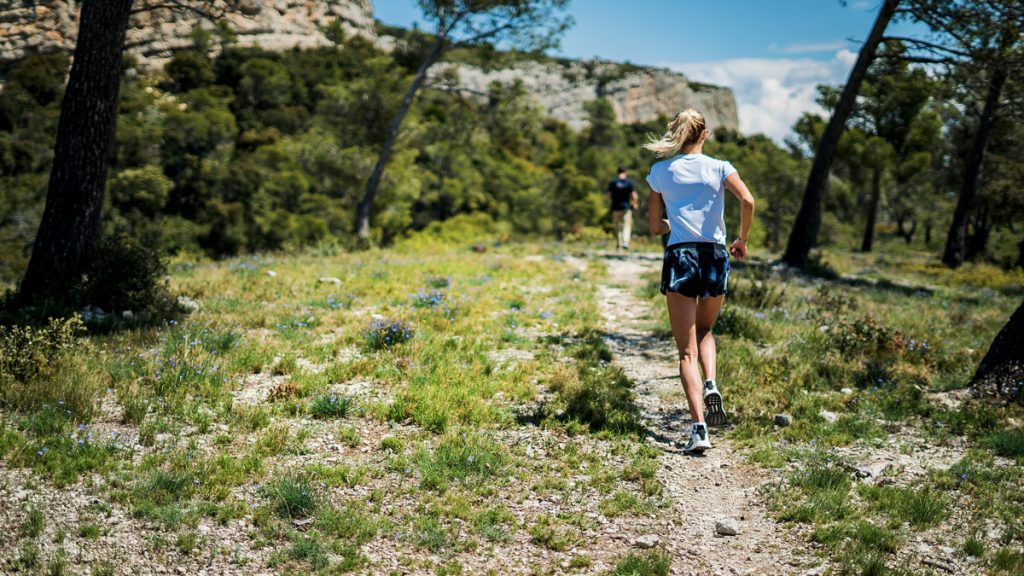 We all have our outlets to keep our sanity in line. For some, a quick escape from the everyday can be achieved through a surf session, bike ride, or strenuous stretches in a hot yoga studio. For others, it's running till their knees feel like they are going to fall off.
Those who have trained their brain to enjoy running, we applaud you for your disciplinary skills. Running isn't for everyone, but it can be considered a form of meditation for those willing to stick it out and maintain their demeanor. Whether you run to stay in shape, to tap into the endorphins that make up a "runner's high," or because you're trying to heal from an injury through sports therapy and physical training, get ready to transcend the crowded beaches and take off to the hills for a nice jog or afternoon stroll, because below we've outlined seventeen of San Diego's best running trails that you'll scale ASAP.
Find the Best Running Trails In San Diego
What better place to get in shape than at one of San Diego's numerous nature trails? With varied terrain, stunning backdrops, eclectic wildlife, and dirt roads off the beaten path, it's no wonder why so many people in the area have taken up trail running as a hobby and preferred method of exercise. You'll never get bored when the geography of San Diego becomes your ever-changing track, because no two trails are the same.
Running Trails Near La Jolla
Locals–if you desire to find pristine running trails in La Jolla, there are a few precious gems that offer different lengths and diverse topography. In another article, we've outlined other bike paths and places to do a bit of hiking if you're keen on learning about the best hiking trails in La Jolla.
Standley Park Trailhead
Located in San Clemente Valley, Standley Park is known for its leisurely landscape that runs through a residential neighborhood. It is a connector to the San Clemente Trail in Marian R. Bear Memorial Park, labeled as easy but intermediate if you continue on to other trails. Being just a short half mile, Standley Park Trailhead is ideal for trail runners, dog walkers, and nature enthusiasts. It's great for bikers, too as it is among one of the top 3 biking trails in La Jolla. Furthermore, those looking to get some quick and convenient movement in to jumpstart the day or wind down for the evening will love our La Jolla nature trails.. Standley Park provides lots of optional paths, one of which you'll find a charming rock garden. There are also lots of edible and medicinal plants on the path, but just be sure to double-check with a plant app before consuming and keep your eyes peeled for poison oak. This trail is good on the knees since it's mostly flat.
Address: 3547 Syracuse Ave, San Diego, CA 92122
Hours: N/A
Marian Bear Memorial Park
A Native American Rancher who was an active community leader, and environmentalist, worked unremittingly to keep the canyons in the area from getting demolished and replaced by industrial buildings and highways. His campaigning ultimately resulted in the preservation of over 467 acres, which you can currently enjoy in their natural state.
Marian Bear is the base of two running trails in San Diego, including the Marian Bear Trail, a 1.6 mile length easy 35-min hike with no major altitude shift, Biltmore Trail which is a little over a mile, and the San Clemente Canyon Trail–the longest trail sitting at 2.9 miles. All trails are easy, flat, and contain creek beds, woodlands covered with coastal sage and chaparral, and side canyons where water flows. In between long strides, there are a few shaded areas you can sit under to catch your breath. It's a great place for dogs and families, in case you want to bring them along during your jog.
Address: 5491 Genesee Ave, San Diego, CA 92117
Phone: (858) 581-9961
Hours: Mon – Sun 5 a.m. – 8 p.m.
Rose Canyon Open Space Park
Rose Canyon Open Space Park really accentuates the dichotomy between nature and concrete. Being in close quarters to apartments at the base of the trailhead can be off-putting for some, so be aware that the start of the trail is a little awkward. Nonetheless, Rose Canyon is a very popular area for hiking, dog friendly, open year round, and there are two great hiking trails in the area, one with a rigorous 10.4 mile loop that the average hiker takes about 3.5 hours to complete, or a shorter 4.2 mile. Both are considered easy, and there is lots of plant life, creek beds, and creek crossings, just not much shade.
If you opt for the longer hike, over the course of 10 miles you'll only go up 600ft in elevation. You can even extend your hike into Marian Bear Natural Memorial Park should you have extra energy to get those extra miles in. Who knows, you might even catch a glimpse of some eclectic wildlife in the area, including raccoons, skunks, rabbits, coyotes, foxes, deer, raptors, snakes, owls, and lizards. This trail can be a little noisy with the nearby freeway and overhead planes, but that won't matter much if you have headphones for your jog.
Address: Regents Rd, San Diego, CA 92122
Phone: (858) 581-9952
Hours: Mon – Sun 24/7
North County Coastal Running Trails of San Diego
Oceanside running trails, Carlsbad running trails, and Encinitas running trails…you name it! Doesn't matter where you go along the North County Coast, you'll find enough terrain to explore to keep you occupied for months if not years.
Crest Canyon Park
Crest Canyon is a small open space park close to civilization that can be found hidden within residential developments in Del Mar. The park showcases the beauty of San Diego's native plant life, including Torrey Pine trees and chaparral. There are a handful of trails at the base of the park, one being a simple loop trail that is just over a mile. This trail gradually slopes and is well-packed with dirt, though there is loose and sandy soil along the terrain that might prompt you to wear proper trail running shoes. Crest Canyon Park is a segway to many Del Mar running trails that offer pleasant views of the rugged coastline and perfect running routes for beginner to professional runners.
Consider wearing calf high or knee-high socks as there is some thick brush and vegetation surrounding the path that can irritate the skin or contain bugs. Likewise, wear sun protection, as this short trail is mostly open with little shade. Crest Canyon Park has another trail that is under five miles and is dog friendly in case you want to pounce around with your pup for an extended run.
Address: 2250 Del Mar Heights Rd, San Diego, CA 92130
Hours: Mon – Sun 8 a.m. – 7 p.m.
Carmel Mountain Preserve
Carmel Mountain Preserve is heavily trafficked, but there are some slices of solitude for you to relish along the route. This moderate hike ascends 629 ft and is round trip a 5.3 mile big loop, in which you'll come across a Eucalyptus grove, buckwheat, lemon berry, and chemise among other plants growing in the region. This preserve offers a well-balanced trail with a few steep inclines and an awesome viewpoint at the midway mark. It's a spectacular way to add some spice to your regular running routine.
Hikers note that it can be a bit tricky to navigate the trail, so if you're open to wandering, then enjoy and roam free. If you're directionally challenged, however, be cautious and keep your map handy–it is difficult to stay on the loop and one can easily steer off course. Since dense housing developments surround the space, you'll want to look out for a gravel road which will lead you to the entrance of the preserve. Winter or spring is the ideal time of year to visit, as it can get very hot in the Summer since it's away from the coast and lacks ample shade.
Address: 11600 Clews Ranch Rd, San Diego, CA 92130
Hours: Mon – Sun 6 a.m. – 8 p.m.
North County Inland Running Trails of San Diego
North County Inland might be a bit hotter in the Summer months than trails on the coast, but if you like to feel that extra burn, don't skip out on any of the running trails in San Marcos. That being said, Escondido running trails and South Park running trails are just as multifaceted, so you really can't go wrong. Let's peep some running trails in San Diego that lie inland of North County, shall we?
San Dieguito River Park
San Dieguito is a pure beast of a park, flaunting 14 hiking trails that are beginner to advanced, which gives you a ton to choose from. Many of these trails provide front row seats to witness gorgeous views of Lake Hodges, perfectly situated below green and yellow rolling hills. You can take it easy and stick to the trail that gains mild elevation, or opt for the trails with a higher elevation, reaching up to 1,200 ft. Lake Hodges' gorgeous backdrop, breathtaking scenery, and diverse trails make it a prime spot to get your run on. The number one trail in the park is the Bernardo Mountain Summit via the Coast to Crest Trail, which is 7 miles in length and moderate, but if you're feeling extra adventurous you can jog the Del Dios George trail, which is around 10.4 miles. No matter which trail you decide on, there are plenty of picturesque places along the trail to pile out and stop for a quick refresher and cool down.
Address: 8173 Del Dios Rd, San Diego, CA 92127
Hours: Mon – Sun 6 a.m. – 7:30 p.m.
Black Mountain Open Space Park
At over 2,352 acres, Black Mountain Open Space Park is the ultimate place to venture for a morning walk, midday lunch break, or evening jog. The summit of Black Mountain, which is 1,553 feet and positively breathtaking, lies at the center of the park, providing 360 degree views of the natural landscapes nearby. Look closely and you might even be able to see some mountain lilac in bloom.
You can take the 4.3 mile loop trail of Miner's Ridge loop to get up close and personal to the beauty of Black Mountain, a wildly popular place to mountain bike, hike, and trail run. We highly encourage you to opt for a morning or early evening run because once the sun says hello for the day, it's a scorcher and you'll be dripping in sweat. Bikers to hikers ratio is high, so be on the lookout for bikers ripping around blind corners as it is a slightly narrow trail. It is also recommended to wear sturdy shoes with traction as the path is made of gravel and small rocks which can be slippery.
Address: 1 Father Junipero Serra Trail, San Diego, CA 92119
Phone: (858) 538-8082
Hours: Mon – Sun 6 a.m. – 7 p.m.
Running Trails In Central San Diego
Running trails in Central San Diego have so much to offer and most have viewpoints that will take your breath away.
Tecolote Canyon Natural Park
Tecolote Canyon offers a moderate yet fun challenge for trail runners with trails ideal for running and witnessing authentic wildlife in their natural habitat. You can either hit the Tecolote Canyon Trail–a 6.7 mile moderate trail–or the north end, which is slightly easier and a little over half the length of the main trail. Both trails have long stretches of direct sunlight, so lather up that sunscreen before hitting the ground running. The shorter trail is great for a chill workout and the longer trail, which has a few dips throughout, toughens the souls of runners who seek a good challenge. If you take a detour you might see a swing, lake, and beautiful flowers in what appears to be a meadow. With luck, you might see some coyotes or snakes along your jog, too.
Address: 5180 Tecolote Rd, San Diego, CA 92110
Phone: (858) 581-9944
Hours: Sun – Sat 9 a.m. – 4 p.m. – another source says 24/7
Closed Mondays
Switzer Canyon
On a time crunch? Switzer Canyon is a quiet, beginner trail that is fairly flat and under a mile. Located to the east of Balboa Park in Burlingame, this rocky hike is up a creek bed, and you'll have to walk alongside a golf course and through a tunnel to get to a trailhead. Beware that some hikers claim Switzer is a bit creepy, so if you're not a fan of desolate feeling trails or plan to run solo, stay alert. Hikers also claim that due to the layout of the trail, it wouldn't be considered a destination trail so if you don't live close by, it's not worth the drive. Wear shoes that grip, as the loose pebbles and rocks make it quite slippery, which is great for those who like an added challenge to their runs.
Address: 2800 Maple St, San Diego, CA 92104
Phone:(219) 525-8213
Hours: Mon – Sun 24/7
Sunset Cliffs Coastal Trail
Sunset Cliffs Coastal Trail–which stretches along the Pacific Ocean and borders the western edge of Point Loma–is by far the most picturesque of all the Ocean beach running trails. It spans 68 acres and contains multiple conservation areas with mystic and humbling topography. The trail itself is 2.4 miles out and back, and the whole way through you'll have the pleasure of cooling down with the ocean breeze. Sunset Cliffs Coastal Trail is a fabulous place to go if you need a burst of inspiration, as the panoramic views are truly mesmerizing. Atop the bluffs is a phenomenal place to watch the sunrise or sunset, which is how it got its name. Go figure! If you squint hard enough, you might see some California gray whales.
Address: 1371 Sunset Cliffs Blvd, San Diego, CA 92107
Hours: Mon – Sun 6 a.m. – 9:30 p.m.
Running Trails In the East County Area of San Diego
Running trails in San Diego boast incredible vistas, lively wildflower displays, and charming trails that accentuate the natural wonders of the area. East County has a handful of nourishing trails that are too good not to be shared.
Rancho Mission Canyon
This open space offers a long trek, so you can explore as much of the canyon as possible. Absorb the scenic views of the hillside draped with chaparral and other weathered plant life as you ascend on a 5 mile, easy to moderate trail run. At Rancho Mission Canyon, your journey commences at the end of a cul-de-sac in a residential neighborhood, where you'll pass through a gate and head down a cemented street to a dirt path. In the Spring and part of Summer–with enough rain–the hills come alive, flashing their vibrant greens and wildflowers, which offers a nice contrast from the surrounding urban landscapes. You'll also come across varied trail obstacles such as a small wooden crossing over a stream, making your run a playground of the earth. This Canyon is Near Mission Trails Regional Park, with less crowds, so you can run in peace and avoid dodging an influx of people on the trail.
Address: 6005 Larchwood Ave, San Diego, CA 92120
Phone: (619) 525-8213
Hours: Mon – Sun 24/7
Mission Trails Regional Park
Mission Trails draws large crowds, and it's no secret why. With over 65 miles of trail spanning across nearly 7,200 acres, it would be next to impossible to have a bad time here. The trails are eclectic and full of hills and ravines that serve as pleasant paths for runners, and hikers alike. It's a popular spot for hiking, trail running, bird watching, and posting up for a nice little picnic, and it is truly beautiful to visit anytime of day. Along the trails you'll be greeted by lovely, vibrant flowers, bees and birds. The natural space includes small creeks, scenic overlooks, and patches of dry grass to pop a squat and take 5. You can also take this trail to Lake Murray running trail in San Diego if you fancy a quick dip in a body of water.
Address: 1 Father Junipero Serra Trail, San Diego, CA 92119
Hours: Mon – Sat
Stonecrest Village Trail
Stonecrest Village Trail is a super easy 1.4 mile out and back trail that is one of the few wheelchair-accessible and stroller-friendly running trails in San Diego. The path is paved with asphalt and has a steady decline and incline on the way back, with a gentle grade of about 5% for the majority of the trail. It is quiet, short, and doesn't offer anything crazy cool scenery-wise, but it is clean, partly shaded, mostly flat, and a fine place to get a rapid run in if you're in a pinch for time. Think of this trail as a perfectly manicured sidewalk.
Address: 3323 W Canyon Ave., San Diego, CA 92123
Hours: Mon – Sat
South Bay Running Trails of San Diego
Believe it or not, Chula Vista running trails have stunning views throughout their manicured paths that create the perfect paradise for trail runners, mountain bikers, and outdoor goers.
Lower Otay Reservoir
Soak in the views and desert charm of Lower Otay's vast reservoir via the Lower Otay Lake Trail. This 7 mile route is the perfect place to get a long run in, where you'll have continuous views that provide distinct views of the lake from every angle. There is even a path to the shoreline if you want to rest your legs and give your lungs an intermission.
Lower Otay Reservoir is the type of trail you can't really get lost on, though the trail does get overgrown in the early Spring when showers cause flowers and foliage to bloom. In other words, high socks are your best friend here. In the hotter and drier months, the brush that surrounds the trail grows thinner and more sparse, providing you with different scenic experiences year round. There are also some small bridges with cute lookouts along the route if overlooks are your jam.
Address: 1750 Wueste Rd, Chula Vista, CA 91915
Phone:(415) 648-4420
Hours: Mon – Sun
Mountain Hawk Park
Mountain Hawk Park spans across a beautiful 12 acre plot of land, complete with an amphitheater, barbecue grills, gazebos, picnic areas, play equipment, a soccer field, a splash pad, walking trails, and a big open space. The park itself is a low-key yet inviting place for a run, but with little trees or shade it might be too hot in the summer months, unless you don't mind sweating profusely. The paved bike path is a nice and wide, low demand place to go for a light jog. Lower Otay Trail and some other more primitive trails can be accessed via the Mountain Hawk Park, as the park is used to connect to large circuits. Enjoy panoramic views of the mountains and run over crushed gravel and sand. This park has several good running trails in San Diego.
Address: 1475 Lake Crest Dr, Chula Vista, CA 91915
Phone: (619) 409-5979
Hours: Mon – Sun 7 a.m. – 10 p.m.
Mother Miguel Mountain Trailhead
The Mother Miguel Mountain Summit, which is 1,500 ft high with an elevation gain of almost 1000ft, is an ideal place to spot birds, butterflies, and appreciate the diversity of the local plant species in the area. This running trail offers gentle switchbacks, so you won't feel nauseous regardless of the pace you plan to run. There are a couple trails at the base of the trailhead, one being a 4-mile out and back trail, and another being an intermediate 2.2-mile trail. Enjoy the blooming wildflowers as you run along one of the numerous, slightly eroded dirt paths, and enjoy views of Sweetwater reservoir, Coronado Islands, San Diego Bay, Downtown San Diego, and the Pacific Ocean once you get to the Mother Miguel Mountain Peak.
Steer clear of the trail if it rains and stay on the path to prevent erosion or damage as it is steep in the rain, and wear protective gear as the lack of shade will affect you on a warm and sunny day.
Address: 2345 Paseo Los Gatos, Chula Vista, CA 91914
Hours: Mon – Sun 5 a.m. – 9 p.m.
It doesn't take much to see to realize that the beauty of San Diego is versatile and boundless. Of course, there are tons more options than those provided on this list–such as the Bonita golf course running trail–but it's simply too difficult to list all the running trails San Diego has to offer within a single article. If you're more of a hiker than a runner, take a look at our detailed list of top hiking spots in La Jolla. The trails we've mentioned above are varied in length and difficulty, but the hiking spots will provide you with surreal views and a sore booty.
We hope you get to try out these awe-inspiring trails for your future trail runs. Feel free to let us know how your experiences were! Now that you know all the hot spots to go, get your trail run on, get to stretching and go burn those calves! Summer is around the corner and that means it's time to whip your bum into gear.
If there are any other places you consider to be among the best running trails in San Diego, let us know, and we'll keep that in mind when we craft future trail guides!
About the author: Courtney Pester is a San Diego-based, San Francisco bred millennial with a passion for design and self-expression. She prides herself in her charcuterie board-making skills and has a soft spot for animals. When she's not pumping out articles, you can catch her playing tennis and enjoying the diversity of events and restaurants San Diego has to offer.