Del Mar Free Summer Concerts: July 2016 Lineup
The Del Mar Racetrack summer season is a beloved staple in the San Diego and Southern California regions for good reason, one being the live music. Each year, this long-established venue offers free summer concerts in San Diego's northern city of Del Mar. (Heads up: All concert attendees must be 18+.)
Here are the free music shows in Del Mar, starting at 4 pm on designated Fridays, to get excited for July 2016. (Stay tuned for the August shows our next blog post : August 2016.)
Fitz & the Tantrums (Friday, July 29th) + Happy Hour Specials
Before his free San Diego concert begins, make sure to stop by happy hour. On Friday, July 29, from gates opening until 6 pm, signature cocktails are half off throughout the track. This includes drinks like the new Cucumber Chili and Billionaire Margaritas. (Just the thing for this wicked heat wave.) Brew lovers can purchase two 12 oz. cans of ice cold favorites like Coors Light or Tecate for only $12 all day, in the Cabana area, that is.
After the last race, get ready for: Fitz & the Tantrums at the Del Mar Racetrack. This band, which started in Los Angeles, is an American neo soul/indie pop band has grown in popularity & style since being deemed a "band to watch" by Rolling Stone in April 2011.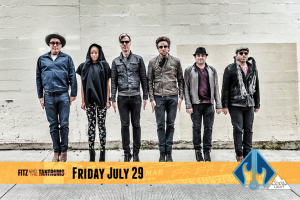 How the group began: Fitz created Fitz & the Tantrums from "a need to be creative and not lose my mind over a breakup." Since then, he and his fellow bandmates have put everything on the line to become a chart-topping modern, pop combo that wows its audiences and brings an incredible zeal and energy to the stage.
Learn more about this band on their website here.
(Oh, and to get a taste of their music, watch their makes-you-want-to-dance music video:The Walker. Yes, you might recognize the song from this Supercuts commercial.)
Del Mar Racetrack's Reggae Fest (Saturday, July 30th)
Dive into the all day Reggae Fest in Del Mar featuring amazing musicians and musical artists, such as:


Son to Bob Marley. Winner of seven GRAMMY® Awards and an EMMY®. Critically-acclaimed musician of 3 decades and 16 albums. Ziggy Marley has been carrying on his family legacy through his own influential music. At his Del Mar music show this year, expect a powerful, immersive experience from this world-famous musical artist.
This locally-based San Diego reggae band (which features punk sounds and a variety of instruments) has won several awards, receives regular airplay on a variety of San Diego radio air stations and, at Longboard in Pacific Beach, used to perform three sets each and every Sunday and became such a staple that they were Southern California's longest running live reggae residency.
Hear some of The Devastators' latest tunes here.
 DJ Carlos Culture
Rock out the day party leading up to the main headliner with DJ Carlos Culture. Listen to some of his latest beats here.
 Ginger Roots and the Protectors
The day activities will also host Ginger Roots and the Protectors, a local San Diego band with a distinctive style perfect for summer. Learn more about this local group and hear some of their music here.
Other San Diego Summer Concerts 2016
Learn about more live music shows in San Diego this summer, such as the Del Mar free concerts 2016.