Watch a Horse Race at the Del Mar Racetrack

Del Mar Race Days
The Del Mar Racetrack has been exciting crowds since the 1930s. Year after year, people come to dabble in the dining, dress to impress and, of course, experience the excitement that is horse racing.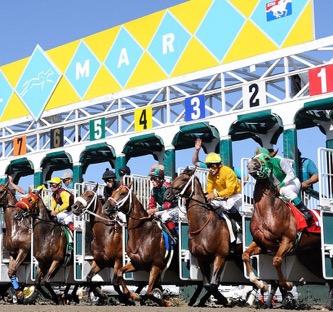 History & Background
Remember Seabiscuit, the famous motion picture released about an unlikely horse winning an incredibly competitive race? That film was based on a true story; and that true story happened here in Del Mar.
Speaking of films, it's exciting to note that when you go into the venue, you're walking where famous Hollywood celebrities have. It's been a much beloved place for Hollywood stars to spend summers, 40s stars like Ava Gardner, Paulette Goddard and Pat O'Brien.
This venue only really took a break once, during the time of World War II. However, it revived quickly after and continued to grow into the venue it is today.
Race Seasons & Admissions
There are two seasons: Summer (June through September) and Fall (end of October through end of November).
On most days, you can book clubhouse admission and stretch run admission. If you're looking for a more exclusive experience, you can book an all day 4 person table. Lounge at your Clubhouse Terrace table or scan the horses from your spot near Cafe Del Sol for the daily fee.
The ultimate exclusive experience is, of course, going to the Turf Club. This private club is for members or guests of members, where the dress code is upscale and the experience even more so. To learn more about the view these club members get, as you can too, check out https://www.dmtc.com/groupsales/venue/turf-club-tables.
Other Attractions
Even if you're not the biggest fan of horse racing, we promise there will be no boredom at the Del Mar Races. Besides the action on the racetracks, also look forward to:
– The famous Hat Contest on Opening Day
– Friday Night Concerts that are included in the cost of admission
– Family Fun Days hosted on the weekends to make sure kids have their fill of entertainment
– Giveaway Days are select days where the races have a set item they give you…for free!
There are also plenty of food options available both at the track and nearby. Popular restaurants in the area include The Fish Market, Pamplemousse Grill, The Brigantine, and MARKET Restaurant + Bar.
Nearby Night Activities
After a day at the fair, you may be pondering how to spend the evening. Check out activities and events happening in nearby La Jolla at our Entertainment Page.
If you're in the area at the same time Del Mar's county fair is happening, typically in June and July, learn more about it at our Del Mar's San Diego County Fair Page.