Looking for Dispensaries Near Arizona State University? Try These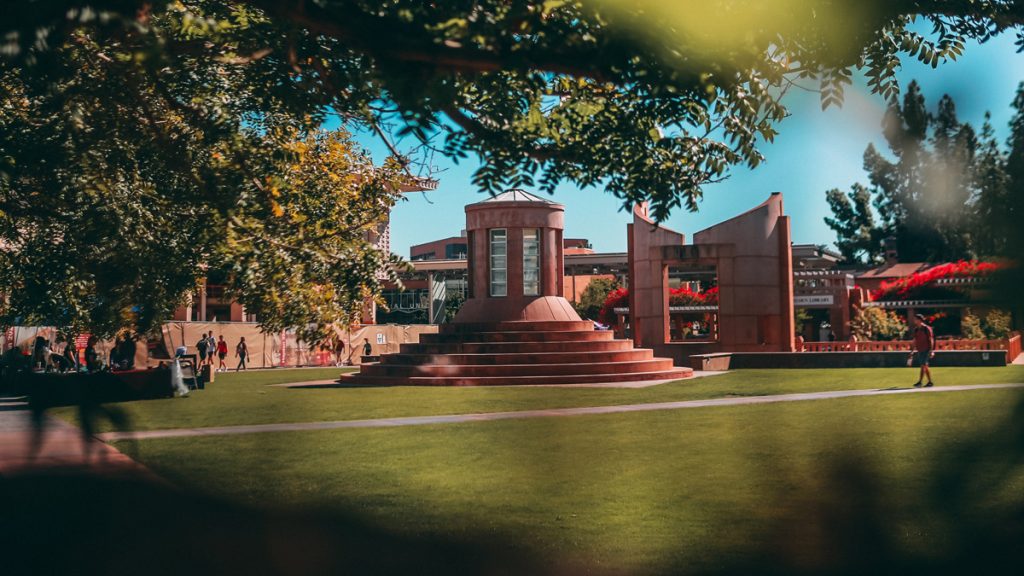 Located in the southwestern part of the United States, Arizona is best known for its many beautiful natural sites. These include the breathtakingly vast Grand Canyon, as well as the cactus-filled Sonoran Desert and Saguaro National Park. Other than its natural beauty, though, Arizona has recently been attracting visitors, tourists, and new residents alike.
The legalization of marijuana for recreational and medical use in late 2020 led to a spike in the presence of cannabis dispensaries across the state. These dispensaries were built to cater to the ever-rising needs of customers and a growing market, and in turn, the number of dispensaries in Tempe, Arizona is also on the rise. This is largely thanks to the combination of the legalization of marijuana and the Arizona State University marijuana research efforts.
Because they're a research institution, and considering the laid-back ASU smoking culture, many cannabis-related studies have been conducted here to gain further insight into the numerous medicinal and recreational benefits of the plant. With the sudden increase in the number of dispensaries built to capitalize on the new market, many people may find it difficult to choose from the many dispensaries that are offering fairly similar THC products.
Best Dispensaries Near Arizona State University
Before scouting out a cannabis dispensary near Arizona State University, it is important to first do your research about the different options available. Having a comprehensive summary of some of the best cannabis dispensaries near ASU would go a long way in helping narrow down your choices. With that information in tow, you'll have more than enough information to make the best choice for your cannabis-related needs – no matter which one of the dispensaries in Tempe you choose!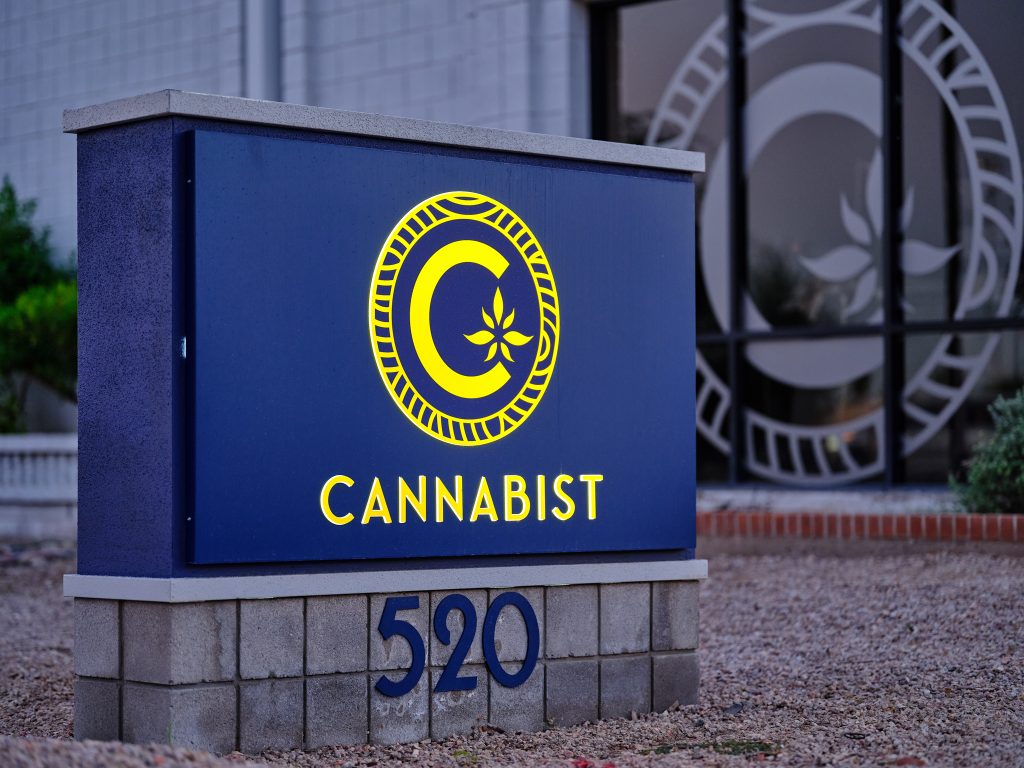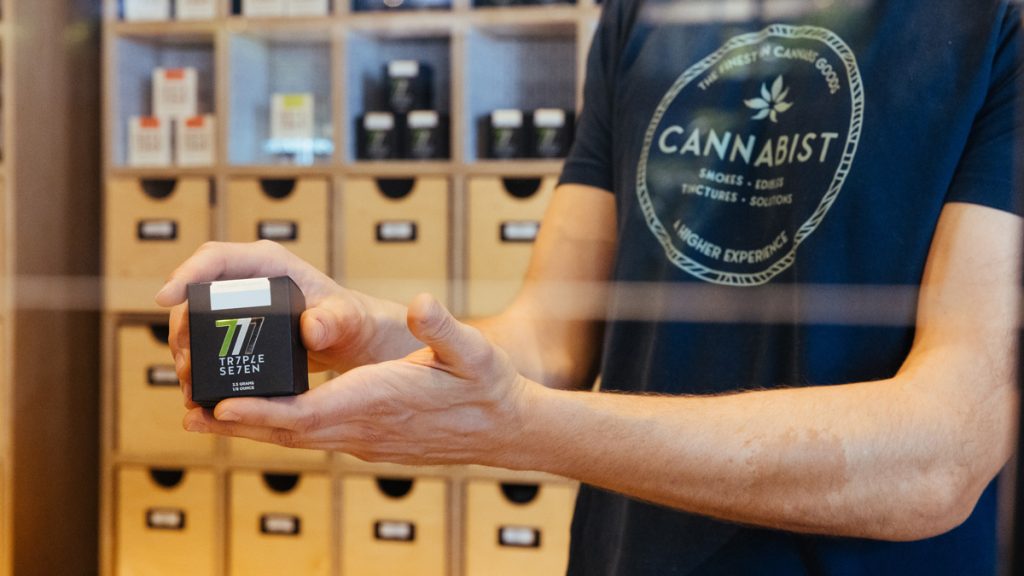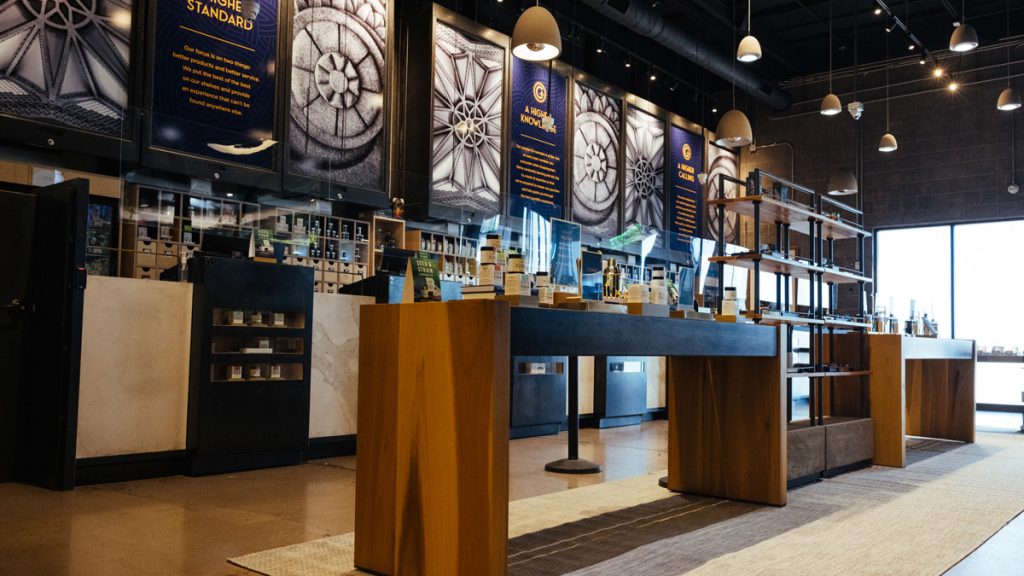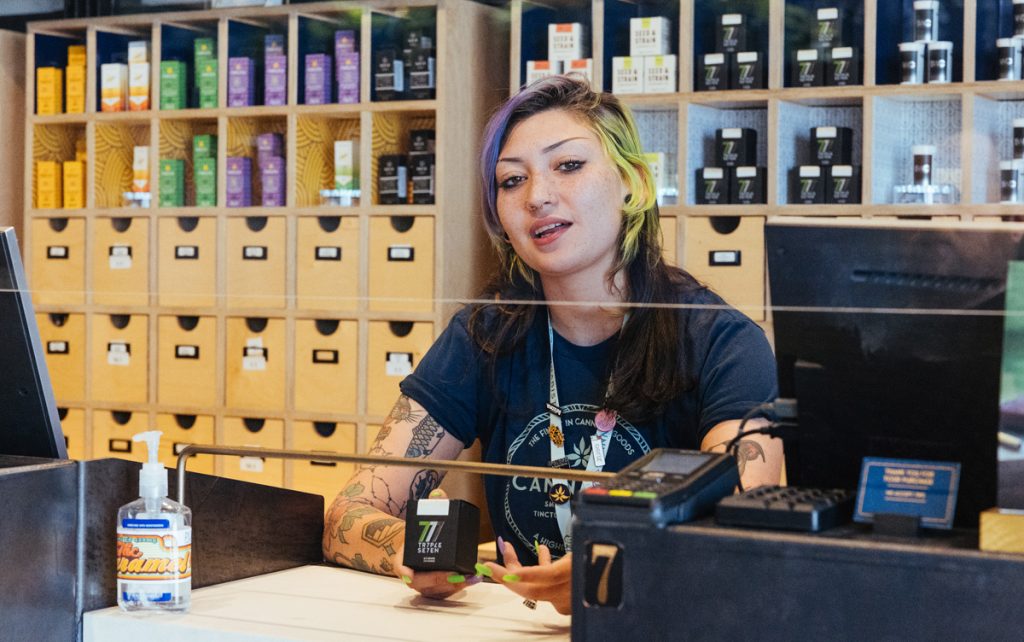 Cannabist Tempe
The large, all-white, warehouse-like building with a giant banner with the one word emblazoned across it – "Dispensary" – characterizes the basic yet understated outside appearance of Cannabist. A typical Tempe resident or visitor would wonder, "Which is the best cannabis dispensary near me?" Well, if the services and products at Cannabist are anything to go by, then we have the answer to that question right here.
The simplicity on the outside doesn't hint at the quality and sophistication on the inside of the store, where jewelry-like displays have been set up to show customers the diverse and high-quality assortment of products that the dispensary offers. On its website, the Cannabist Tempe menu breaks down all details that would interest a potential customer.
Additionally, the support team of employees, which includes friendly and knowledgeable marijuana experts, makes Cannabist your go-to recreational dispensary in Tempe AZ. No doubt, this is definitely the place where you can go to access high-quality and trusted cannabis products. (By the way, if you're looking for an incredible dispensary in San Diego, the Cannabist store in LaJolla also provides similar excellent services!)
Address: 520 S Price Rd., Tempe, AZ 85281
Phone: (800) 456-2455
Hours: Mon – Fri 9 a.m. – 8 p.m.
Sat: 10 a.m. – 8 p.m.
Sun: 12 p.m. – 6 p.m.
JARS Cannabis
With various stores in different states across the United States, JARS Cannabis is a popular and well-known marijuana dispensary located near Arizona State University. JARS Cannabis focuses on edibles for those who prefer not to smoke or vape their cannabis. They offer THC-infused candies, powders, beverages, chocolates, cookies, and gummies, among other products.
However, edibles may not be an ideal solution for many people, as they might prefer to get the direct effect of cannabis or they want to avoid sugar or other processed foods. Understandably, this preference can draw consumers to a dispensary that focuses more on unprocessed marijuana products. Though if you have a sweet tooth, this one will serve your needs just fine!
Address: 2424 S 24th St., Phoenix, AZ 85034
Phone: (602) 675-6999
Hours: Mon – Fri 7 a.m. – 9:45 p.m.
Nirvana Center
Located at the corner of Hardy and Alameda, the Nirvana Center in Tempe is tucked away inside a red brick warehouse fitted with dark glass windows. Unfortunately, spotting Nirvana Center is not easy, as it's relatively isolated in an area with few buildings.
However, an eagle-eyed person would know where to look because the building is decorated with bright green letters on the façade of the warehouse. Aside from the location issue, though, this cannabis dispensary offers quality scientific know-how concerning marijuana and its related products. In addition, the business also grows its own cannabis to control the quality of the strains that they offer their clients.
Address: 2715 S Hardy Dr., Tempe, AZ 85282
Phone: (480) 378-6917
Hours: Mon – Sun 8 a.m. – 10 p.m.
Additional Dispensaries to Consider
In addition to these cannabis dispensaries in Tempe near the Arizona State University campus, there are other equally solid cannabis dispensaries. However, they are located slightly further from ASU. Nonetheless, these dispensaries also offer quality products and services and deserve a shout-out for their commitment to serving the community.
The Superior Dispensary
Located in Phoenix, The Superior Dispensary is among the top four most recommended dispensaries in the larger Arizona. Located not too far from Arizona State University, near Tolleson and Levine, this cannabis dispensary is also a good one to choose for a wide selection of pre-rolls, concentrates, edibles, and tinctures.
If you happen to swing by Superior, their knowledgeable sales team would be more than happy to share their insights and services with a fellow cannabis enthusiast. Try to time your visit to give yourself plenty of time to browse, though, as they sometimes close early.
Address: 211 S 57th Dr., Phoenix, AZ 85043
Phone: (602) 926-9100
Hours: Mon – Fri 8 a.m. – 8 p.m.
Giving Tree Dispensary
Since its inception in 2013, Giving Tree Dispensary has dedicated its services to providing Arizona residents and visitors with high-quality cannabis products for medical and recreational use.
The dispensary ensures that only quality cannabis products reach its customers by growing and controlling the quality of cannabis they produce. Be sure to call ahead before you go to Giving Tree, though, as they often tend to run out of products and don't always have a full inventory in stock.
Address: 701 W Union Hills Dr., Phoenix, AZ 85027
Phone: (623) 242-9080
Hours: Mon – Fri 8 a.m. – 10 p.m.
truBLISS
truBLISS prides itself on being an affordable dispensary that offers organic and conventionally grown cannabis for its customers. Besides offering good quality marijuana products at competitive prices, the dispensary also educates its customers on cannabis and its related products.
This helps to make sure that clients can enjoy a healthy experience at their store. Located in the Gateway Norte Parkway Complex, truBLISS is a little bit far away from Tempe proper, but this dispensary happily serves customers in the Mesa region.
Address: 6844 E Parkway Norte, Mesa, AZ 85212
Phone: (480) 325-5000
Hours: Mon – Fri 8 a.m. – 9 p.m.
Sol Flower Dispensary
Located near the Tempe Marketplace, Sol Flower Dispensary provides products like edibles, vapes, tinctures, and topicals. This dispensary focuses on the healing aspects of marijuana and offers complimentary wellness consultations by appointment.
Besides the healing element, the dispensary also seeks to provide a safe environment for its clients, though some people do find their posted security guards to be somewhat daunting. For those who want to learn more about cannabis, Sol Flower Dispensary also offers regular educational seminars for customers.
Address: 13650 N 99th Ave, Sun City, AZ 85351
Phone: (623) 246-8080
Hours: Mon – Sun 8 a.m. – 10 p.m.
Arizona Organix Dispensary
Since 2012, Arizona Organix Dispensary was one of the first dispensaries to begin offering marijuana services and products to its clientele in Glendale, Arizona. The dispensary provides both recreational and medicinal cannabis, as well as hardware and accessories for using their products.
While their products tend to be on the more expensive side, and their inventory is somewhat small, its longevity in the market is proof that the quality of its products and services meets customers' expectations.
Address: 5301 W Glendale Ave., Glendale, AZ 85301
Phone: (623) 937-2752
Hours: Mon – Sun 8 a.m. – 10 p.m.
Frequently Asked Questions
Is it legal to buy weed in Arizona?
Buying weed for recreational use has been legal in Arizona since 2020, but purchasing cannabis for medical use was legalized back in 2010. Regardless if you're using cannabis for medicinal or recreational purposes, you can rest assured that you can easily buy marijuana in the state of Arizona.
How old do you have to be to buy weed in Arizona?
To buy weed in Arizona for recreational purposes, a customer must be above 21 years old, as stipulated in law. For medicinal purposes, you'll need to be at least 18 years old, or have a parent sign off on your MMJ card.
Are Arizona dispensaries cash only?
The federal laws concerning cannabis requires cash-only transactions when buying cannabis in person. With that in mind, though, most dispensaries have an ATM on the premises.
Shop Tempe Arizona Dispensaries Today!
While there are many cannabis dispensaries in Arizona – and specifically in the Tempe area – the market is still open for more dispensaries to enter this ever-growing market. However, among the existing dispensaries in this region, Cannabist unquestionably offers the best quality products and services for its customers near Arizona State University.
The other dispensaries also have their own quality inventory for sale, as well, making the hardest part about buying marijuana in the Grand Canyon State trying to decide where to shop. And no matter how you enjoy your cannabis, these Tempe dispensaries have got you covered!