A dog friendly walking tour of Bird Rock and the La Jolla Village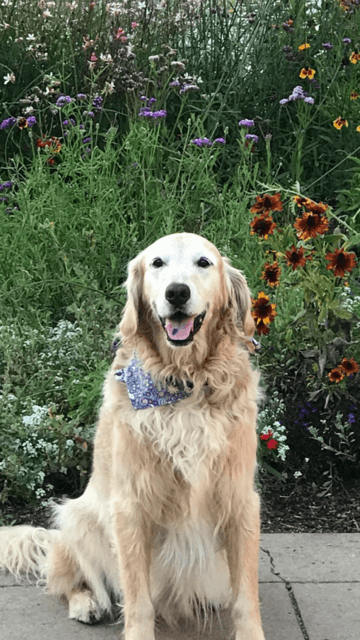 Hi there!  I'm Seymour, an extremely handsome (if I do say so myself) twelve-and-a-half-year-old golden retriever.  And, just to pat myself on the back a bit more- I am a pet therapy dog who has served humans in hospitals, schools, and libraries my entire life. Cool, right?
My mom and dad moved us all to La Jolla two years ago, and I am just delighted.  I thought that Burlingame and Healdsburg businesses were kind to me – and then I met La Jolla.  Wowzer – I kind of sort of thought that restaurant patios and retail stores would be nice to me, but here – even the banks and UPS stores toss me a bone (or two). There are so many great places for dog owners to bring a dog in La Jolla.
I love to go to the best dog parks in La Jolla or sometimes even one of La Jolla's dog friendly beaches. Today is a on the town – a dog friendly walking tour. Who wants to come with me on my daily walking tour of Bird Rock and the La Jolla Village?
Ready, set – let's go!
I wear a bandana every day – it gets me a few compliments I must say.  First stop – Starbucks on La Jolla Boulevard.  Eric and Vesso are always happy to see me and fill that cup up with whipped cream (yum!) Puppychino LICKETY-split.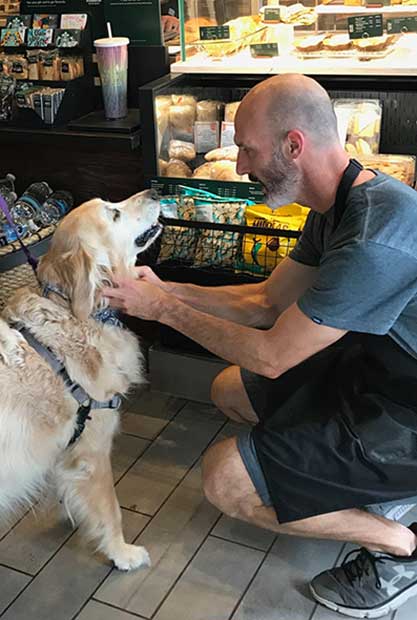 And, it's on the house! Thank you Mr. Starbuck.  I'm so sought after! Either Lydia or Ali at the corner stand sandwich shop spot me and more fun begins. I run in and get yogurt samples and plenty o' chew snacks.
Next stop – All About Animals. Linesse always has treats in a cool little can on the shelf.  Bonus- Mia the cute young collie hears me coming and puts her perfect paws up on the half door.  She totally has a crush on me- it's so obvious – she follows me around the store and comes into the back with me when I get my nails done.
Now approaching Progress! Not only do I get a little something, but I also get to hang with my pal Charlie – he's eternally sweet and happy.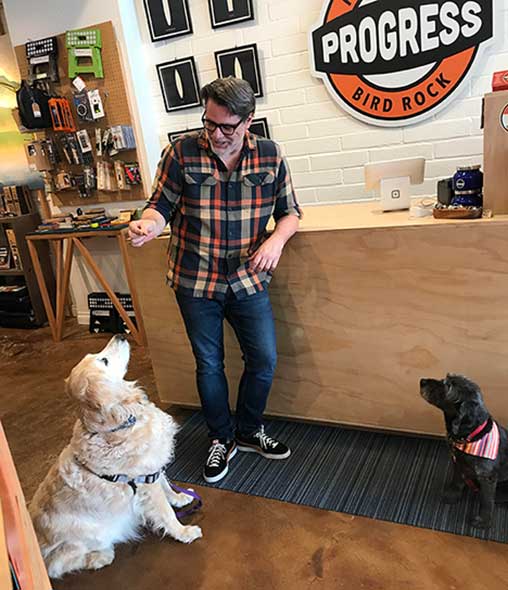 Down the street we go and I always give a long peek into Beaumont's- we've had many lunches and dinners on the patio.  I'm usually crashed and lying my 74-pound body right down the servers aisle, but not one server ever even mentioned moving me.
And what a balancing act for them – four ginormous plates of food and drinks and then the step over.  I'm impressed!  And I must confess – on the way out of the restaurant I snap up The Best fries in town that I'd been eying.  I'm quick, too.  Fries are my deal.
Oh happy day, now approaching Mimi and Red.  I'm such a pop star in that place.  Pretty girls rapidly surround me and give me extra snacks when my mom browses the racks. And if she goes into the dressing room – score – I'm spoiled rotten.  I lay on my back and Charlie gives me a tummy rub and extra snacks and I'm a happy puppy.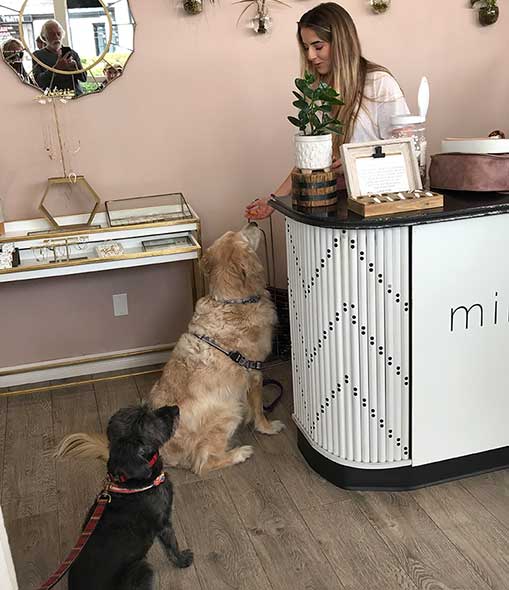 Ok, next! We all go to see David at Be Seen Optics.  After a few snacks I quickly lie down on the comfy carpet and hope that my parents make this a long visit.  I'm a major fan of this groovy store.  Lots of dogs come in here, but I just know that David loves me the best.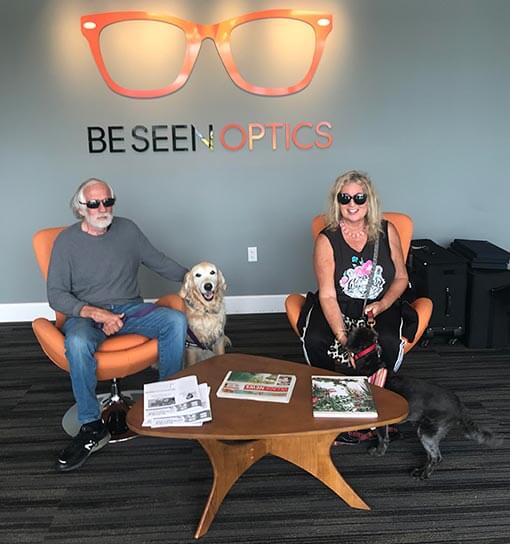 Wheat and Water, a restaurant in Bird Rock, lets me onto their awesome patio.  We have good salads there and I rack up some super chicken chunks.  He he- I bore holes into my mom's eyes, totally working her, and I get everything – I mean everything.  Like at least a third of her dinner – always.
But Lupi's is my absolute fave! Have you tried their breadsticks?? The owner literally greets me as I come in with two – or three breadsticks.  Delish.  Home baked. He would give me handfuls if my parents didn't continuously tell them the vet wants me thin.  Trust me, I'm just fine.
All right, all right, all right! News alert, snack alert – I'm coming into the Village now.  Birdrock is awesome – the Village is awesome on steroids.  First stop – Sugar and Scribe.  Donna spoils me so much it's ridiculous, but I'll take it.
Over to Silverado to Brick and Bell.  Those scones, those scones, those scones!  Well, you get the picture.
A big shout out to Meanley's Hardware for inviting us fur babies into the shop and rewarding us with a yummy snack.
A quick stop by the Public House because Mel is a Big fan of mine- major hugs.  And now – Warwick's!  Ahem – I recently made it into their newsletter and my parents were high fiving for days.
Straight into Lucky's (I'm so lucky -did I just say that?  Ugh, I'm corny).  Nice snacks inside.
Ooh la la because – I am stepping into oh so glam Benefit.  Extra-large snacks in that store.
Now I'm crossing the street to What I Think Is My Favorite Place Ever- the valet stand at the La Valencia. Those men are just the best!  I do all my tricks for them and they just pepper me with snacks.  They even have my "business card" in their car keys lock box.  Such a love fest there.  Those guys should have a calendar – it would sell big time.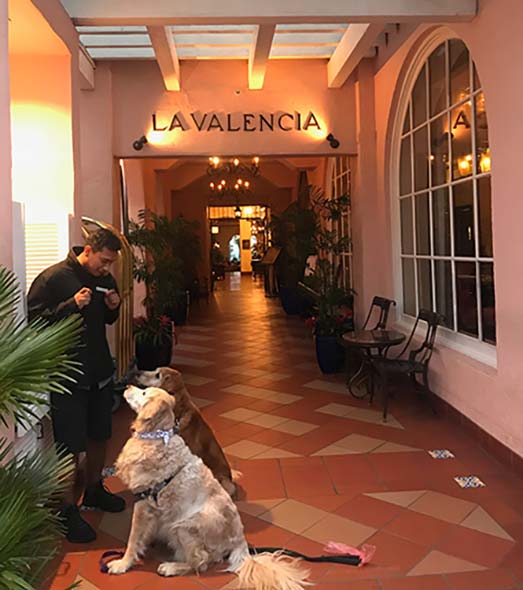 Now who would think this? Haagen Dazs is dog friendly!  They give me a spoonful of vanilla! Right?!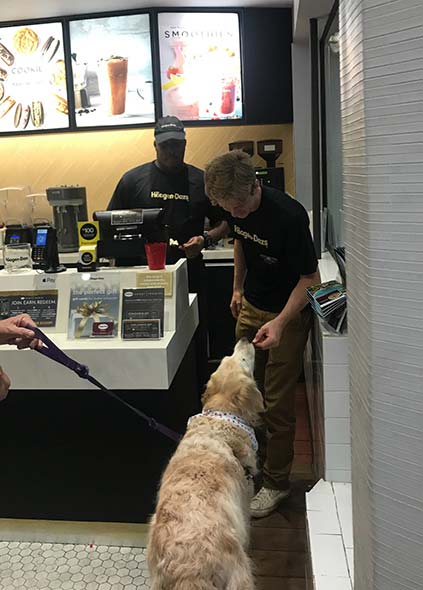 Now prepping for a nice slice of roast beef that my parents buy for me at Girard Gourmet.  Those peeps are super nice.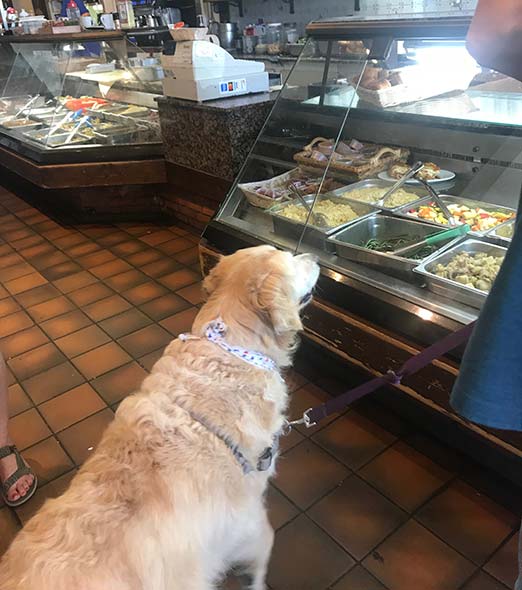 Hey – there's a new dog store in town – Decker's (on Ivanhoe).  Newbies and nicebies.  Attention all doggies – tell your people that there are fab snacks on the counter!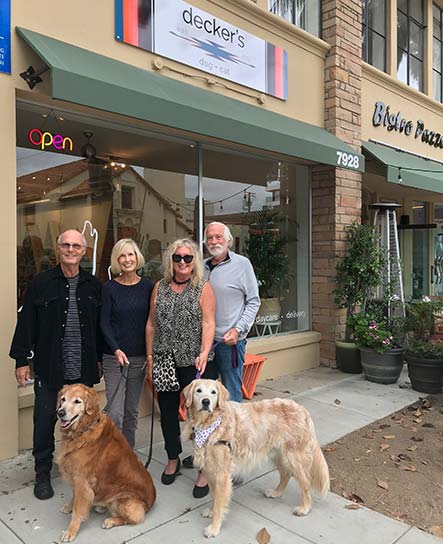 I've been saving my total whole dog experience vibe for last – I'm so zen.  Muttropolis pet store has super fun parties and my pal Harley and I spent a fab time inside the kissing booth at the last Valentine's Day party.
The Lot takes GOOD care of me. For starters – they gave me a hamburger with a candle for my birthday this year.
Friday is Yayday for me and my snacking buddy, Harley (an 11-year-old gentle golden retriever).  We call it Friday Night Lights in La Jolla. Our parents take us out on the town because "we deserve it", they say.
We have dinner at the La Valencia, La Dolce Vita, Bernini's, Piazza 1909, and Bistro Pazzo. These are just some of the best dog friendly restaurants in La Jolla. We intend to dine in every single place that will allow us to present our kind and beautiful furry selves.
I'm so tired and full now. Good night. Tomorrow it all starts up again.
Virginia may be for lovers, but La Jolla is for DOG LOVERS.
I'm Seymour and I love La Jolla!
P.S. Don't forget to visit our post about dog- (and other pet) friendly hotels in San Diego!
[mv_create key="12″ layout="grid" thumbnail="https://lajolla.com/wp-content/uploads/2018/03/la-valencia_hotel_wide-1024×675-1.jpg" title="Relax Like A Local" type="list"]