Exploring Bird Rock San Diego: Restaurants & Shops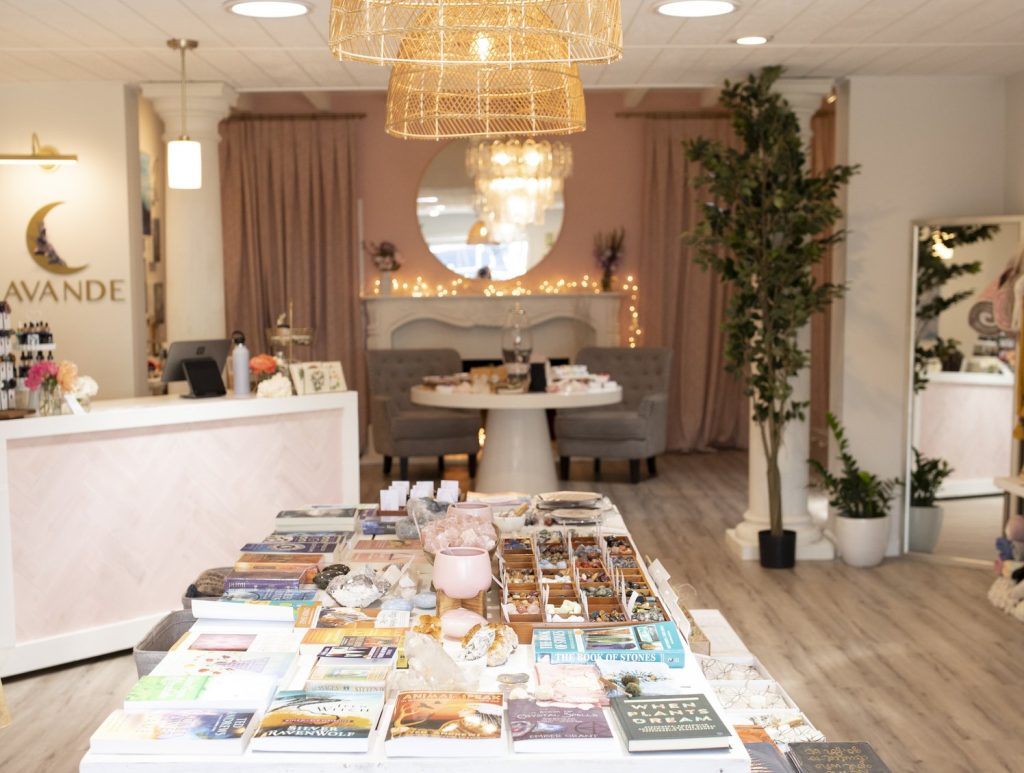 Ever since Bird Rock was subdivided and dubbed "Bird Rock City by the Sea"' by the visionary developer, Michael Frances Hall in 1906, this area of Southern California has been a beloved place for families, locals, surfers, birdwatchers and all manner of tourists. It's no wonder. Bird Rock holds a certain kind of charm that magnetizes people who seek natural beauty. It also attracts folks who are looking for unusual and exciting things to do in La Jolla. From sensational shopping to mouth-watering dining, Bird Rock is a curio of delightful experiences. But don't take our word for it. Here are a few top-notch Bird Rock restaurants and must-stop shopping spots that speak for themselves.
Where To Go In Bird Rock San Diego
Aside from its undeniable natural majesty, Bird Rock is a haven for foodies, craft beer lovers, and coffee connoisseurs. It's also a happening place for anyone who loves to shop because the stores in Bird Rock offer the most eclectic collections of unique finds that you won't find anyplace else. And if you're always up for a day of self-indulgence, Bird Rock is a mecca for premium spas and salons for sublime spoiling. Just browse through these choice picks featuring Bird Rock restaurants for divine dining, excellent locales for ultimate relaxation and wellness, and of course, phenomenal shopping venues.
Best Restaurants in Bird Rock San Diego
When it comes to seriously good eats, the restaurants in Bird Rock, La Jolla, serve up both fine and casual dining with undeniable SoCal flair. They also rustle up some incredibly tasty grub. With the Pacific Ocean hugging the La Jolla shores, you can expect some of the freshest seafood available. Plus, the Bird Rock bars are some of the best-in-show when it comes to dreamy-tasting cocktails or artisanal brews. Have we piqued your interest and whet your appetite? Read on, and you'll be on your way to one of these exceptional picks on our Bird Rock restaurant list.
Elixir De La Lune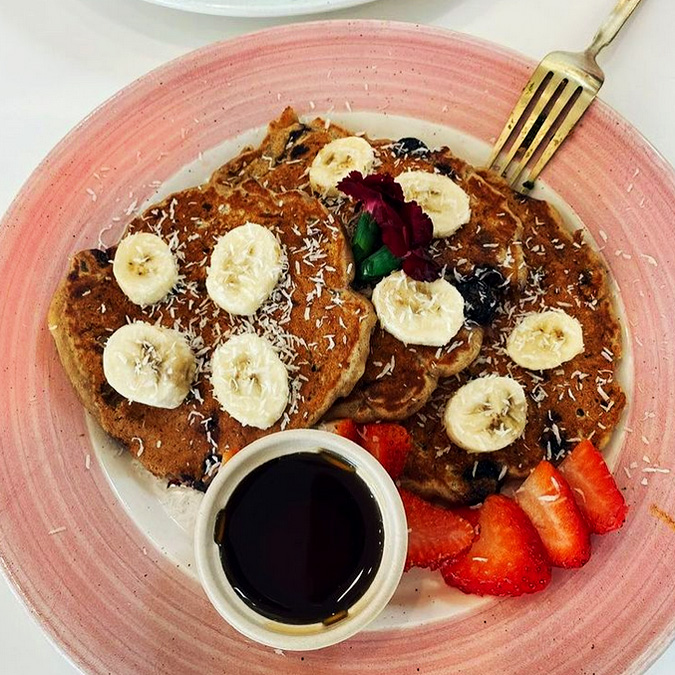 If you're looking for the ultimate freshy-fresh in food, the Elixir De La Lune will not disappoint.  Get renewed and reinvigorated from the inside-out with any one of La Lune's all-organic, plant-based, gluten-free yummy dishes or drinks. The artisans at Elixir De La Lune believe that plants are not only healing agents, but plants also promote emotional and spiritual wellness.  You can taste that in their scrumptious banana blueberry pancakes and their drool-licious superfood smoothie bowls.  Using only the finest ingredients, La Lune is known for outstanding quality and high-powered nutrition that is both appetizing and nourishing.
Address: 5544 La Jolla Blvd, La Jolla, CA 92037
Phone: (619) 985-8979
Hours: Tues – Sun 9 a.m. – 6 p.m.
Closed Mondays
Don Bravo
Amid all the high-dollar homes and highfalutin scenery, Don Bravo is a hidden gem the locals have been savoring for over 30 years. While Don Bravo might be a well-kept secret, it's no secret that they have mastered the art of satisfying street Mex food. Try their signature fish street tacos with made-fresh-daily salsa and rich, cool crema drizzled on top. Or, mow down on one of their California burritos stuffed with crispy fries and tender carne asada. The food comes fast, it's reasonably priced for the area, and there's plenty of it. There is limited outdoor seating, but you might want to get your homestyle Mexican food delights to-go and walk a few blocks to enjoy the beach views while munching on your burritos at Calumet Park.
Address: 5544 La Jolla Blvd, La Jolla, CA 92037
Phone: (858) 454-8940
Hours: Mon – Sun 10 a.m. – 9 p.m.
Wheat & Water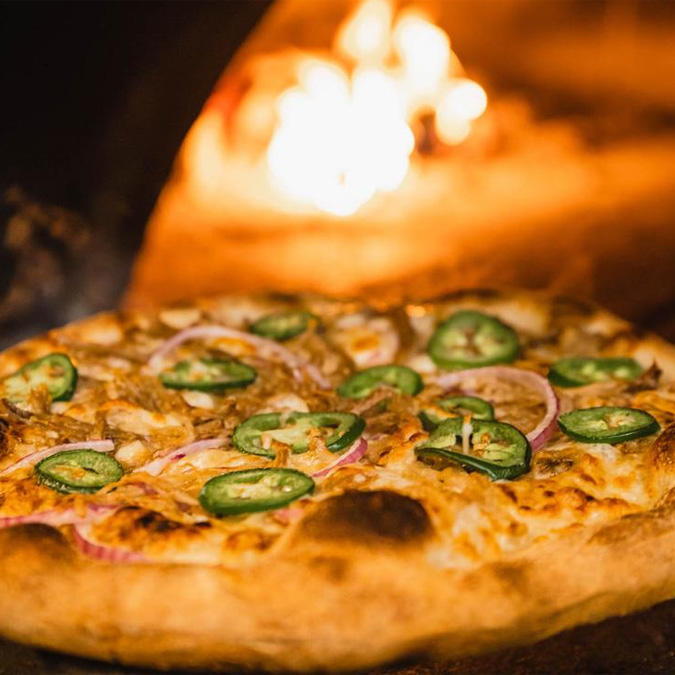 You could say that their name exemplifies Wheat & Water's philosophy when it comes to well-crafted food. Meaning that they take simple, high-quality ingredients and elevate them to taste-bud heaven. W&W makes their own pizza dough and sauces from scratch, and then crushes your pizza cravings by cooking them in an artisanal, wood-fired pizza oven. Can somebody say, "Yummo?!" If that doesn't tempt you, then try one of their jaw-dropping burgers (which are jaw-dropping because you'll have to unhinge your maw to eat these biggies!). Whether you choose from their ridiculously flavorful wood-fired pizza or classic, juicy beef burgers, W&W is serving up superior, savory sensations you won't soon forget. The decor is fun and quirky, with a casual beach feel. Outdoor seating is available, and don't forget to pair your good eats with one of their delicious vinos from their Bird Rock wine bar.
Address: 5737 La Jolla Blvd, La Jolla, CA 92037
Phone: (858) 291-8690
Hours: Sun, Tues, Wed 10 a.m. – 4 p.m.
Thurs – Sat 10 a.m. – 4 p.m.
Closed Mondays
Beaumont's
Since 2005, the owners (Megan and Dave Heine) of Beaumont's have set a standard among Bird Rock restaurants for serving up thoughtfully made, sumptuous food in a welcoming, friendly environment. Be prepared to wear your stretchy-waist pants, because Beaumont's serves up a heaping plate of food, and it's all so good, that you're certain to lick the plates clean. They are particularly heralded for their hearty brunch sensations, such as their rich and creamy eggs benedict with scratch-made cheddar biscuits. Or throw a party in your mouth with Beaumont's Mediterranean roast chicken infused with za'atar citrus flavors, lemon-garlic sauce, and finish it off with a side of their aromatic rosemary fennel roast potatoes. The ambiance is casual and eclectic, with some outdoor patio seating. They also feature live music every weekend. Oh, you'd be wise to make reservations because Beaumont's gets packed fast as La Jollan's just can't get enough of their intensely good grub.
Address: 5662 La Jolla Blvd, La Jolla, CA 92037
Phone: (858) 459-0474
Hours: Mon – Thurs 4 p.m. – 9 p.m.
Fri 4 p.m. – 12 a.m.
Sat 10 a.m. – 12 a.m.
Sun 10 a.m. – 9 p.m.
Best Bird Rock Coffee Shops
Ask any local, and they'll tell you one of the best pastimes in La Jolla is to relish a brilliant cuppa while watching the Pacific waves crash against the rock feature in the ocean for which Bird Rock is known. Whether you're getting your java fix while revving up during a pristine La Jolla sunrise, or snuggling with a matcha toasted rice tea at sunset – these Bird Rock coffee shops are sure to satisfy your every beverage whim.
Bird Rock Coffee Roasters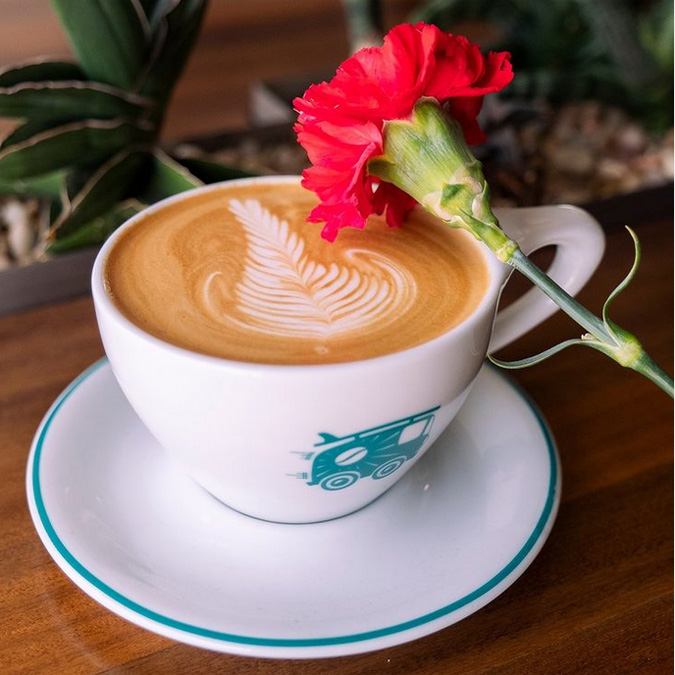 Conveniently located right off LJ Boulevard, stopping at Bird Rock Coffee Roasters is a ritual for locals during their daily commute, walk, or cycling routine. This charming cafe prides itself on farm-to-cup javas, they use only sustainably grown beans, and they source locally whenever possible. Not only do they have on-site roasters, but they also have a full pour-over bar. This means BRCR has total control over every rich and creamy cup they serve. Choose from a wide range of beautiful bevvies from a classic cup of Columbian coffee or slurp a superior espresso. They also have cold brews and hot and iced teas. When you roll up to their bright and happy cafe front, you've got to try their signature Monkey Bite – an intensely dark espresso with hints of aromatic citrus and buttery, bold chocolate. After you get your brew and tip your barista, sip and step next door to the La Jolla Art Cooperative, where you can enjoy your cup of joe while appreciating art and music born from the community.
Address: 5662 La Jolla Blvd, La Jolla, CA 92037
Phone: (619) 272-0204
Hours: Mon – Fri 6:30 a.m. – 4 p.m.
Sat – Sun 6:30 a.m. – 5 p.m.
Seaside Surf Cafe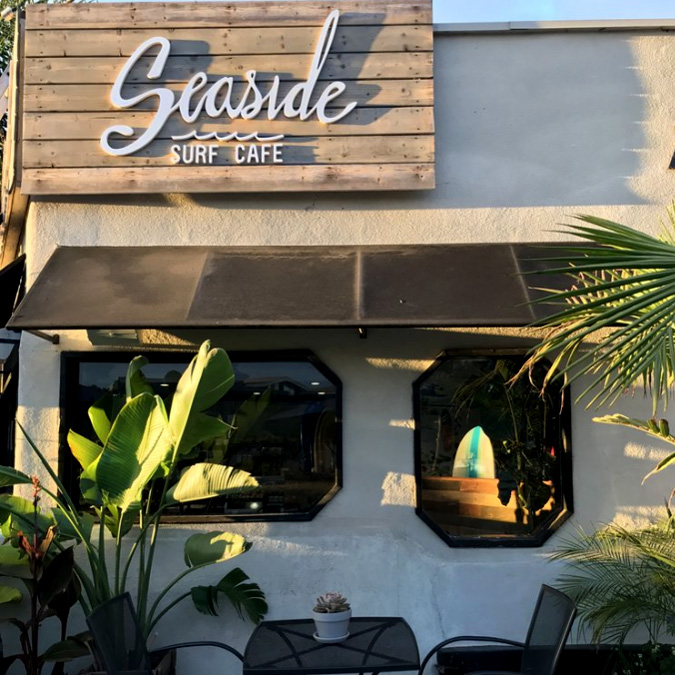 There is a reason why this quaint, corner cafe enjoys a stunning 5-star average rating on foodie review sites such as Yelp. This dog-friendly cafe serves hot or iced coffee along with a slew of other delectable desirables. Pick the local favorite – the Bird Rock brekkie sandwich with fresh eggs, sharp cheddar cheese, garlic aioli, and tomato topped on a fluffy croissant. And you can't stop at the Seaside without sipping one of their smashing smoothies. Get perky with their tropical pitaya, which is a heavenly blend of pink dragon fruit, mango, organic orange juice, and strawberries. Or pick a tongue-tantalizing acai superfood smoothie, which is a luscious mix of acai, bananas, blueberries, and almond milk. There is indoor-outdoor seating, but the cafe is small and has more of a grab-n-go vibe than a sit-and-stay scene. Be sure to visit the Bird Rock Surf Shop right next door as you nibble on your Seaside Surf Cafe goodies.
Address: 5517 La Jolla Blvd, La Jolla, CA 92037
Phone: (858) 456-2517
Hours: Mon – Sun 9 a.m. – 4:30 p.m.
Starbucks
Bird Rock is known for its singularly uncommon shops and eateries, but sometimes you just can't help falling back on an old favorite. This Bird Rock Starbucks maintains its nationwide chain standards with friendly service, skilled baristas, and the solid java you've come to expect from the franchise. The seating is what you'd expect – a bit limited inside, but they do have outdoor patio seating. So, if you need to get your fix with a venti caramel frappuccino with two pumps of chocolate, whipped cream, honey blend, and caramel drizzle (whew! What a mouthful!) – this Starbucks will be there for you, serving consistent beverages and snacky bites you can rely on.
Address: 5604 La Jolla Blvd, La Jolla, CA 92037
Phone: (858) 454-4037
Hours: Mon – Fri 5 a.m. – 6:30 p.m.
Sat – Sun 6 a.m. – 6:30 p.m.
Shopping in Bird Rock San Diego
While Bird Rock restaurants are surely the talk of the town, let's not forget some of the incredible boutiques in San Diego. Hands-down, Bird Rock shops have a reputation for offering some of the most uncommon goods under the sun. Whether your tastes lean towards the quirky, fun, and funky, or you have a more elegant and refined preference – Bird Rock is the perfect answer to retail therapy. From discount perfume, dazzling interior decor, gorgeous threads, or sparkling jewelry, you're certain to find that one-of-a-kind gift or special something for yourself in Bird Rock.
Hermosa Surf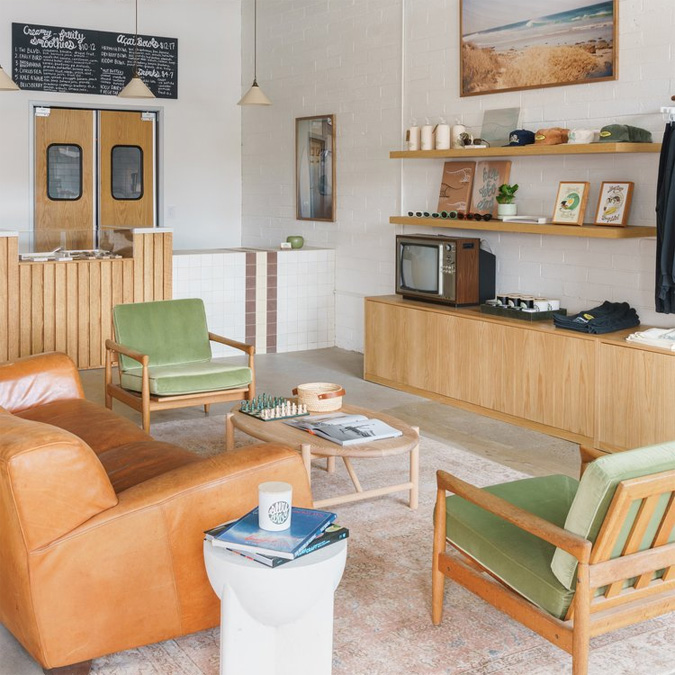 Conveniently tucked just blocks away from the beach, awaits Hermosa Surf, where surf vibes, smoothies, and sick merch merge together to express the ideal surf lifestyle. Founded by two brothers, Benny Walter & Attila Betyar, combined their super-brother powers to create Hermosa, a place to shop, chill, or sip on custom smoothies. This dynamic duo has been handcrafting surfboards for friends and family for many years. Their passion for surfing and creating quality boards grew into their own Bird Rock shop – a white-washed, beachy pad that radiates feel-good energy to its loyal customer base. These surf bros have also crafted their own witty and urbane line of thoughtful surf gear, such as denim jackets, ball caps, and hoodies featuring Hermosa's clever, custom designs.
Address: 5636 La Jolla Blvd, La Jolla, CA 92037
Phone: (619) 505-0515
Hours: Mon – Sun 9 a.m. – 6 p.m.
Mythos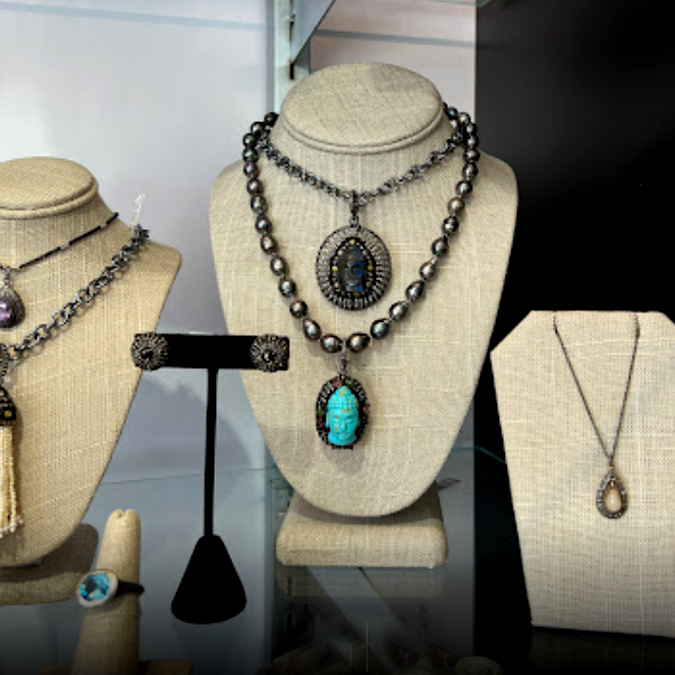 If you're drawn to the siren song of beautiful bling, and bedazzling bijouterie, the Mythos is your one-stop-shop to slake your craving for fine jewelry, gems and minerals. Since 1992, Turkey native Jon Tuncel has gained an enviable reputation for purveying the finest gems and hand-wrought jewelry. Tuncel's designs might be modern, but the jewelry he manifests hearkens back to myth, mystery, and melodic beauty. Each piece in the Mythos collection is an example of true craftsmanship and extraordinary attention to detail. Tuncel specializes in South Sea pearls and black Tahitian pearls, but you'll encounter so many more eye-popping pieces of stunning jewelry in his boutique. From sparkly sapphires mounted in hand-hammered gold rings to the perfect pair of bespoke amethyst encrusted earrings – you'll be enchanted by the gem-tastic marvels you will find at Mythos.
Address: 5628 La Jolla Blvd Suite B, La Jolla, CA 92037
Phone: (858) 699-0336
Hours: Mon – Sat 11 a.m. – 5 p.m.
Closed Sundays
LAVANDE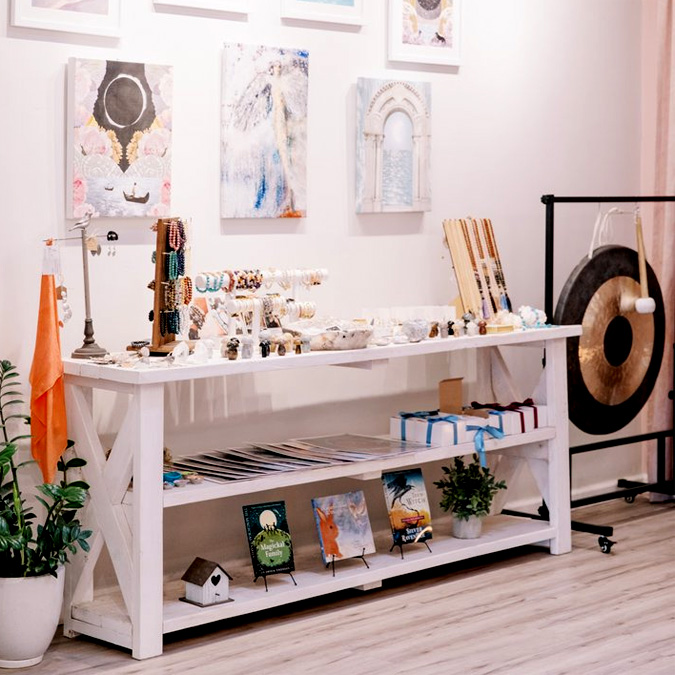 Remember how we sang the praises of Elixir De La Lune's healthy edibles? Well, LAVANDE is a sister store to La Lune. Together, they form a powerful sisterhood with a clear credo to help their customers achieve harmony, healing, and wellness. At LAVANDE, you'll find a treasure trove of uncommon yet needful things to enhance your spiritual essence and align your energies. Not only is LAVANDE an impressive wellness boutique with specialized items to inspire your spirit, but it also provides healing services and classes such as yoga sessions, breathwork workshops, meditation classes, reiki, and more. So, if you're feeling a bit of ennui or sense your chakras are blocked – head over to LAVANDE because they can satisfy all your soulful necessities.
Address: 5544 La Jolla Blvd, La Jolla, CA 92037
Phone: (619) 985-8979
Hours: Mon – Sun 10 a.m. – 6 p.m.
Bird Rock Surf Shop
Right next door to the Seaside Cafe we mentioned in the Bird Rock restaurants section of this article, you'll find the Bird Rock Surf Shop. Two brothers, Ben and Matt, started rocking the surf scene in Bird Rock when they opened up their killer surf-centric store in 2007. Since then, they've been selling superior boards and wicked-awesome gear for every surfer's needs. They even have a Surf Society, where veterans and newbies alike can rent boards and test them out to ensure they've got the right gear to crush those bonzer waves in the Pacific. So, if you're looking for the right shape, Bird Rock Surf Shop has the egg, fish, gun, longboard or shortboard that will make your skimming and wave-cruising outrageously enjoyable.
Address: 5509 La Jolla Blvd, La Jolla, CA 92037
Phone: (858) 459-9200
Hours: Mon – Sat 9 a.m. – 6 p.m.
Sunday 9 a.m. – 5 p.m.
La Bella Figura by Bards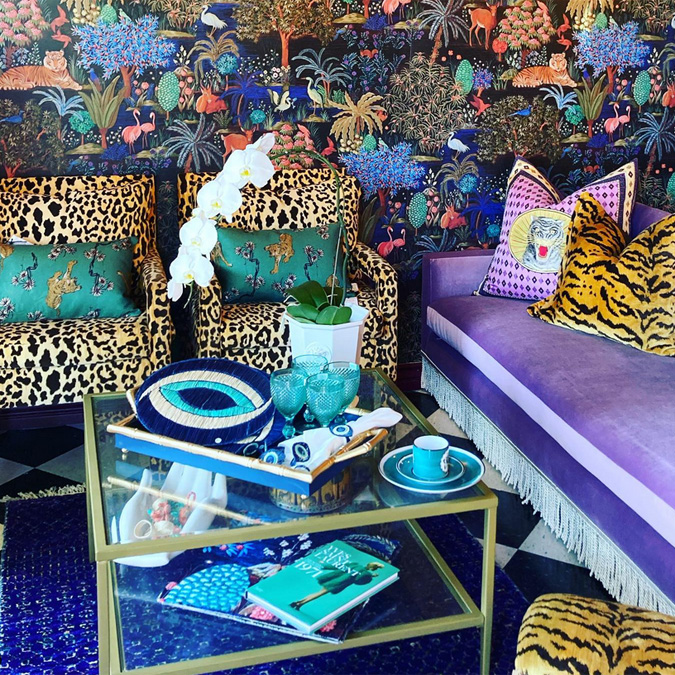 Uncompromising quality and incomparable elegance, La Bella Figura by Bards has been the go-to for interior design in La Jolla since 1958. Since then, Bard's has been relied upon to furnish and decorate many famous homes in the area with breathtaking treatments – including the home of La Jolla's beloved Dr. Seuss. From silks, linens, and velvets to opulent brands such as Versace, Hermes, and Oscar de la Renta – La Bella provides enviable luxury and custom decor services to both SoCal residents and homeowners around the world. This refined boutique also carries refined tableware, distinctive accent pieces, and more. La Bella Figura by Bards is truly a feast for the senses, and you're not likely to leave their shop without snagging a statement piece for your home or office.
Address: 5643 La Jolla Blvd, La Jolla, CA 92037
Phone: (858) 459-3603
Hours: Tues & Thurs 10 a.m. – 5 p.m.
Wed & Fri 10 a.m. – 4 p.m.
Sat 10 a.m. – 3 p.m.
Closed Mondays & Sundays
Bird Rock Fine Wine
Back in 2012, Ken Chalmers opened Bird Rock Fine Wine with a vision to be the most superior purveyor and seller of fine wines. The selection is arguably the best you can find anywhere in La Jolla or the surrounding area. From the rarest of rare wines, to everyday essentials, Bird Rock Fine Wine satisfies all your needs. Moreover, the store turns into a Bird Rock wine bar on certain days where vino-lovers can taste and sample all kinds of unique and exotic blends. So, if you're fiending for a 94-point Vacqueyras, or a Les Hauts du Vallon Rosé Bandol – you'll be able to taste and purchase it right at this celebrated wine boutique. But wait – there's more. Bird Rock Fine Wine carries a dizzying array of craft beers, enticing sherries, and vivacious vermouths. Ken even carries hard-to-find sake to pair with your favorite sushi. When it comes to tasteful selections, Bird Rock Fine Wine is definitely your best destination in Bird Rock.
Address: 5687 La Jolla Blvd, La Jolla, CA 92037
Phone: (858) 230-6956
Hours: Mon – Wed 10 a.m. – 7 p.m.
Thurs – Sat 10 a.m. – 7:30 p.m.
Sat 10 a.m. – 3 p.m.
Closed Sundays
Fitness & Health in Bird Rock San Diego
With all the indulgences Bird Rock restaurants, shopping and Bird Rock bars provide locals and tourists, it's no wonder that the area is also a prime site for exceptional fitness services. Whether you're looking for a wholly satisfying hot yoga session or yearning to learn traditional Muay Thai – these Bird Rock establishments will help you stay in shape and look fabulous in your swimsuit while strolling along our world-famous La Jolla beaches.
Riffs Yoga Studios – Bird Rock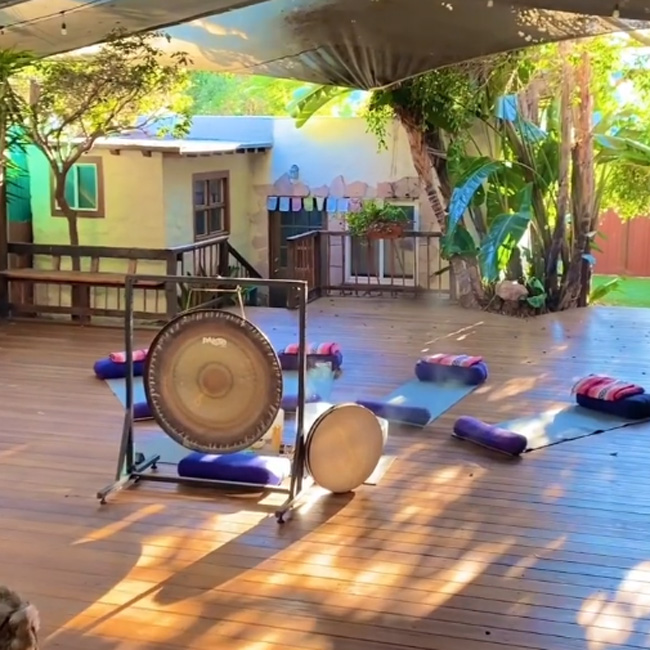 There's a good reason for Riffs 500+ five-star reviews. Since the studio opened, it's been a favorite spot to relax, unwind, and reestablish body-mind homeostasis in the Bird Rock area. Riffs Yoga Studios offers an array of flexible yoga styles with classes ranging from private, group, and online sessions at very reasonable rates. They also offer yoga training classes if you're thinking about becoming an instructor. Additionally, Riffs provides soothing massages by licensed, professional practitioners for those tough days when you really need to get the knots out. They keep their classes on the small side, so you get the personalized attention you need to grow, move and get the ultimate results you deserve. Give them a call and ask about their live music sessions as well as other workshops they're always presenting throughout the year.
Address: 5510 La Jolla Blvd, La Jolla, CA 92037
Phone: (858) 456-2477
Hours: Mon – Fri 8:30 a.m. –12 p.m. & 5 p.m. – 7 p.m.
Sat – Sun 8:30 a.m. – 12 p.m.
Studio Barre Bird Rock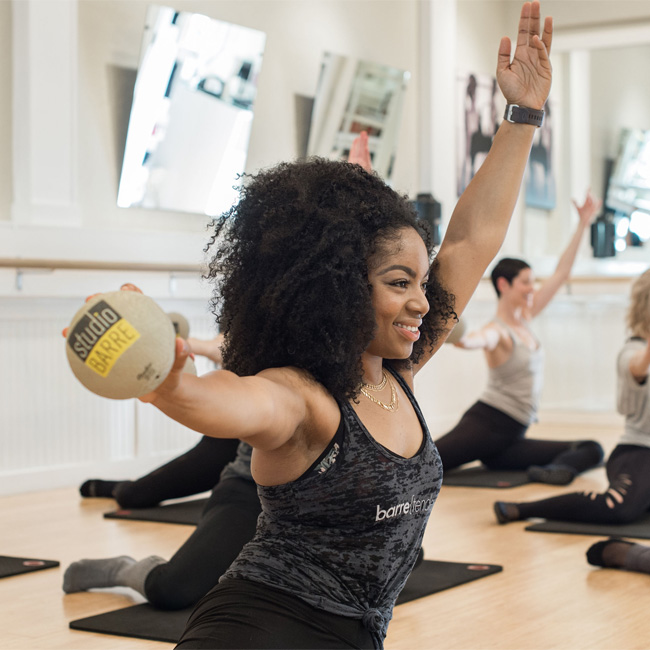 If you're not already privy, barre fitness is based on classic ballet poses and can also incorporate yoga asanas (positions) and pilates movements. Studio Barre in Bird Rock has elevated this effective and dynamic fitness program to the next level. Their qualified team of fitness experts (affectionately titled barre-tenders and barre-istas) will guide you through an elegant way to become more graceful as well as slimmer, trimmer and more fit. They focus on building confidence through movement in their wide variety of classes. You can choose from in-person studio sessions, and they also offer online training sessions. As a full-service fitness studio, Studio Barre also features an impressive boutique where they sell almost anything you can imagine to make your barre fitness routine fully enjoyable.
Address: 5705 La Jolla Blvd, La Jolla, CA 92037
Phone: (858) 459-1900
Hours: Mon, Wed & Thurs 6 a.m. – 8 p.m.
Tues 6 a.m. – 6:30 p.m.
Fri 6 a.m. – 7 p.m.
Sat & Sun 7 a.m. – 5:30 p.m.
Pacific Training Center Boxing Muay Thai & Fitness
If you're looking for high energy with maximum results, then you owe it to yourself to check out Pacific Training Center. Voted the best boxing and mixed martial arts gym in San Diego for the year 2011, this gym has attracted patronage from some hefty heavy-hitters such as WBO World Champion, Maurice "Mighty Mo" Hooker. Get your sweat on with their classes on traditional boxing, Muay Thai, or Thai boxing training. You can also take advantage of their state-of-the-art training equipment. PTC is focused on your best self, and to that end, they offer a myriad of physical training, conditioning, cardio programs, open gym time – and they even provide private lessons if you so choose.
Address: 5755 La Jolla Blvd, La Jolla, CA 92037
Phone: (858) 251-8469
Hours: Mon – Fri 10 a.m. – 7 p.m.
Sat 10 a.m. – 12 p.m.
Closed Sundays
Beauty and Wellness Shops in Bird Rock San Diego
Of course, no matter how much you relish the restaurants in Bird Rock or the stores in Bird Rock – no excursion is complete without a little self-indulgence and righteous R&R. Thankfully, this region in spectacular SoCal has plenty of options for you to get some well-deserved downtime. From getting that devastating skin glow, or the perfect coiffure, to tending to your mani-pedi you so desperately need – these shops in Bird Rock will fill the bill for all your personal needs.
Seabreeze Nails Spa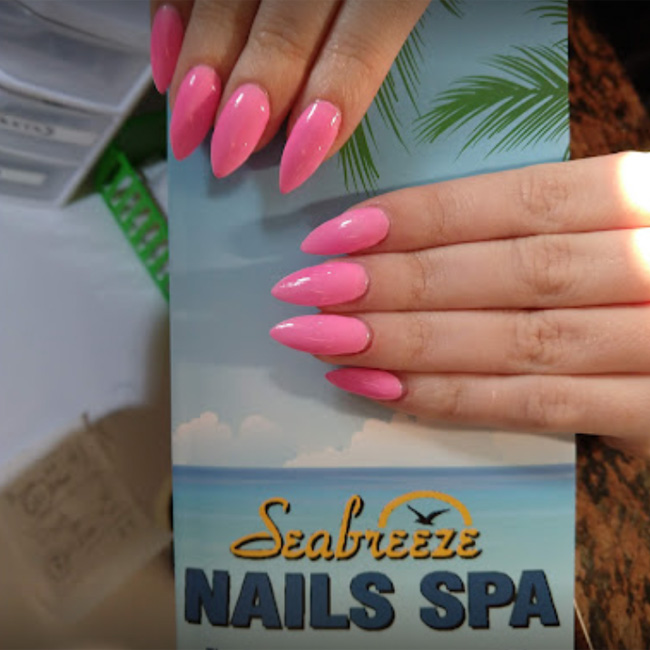 Come one, come all. Men, women, and children are all welcome at Seabreeze Nails Spa, and there are no holds barred when it comes to expressing your personal creativity on your fingertips or toenails. Seabreeze Nails Spa is the answer to your busy schedule and personal grooming needs. After a long day, relax in their whirlpool pedicure chairs and treat yourself to their modern manicure salon bar. Their shop is designed to be a peaceful oasis, so you can kick back, relax and enjoy the ultimate massage or mani-pedi. They use the most current products, which are organic and safe for your skin. Moreover, Seabreeze has the most experienced technicians to ensure you get the best treatment so you can get ready for that special day – or just have a beautiful time to unwind and enjoy the finer things in life.
Address: 5771 La Jolla Blvd, La Jolla, CA 92037
Phone: (858) 551-3282
Hours: Mon – Fri 9 a.m. – 7 p.m.
Sat 9 a.m. – 6 p.m.
Sun 10 a.m. – 5 p.m.
CLEO Sugaring and Skincare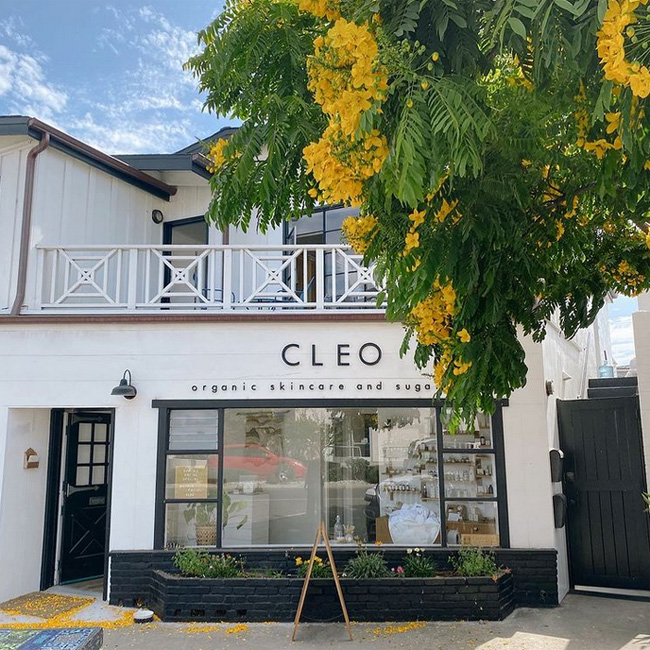 If you're not up to speed with sugaring, it's an ancient Persian practice of using honey or sugar to remove body hair. This method is touted to be one of the most efficient and less painful processes of getting rid of those unsightly patches of hair you don't want showing while you're playing at the beach in a bikini. CLEO has mastered the art of sugaring and skincare. They use all organic products like botanical hydrosols, oils, rose hydrosols, and sea buckthorn oil treatments, which are the biggest sellers in the salon. The savvy estheticians provide the highest quality to their customers, including their best-known service – the sculptural face lifting massage facial, which is an ideal alternative to invasive fillers or injections. CLEO also provides a mind-blowing buffet of skincare treatments to make you feel like the superstar you are, and leave you radiant with natural, glowing, youthful skin.
Address: 5514 La Jolla Blvd, La Jolla, CA 92037
Phone: (858) 412-0698
Hours: Mon – Fri 9 a.m. – 7 p.m.
Sat 9 a.m. – 3 p.m.
Closed Sundays
The Bird Rock Massage Studio
Whether you're struggling with chronic pain, or just need a soothing massage for relaxation, making an appointment with The Bird Rock Massage Studio should be a priority on your to-do list. Their licensed massage therapists have the expertise required to facilitate pain relief and healing to those sore or achy muscles that might be troubling you. They have various different massage therapy packages, including CBD oil treatments which can be incredibly therapeutic. Check out their testimonials, and you'll discover that many clients experience relief after their first massage session. Luckily, the Studio has a membership program (which offers price breaks to members), so your first time doesn't have to be your last. So, stop by, and say, "Howdy!" to Shana Lemon, the owner and head CMT who has been proudly serving the Bird Rock area in her Studio since 2011.
Address: 5604 La Jolla Blvd, La Jolla, CA 92037
Phone: (858) 551-0425
Hours: Mon – Thurs 9 a.m. – 8 p.m.
Fri 9 a.m. – 7 p.m.
Sat 9 a.m. – 6 p.m.
Sun 10 a.m. – 4 p.m.
Waylon Hair Salon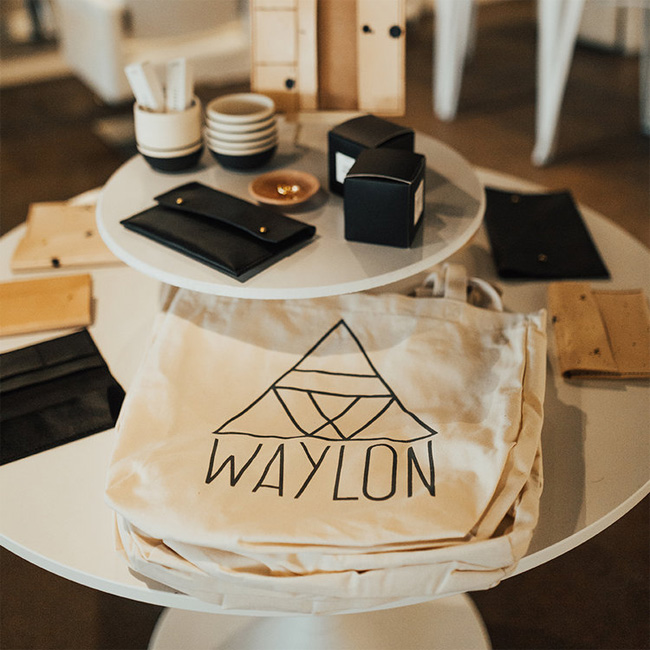 After a high-energy day of pursuing the unique stores of Bird Rock, you might be enticed to stop by Waylon Hair Salon to update or get a new 'do. Their friendly and highly experienced salon artists will give you that beachy blow-out and make you look like a superstar. Waylon offers classic haircuts, but they also provide superior, specialized services such as hair extensions, hair painting, keratin treatments, and more. And if you want to look sizzling for a special occasion, make an appointment at Waylon where they will pamper and beautify you to the hilt for your special day. Be sure to browse their keen collection of goods, such as jewelry, clever greeting cards, and leather gifts, in their boutique after you get your new look. They also carry high-end hair care products so you can manage those lovely locks of yours. Also, check out their skincare line, which is all organic, and totally luxurious.
Address: 5726 La Jolla Blvd #105, La Jolla, CA 92037
Phone: (858) 230-7992
Hours: Tues – Fri 10 a.m. – 6 p.m.
Sat 10 a.m. – 3 p.m.
Closed Mondays & Sundays
The Last Word on Bird Rock Dining, Shopping and More
This laid-back and sublimely hip area south of downtown La Jolla has oodles to offer something for just about everyone. These Bird Rock restaurants, bars, salons, and boutiques are just a smattering of the sparkling gems nested in the setting of this bodacious beach town. We hope we got you intrigued and inspired to visit Bird Rock for sensational shopping, dynamic dining, and even a little relaxing downtime. Make your next destination Bird Rock. You won't regret it.