Fashion Week San Diego: Your Complete Guide to the Fall Runway Shows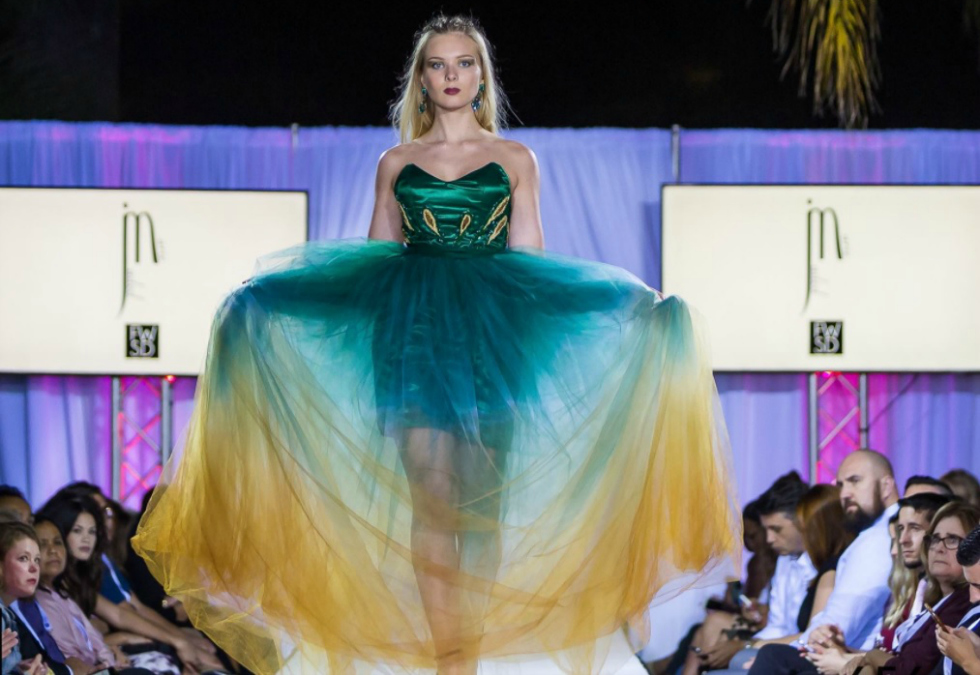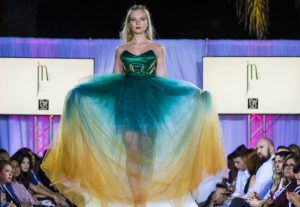 Fashion Week San Diego (FWSD) is quickly becoming Southern California's largest fashion event of the year. Launched by San Diego fashion entrepreneur Allison Andrews in the fall of 2012, FSWD is packed full of runway shows, VIP parties, and of course, cutting-edge couture and runway fashion. The festivities begin in August and last until the finale in October, and in between will feature events like a Fashion Film Screening, runway shows, a unique culinary experience, and more.
This year, FWSD is celebrating its 10-year anniversary — and there are festivities to prove it! From the Hotel La Jolla to The LOT and even nearby Hotel Del Coronado, there are a ton of great things happening around the city in the days leading up to FWSD (the dates of the fashion and runway shows are October 4 — 10). Here is the lineup and complete schedule for FWSD 2017.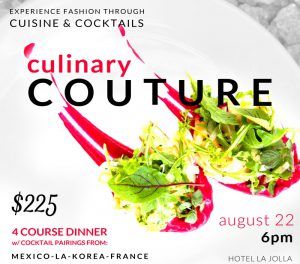 Culinary Couture
Where: CUSP at Hotel La Jolla, (7955 La Jolla Shores Dr, La Jolla, 92037)
When: Tuesday, Aug 22nd; 6pm-10pm
Take your tastebuds on the trip of their lifetime! Experience trending fashion capitals of the world through Cuisine & Cocktails at Fashion Week San Diego's Culinary Couture this year. Guests will enjoy a 4-course menu (each with a cocktail pairing) to explore the international fashion capitals: Mexico, Los Angeles, Korea, and France.
And, it's going to a good cause — partial proceeds of all Culinary Couture tickets will go back to the FAB Authority, a nonprofit organization that supports emerging fashion, art, and creative business entrepreneurs. For reservations call (619) 994-1129.
San Diego Spirits Festival & FWSD Runway Show
Where:Port Pavilion on Broadway Pier (1000 N Harbor Dr, San Diego 92101)
When:Saturday, Aug 26th; 7pm
On the first night of the San Diego Spirits Festival, FWSD will be showing a preview of each of the #FWSD17 Designers at the VIP After -Party. It's your chance to see one look from all 21 designers before the fall runway shows happen in October — think of it as a sneak peek! San Diego Spirits Festival is a culinary and cultural event where you'll get to sip and savor various premium distilled spirits, including whiskey, scotch, vodka, gin, rum, tequila, cordials, and handcrafted cocktails. Head here for tickets.
FAB Workshop | Meet the Maker ft. Melin Brand
Where: FIDM San Diego (350 Tenth Ave #300, San Diego 92101)
When: Thursday, Sept 14th; 6pm
Join FAB Authority for a brand new workshop this September: "Meet the Maker" featuring Melin Brand Founder Brian McDonell. Founded by two longtime friends in 2013, Melin Brand is a Southern California lifestyle headwear brand that focuses on raising the status quo through new materials, unique design, and relentless innovation. Melin hats are intended for young minded, modern day individuals from diverse influential backgrounds who appreciate refined, quality product. BONUS: This is a free event (just RSVP first).
Designers at the Del | Fashion Show & Brunch
Where: Hotel Del Coronado (1500 Orange Ave, Coronado, CA 92118)
When: Sunday, Sept 17th; 11am-1pm
Join Fashion Week San Diego at the fabulous Hotel del Coronado for their brand new fashion series, Designers at the Del! Guests will enjoy informal modeling from FWSD17 Designers A'doreus, B.JASH.I, RHCreation, & Territa Torres, and brunch at the iconic Hotel Del Coronado.
Located in the Crown Room, brunch features a chilled seafood bar, regionally inspired dishes, international cuisine, and carving stations. Guests also enjoy a gourmet Bloody Mary bar, made-to-order mimosas, and a spectacular candy and dessert bar — complete with a design-your-own donut station! Cost is $96 per adult. Call (619) 522-8490 for reservations.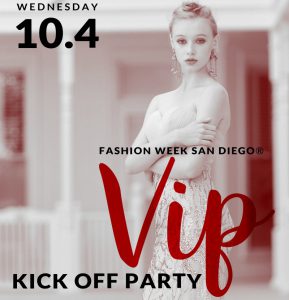 FWSD Kickoff VIP Party
Where: The LOT La Jolla (7611 Fay Avenue, La Jolla)
When: Wednesday, Oct 4th; 6pm
Kick off Fashion Week San Diego 2017 with a VIP reception: enjoy drinks, appetizers, and a Fashion Film Screening of Red Pearl at The LOT in La Jolla. The event is free for FWSD Pass Holders.
Red Pearl synopsis: Scarlet Kennedy, "fresh out of fashion school in fabulous Columbus," is excited to start her first design job out west. What she doesn't anticipate is how difficult making new friends and starting over can be. This coming-of-age 'dramedy' explores how our experiences, good and bad, mold us into the people we become. Free for FWSD Pass Holders.
FWSD Art & Beauty Behind Fashion
Where: Andaz San Diego (600 F Street, San Diego 92101)
When: Thursday, Oct 5; 6pm-10pm
This is FWSD's signature kickoff event: "The Art and Beauty Behind Fashion." This evening is all about the visuals! Hair and makeup will be the focal point of the runway, featuring a show with hair by Detour Salon. Several talented artists will also be on display including: Shane Bowden, Stefanie Bales, Tyson King, Robert Glick, Homebird Upholstery and Christine Finkelson. Later in the evening will feature a special men's runway show by MACEOO and artistic performances by circus tumblers. Requires a FWSD Pass.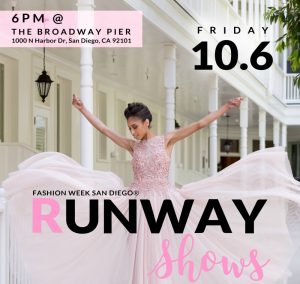 Fashion Week 2017: Runway Shows & Night 1 After-Party
Where: Port Pavilion on Broadway Pier (1000 North Harbor Drive)
When: Friday, Oct 6th; 6pm
This is officially night one of the FWSD Designer Runway Shows, featuring 10 out of the 21 designers including: A'doreus, Alber Rezko Jewelry Design, BJASHI, Haus of K2, Hola Swim, Iamsublime, Jamie Wooning, Kheir Sannai, RACA Designs, & The Stylish Bisou.
This night will also feature the annual Haute Dog Runway show with adoptable dogs from Rancho Coastal Humane Society.
Following the runway shows, FWSD pass holders can enjoy an exclusive after party at Florent (5th Avenue), featuring Trendz by Upright Citizen, live entertainment, and the VIP treatment for FWSD guests.
Runway Shows Night 2
Where: Port Pavilion on Broadway Pier
When: Saturday, Oct 7th; 6pm-10pm
Finale Night of FWSD17 Designer Runway Shows features 11 out of 21 designers, including: Baza Hautecouture, Hulabelle Swimwear, Isabel Vianey, rhcreation, Saul lizacri, Studio by Oseas, Taylor Whipp, They & Them, Territa Torres Designs, VaughnBerry, & Wafabywafa. Following the runway shows, join us for an afterparty in the main venue featuring a DJ from Sleeping Giant Music.
Designer Trunk Show & Fashion Awards
Where: Hotel Del Coronado
When: Sunday, Oct 8th; 1oam-2pm
View and shop all the labels and Fashion Week San Diego Designer fashions that debuted on the runway, including other FWSD vendors and partners. Following will be the Annual Fashion Awards at 1pm, to close off the week of festivities.
You can purchase passes for Fashion Week San Diego on their website.