Holiday Party Venues in San Diego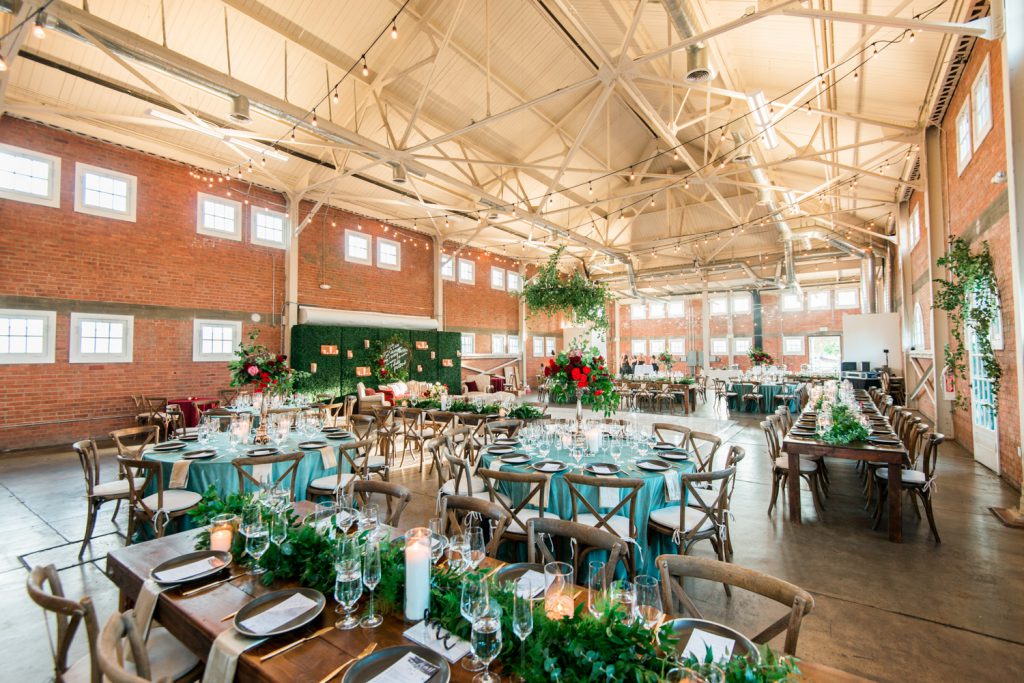 The winter season is upon us, and nothing says 'the holidays' like a fun party at one of San Diego's best venues! Toast to your colleagues, friends, or family at one of these unique San Diego party venues fit for a day or night of merriment this holiday season. From casual craft breweries and romantic, urban-chic eateries to rooftop bars and skyline-view museums, we've rounded up 12 of the best San Diego venues made for the perfect 2018 holiday gathering!
1. Clara (Carlsbad)
Having just opened this summer, Clara is the newest addition to the ever-growing downtown Carlsbad Village scene. The space here is serene, casual, and comfortable; making this spot pretty ideal for a dinner feast with your friends or colleagues. The neutral interiors and menu offerings work well for vegetarians and carnivores alike — from the chili braised cauliflower tacos to skirt steak skewers, there is a little something for everyone here. The craft cocktail menu is expansive and innovative, and many of the drinks are infused with locally grown produce.
2. Madison on Park (University Heights)
Located in San Diego's University Heights neighborhood, Madison on Park serves upscale Mediterranean and Southern California inspired cuisine in a modern, gorgeous atmosphere. Madison features a full bar and an upscale menu offered in the main dining room, which is a dramatic 3,000 square-foot space built by industrial design firm ARCHISECTS that features sky-high vaulted ceiling made of wood and cedar walls in colorful geometric patterns. The whole space has a fresh, eclectic indoor-outdoor vibe, which makes it a great choice for your holiday party in San Diego.
https://www.instagram.com/p/BmmTybynY6h/
3. Kettner Exchange (Little Italy)
The open-air rooftop of this Little Italy restaurant is a huge draw for locals – and one of the best rooftops in the city – with the only private cabañas and ocean views in the neighborhood. The cabañas are definitely the main attraction here; each one is totally private, complete with a variety of wines, craft cocktails, and self-serve tap beers. Standing parties of up to 400 can celebrate with innovative cocktails and sophisticated bites — think suckling pig larb, hamachi ceviche, foie gras French toast, and grilled quail char sui — but if you're hosting a smaller group, consider the hidden, more private Chef's Table for a special five-course dining experience.
4. BRICK (Point Loma)
From the simple elegance to the stunning ambiance, BRICK just oozes charm, character, and originality. This beautiful, historic Point Loma space can hold up to 450 guests, and there are no curfews or noise ordinances. The best part? The space is yours for a full 24 hours! The aesthetic is modern-industrial, and features market lights, exposed beams, and plenty of (of course) natural brick walls.
5. Rancho Valencia Resort & Spa (Rancho Santa Fe)
This expansive, luxurious oasis covers 45 beautiful acres in the hills of Rancho Santa Fe, providing eight garden-filled options for celebration spaces. Each space – from the popular Croquet Lawn to the turquoise fireplace of the Sunrise Room – has its own vibe and aesthetic, and can work for a low-key day party or formal nighttime affair. Each room has a different capacity and rules, so be sure to inquire ahead of time to plan your special event.
https://www.instagram.com/p/BqtHqxdHBui/
6. Luce Loft (Downtown)
Housed within a historic 1928 Carnation Dairy Factory, Luce Loft boasts cathedral ceilings, exposed brick, and romantic market lights to create the perfect urban party backdrop. One of the best aspects of hosting an event here is that you can customize essentially everything — including booze, as it's one of the only venues in San Diego that boasts a BYOB policy. Pick from one of 10 catering vendors from nearby restaurants and food trucks, and get the party started with a DJ and photo booth.
7. Darlington House (La Jolla)
Throw an elegant holiday garden party in the heart of La Jolla Village at the Mediterranean-style Darlington House. This historic home is an architectural gem, and echoes the days of vintage La Jolla and a lifestyle of elegant dinner parties and delightful musical concerts (it's also a popular wedding venue). There are different rooms to explore around every corner; consider The Library, which features dark wooden bookcases, a Moroccan fireplace, and a gorgeous Moorish-inspired staircase and is perfect for smaller, more intimate events, or the Andalusian Patio, which was modeled after the style of Southern Spain and features stunning Roman arches.
8. The Inn at Rancho Santa Fe (Rancho Santa Fe)
Sitting on 21 lush acres in the heart of Rancho Santa Fe Village, this quaint, luxury inn boasts seven dreamy indoor-outdoor event spaces. The Azalea room is perfect for more intimate parties, while the Croquet Cottage & Lawn features a larger space complete with vaulted wood ceilings, a stone fireplace, and an accompanying outdoor patio for indoor and outdoor seating.
https://www.instagram.com/p/BOc4VWLg8Mt/
9. The Lodge at Torrey Pines (La Jolla)
In an endless-summer city, it's not always easy to create a festive wintery ambiance but at this craftsman-style resort, that's a different story. The Lodge features a great variety of indoor-outdoor venue options (with capacity for up to 400 people), and boasts panoramic Pacific Ocean views, cozy fireplaces, a golf course, and of course, the rare Torrey Pine trees make it a location that pretty much guarantees to put everyone in the holiday mood.
10. Farmer and the Seahorse (La Jolla)
The playful details of the Farmer and the Seahorse in La Jolla (near Torrey Pines) give it a naturally festive vibe – from the vintage Airstream to the telephone booth to the inviting corn hole games on the lawn. Combining the best produce from the restaurant's gardens and local farms with the freshest catch from the Pacific, the menu from celebrity chef Brian Malarkey is all kinds of delicious.
11. Juniper & Ivy (Downtown)
Treat friends, family, or coworkers to a magical holiday dinner at chef Richard Blais' high-end restaurant in Little Italy, where he seriously pushes the limits of fine dining. What's great about this spot is the variety of private dining areas to choose from; including a second-floor overlook or an al fresco patio experience. Take your experience a step further and reserve the exclusive and highly coveted Chef's Table, which can seat between 14 and 65 and puts you right at the heart of Juniper & Ivy's main dining room with a clear view into the action in the kitchen.
https://www.instagram.com/p/Bcn7bi4grJR/
12. Vin de Syrah (Gaslamp)
This Gaslamp District speakeasy is truly a one-of-a-kind San Diego gem. The quirky, understated décor has been compared to Alice in Wonderland – picture oversized, cushy booths and botanical chandeliers – and the entertainment options go way beyond a live cover band. Reserve a burlesque show, a tarot card reading, or an illusionist, and your friends and family won't forget your epic Holiday Party of 2018!
For more fun holiday events, tips, and happenings, check out our other Holiday blogs! And if you want to have your holiday party on the beach, you can do that too!