8 Things You Need to Know Before Visiting the La Jolla Cove Seals
A trip to see the La Jolla Cove seals and sea lions in San Diego is a fantastic way to get out and about and see nature! Whether you're shooting for a family beach trip or peaceful lunch break, you'll get the most out of the experience if you know a few things going in.
Here's what you need to know before visiting the La Jolla Cove Seals. To learn more about this incredible location including what to do, where to stay, the best La Jolla Cove restaurants, monthly events and happenings and more, visit our Ultimate Guide to the La Jolla Cove.
Shop La Jolla Artwork
1. Plan your trip
Firstly, try to find out what parts of the beach are open. While La Jolla Cove is open year-round, the Children's Pool (Casa Beach) is closed from December 15 to May 15 to protect the newly-born seal pups.
You can still watch from a distance along the sea wall and might even see a birth! If you don't see any seals directly on the sandy beach at the Cove, direct your gaze towards the rock straight ahead; affectionately known by locals as "Seal Rock," this is another favorite seal hangout.
We typically see them on the rock closer to sundown, after they have gone out in search of food. Another option is to take a kayak tour, which goes right by many of the seals' hangout spots.
When it's open, the Children's Pool is another great place to watch Pacific Ocean wildlife. Its waters are protected as an underwater park and Ecological Reserve, which means restrictions are put in place to protect all marine mammals and marine life. It's a ten-minute walk south from the Cove, and makes for a great second stop to continue your seal-watching.
The sea wall (built in 1931 thanks to Ellen Browning Scripps) protects the small swimming cove and provides a calm area for swimming and snorkeling — and for seal sunbathing!
Full Day Snorkel Gear Rental
Snorkeling gear, surfboards, paddleboards and more, LaJolla.com offers exclusive discounts on the best beach gear rentals and activities. Plus, save an additional 20% off when you choose two or more of 50+ of the most popular attractions in San Diego with a digital GoCity discount pass.
*30-day full refund risk free guarantee
After you've checked out the seals, many people opt to have an outdoors picnic at Ellen Browning Scripps Park, or dine at one of the many restaurants that line the coast.
If you're more in the mood for staying outdoors, there are plenty of options including snorkeling, kayak tours, scuba diving, surfing, or stand up paddle boarding available at La Jolla Shores. The nearby sea caves provide plenty of opportunity for exploration, including the La Jolla tide pools.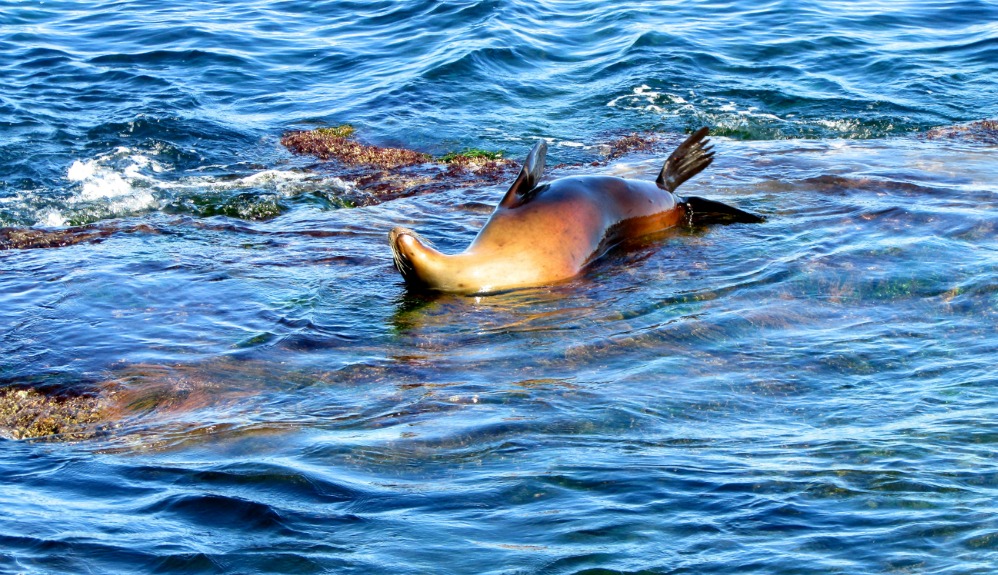 2. Respect, respect, respect
Both locals and tourists have a tendency to take the Cove for granted and forget its natural residents when going swimming or visiting the beach. Don't leave trash on the La Jolla Cove or Children's Pool beach or try to feed the seals and sea lions, as both of these activities can harm the animals.
If you're swimming in an area where seals may be present, keep an eye out so you're not surprised if one shows up, and stay some distance away. Remember, you are a visitor in their environment, not the other way around.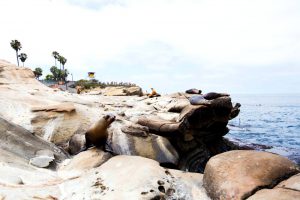 3. Keep your distance
Whether in the water or on the shore, don't get too close or take photos with the animals, wave selfie sticks in their faces, or yell at them. Sea lions and seals deserve their space.
Additionally, the group at the La Jolla Cove is better socialized than most groups of seals and sea lions, but they will still bite if they feel threatened. If you have small children, keep an eye on them to prevent them from interacting with the seals.
The term "flushing" was coined to describe the act of scaring a seal or sea lion back into the water. Doing so will cost a hefty $500 fine and can seriously jeopardize both the health and safety of the animal.
4. Expect a smell from (very important!) poop
La Jolla Cove may naturally be a little stinky from seal and sea lion poop, but visitors adjust to the smell very quickly. However unappealing it might be to human noses, poop actually serves a vital role in the ocean ecosystem!
When seals poop, the nutrients and nitrogen from their deep ocean diet are made available to feed planktons and algae that other animals eat. Without seals, these plants would not get enough nutrients and would die, along with many other species, including the La Jolla leopard sharks. Keep an eye out for these cool creatures during the summer.
5. Seals or sea lions?
La Jolla Cove has both seal and sea lions – but how do you tell the difference between them?
Firstly, you're way more likely to see seals at the Children's Pool, whereas the sea lions live next door near the cliffs at the Cove. Seals are much more quiet than the vocal sea lions and only move on land by wiggling on their bellies, whereas sea lions are able to "walk" using their flippers.
6. Don't say goodbye
The presence of the La Jolla Cove seals and sea lions is being threatened by local litigation that sees the seal odor as hurting nearby commercial interests. If you enjoy getting to witness nature outside of a zoo, consider donating to the Seal Conservatory at sealconservatory.org or contributing your voice to this ongoing political issue.
7. Parking at La Jolla Cove
Park early in the day, or park a little further away from the Cove on Girard or Prospect and walk. La Jolla Boulevard fills up very quickly.
There should be handicap parking and reliable sidewalks along La Jolla Boulevard. Depending on your disability, going all the way down to the Children's Beach, etc. may not be possible because of sandy walkways.
There is street parking (usually with a 2-hour time limit until 6pm on weekdays) along Prospect and Coast Blvd. If it's too busy to find something on the street, there are a few parking garages in the Village that charge an hourly rate.
Check out our Guide to Free Parking in La Jolla for more information.
8. Just in case
While the beach promises fun in the sun, once in a blue moon a problem may arise. If you see a sick or injured seal or sea lion, call the Sea World Mammal Rescue at (800) 541-7325. This group is much more capable of helping than Animal Control.
Likewise, if you see an animal being abused, call the San Diego Police Department at (619) 531-2000 or the National Oceanic and Atmospheric Administration (NOAA) Enforcement hotline at (800) 853-1964.
3 additional tips about visiting the La Jolla Cove seals
Wear close-toed shoes if you plan on walking out on the beach or any rocky areas. It can get slippery very quickly out there, especially coming down the stairs to get to La Jolla Cove.
Wearing pants that you don't mind getting wet.
Don't forget your camera! The seals and sea lions make for a great (and very cute) photo op.
Visiting the La Jolla Cove seals and sea lions is one of the best things to do in La Jolla, and a big part of what makes our coastal community so special.
Shop La Jolla Artwork