This Coastal Hike (With Epic Views) Is One of La Jolla's Best-Kept Secrets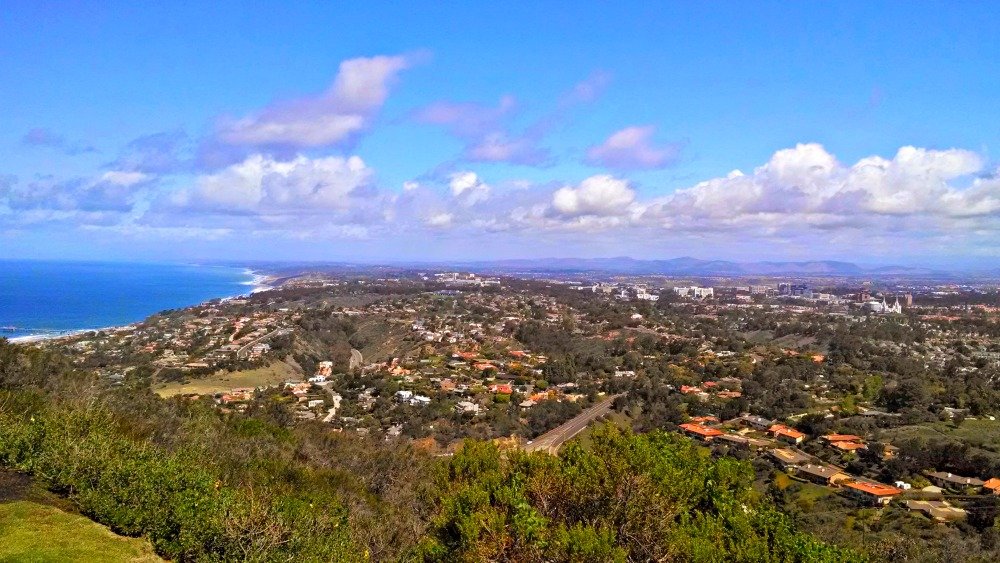 Though there are several La Jolla hikes that we love, one of the area's best-kept secrets is tucked away down a small side street atop Mt. Soledad. Also referred to as La Jolla Natural Park, La Jolla Heights Open Space is a small 42-acre preserve that was set aside to preserve its sensitive biological resources and habitats. Within the preserve, you'll find a hidden trail that hugs the coast and leads to sweeping panoramic views of the Pacific Ocean, downtown San Diego, and even Mexico on a clear day. It's a short hike that makes for a fun and easy weekend outing; and at a little over a mile out and back, offers incredible rewards for little work!
Directions to the Trailhead
Heading south on Torrey Pines Road, towards The Village, turn left onto Exchange Place. You can park to the right on Virginia Way or Olivet Street. Now on foot, keep left onto Soledad Avenue when Exchange forks off. Go right from Soledad Ave onto Al Bahr Drive. Continue on Al Bahr under the bridge; the trail begins at the farthest end of the street loop, marked by a brown trailhead sign.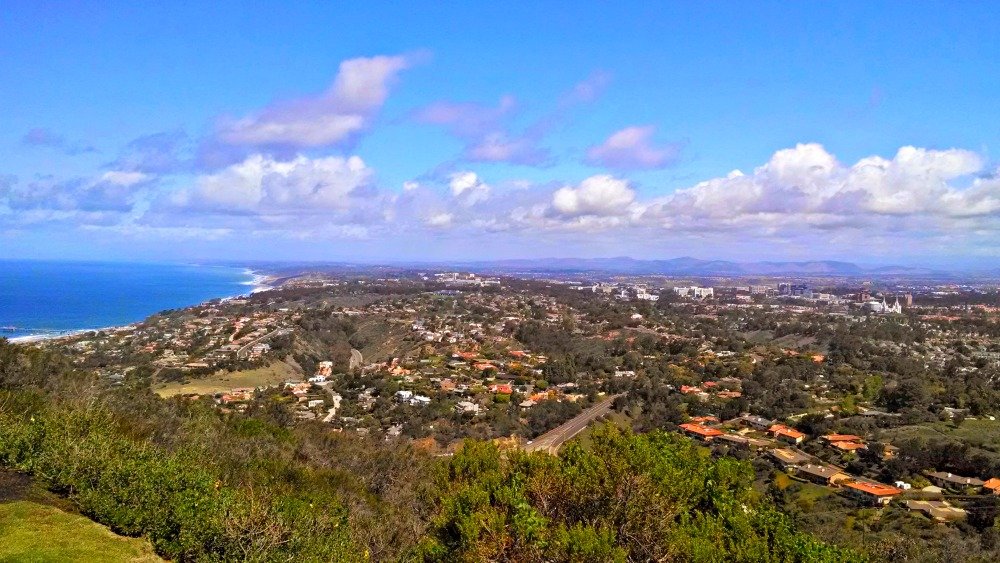 The Trail
The short trail winds its way through thick vegetation and a good deal of San Diego's native chaparral. Keep an eye out for wildlife, especially if you're hiking closer to sunset; people have spotted all kinds of creatures, including gray foxes, bobcats, brush rabbits, lizards, gopher snakes, and scrub jays.
After passing through some tall grass, the hike opens up to an expansive desert hillside covered in chaparral. There are several clearings up the hill that provide incredible photo opportunities; the views of La Jolla just get better with each step. There are a few forks in the path, but as long as you continue on an uphill branch, you'll eventually reach the summit.
On super-clear days, you'll even be treated to views of La Jolla Shores, Torrey Pines State Reserve, and Catalina Island! Once you've taken in the views, head back to Encelia Drive, past the car gate, and continue south to reach the intersection of Encelia and Brodiaea Way. Turn right onto Brodiaea and make your way down the hill; turn right again on Romero Drive, which will become Country Club Drive.
When you reach Exchange Place, you can continue down to Torrey Pines Road or turn right onto Soledad Avenue to make your way back to the trailhead at Al Bahr.
The roundtrip hike, up the hill and down the streets back to the trailhead, is approximately 1.3 miles and takes around 50 minutes if you stop for a few photos and sit on the bench at the top to admire the view. There are few trees to provide shade, so bring sunglasses, sunscreen, and plenty of water on warmer days. Elevation gain is roughly 655 feet.
Why We Love It
It's rustic. La Jolla Heights Open Space/Natural Park provides one of the only more rustic and naturally beautiful hikes in the area. Although it's maintained by the City of San Diego, much of the flora and fauna grows wild, providing hikers with a rare glimpse into the rougher, unmanicured parts of La Jolla.
The views are one-of-a-kind.
No other hike in La Jolla provides 180-degree views like this; and the cute bench to take it all in from is just the cherry on top.
It's short and sweet.
Clocking in at just over a mile, the hike is long enough to be a workout but short enough to not take you all day to complete. Less work and more rewards? We'll take that combo any day!

[Yelp]
Before You Go
Dogs are allowed, but must be leashed.
The ascent is steep and most of the path is dirt, so wear your hiking boots or tennis shoes!
There are "No Trespassing" signs at the top of the hike; they refer to the reservoir and not to the hiking trail
Bring plenty of water; though it's a short hike, there is little shade and can get hot during the summer
After your hike, you'll find that you are close to many restaurants in the La Jolla Shores area. Head to Galaxy Taco or Shorehouse Kitchen for a more laid back lunch, or travel a bit further to Caroline's Seaside Cafe, atop Torrey Pines, for more awesome views and an outdoor patio.
There are so many unique La Jolla hikes and trails! Which one is your favorite?