La Jolla Hotels Guide in 2023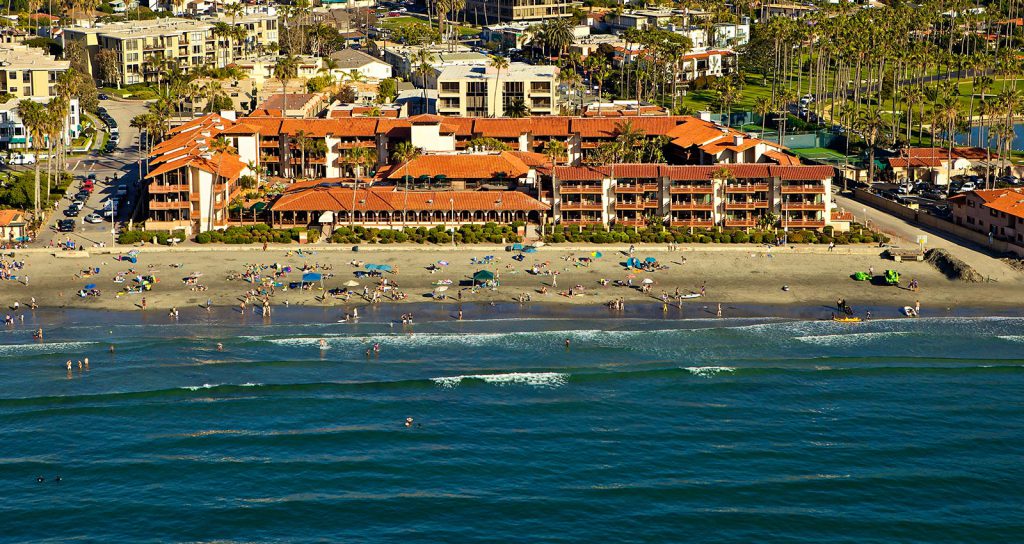 With its world-class beaches, luxurious hotels, and renowned fine dining, La Jolla is a truly one-of-a-kind weekend getaway destination. While you're here, explore a variety of boutiques, cafes, La Jolla restaurants, galleries, and museums, and enjoy a number of outdoor activities. At the end of a long day, allow yourself some much-needed R&R at a gorgeous local hotel right here in La Jolla. This is your complete guide to La Jolla hotels, from quaint B&Bs to luxurious coastline resorts!
La Valencia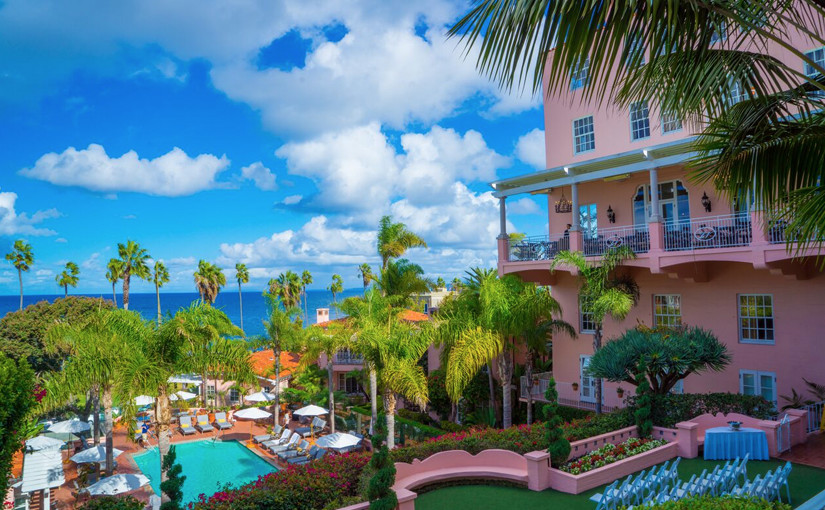 Affectionately known as "The Pink Lady", La Valencia has been an icon of elegance and grandeur in La Jolla since it was built in 1926. Sitting on the hillside overlooking the Pacific Ocean, the resort's Mediterranean architecture still enchants visitors today as it did during its heyday as a Hollywood hideaway.

La Valencia embodies a distinct vintage, historical charm that you won't find in many other contemporary hotels. From the red tiled floor to the painted ceiling and, of course, the exterior pink paint, La V remains unmistakably regal. Inside, guests are treated to charming rooms with ocean views; upgrade to a larger suite for more privacy and even better panoramas. La Valencia is a local icon and a fantastic option for a romantic getaway or a San Diego staycation. Address: 1132 Prospect St, La Jolla
La Jolla Shores Hotel
The La Jolla Shores Hotel shares the same beach as its sibling hotel (LJBTC) and thus offers many of the same incredible amenities, including stunning views. If you're dreaming of waking up to the sound of crashing waves, taking a leisurely walk along the sand with a cup of coffee, or sipping a cocktail on the beach as the sun sets, then the La Jolla Shores Hotel is the destination for you!

Some rooms have kitchenettes, great for saving a few bucks on breakfast so you can splurge on dinner. The beach is just steps away from most of the rooms, and a pool and spa occupy some prime real estate right on the sand in front of the hotel. You won't be disappointed if you're looking for a beachfront getaway! Address: 8110 Camino Del Oro, La Jolla
La Jolla Beach & Tennis Club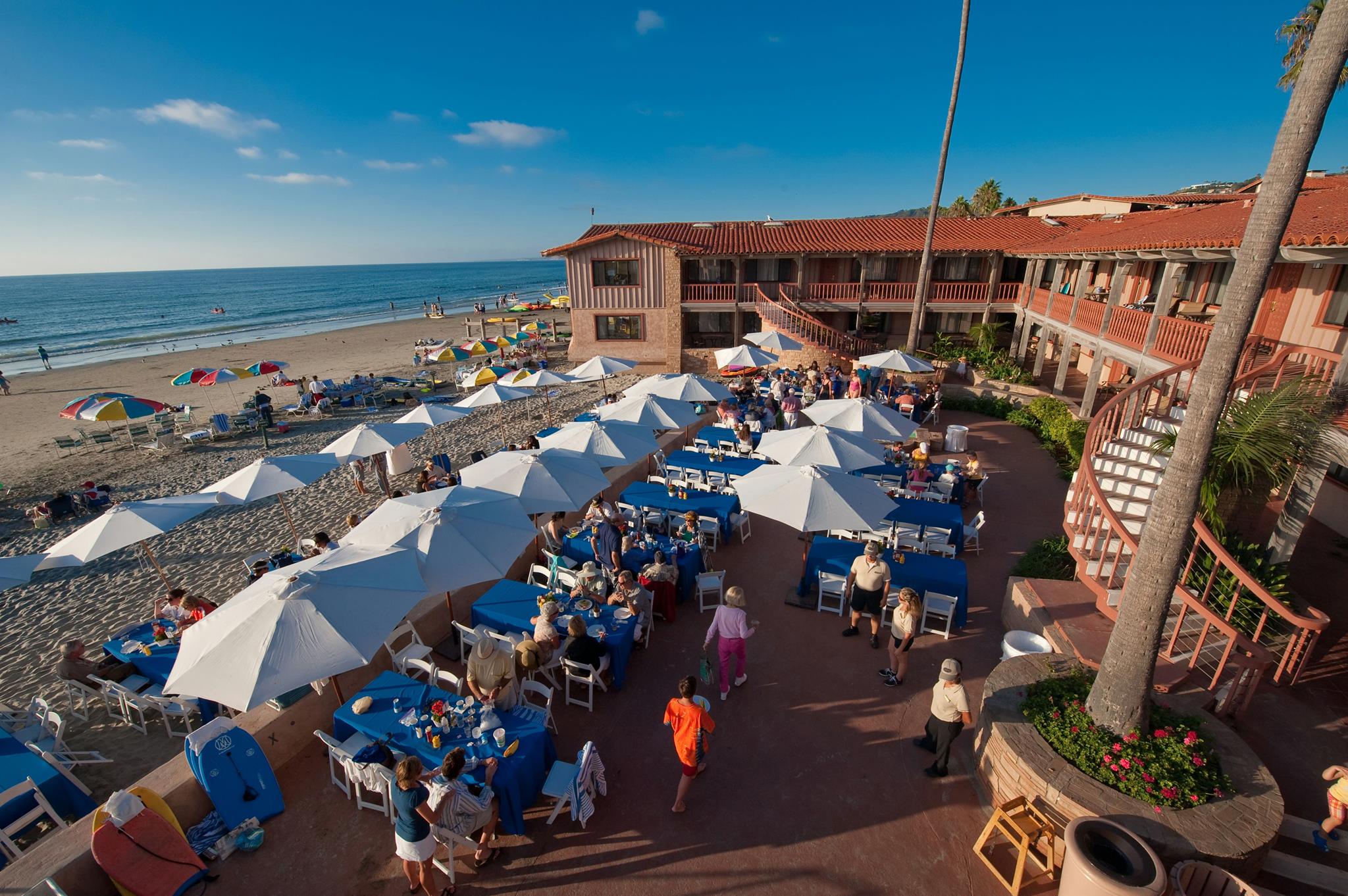 Want to stay right on the beach? Look no further than the La Jolla Beach & Tennis Club, one of the few San Diego hotels that are literally right on the sand. Built in 1935, this luxurious spot has its own private beach complete with lounge chairs, water service, and even nightly s'mores roasting!
Rooms range from street view to ocean view 3-bedroom suites, and many have kitchenettes (great for families with kids). The Marine Room restaurant is right next door, one of San Diego's finest oceanfront restaurants (read about their High Tide Dinner here!). Kayaks and water sport toys are all available for rent right on the beach, and tennis, sparkling pools, and gorgeous grounds all make this a serious destination resort. Address: 2000 Spindrift Dr, La Jolla
Grande Colonial Hotel
The Grande Colonial opened back in 1913 when La Jolla was still a sleepy little beach town and rooms went for $25 to $50 a month. Over the years, the hotel has gone through multiple updates, and now has clearly found its place as one of the most elegant ocean view luxury hotels in San Diego.
With traditional furnishings and decor, The Grande Colonial looks like something out of a magazine. Rooms are updated and upscale, and Nine-Ten Restaurant & Bar on the first floor is a local favorite, helmed by an award-winning chef and boasting fresh local California cuisine. The beach is an easy walk down the street, and its downtown La Jolla location means there is plenty to do during your stay; from exploring the local La Jolla nightlife to checking out one of the art galleries and museums. Address: 910 Prospect St, La Jolla
Estancia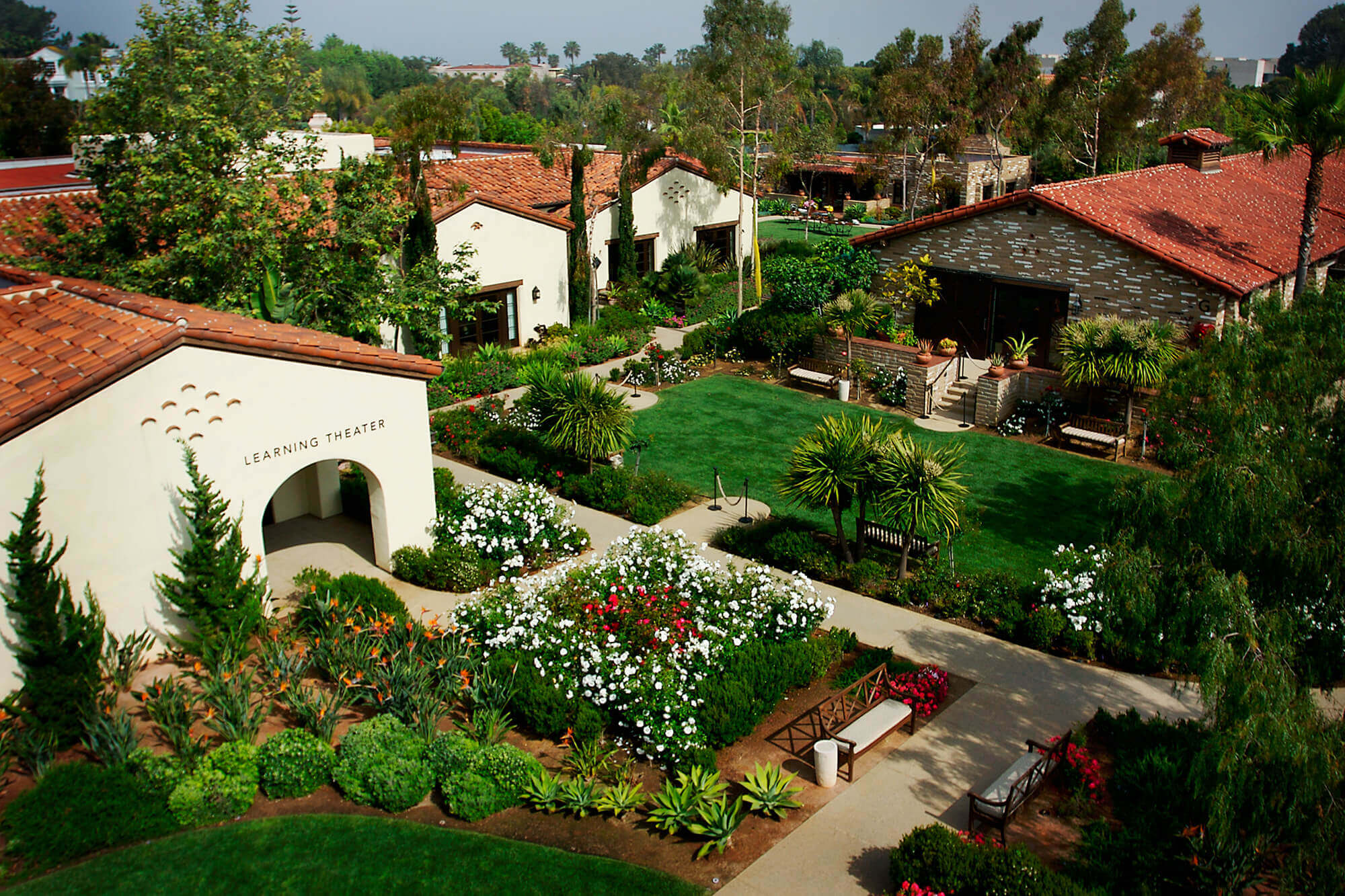 The beautifully adorned adobe buildings and rustic setting at Estancia gives way to spacious stone courtyards, bubbling water fountains, outdoor fireplaces, and an air of understated elegance. Located next to the Torrey Pines Golf Course, this particular resort boasts gorgeous views and a relaxing ambiance; perfect for a couples' weekend getaway.
Rooms are tastefully done with contemporary tones and upscale furnishings, and the grounds are truly exceptional. The popular spa is a destination in and of itself, and several restaurants throughout the property offer different types of food for all tastes. What we love most about the Estancia La Jolla is its unique approach to luxury; calm, quiet relaxation is the order of the day here, and although it doesn't boast ocean views or a bustling downtown scene, you will no doubt leave feeling refreshed and ready to tackle the week ahead! Address: 9700 N Torrey Pines Rd., La Jolla
The Lodge at Torrey Pines
Set amongst the pines, The Lodge at Torrey Pines looks more like something you would find at Lake Tahoe than oceanfront San Diego! An upscale Craftsman-style resort with excellent restaurants, a fabulous pool, and full-service spa, the Lodge is a great getaway for golf lovers and vacationers alike. Located right at the 18th hole of the Torrey Pines Golf Course, this is a fantastic option for those looking to spend their weekend time out on the course.
Customer service, attention to detail, and panoramic views of the golf course and the Pacific Ocean make The Lodge a true one-of-a-kind experience. Enjoy fine dining at A.R. Valentien, or spend the day strolling through the grounds and experiencing everything the on-site Spa has to offer (massages, facials, etc.). 170 guest rooms and suites are sprinkled throughout the grounds, and downtown La Jolla is just a few minutes' drive away. Address: 11480 N Torrey Pines Rd, La Jolla
Empress Hotel La Jolla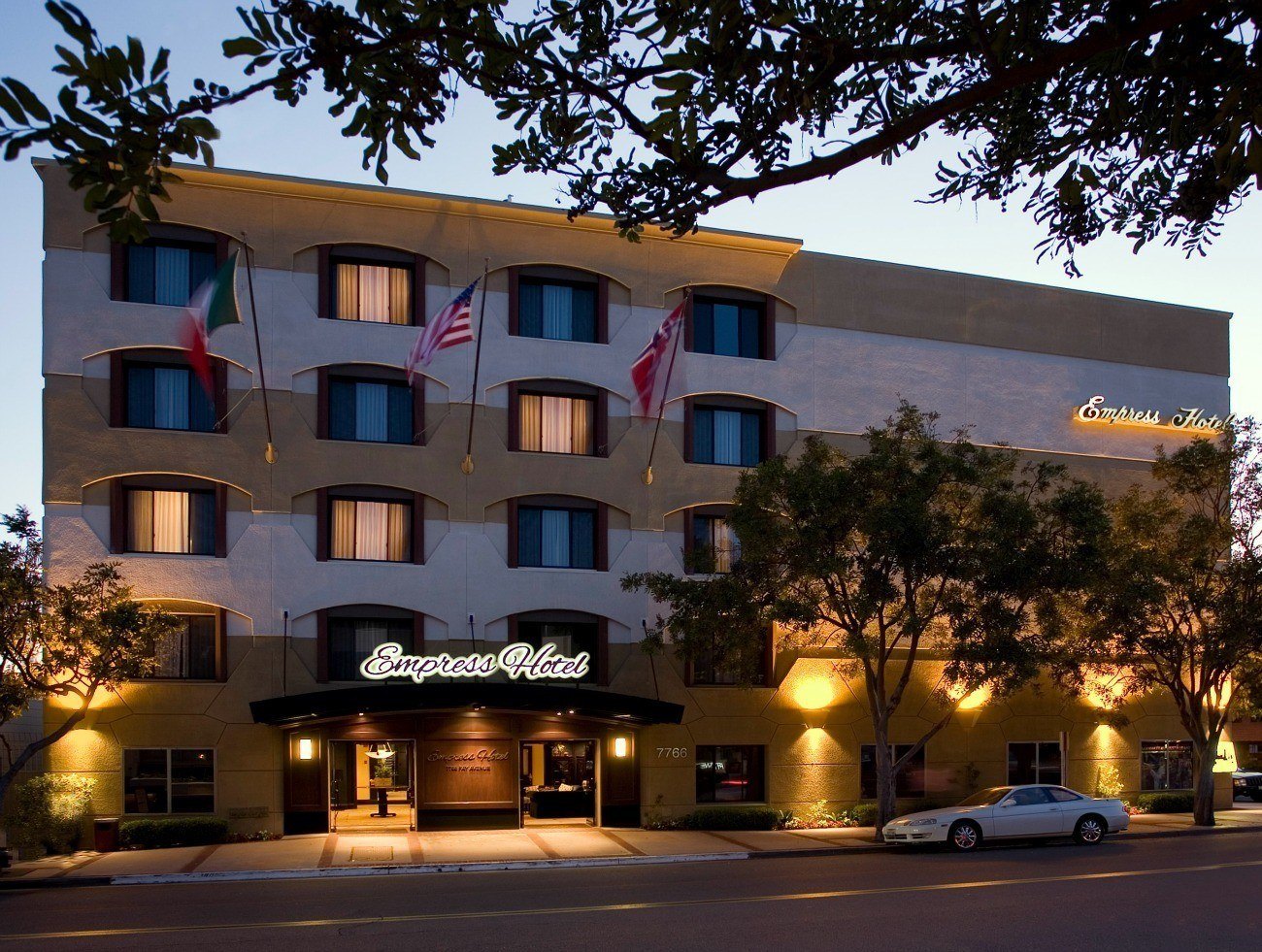 For a bit more bang for your buck, the Empress Hotel is a great (pet-friendly) option for families. This comfortable, European-inspired base offers newly renovated accommodations that feature spacious floor plans, upgraded furnishings, and gourmet coffees and teas. Waiting for you just beyond your bedroom each morning is a complimentary continental breakfast, the perfect way to start your day before hitting the beach or exploring downtown.
Manhattan of La Jolla, the hotels' on-site restaurant, serves classic Italian fare in the heart of California. From the fresh Caesar salads, made tableside, to the fine wines from the extensive list, this go-to spot's menu strikes the perfect balance of European and American coastal. Pick from a selection of al-dente pastas, steaks and fresh seafood, and don't miss the piano player on weekends! Situated right in downtown La Jolla, its location makes it a breeze to explore everything the Village has to offer — including restaurants, shops, and art galleries. Address: 7766 Fay Ave, La Jolla
Hotel La Jolla
Nestled among the palms a few blocks away from La Jolla Shores beach, this boutique hotel is a fun escape from the hustle and bustle of downtown La Jolla. The hotel is also minutes from La Jolla Village, the Scripps Institution of Oceanography, and the University of California, San Diego.
Rooms here are casually chic and come with balconies, many of which overlook the Pacific Ocean. Choose a suite for a living area with sofa and gorgeous ocean views from three balconies. Cusp Dining & Drinks, the 11th-floor restaurant, and lounge, boasts a California coastal menu and expensive wine list (and a great ocean view!). Their outdoor poolside lounge, Hiatus, is a fun way to spend the day or a nice spot for an evening cocktail. Other perks include the on-site fitness center, outdoor pool, and complimentary bikes for exploring the city. Address: 7955 La Jolla Shores Drive, La Jolla
Conclusion
Whether you are looking for a relaxing staycation, or arranging a fabulous vacation for family and friends, these best hotels in La Jolla are certain to satisfy. So, what are you waiting for? Start packing your sunglasses and swimming suits for your getaway now! Oh, and don't forget to pack your best glam accessories such as a smart outfit and The One for Men by Dolce & Gabbana fragrance because you'll want to look, smell, and feel your best as you lounge in these luxurious accommodations.
For more things to do in La Jolla, check out our La Jolla Cove and San Diego guides!