La Jolla Concerts By the Sea 2016 — Free San Diego Concerts this Summer
Imagine this: It's Sunday afternoon. You're lounging on a grassy lawn, overlooking the ocean and soaking in incredible live music.
For FREE.
Welcome to La Jolla Concerts by the Sea, a series of summer concerts in San Diego, in its north coastal town of La Jolla. These San Diego summer concerts have been offering live music, great for all ages, since 1984. So bring the family. Tote your friends. As the genres range from big band and swing to rock-n-roll and country western, there's something for everyone.
When & Where
Between July and September 2016, these concerts happen certain Sundays from 2 to 4 pm.
These outdoor summer concerts are hosted at Ellen Browning Scripps Park at La Jolla Cove, which looks out across the beautiful La Jolla Coveand breathtaking Pacific Ocean.
Food & Beverages
At these La Jolla summer concerts, support the very event you're attending by purchasing a tasty snack. Pick from selections like Haagen Dazs ice creams, popsicles, candy, soda and more.
For heartier food, Bullseye Kettle Corn will be selling hot dogs, lemonade, kettle corn and more. Part of these profits go back into the La Jolla Summer Concerts by the Sea, as well.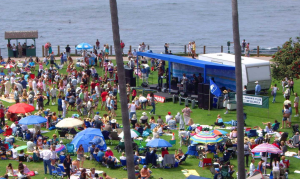 Calendar: Who is Playing at La Jolla Summer Concerts 2016?
The La Jolla summer concerts will be hosting a variety of talented, critically-acclaimed musical groups and band. (For example, Bastard Sons of Johnny Cash, performing August 28th — was granted permission from the man himself, Johnny Cash, to use this band name.)
From late July through early September here are the groups, and their genres, to look forward to:
July 31 BILL MAGEE BLUES BAND (Blues)
Aug. 7 THE KINGS OF 88 (Piano / Rock)
Aug. 14 THEO AND THE ZYDECO PATROL (Cajun Blues)
Aug. 21 HOT PURSUIT BAND (Classic Rock & Variety Hits)
Aug. 28 BASTARD SONS OF JOHNNY CASH(Americana)
Sept. 4 THE HEROES (Rock & Roll)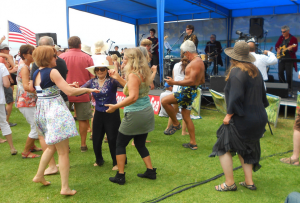 How to Support the La Jolla Free Summer Concerts
In addition to purchasing snacks at the event, each concert will host raffles — all the proceeds from purchasing raffle tickets goes back into funding for the concerts.
To donate directly or become an official friend of the concerts, please head here.
For More Budget-Friendly & Free Activities in La Jolla
Find more low-cost and free activities in La Jolla to enjoy at our Guide to a Budget Friendly Day in La Jolla.