Fashion Trends for Men at the La Jolla Concours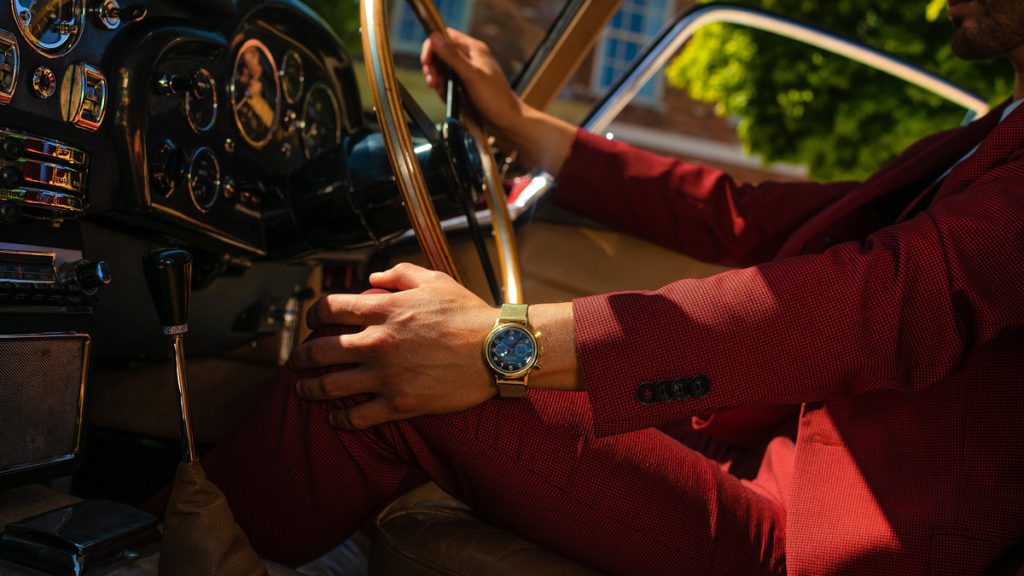 After two arduous years, La Jolla Concours d'Elegance has returned to La Jolla Cove.  This long-awaited event celebrates the history, design and jaw-dropping beauty found in automotive innovation.  From vintage race cars, to magnificent motorcycles, the La Jolla Concours is a crowd pleaser for locals and tourists alike.
This annual affair is saturated with opulently styled autos, spectacular specimens of fine motoring, and the grounds resonate with elegance at every turn.  As such, many men opt to choose to dress to the hilt and make a stunning statement while ogling a sleek Shelby, or fawning over fantastic Ferraris.  So what's a distinctive gentleman to wear for the premium event of the season?  Here are a few tips on fashion trends for men at the La Jolla Concours.
What is the Fashion Scene Like at the La Jolla Concours?
The Concours in La Jolla is not just an auto-lovers dream, it's also a social gathering for elite and enthusiasts. It's a beloved occasion where people can savor superior automobilia as well as be seen by serious connoisseurs of cars. 
While there is no strict dress code, this event has a posh, luxurious energy to it. Therefore, it's an occasion that begs for refinement and sophistication. This event is the perfect time to don your best threads so you can make as big an impression on the crowd as the automobiles make on the onlookers. 
To ensure you're not underprepared for this premier auto-centric gala, here are some insights about the La Jolla Concours that men will appreciate when seeking that first prize for excellent taste during the soiree.
Dress for the Season and Occasion
The La Jolla Concours takes place in April. Therefore, you should think about springtime ensembles that are well-tailored and showcase playful, pastel colors.  You will strike a dashing pose at the many Concours VIP parties with an ascot coupled with a soft blue overcoat and tapered tan trousers.  These are just a few examples of dressing to impress without overdoing it. 
While tuxedos certainly have their place in Southern California, the Concours is an elegantly casual event that calls for modestly-composed outerwear that should feel uplifting while also making a statement. 
Accessories Can Make All The Difference
Because this is a fun-loving event, don't forget to sport your favorite hat.  This is a vital fashion accessory because it not only protects you from the sun on the La Jolla shores, it can also make a big impression.  Try on a dapper panama with a slick pair of Ray-Ban glasses.  Or don a straw fedora for that funky vibe that expresses style and flair. In either case, you will be in-step with the fashion trends as well as look amazing.
Also, don't forget other accessories such as belts and watches.  These can put your casual-yet-refined ensemble over the top.  Also consider applying just a dash of a spring-centric scented fragrance such as Tom Ford's Beau du Jour, Chloe's Rose Tangerine, or the classic Davidoff Cool Water Cologne,–any one of which would be a perfect companion to the La Jolla breezes drifting through the car show.
Do Self-Edit
Heed the words of fashion maven, CoCo Chanel, who said, "Before you leave the house, look in the mirror and take one thing off."   It's true that the La Jolla Concours d'Elegance is all about opulence and luxury.  And while you can certainly say the cars are all about flash and glam – your attire should keep flashy to a minimum at this event.  All this to say, use keen self-editing skills before attending the Concours.  The more refined, tailored and buttoned-up your ensemble is, the more comfortable and confident you will feel.
Final Thoughts About Attending The La Jolla Concors d' Elegance
If you are one of the fortunate ones to get a ticket to this premium event, then you are sure to have a sublime time.  This annual event has several attractions such as Ferrari Fridays, Le Cabaret du Concours and the main event is a sensational show of optimum autos and motorbikes.  
Between the mild, breezy weather in April and the breathtaking seascapes of La Jolla shores, you will feel transported into an auto-lovers paradise.  What's more, you'll look like a million bucks when you take the time to dress to impress!